aka Monster Problems
---
Crew
Director – Michael Matthews, Screenplay – Brian Duffield & Matthew Robinson, Story – Brian Duffield, Producers – Dan Cohen & Shawn Levy, Photography – Lachlan Milne, Music – Marco Beltrami & Marcus Trumpp, Visual Effects Supervisor – Matt Sloan, Visual Effects – Mill Film (Supervisor – Genevieve Camilleri), Production Design – Dan Hennah. Production Company – 21 Laps Productions.
Cast
Dylan O'Brien (Joel Dawson), Jessica Henwick (Aimee), Michael Rooker (Clyde), Dan Ewing (Captain Brooks Wilkinson), Ariana Greenblatt (Minnow), Ellen Holman (Dana), Tre Hale (Rocko), Pacharo Mzembe (Ray), Senie Priti (Karen), Amali Golden (Ava), Te Kohe Tumaka (Tim)
---
Plot
Countries around the world fired a bunch of missiles to deflect an oncoming comet. However, the chemicals from the missiles reacted in the atmosphere and caused regular animals and insects to mutate and grow to giant size. 95 percent of humanity was wiped out. Joel Dawson has spent the seven years since the catastrophe in a survival shelter. He feels out of place because he is the only one there who has not paired up. He is also useless in terms of survival skills, freezing up in combat and has been restricted to working in the kitchen. Joel has located Aimee, a girl he was dating in Fairfield, California before the missiles were launched, who is living in a shelter across the country and stays in regular radio contact with her. Joel abruptly decides that he is going to travel across county to be with Aimee. All of the others in the shelter advise against it, warning Joel of his lack of survival skills. Joel however decides to set out, braving the monstrosities of the outside world in a dangerous journey across the surface.
---
Love and Monsters was the second film from South African director Michael Matthews. He had made his feature-film debut with the modern Western Five Fingers to Marseilles (2017).
Love and Monsters has an interesting set-up – a world where with some totally improbably handwave explanation giant animals and insects now roam the surface of the Earth and have destroyed most of humanity. Wedded to that is the idea of a nerdy teenager deciding to set out on a cross-country quest to find the girl of his dreams. Think something like a 1980s teen makeout movie like The Sure Thing (1985) mashed up with a 1950s giant bug movie or even more so the plot of a film like Damnation Alley (1977).
The idea has potential but I don't think Love and Monsters does a particularly great job of fulfilling it. First of all, it does have some excellent giant animal and creature effects. These are top of the line – no complaints on that front. It is more that the film never seems to do enough with its premise. There are some fitful encounters on the surface. Dylan O'Brien eventually arrives at his destination and finds things weren't quite what he expected them to be. The script then pulls a villain out of the hat in a not-entirely-credible last minute twist.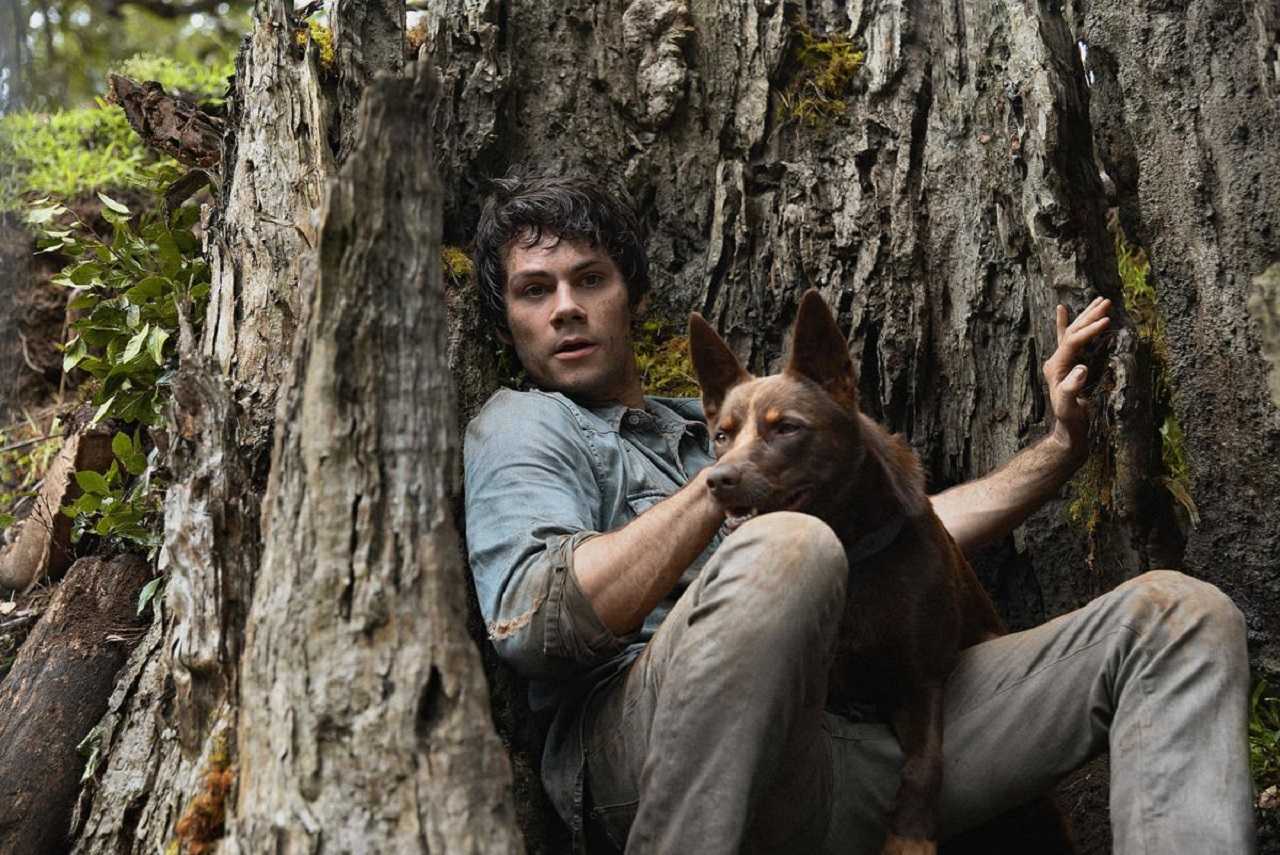 It feels like the tone of the film started out wanting to be something of Zombieland (2009) but missed all of that film's sarcastic humour and instead fell into Young Adult by default. The film has also slapped itself with a tongue-in-cheek title that gets audiences watching expecting something else altogether but it never does anything to fulfil that either. It feels like a film with a good basic premise suffering from an identity crisis.
The other main issue is that the film misconstrues the lead character. He is described as gawky, someone tripping over his own feet with a nerdish incompetence such that nobody ever wants him to join their outside expeditions and whose only use is in the kitchens. At no point though is this ever anything that is demonstrated in Dylan O'Brien's performance. What we instead get with Dylan O'Brien is a standard good-looking face that suggests everything about young romantic lead and nothing at all about gawky nerd – even a single scene where he joins a surface expedition and his bumbling causes chaos would have been enough.
---