---
Crew
Director – Sion Sono, Screenplay – Aaron Hendry & Refa Sixo Safai, Producers – Nate Bolotin, Michael Mendelsohn, Ko Mori, Laura Rister & Refa Sixo Safai, Photography – Sohei Tanikawa, Music – Joseph Trapanese, Visual Effects Supervisor – George A. Loucas, Visual Effects/Animation – Baked Studios, Special Effects Supervisor – Hiroyuki Hatori, Makeup Effects – Soichi Umezawa, Production Design – Toshihiro Isomi. Production Company – Untitled Entertainment/Boos Boos Bang Bang/Eleven Arts Studios/XYZ Films/Patriot Pictures/Sion Productions/Saturn Films/Komodo Productions/Union Patriot Capital Management LLC.
Cast
Nicolas Cage (Hero), Sofia Boutella (Bernice), Bill Moseley (Governor), Nick Cassavetes (Psycho), Charles Glover (Enoch), Tak Sakiguchi (Yasujiro), Young Dais (Ratman), Yuzuka Nakaya (Suzie), Hiroshi Kaname (Gumball Boy), Takato Yonemoto (Sheriff Takato)
---
Plot
Japan has been devastated following a nuclear accident. The Governor has established a town in the ruins that is a mix of Wild West and samurai cultures. After the Governor's granddaughter Bernice escapes with two of the other geishas, the Governor orders the freeing of Hero, a man who was arrested after an armed robbery of the town's bank that went wrong. Hero is placed inside a leather suit that has explosives at the wrists, neck and crotch that will detonate if he does not retrieve Bernice in three days, raises his hand in violence or attempts to defile Bernice's innocence. Hero is given a car and sent forth but soon crashes. He finds himself among a group of wasteland crazies where Bernice has been transformed into a living mannequin. There he must attempt to get Bernice back, help her find her voice again and escape from the Ghostland, which the inhabitants say is impossible.
---
Japanese director Shion Sono has become an increasingly interesting name since the early 2000s. Sono first gained attention with his tenth film, the modest hit of Suicide Club (2002) and went onto its sequel Noriko's Dinner Table (2005). Over the next few years, Sono has made a number of other genre films, including the perversely disturbed Strange Circus (2005); Exte: Hair Extensions (2007) about killer hair extensions; Cold Fish (2010) about serial killings, tropical fish salesman and the reclamation of male pride; Guilty of Romance (2011) about sexual fulfilment and murder; Himizu (2011) about murderous children; Tokyo Tribe (2014), a near-future film about gangland wars where much of the dialogue is delivered in rap; The Land of Hope (2012) set in an alternate world; Love and Peace (2015), a romance involving talking animals; the reality blurring Tag (2015); the comedy The Virgin Psychics (2015); The Whispering Star (2015) about an intergalactic delivery android; Tokyo Vampire Hotel (2017) and The Forest of Love (2019), as well as non-genre items such as the gangster film Hazard (2005), the sexual drama Love Exposure (2008) and the hilarious Why Don't You Play in Hell? (2013). Prisoners of the Ghostland was Sono's first English-language film.
Nicolas Cage emerged as an A-list actor in the 1990s but his career from about the mid-2010s has become mind-boggling in its batshit craziness. It is almost as though Cage has abandoned any efforts at a respectable career and now chooses roles that allow him to give the most whacked, deranged performance he can. These include everything from done for the paycheque roles in the likes of Left Behind (2014), Pay the Ghost (2015), The Humanity Bureau (2017) and Jiu Jitsu (2020), to far more demented oddities like Mom & Dad (2017), Between Worlds (2018), Mandy (2018), Color Out of Space (2019), Pig (2021), Willy's Wonderland (2021) and The Unbearable Weight of Massive Talent (2022). I thought at one point he might be grabbing for any role offered to him because of him overdue tax or alimony bill but I've realise the truth is that Cage just likes doing these offbeat roles.
It seems inevitable that Nicolas Cage, an actor who fearlessly dives into the weirdest roles that can be handed to him these days, and Shion Sono, a director who, if he were more well known in English-speaking territories would probably have the cultiness of a David Lynch or Alejandro Jodorowsky, would meet up at some point. They had been trying to do so for several years. The film was due to go ahead in 2019 with shooting in Mexico only for Sono to suffer a heart-attack. Nicolas Cage apparently pushed for the project to go ahead following Sono's recovery and for the production to be moved to Japan, which necessitated recasting several of the major roles.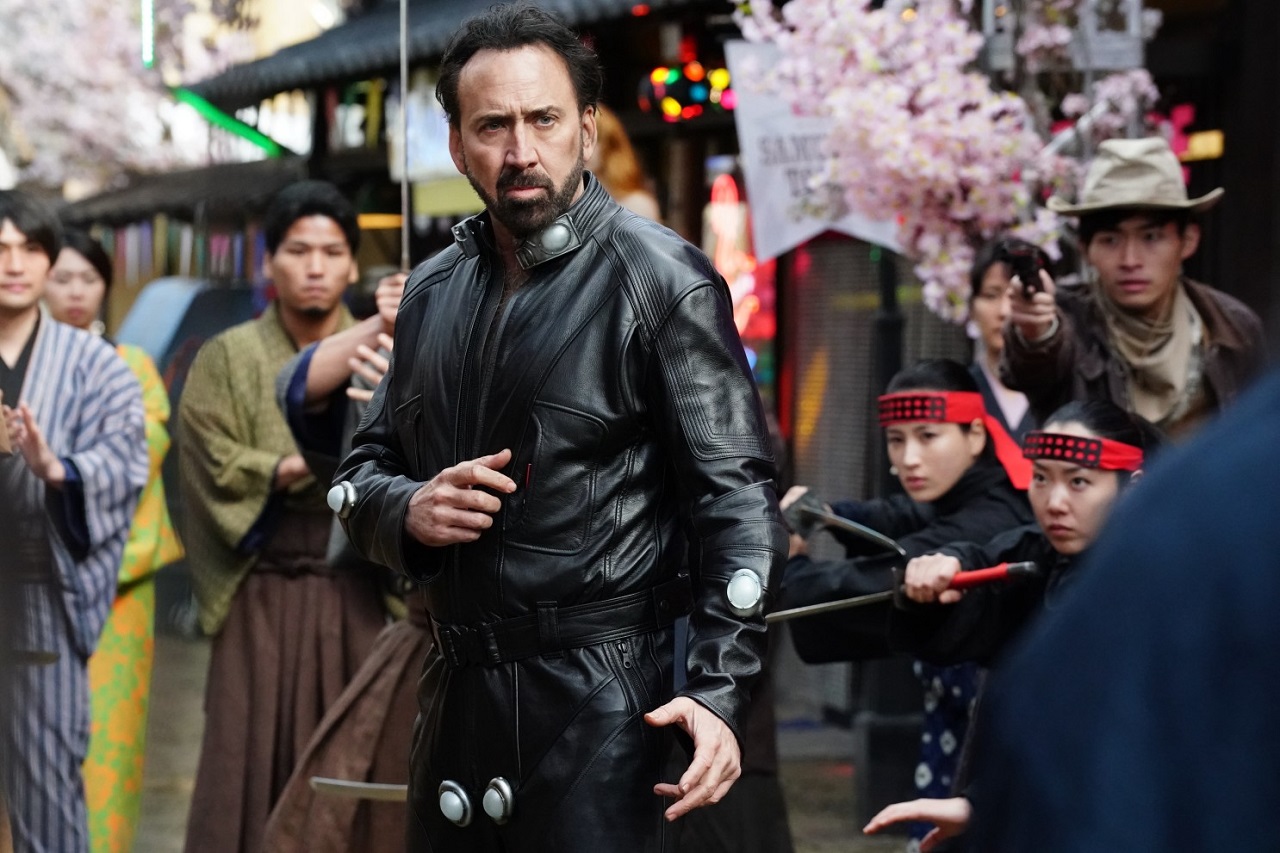 One anticipated the meetings of talents would turn Prisoners of the Ghostland into the most demented of all batshit crazy films. It is not long into Prisoners of the Ghostland where that anticipation turns into the sort of deflation that one has not felt since the Star Wars prequels (well maybe not that big – let's say the Disney Star Wars trilogy).
I spent much of the film trying to get a handle on what was going on. The scenes where freed criminal Nicolas Cage is wired with explosives and sent on a rescue mission has been a standard action movie tropes since Escape from New York (1981). It feels in this regard that we are in for a standard After the Holocaust film as he is then sent into the wasteland on his rescue mission.
The world we are in is a head-scratching one. The town seems a mix of Western and traditional samurai film where most of the population wears kabuki masks. If anything it feels like Sono did a mash-up of Takashi Miike's Japanese Western Suyiyaki Django Western (2007) and the spirit world characters of Miike's The Great Yokai War (2005).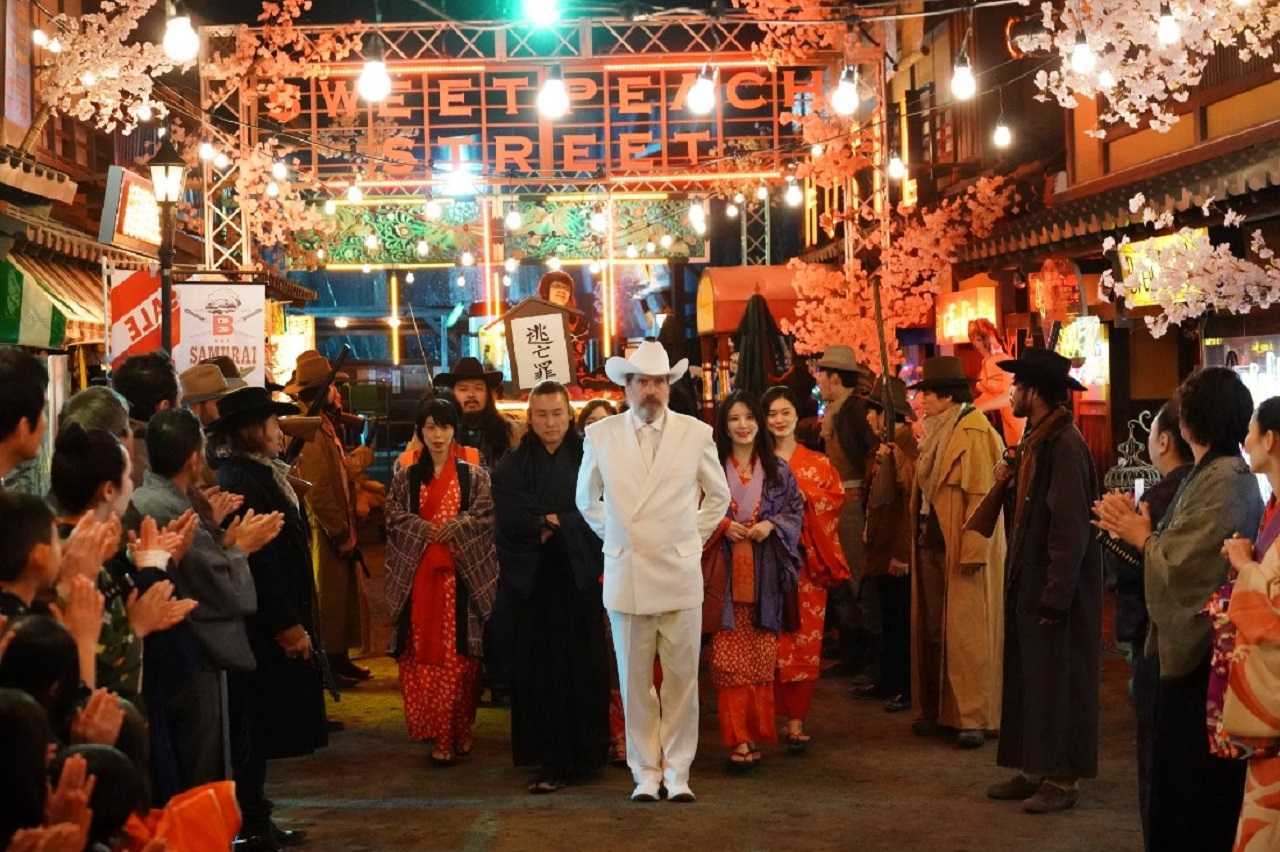 As one ventures into the Ghostland, it is equally difficult to get a grasp on what the world there is too. Does Sono intend the Ghostland aspect literally – Nicolas Cage seems to be haunted by the ghosts of people he has killed, while everyone there seem to be trapped and waiting for time to restart (it is never made clear what that means, although there is a big clock that hangs over their encampment emitting steam). Later we get a more science-fictional explanation about how this was due to a nuclear accident that created some mutants, although it is not clear how a toxic spill from a single vehicle caused civilised collapse across a whole country.
I wanted Sono and Cage to go crazy. Cage delivers various of his trademark deadpan lines. Sono has more of a budget than usual and lets everything become a caterwauling opera with dozens of masked figures and assorted shantytown and wasteland sets. On the other hand, I reached the end of the film feeling bored with at all. The film is one of those films that sets up a world and your watching is limited to no more than noting that the world exists. Missing from the equation is the drive and drama, anything really happening. I wanted the film to find the single-minded obsessivenes of something like Cage's Mandy, the twistednesss of Sono's Strange Circus or even the demented all-out energy of Why Don't You Play in Hell?.
---
Trailer here
---