---
USA/United Arab Emirates. 2019.
Crew
Director – F. Gary Gray, Screenplay – Matt Holloway & Art Marcum, Producers – Laurie MacDonald & Walter F. Parkes, Photography (3D) – Stuart Dryburgh, Music – Chris Bacon & Danny Elfman, Visual Effects Supervisors – Jerome Chen & Daniel Kramer, Visual Effects – Crafty Apes (Supervisor – Tim LeDoux), DNeg (Supervisor – Alessandro Ongaro), Instinctual (Supervisor – Alan Latteri), Method Studios (Supervisors – Seth Hill & Hamish Schumacher), Nvizage (Supervisor – Mark Brown), Rodeo FX (Supervisor – Alexandre LaFortune), Sony Pictures Imageworks (Supervisor – Christopher Waegner) & Territory Studio (Supervisors – Simon Carr & Andrew Popplestone), Special Effects Supervisor – Paul Corbould, Makeup & Prosthetics Designer – Jeremy Woodhead, Production Design – Charles Wood. Production Company – Amblin Entertainment/P+M/Image Nation.
Cast
Tessa Thompson (Agent M/Molly Wright), Chris Hemsworth (Agent H), Liam Neeson (Agent High T), Emma Thompson (Agent O), Kumail Nanjiani (Pawny), Rafe Spall (Agent C), Rebecca Ferguson (Riza Stavros), Larry Bourgeois & Laurent Bourgeois (Alien Twins), Kayvan Novak (Vungus/Naar/Bassam), Mandeiya Flory (Young Molly)
---
Plot
As a child, Molly Wright is witness from her bedroom as two Men in Black arrive and neuralise her parents after the discovery of an alien. As an adult, she is obsessed with joining the Men in Black. She has hacked into NASA computers and tracks an alien landing in New York City. There she is witness as the Men in Black take the alien away and follows them to their headquarters where she bluffs her way inside. She is discovered but appeals to Agent O to join the organisation and is accepted on a trial basis. After passing through training, she is sent to the London office as Agent M. The cocky Agent H is assigned as bodyguard to his visiting alien friend Vungus. M cons her way into being paired with H for the assignment. That night, H acts in a carefree way only for Vungus to be assassinated by alien hitmen. Before he dies, Vungus gives M a crystal, saying that H has changed and cannot be trusted. M realises that only a few in MIB knew of Vungus's location and that means that there must be a mole in the organisation. Soon she and H are forced to go on the run, regarded as rogue operatives as various parties seek to obtain the crystal, a compressed star that makes an extremely powerful weapon.
---
This was the fourth of the Men in Black films. Based on the Malibu comic-book that only ever ran for six issues in 1990-1, the film series began with the Will Smith and Tommy Lee Jones starring Men in Black (1997), which proved to be one of the biggest hits of its year with a sardonic script from Ed Solomon. Smith, Jones and director Barry Sonnenfeld returned for two sequels Men in Black II (2002) and Men in Black 3 (2012) but both of those lacked the sharpness of the first film and became opportunities for director Sonnenfeld to indulge his frequent penchant for overblown slapstick sequences.
A fourth Men in Black film was debated for some time. There was the peculiar idea floated at one point of the Men in Black series merging with the 21 Jump Street films (whose copyright is also held by Sony), although this never happened and it was eventually decided to continue the series with new leads. Barry Sonnenfeld is present as an executive producer but the only holdover from any of the other films is the retaining of Emma Thompson as the MIB head who was introduced in the previous film.
The finished film was purportedly a difficult creative clash between director F. Gary Gray and producer Walter F. Parkes with the script being severely cut and rewritten during shooting, dropping a much edgier political element, and Gray seeking at one point to quit the production. The film eventually opened to reasonable box-office but indifferent reviews.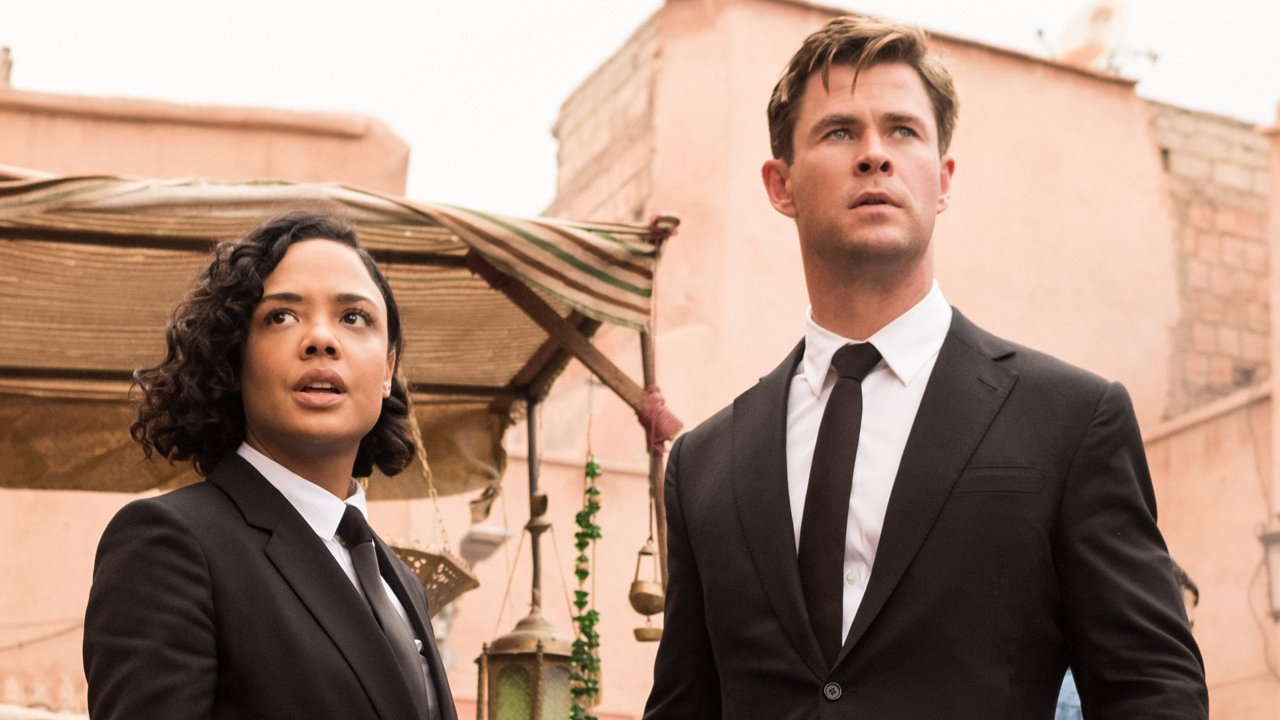 F. Gary Gray is a director that has largely left me with a feeling of indifference. He has made films such as Friday (1995), The Negotiator (1998), The Italian Job (2003), A Man Apart (2003), Be Cool (2005), Law Abiding Citizen (2009), the huge hit of Straight Outta Compton (2015) and The Fate of the Furious (2017). My opinion of Gray sank with The Italian Job and Be Cool where he followed up other films, respectively remaking the classic 1969 British heist film and conducting a sequel to another Barry Sonnenfeld film Get Shorty (1995), and turned the originals into generic fodder. All of his films, excepting maybe Straight Outta Compton, seem the anonymous and formulaic work of a director-for-hire who has nothing of his own to say, no artistic vision, is merely happy churning out formula product to be consumed and just as quickly forgotten. Men in Black: International is no different to any of these others.
I suppose the best compliment that you could pay Men in Black: International is that it is a better film than Men in Black II. However, all it does is follow in the footsteps of Barry Sonnenfeld. The first film had a conceptual wittiness to it but that was gone in the subsequent films that became all about gags with aliens popping up disguised as everyday people or else regular items suddenly being opened up to reveal pieces of advanced technology. As the films went on these sight gags took over and gradually anything clever in the premise was sidelined.
Increasingly these gags started to erase any sense of realism – as in the climax here, we have a massive tentacled alien some thirty or more feet tall that somehow hides inside a human body. The film has silly gags about aliens disguised as the beard of a Muslim man, a regular subway train that turns into a hi-tech space vehicle, a taxi that turns out to house an elevator down to a nightclub and a car where Tessa Thompson and Chris Hemsworth pull out increasingly larger weapons hidden inside the bodywork.
There is almost nothing to Men in Black: International other than pop-up gags with aliens and technology, all slung together with a slight plot about racing to protect/retrieve a piece of alien tech that can destroy the world. As the new team pairing, Tessa Thompson and Chris Hemsworth leave one fairly indifferent. She starts with a great and original character arc of someone who has obsessively tracked the MIB ever since witnessing her parents being neuralised as a child and is determined to join the organisation. Alas, after a great set up and a few comic scenes playing off her being a rookie, from about the first third of the film onwards she becomes a regular agent and nothing more is made of this.
On the other hand, Chris Hemsworth makes the unfortunate choice to play much of the role in a comedic vein. This is not something that Hemsworth seems to ever do well as all it results in is a big handsome guy running around doing gloopy double-takes – see Ghostbusters (2016). Not to mention you wonder for at least half the film how someone with such a comically exaggerated attitude of indifference to the job could still manage to remain employed in such a secretive organisation. The one comic scene that does work is one between he and Tessa Thompson in the desert while repairing the bike with neither speaking to the other and their exchanges being often creatively translated by a pint-sized alien.
---
---