---
Crew
Director – Matt Hullum, Screenplay – Burnie Burns, Chris DeMarais, Josh Flanagan & Matt Hullum, Story – Burnie Burns, Producers – Burnie Burns, Doreen Copeland & Matt Hullum, Photography – Philip Roy, Music – Jeff Williams, Visual Effects Supervisor – Ray Pena, Visual Effects/Animation – Moontower VFX, Special Effects Supervisor – Rob Trevino, Production Design – Marcus Laporte. Production Company – Fullscreen Films/Rooster Teeth.
Cast
Burnie Burns (Deputy Anthony Hagan), Gavin Free (Woody Johnson), Michael Jones (Zach Spencer), Colton Dunn (Herman Mendoza), Allie DeBerry (Mindy Hagan), Alan Ritchson (Adam), Steve Shearer (Colonel Emory), Johnny Walter (Murdoch), Kirk Johnson (Officer Vandenbloom)
---
Plot
In 1977, NASA received a message from the Antareans informing them that Earth is being challenged by the Worg for trial by combat, the winner of which is entitled to subjugate the other. The government then selected Adam, a physically perfect specimen, and began training him in secrecy in order to be Earth's champion. Milford, Texas, the present day. Police deputy Anthony Hagan is sent to bust up a party and arrests high school football captain Zach Spencer, who is dating his daughter Mindy. On the way back, they are diverted by Herman Mendoza, a former star quarterback whose leg was ruined, and his dim-witted friend Woody Johnson setting off fireworks. One of their skyrockets unwittingly hits an alien ship as it comes down overhead. The crashed ship reveals a hologram from the Antareans and a pair of boots, two gauntlets and a helmet. Each of the four put one of these items on and are startled when they activate things like forecefields, lasers, a built-in computer and the ability to run at high-speed. The four are then taken captive by the military who are upset because the armour was intended for use by Adam but has bonded to them after they picked it up. It is now determined by the military that Adam will train them in the few days before the Worg arrive for the tournament. However, the four of them prove to be screw-ups in every way. When it is discovered that the military are planning to cut the pieces of armour off them in order to transplant it onto Adam, the four of them break out of the facility. In using their armour to affect an escape, they start to discover how to master it.
---
Lazer Team was the first feature film from the Austin, Texas-based Rooster Teeth company. Rooster Teeth specialises in web series, reality tv shows, animation and general gaming and fannish activities, even run their own conventions. Lazer Team, respectively directed by and starring Rooster Teeth founders Matt Hullum and Burnie Burns and featuring a number of their regular faces, was made after a record $2.4 million was raised on the Indiegogo crowdfunding site.
There may have been a good idea somewhere at the heart of Lazer Team. I could sort of see it working more as a Power Rangers-type fantasy or maybe as a children's film along the lines of the subsequent Time Toys (2016). On the screen though, all it results in is a never particularly funny comedy about a bunch of screw-ups. I don't know about you but I am not a fan of humour that features protagonists who are slow-witted and/or is self-deprecating about them.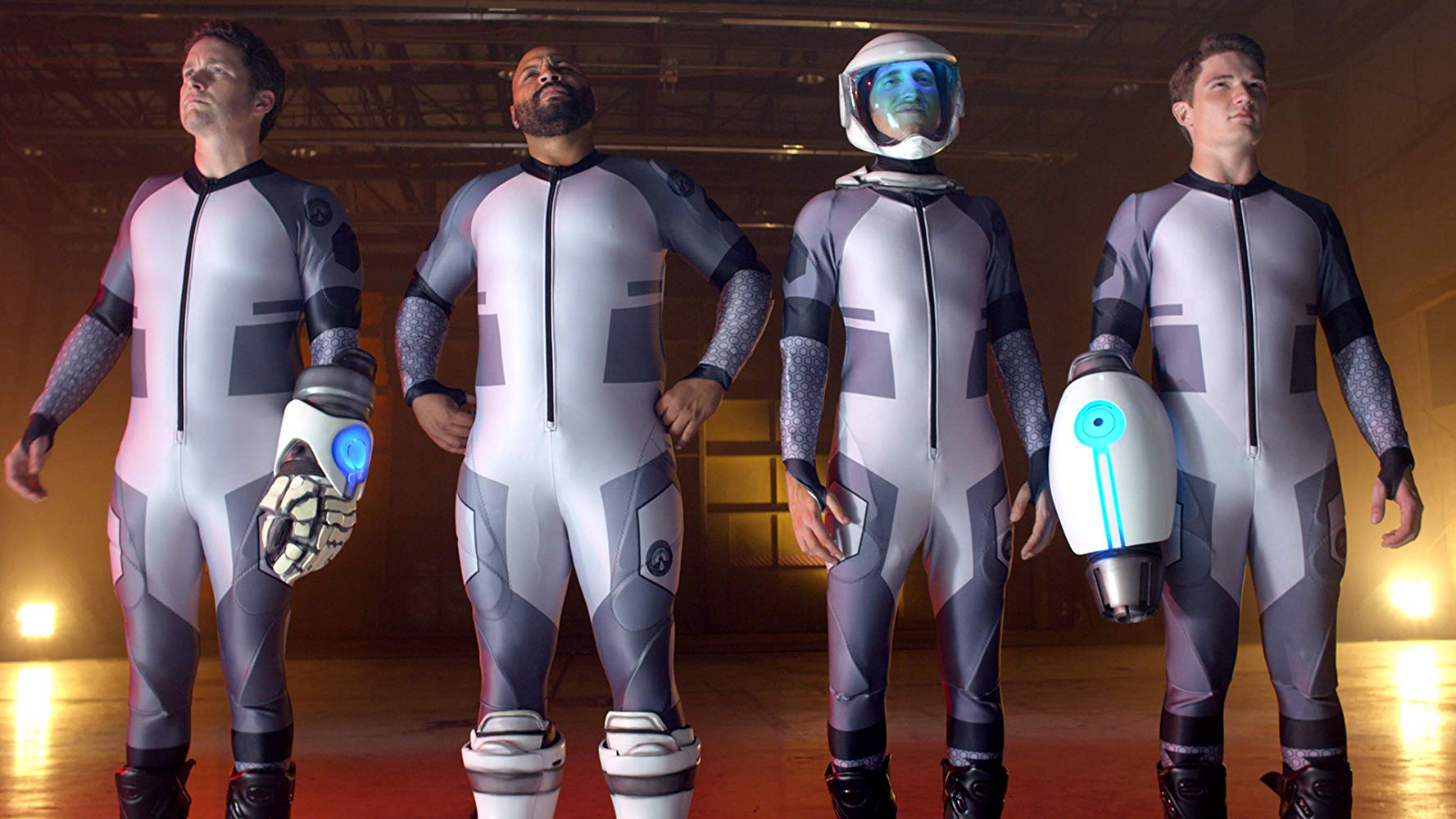 Much of the first half of the film is all about pointing fun in the direction of the four who are all losers and screw-ups, or scenes where the various suit attachments go out of control. The film seems to regard these as the only gags it has and keeps repeating them over and over and over again.
The characters are such that the only story arc available to them is the tried and true one of them winning out despite their ineptitude. The film makes its way to its easily foreseeable finale with lazy, easy laughs at predictable targets. There is little else going on in the film that makes it worth engaging. There is certainly nothing there in the utterly generic assemblage of SF elements.
Despite Lazer Team doing poorly in theatrical release, Rooster Teeth went on to make Lazer Team 2 (2017) reuniting all the principal actors from here.
---
---