---
Crew
Director – Joe Carnahan, Screenplay – Chris Borey, Eddie Borey & Joe Carnahan, Story – Chris Borey & Eddie Borey, Producers – Joe Carnahan, Randall Emmett, George Furla & Frank Grillo, Photography – Juan Miguel Azpiroz, Music – Clinton Shorter, Visual Effects Supervisor – Makana Sylva, Visual Effects – Baked Studios (Supervisor – George A. Loucas), Caffeinated Mice VFX & Encore VFX, Special Effects Supervisor – Jo Schwalm, Production Design – Joe Billington. Production Company – Emmett Furla Oasis Films/Warranty/Edver Films Limited/The Fyzz/River Bay Films/Scott Free Films/Big Red Films.
Cast
Frank Grillo (Roy Pulver), Mel Gibson (Colonel Clive Ventor), Naomi Watts (Jemma Wells), Will Sasso (Brett Dyson), Annabelle Wallis (Alice), Sheaun McKinney (Dave), Selina Lo (Guan Yin), Michelle Yeoh (Dai Feng), Ken Jeong (Chef Jake), Rio Grillo (Joe), Meadow Williams (Pam), Mathilde Olliver (Gabrielle), Buster Reeves (Mr Good Morning), Armida Lopez (Esmeralda the Chauffeur), Rashad Evans & Quinton "Rampage" Jackson (German Twins), Eric Etebari (Roy #2), Aaron Beelner (Kaboom)
---
Plot
For 139 days, Roy Pulver has woken up in his apartment as a horde of assassins attempt to kill him. This results in a massive shootout and chase through the streets before Roy is killed and then has to go through the exact same events all over again. He has done so so often that he knows everything that is going to happen in advance. In attempting to contact his ex, scientist Jemma Wells, he is told by her boss Colonel Clive Ventor that she is dead. Roy believes that what is happening to him is somehow related to his visiting Jemma at her workplace the day before all this began where she was trying to complete the experimental Osiris Spindle device for Ventor. In between avoiding the assassins and undergoing repeated deaths, Roy believes that Jemma left a secret message that holds clues about how to stop what is happening to him.
---
Joe Carnahan is a director who has almost exclusively specialised in action films since first appearing with Blood, Guts, Bullets and Octane (1998). He has made either action or hard-boiled crime films such as Narc (2002), Smokin' Aces (2006) and The A-Team (2010). I particularly enjoyed The Grey (2011), a harrowing wilderness survival film. There is nothing that Carnahan has made as director that I have had occasion to cover here before, although he did produce the Found Footage alien abduction film The Fourth Kind (2009) and wrote the screenplay for Eli Roth's remake of Death Wish (2018).
Boss Level proves to be another Timeloop Film. This was a theme popularised by Groundhog Day (1993), a comedy in which Bill Murray is forced to live the same day over and over. The premise has proven a surprisingly fertile one since with variations appearing in films like Retroactive (1997), Run Lola Run (1998), Naken (2000), Repeaters (2010), Source Code (2011), Edge of Tomorrow (2014), ARQ (2016), Before I Fall (2017), Happy Death Day (2017) and Naked (2017), plus an entire tv series with Day Break (2006-7).
Indeed, Boss Level comes out surrounded by a plethora of treatments of the idea. Earlier in the year, there was the hilarious Palm Springs (2020) and at about the same time that Boss Level was released to streaming platforms there was also a teen film version with The Map of Tiny Perfect Things (2021). And just before all of these, there had been the Natasha Lyonne-starring tv series Russian Doll (2019- ), which has just started shooting a second season as I write this.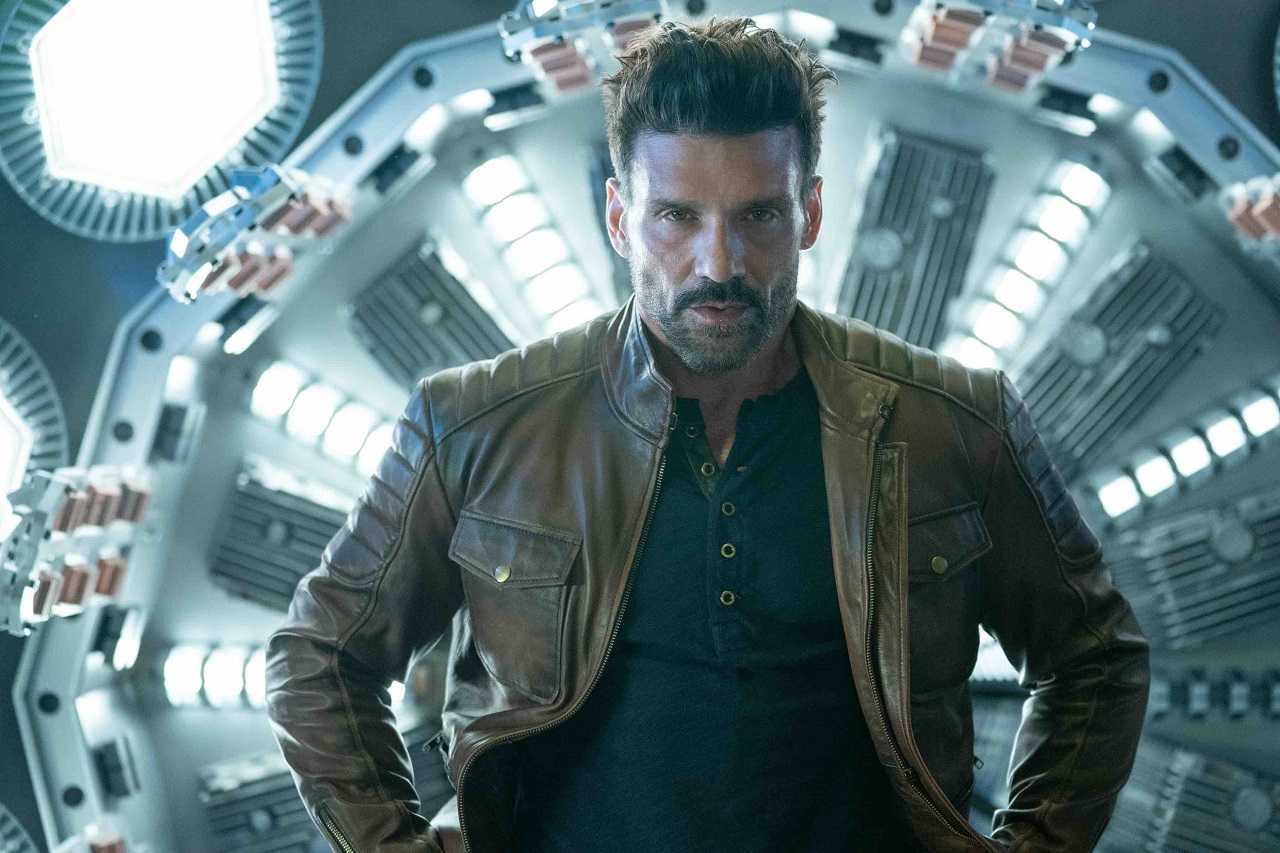 The film opens on a standard list of production company credits but these are made to resemble the low-res graphics of an 80s arcade game – just like the game of Street Fighter we see Frank Grillo and (his real-life) son Rio playing in the middle of the film. The credits even end with a graphic just like the old school games that allowed you to match your player character and opponent, before we segue into the live-action scenes. This is followed by a barrage of cartoonishly over-the-top action scenes with Frank Grillo evading assassins, helicopters outside his window shredding his apartment with heavy gunfire, he diving out the window and breaking his fall on a passing truck of sand, snatching a sports car in the street and engaging in a high-speed chase as other assassins pursue shooting.
The film seems to exist in a city where there is no such thing as a police response to this massive outlay of gunfire, carnage and vehicular mayhem taking place in the streets – the only police we ever see are later in the film in the scene where Frank Grillo has to fight his way past them to get to the crime scene where his son has been killed. This, along with Carnahan's gleeful love of stylised action moves and the game-styled opening credits, makes one think that what we are watching is another Videogame Films – the sort where a character suddenly becomes aware that they are a character inside a videogame. Indeed, there seems little difference between the world here and the one in Free Guy (2021). Even the title Boss Level is taken from videogaming referring to the toughest level of the game where a player has to face the chief villain or boss.
This doesn't turn out to be the case and in fact what we have is another timeloop film that has been pitched as an Action Film. At first thought, this is an idea that seems gimmicky. It does perhaps reveal the underlying connection between the videogame and the timeloop film in that some timeloop films often end up resembling videogames (and have almost certainly been conceived that way – Edge of Tomorrow being the most notable example) in the sense that each reset of the scenario looks exactly like a player character getting a new life.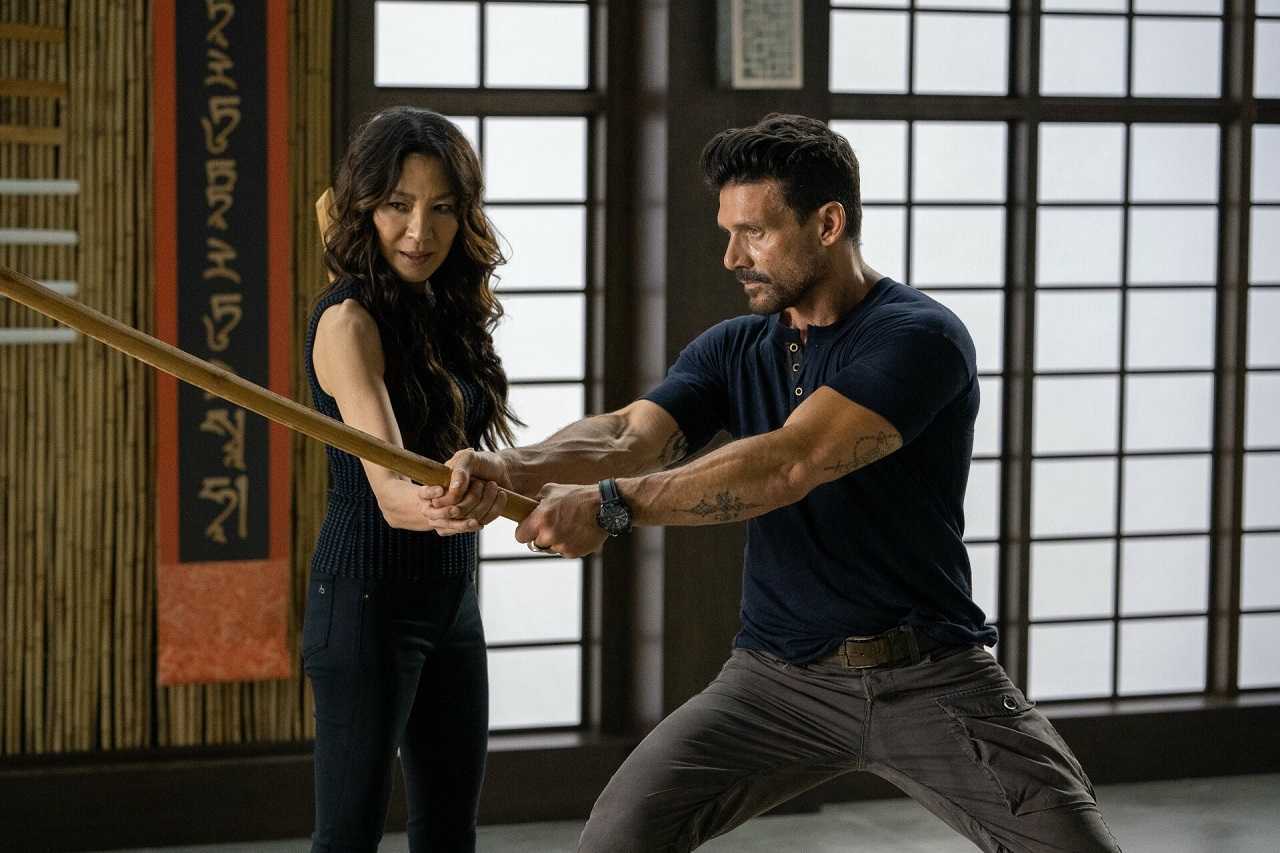 You can enjoy Boss Level for the snappy kinesis of Joe Carnahan's action scenes, car chases and entertainingly violent despatches – in particular the sword battles with Selina Lo, which even come with an amusing tribute to the Raiders of the Lost Ark (1981) sword and gun scene. Carnahan is clearly in his element and creates a range of colourful assassins – German twins, dwarves, doubles of Frank Grillo, rednecks in pick-up trucks and a woman wielding a hand-crafted Nazi Walther PPK. The diner improbably just happens to have a surveillance expert and a master sword fighter seated a matter of feet away from Frank Grillo, all of whom will prove critical in lending their expertise to his mission. It is something that resembles the line-up of quirky, individualistic characters you always get in one of Guy Ritchie's gangster films.
The over-the-top action scenes come contrasted with some surprisingly well written scenes – the scene where Frank Grillo visits ex Naomi Watts in her laboratory that becomes an excavation of his failings in their relationship; Mel Gibson's recounting to Naomi Watts a wartime story where he saw a python devour a boar; the scenes where Frank Grillo reconciles with his son and they sit on a bench as the End of the World sweeps over them or his retelling of all he has learned to Naomi. Even the dialogue given to Mel Gibson and Selina Lo comes with a wryness and depth.
It is this writing that turns what starts out seeming to be a cartoonish action film into something surprising. The film starts out like a live-action videogame but the scenario opens up with all manner of unexpected twists and unusual depths that are not even hinted at the outset. I didn't think this mix of kinetic action film and unexpected character writing was going to work but the film proves me wrong.
---