---
Crew
Directors/Screenplay – The McManus Brothers, Producers – Kevin McManus, Matthew McManus, Ashleigh Snead & Andrew van der Houten, Photography – Alan Gwizowski, Music – Paul Koch, Visual Effects – Chris Cruse, Derek Desmond, Eli Dorsey, Giant Propeller (Supervisor – Cameron Ake) & Kevin McManus, Special Effects – Everest Special Effects (Supervisor – Chris Bailey), Makeup Effects – Christopher Arredoondo, Production Design – Charlie Textor. Production Company – 30 Bones Cinema/Hood River Entertainment/Title Media/Captain Inertia Media.
Cast
Chris Sheffield (Harry), Michaela McManus (Audry), Neville Archambault (Tom), Matilda Lawler (Emily), Ryan O'Flanagan (Paul), Jim Cummings (Dale), Heidi Niedermeyer (Jen), Willie C. Carpenter (Chief Rogers), Matthew Lawler (Officer McGarry), Jeremy Holm (Kurt), P.J. McCabe (Gerry)
---
Plot
On Block Island just off the coast of Rhode Island, Harry becomes concerned for his father Tom who seems to stand blankly staring or go out in his fishing boat at night and have blackouts about what happened. At the same time, Harry's sister Audry arrives on the island with her young daughter Emily and co-worker Paul. They are there to investigate large numbers of fish that are found washed up on the island's beaches. Tom then disappears while out on his boat at sea. While the authorities don't seem inclined to do much, Harry obsesses and becomes determined to find him. Audry then notices that Harry is experiencing the same obsessiveness and blackouts that Tom did, while taking the boat out on mysterious journeys at night.
---
The Block Island Sound was the second film from brother Kevin and Matthew McManus who had previously directed/written Funeral Kings (2012) and then worked as writers on tv shows such as DaVinci's Demons (2013-5), American Vandal (2017-8) and Cobra Kai (2018- ). The film is produced by Andrew van den Houten, head of the L.A.-based Hood River Entertainment, who has been prolific in producing mid-budget genre films since the mid-2000s.
The Block Island Sound started receiving some modest word of mouth after appearing on some of the virtual film festivals that were held online during the pandemic in mid-2020. The surprise going in is firstly to find that Block Island is a real place – about ten miles off the coast of Rhode Island – and that the Block Island Sound is a stretch of surrounding water. My initial assumption was that we would be watching a film set on an island dealing with strange aural sounds.
Quite what The Block Island Sound is about though is a good guess. It is a film that is frustratingly vague about what is going on – in a good way. We see things through the eyes of Chris Sheffield as he deals with his father Neville Archambault who looks as though his blood pressure has been wound up to the point that he resembles a cartoon character who is about to emit puffs of smoke from his ears. At first Sheffield is dealing with odd happenings like the fridge being left open in the middle of the night with food items scattered across the kitchen and his father going out in the boat at night, returning with items strewn on the deck and his memory a blank. In the opening scene, we see Archambault coming around on the boat at sea with fish on the deck and then ominously finding the dog collar hanging over the side and the dog missing.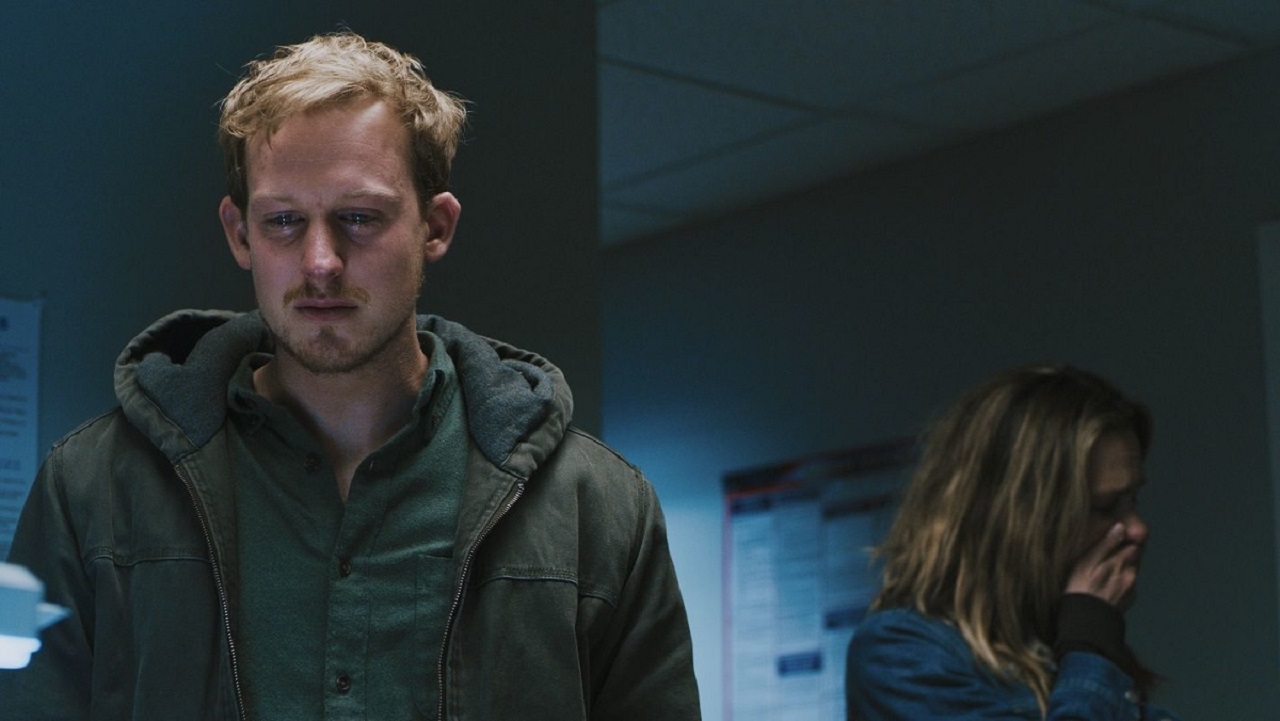 You could easily put all of this down to being a senior moment on the part of Neville Archambault, even though he looks as though he is barely touching sixty. (Or given that my initial assumption was that we were dealing with a mysterious audio signal, I was wondering if the film was not something akin to The Signal (2007) where he was being affected by some type of mass insanity out on the water). Things become decidedly creepy about the point when we see Archambault looking in on young Matilda Lawler with intent and then the others being woken in the middle of the night by her screams and entering to find him just standing there and she cowering but saying nothing where her panic is dismissed as just night terrors. After Archimbault's disappearance, it becomes equally disconcerting when we see Chris Sheffield start to become affected and go through the same thing.
All of the happenings are contrasted with a scene-stealing appearance from Jim Cummings, the director/writer/star of The Wolf of Snow Hollow (2020) and other films, as a conspiracy junkie going on about cat overlords, chemtrails and sea creatures exuding mind control parasites that caused the crew of the Mary Celeste to willingly jump overboard. Elsewhere, the film taps into the conspiracy theory belief in EHS (electromagnetic hypersensitivity) – the belief that people are negatively affected by electromagnetic fields – and we see Chris Sheffield throwing out all his electronic items, while Michaela McManus goes off to see Jeremy Holm who lives in a caravan away from any electronic influences. All of which gives The Block Island Sound the feeling of existing well inside a frame of wackjob conspiracy theory nuttiness.
Eventually, [PLOT SPOILERS] The Block Island Sound reveals itself as a film about alien abduction. At least that's what you assume. The only clear indications we get is when reference is made to "them, up there". It becomes frightening when we see Chris Sheffield go out on the water and then see 'something' affecting the boat and causing all items aboard including the dog on its collar to float up into the air. Things become progressively more intensive, ending on a tense climax where Chris snatches Matilda and tries to abduct a woman, with Michaela McManus trying to prevent being sucked up into the sky as her daughter huddles in fear in the cabin.
---
Trailer here
---