---
Crew
Director – Chad Hartigan, Screenplay – Mattson Tomlin, Based on the Short Story by Aja Gabel, Producers – Lia Buman, Rian Cahill, Chris Ferguson, Tim Headington, Brian Kavanaugh-Jones & Mattson Tomlin, Photography – Sean McElwee, Music – Keegan DeWitt, Visual Effects – CVD VFX Ltd. (Supervisor – Matt Lane), Special Effects Supervisor – Bob Lyle, Production Design – Caitlin Byrnes. Production Company – IFC Films/Tango Entertainment/Black Bear Pictures/Automatik/Oddfellows.
Cast
Olivia Cooke (Emma Ryerson), Jack O'Connell (Jude Williams), Soko (Samantha), Raul Castillo (Ben Richards), David Lennon (Tim)
---
Plot
The world is ravaged by NIA (Neuroinflammatory Affliction), a virus that causes people to lose memories. This can come on abruptly or happen gradually. Veterinarian Emma Ryerson realises that her husband, photographer Jude Williamson, has become affected and sees him gradually staring to forget things. She keeps a journal, remembering how they first met, became involved and then married. She struggles to keep them together and find a possible cure for Jack as this starts to affect more and more of their relationship.
---
Little Fish comes from Chad Hartigan, a director who has made a handful of not widely seen indie films with the likes of Luke and Brie Are on a First Date (2008), This is Martin Bonner (2013) and Morris from America (2016), all of which are non-genre works. The name on the credits that caught my attention was that of Mattson Tomlin, a screenwriter on the rise. Tomlin had previously directed The Projectionist (2008) and Solomon Grundy (2012), neither being widely seen. Several months prior to this, Tomlin had written the script for the superpowers film Project Power (2020), which had apparently been the result of a bidding war, and directed Mother/Android (2021). The film adapts a 2011 short story by newcomer writer Aja Gabel.
The premise of a world where a plague affects people with amnesia is an excellent one. The same idea had previously been conducted in the also worthwhile Embers (2015). Embers is more of an arthouse film, which charts several different people as they experience periodic memory resets. Around the same time, there was also the Greek-made Apples (2020) about a plague that causes amnesia, which I have yet to see. (See also Films About Plague and Pandemic).
Little Fish focuses its story on one couple who are present in in just about every scene of the film and tells the story through their eyes as they experience a plague that is causing his memory to gradually disappear (she doesn't appear affected for most of the film). There are only brief glimpses of how this affects the rest of the world – stories of a fisherman swimming to shore because he can't remember how to pilot his boat; a woman who keeps jogging because she doesn't remember where her home is; planes crashing; their friend Raul Castillo attacking his girlfriend Soko because he doesn't recognise her any more.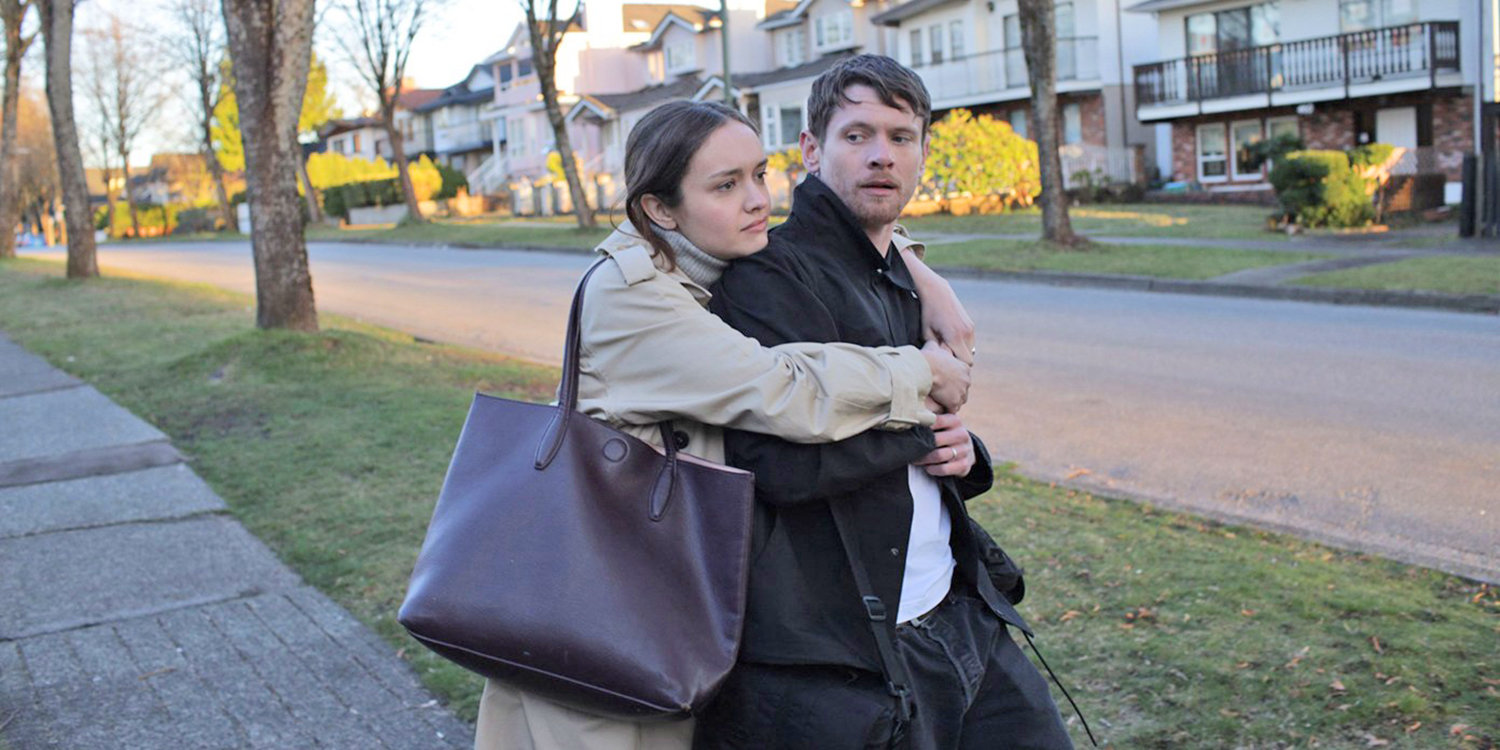 Little Fish works with a strong hook of a screenplay, being told through the eyes of Olivia Cooke as she watches husband Jack O'Connell losing his memory. This is clearly the type of film that Chad Hartigan does well – a small, intimate relationship drama. In his hands, it becomes a strong, heartfelt love story about people slowly losing the things that are important to them. The script is told in a non-linear way – it doesn't begin with the start of their relationship but in the midst of the plague and then jumps back and forward between events at various points in time, which if you think about is just how memory itself operates.
Amid this, there are some great pieces of writing. There is the jolt as Olivia Cooke explains to Jack O'Connell that this is the third time they have had the same argument about their rescue dog. One of the most powerful scenes that Mattson Tomlin delivers is where Jack O'Connell tells how he is losing it, how he has been masking it and all the things that Olivia means to him. The ending, which also comes in a circle to the beginning, is bleak but hopeful in its own way.
In the lead role is Olivia Cooke who has emerged through a succession of genre roles in The Secret of Crickley Hall (2012), Ouija (2014), The Quiet Ones (2014) and The Signal (2014). Although she is 27, Cooke feels like she has been playing roles as a teenage girl for the last decade, even as recently as Steven Spielberg's Ready Player One (2018). This feels like it is her first role as a grown-up. On the other hand, Cooke is not the actress that most easily comes to mind as a romantic lead. She resembles fellow British actress Keira Knightley but has large brown eyes that constantly suggest something very troubled not far beneath the surface.
(Nominee for Best Adapted Screenplay at this site's Best of 2020 Awards).
---
Trailer here
---