---
Crew
Director – Steven Manuel, Screenplay – Peter Arneson, Producers – Alex Magnani, Steven Manuel & Axel Wedekind, Photography – Jan Reiff, Music – The Vibez & Stefan Ziehten, Special Effects – Feuerfest SFX (Supervisor – Sven Kühn), Production Design – Alexandra Gail. Production Company – Fullfeedback Productions/Bar Vinya Film/Waterbear Productions.
Cast
Axel Wedekind, Rungano Nyoni
---
Plot
A man wakes up locked inside a vault. The room is empty with the exception of a large iron door, a locker and a dead rat. He finds a key to the locker and opens it to find it contains an oxyacetylene torch and some tools. He is eventually able to chip through the cement wall to the adjoining room, which turns out to be another vault containing a coffin. This contains an African woman who speaks no English. Despite the language barrier, the two form a cautious relationship in an effort to find a means of escape.
---
Iron Doors was the sixth film from Steven Manuel, an Irish director who lives and works in Germany. Manuel has made assorted dramas and comedies before this. His only other works that broach genre material are Perfect Hideout (2008) about a hostage situation featuring a serial killer and Lucky Fritz (2009) where a guy becomes sexually irresistible following a lightning strike.
The film opens with Axel Wedekind trapped in a room empty except for a locker, a dead rat and a large vault door. Here Iron Doors becomes an imprisonment thriller – see my essay Imprisonment Thrillers for a much more detailed overview of the genre – if not even a prototypic version of an escape room film. The film follows his exploration of the room, his attempts to break out, the thwarting of these and his eventual combination of items available to him to break through the wall to the adjoining room.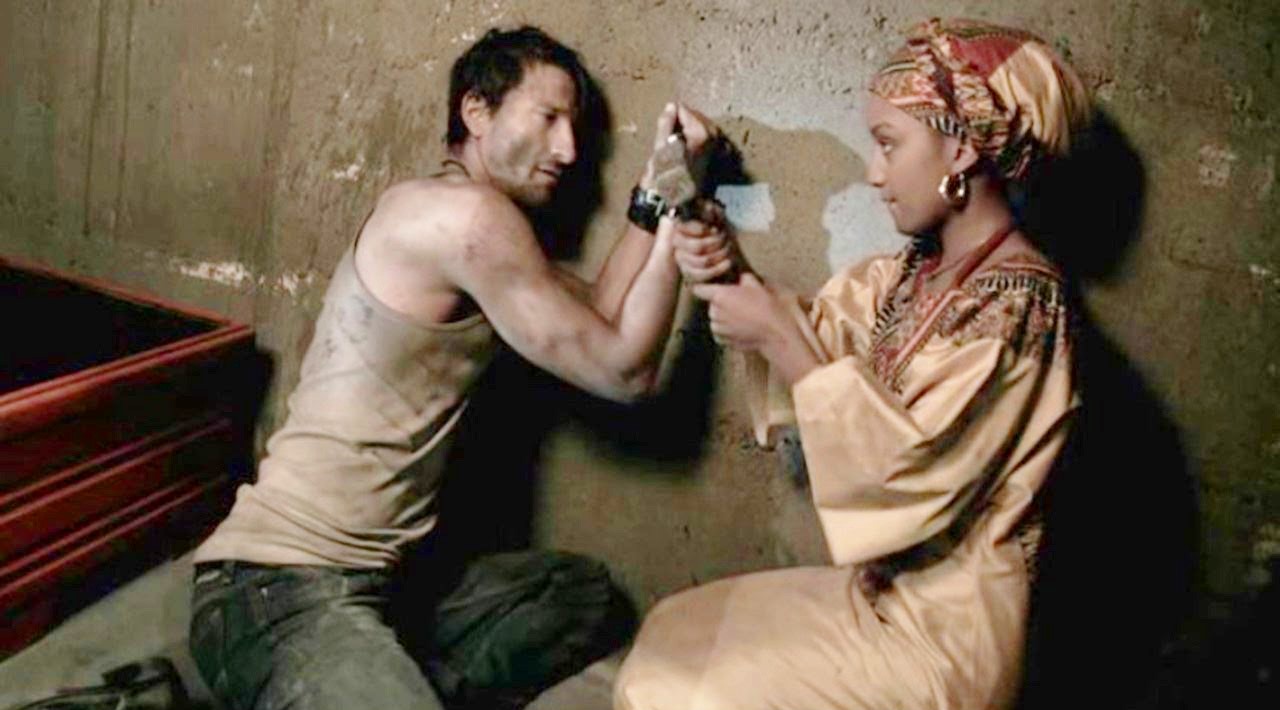 By the time we get into the other room, we are getting a distinct vibe of Cube (1997) and assorted other films that have borrowed from its premise such as Shadow Puppets (2007), Andron (2015), Meander (2020) and Escape the Field (2022). These become the idea of the Labyrinth film where people are imprisoned inside a maze of rooms and must puzzle together the rationale of the set-up and find a way out. This film never goes beyond three rooms. It does create puzzles – like why the doors only open when people are not looking – but never seems that interested in answering them. The end that the film arrives at is the same one as in Meander but in both films there is a puzzling lack of explanations as to why.
That said, once Rungano Nyoni is introduced, Iron Doors becomes less of a labyrinth film than one about the friendship and trust between her and Axel, eventually leading to more than that, despite the lack of any common language between the two of them. The two characters are peculiarly never given names. Rather than puzzles, Steven Manuel's focus at times seems to be on the grossness of the things that the situation forces them to do – Axel Wedekind pissing in his shoe and then drinking it, eating maggots and the big debate over whether they should eat the dead rat or not.
---
Trailer here
---