---
Crew
Director – Grant Heslov, Screenplay – Peter Straughn, Based on the Book by Jon Ronson, Producers – George Clooney, Grant Heslov & Paul Lister, Photography – Robert Elswit, Music – Rolfe Kent, Music Supervisor – Linda Cohen, Visual Effects Supervisor – Thomas J. Smith, Visual Effects – CIS Hollywood, Special Effects Supervisor – Kevin Harris, Production Design – Sharon Seymour. Production Company – Winchester Capital Management/BBC Films/Overture Films/Smoke House/Ruby Films/Westgate Films Services LLC.
Cast
George Clooney (Lyn Cassady), Ewan McGregor (Bob Wilton), Jeff Bridges (Bill Django), Kevin Spacey (Larry Hooper), Stephen Lang (Brigadier-General Dean Hopgood), Robert Patrick (Todd Nixon), Stephen Root (Gus Lacey), Waleed Zuaiter (Mahmud Daash), Glenn Morshower (Major Holtz), Nick Offerman (Scotty Mercer), Tim Griffin (Tim Kootz), Rebecca Mader (Deborah Wilton)
---
Plot
Bob Wilton is a journalist in Ann Arbor, Michigan. In 2002, he writes a curiosity piece about Gus Lacey who claims to have been part of the US government's psychic warfare program during the 1980s. Gus shows Bob a videotape where he claims to psychically kill a hamster. Not long after, Bob loses his job, followed by his wife leaving him. Then comes the Iraq War and Bob decides to head to the Middle East to prove himself by becoming an embedded journalist. In a Kuwait bar, he meets contractor Lyn Cassady and recognises his name as one of the psychic warfare operatives that Gus mentioned. Bob persuades Lyn to take him along as he heads into Iraq. As they travel through the desert and are then captured by Iraqis, Lyn tells Bob the story of US government's psychic warfare unit. This was dreamed up by Bill Django, following an epiphany during the Vietnam War. Django received government funding to find alternate means to conduct warfare. After a decade-long dive into counter-culture and alternate religions, he formed the New Earth Army in 1980, teaching recruits techniques in remote viewing, disrupting opponents' thoughts, even walking through walls. However, the unit was disbanded after the jealous Larry Hooper came aboard and wreaked havoc. Django was disgraced and Hooper pushed the new commanding officer to conduct experiments in teaching men to psychically kill by focusing their will on goats. Now, Wilton learns that Lyn is following a dream vision from Django. This leads them to where Hooper is commanding a new privately contracted psi-ops unit in the Iraq desert.
---
The Men Who Stare at Goats rather amusingly claims to be based on the true-life story of the US military's psychic warfare division. The film is taken from a non-fiction book The Men Who Stare at Goats (2004) by British journalist and documentary-maker Jon Ronson. Ronson is of the gonzo journalism school and specialises in works tackling fringe political figures and extremists. The Men Who Stare at Goats was based on Ronson's true-life investigation into the US military's psychic and psychological warfare division – Ronson had also presented the same material in a three-part documentary series The Crazy Rulers of the World (2004) for UK's Channel 4.
One initially regarded the film's claim to be telling a true story as on the order of the same blatant wool-pulling over the eyes as the Coen Brother's Fargo (1996), The Blair Witch Project (1999) or The Fourth Kind (2009) and their similar (untrue) claims to be telling true stories. (See Films That Make Dubious Claims to Be Based on True Stories for more detail). However, as the opening credits for the film announce, "more of this is true than you would believe." Assuming that Jon Ronson was not making up what he documented in his book, many of the things that we see in the film actually occurred. The stories about training to mentally kill goats, the interview with the man who shows a videotape of himself psychically killing his hamster, the meeting with Major-General Stubbelbine who wants to master the ability to phase shift (or walk through walls) but keeps banging into them all happened according to Ronson.
Bill Django is based on Lieutenant-Colonel Jim Channon who founded the First Earth Battalion using techniques fairly much as described here (and is apparently applying the same techniques today for multinational corporations – Channon has a reasonable web presence and some of his writings make for interesting reading), while George Clooney's character is a combination of two real world characters Glenn Wheaton and Guy Savelli.
Ronson also uncovered that the US military were employing many of the psychological techniques developed by the psi-ops unit in modern-day Middle East war zones, including the Predator weapon that looks innocuous and has multiple deadly uses and the torturing of prisoners by playing them the Barney theme song. (Although one thing that the film appears to have made up is the climactic incident where LSD is placed in the drinking water of US military units stationed in Iraq).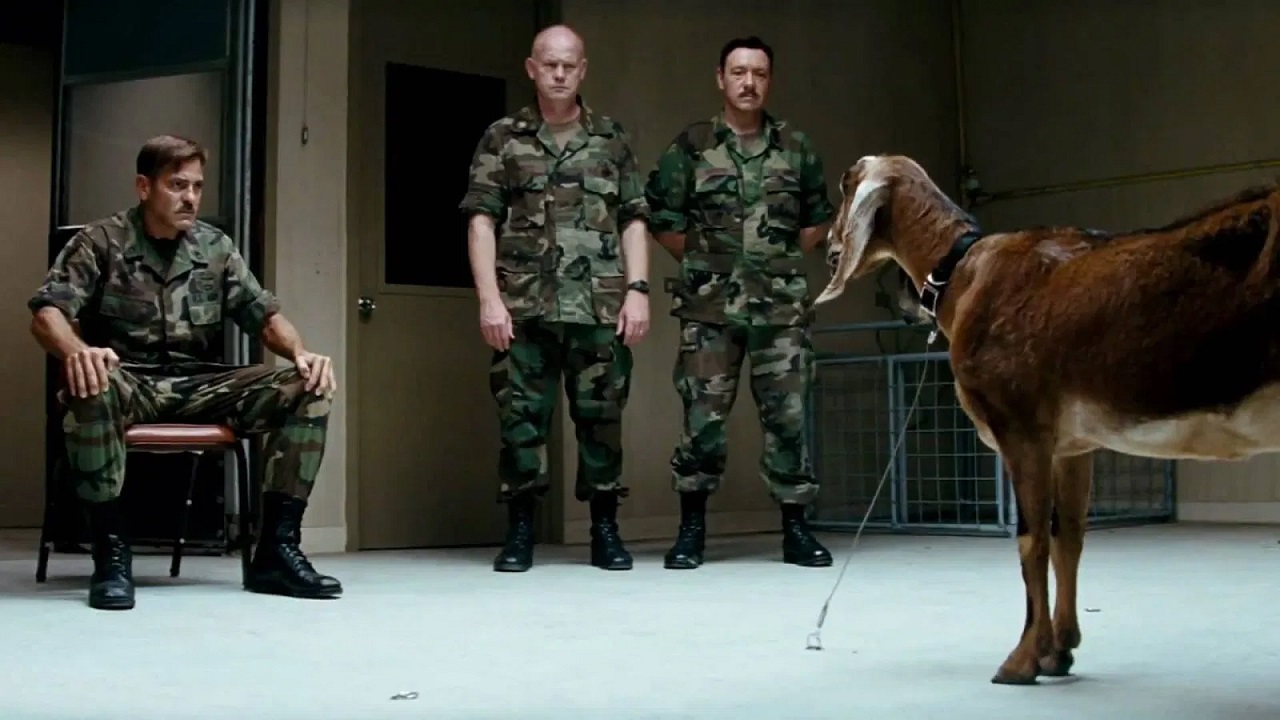 The Men Who Stare at Goats was the second directorial film from Grant Heslov. Heslov is better known as an actor and has played various roles without attaining a high-profile presence – he is probably best known within genre material as the sidekick thief in The Scorpion King (2002) or as the lab assistant in Congo (1995). Heslov had previously directed Par 6 (2002), a comedy about a family who try to build a golf course, but hardly anybody saw that. Heslov has been a long-time associate of this film's lead actor George Clooney – he produced several Clooney starring films including Intolerable Cruelty (2003) and The American (2010), produced and co-wrote the script for Clooney's highly acclaimed directorial outing Good Night, and Good Luck. (2005) (for which they were both nominated for an Academy Award) and produced Clooney's subsequent directorial efforts Leatherheads (2008), The Ides of March (2011), The Monuments Men (2014), Suburbicon (2016) and The Midnight Sky (2020), while the two also produced Ben Affleck's Argo (2012) and August: Osage County (2013). Heslov and Clooney are partners in the Smoke House production company, which they formed in 2006.
Grant Heslov has clearly set out to make something that hits in with the tone of a Coen Brothers comedy. He (and Jon Ronson) both approach the material as out-and-out farce. Heslov throws some highly amusing pieces – be it images of soldiers trying to run through walls, a sidesplitting scene with Kevin Spacey trying to summon his spirit guides or the climactic scene where LSD is placed in the base's drinking water. A substantial weapon in Heslov's arsenal is his good friend George Clooney. Clooney never seems more in his element when getting the chance to throw it back in comedy roles and has an absolute field day here – be it trying to psychically stare down gunmen, mentally move clouds or demonstrating various whacked-out psychic solider techniques to Ewan McGregor in the middle of the desert.
On the other hand, perhaps in comparison to the Coen Brothers, The Men Who Stare at Goats seems to pull its punches. Heslov seems to be treading lightly when it comes to the Iraq War perhaps due to the number of films critical of such that have flopped in recent years. He, for instance, drops altogether Ronson's investigation into the deployment of the psi-ops torture tactics at Abu Ghraib prison. There is a tone of farce – particularly when it comes to the scenes of the two private security companies shooting each other up in the street – but one keeps thinking that with the material the film has, it could have been built to an absurdist modern masterpiece akin to other military lunacy efforts like Dr Strangelove or, How I Learned to Stop Worrying and Love the Bomb (1964), Robert Altman's M.A.S.H. (1970) or Joseph Heller's Catch 22 (1961), which Heslov and Clooney later went on to remake in a 2019 mini-series. The Men Who Stare at Goats is not an unenjoyable and unfunny film by any means; it just feels that it could have been more.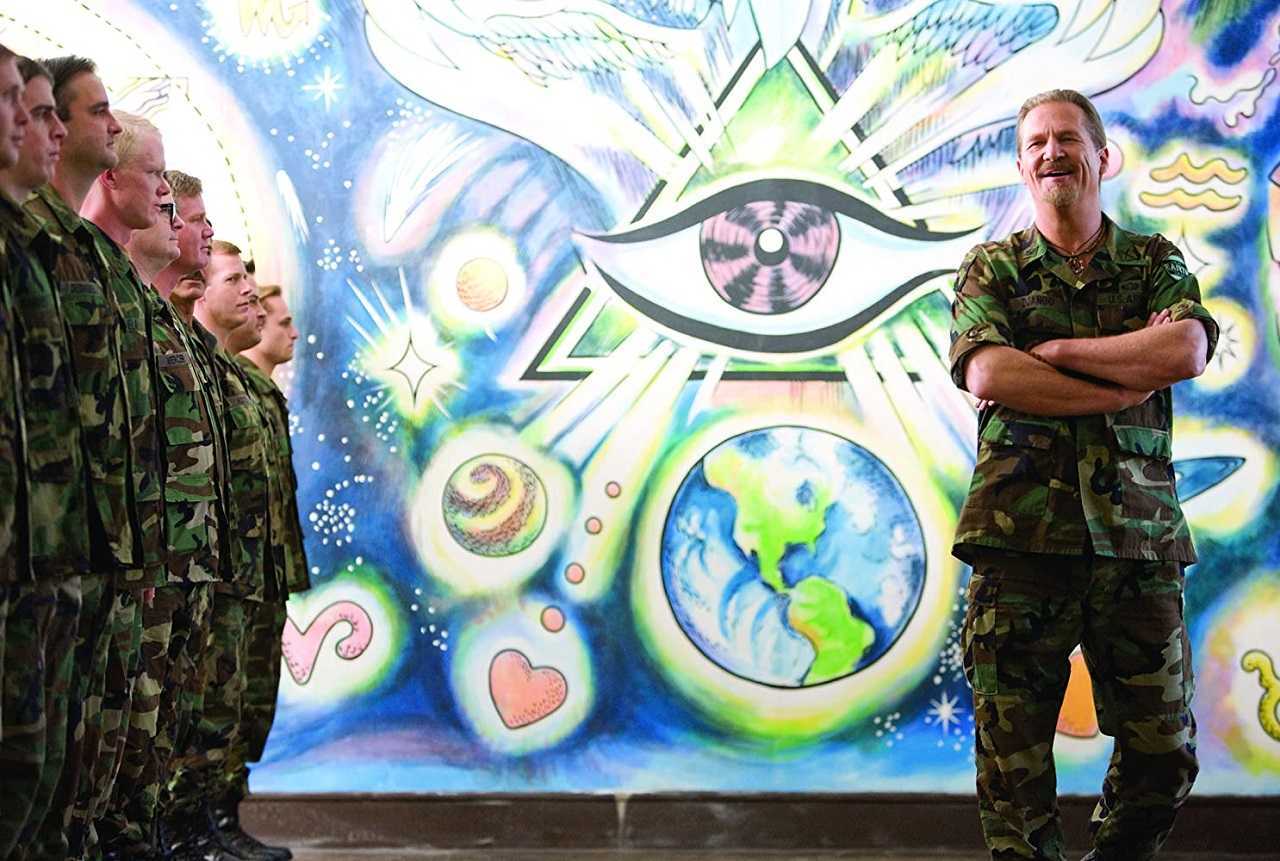 The other thing that one might query is the film's approach. It seems to sit on the fence as to whether the psychic powers are real or not and sways both ways at various points without fully coming down on either side. George Clooney appears to be able to kill goats, move clouds about and remote view, while the film's last throwaway gag is of Ewan McGregor finally mastering the technique of walking through a wall. At other points though, the film is making fun of Clooney trying to whip up an intense psychic stare and nothing happening, following dreams into the desert or the comic mishaps of assumptions about psychic powers going wrong – like the opening scene with Stephen Lang's general running into a wall.
Clearly, the intention is that we look upon these scenes as comedic ones about people who are delusional about what they believe they can do. However, this uncertainty of approach confuses – if the powers are real then what we surely have is a frightening real world possibility of some X-Men squad, which would surely mean that approaching such a revolutionary discovery as farce is doing it a disservice. The other (more likely) possibility is that all involved are delusional about their ability to do these things, which surely says frightening things about the lunacy of the people running the largest army in the world. However, the film seems to muddy the waters here by playfully saying that some of it was real and not taking more of a rigorously sceptical position about how deluded these individuals are.
George Clooney is the clear star of the show and seems to be having the most fun he has had on screen in years. Opposite him, Ewan McGregor does the painedly earnest hand wringing he customarily does. (It does seem ironic casting McGregor as a journalist investigating a unit who call themselves Jedi Warriors, with he having just come from playing the young Obi-wan Kenobi in the Star Wars prequels). Jeff Bridges play about his 157th aging hippie role but gets a good many of the films laughs. Kevin Spacey is unfortunately lumbered with a one-dimensional villain role, nevertheless stands out in odd moments.
(Nominee for Best Actor (George Clooney) at this site's Best of 2009 Awards).
---
---