---
Crew
Director – Robert Lieberman, Screenplay – Tracy Tormé, Based on the Book The Walton Experience by Travis Walton, Producers – Todd Black & Joe Wizan, Photography – Bill Pope, Music – Mark Isham, Visual Effects – Industrial Light and Magic, Visual Effects Supervisor/Alien Sequences Design – Michael Owens, Special Effects Supervisor – Alan Edward Lorimer, Production Design – Nilo Rodis Jamero. Production Company – Paramount.
Cast
D.B. Sweeney (Travis Walton), Robert Patrick (Mike Rogers), James Garner (Lieutenant Frank Waters), Craig Sheffer (Alan Dallis), Peter Berg (David Whitlock), Henry Thomas (Gregory Hayes), Bradley Gregg (Bobby Coghill), Noble Willingham (Sheriff Blake Davis), Kathleen Wilhoite (Kate Rogers)
---
Plot
1975 in the small town of Snowflake, Arizona. Five logging workers return with an incredible story. Coming home from a job, they came across what at first looked like a forest fire but instead proved to be a UFO. A sixth worker Travis Walton was attacked by a beam of light and they fled, leaving him presumed dead. A sceptical state investigator thinks that this a cover-up for a murder. The five find themselves the target of gossip and mistrust in the town. Travis then reappears in a state of almost catatonic fear and with an unbelievable story about how he was abducted and experimented on by aliens.
---
The publicity machine behind Fire in the Sky assures one that the film is based on one of the most strongly documented UFO abduction cases. The Travis Walton abduction, which occurred in Arizona in 1975, is one of the few (perhaps only) alien abduction case that would seem to have reliable eyewitness accounts. As Fire in the Sky accurately recounts, Travis Walton was abducted while returning from a forestry job and turned up, after an extensive search had been mounted in the interim, five days later several miles away in a dazed and confused state. The abduction attracted considerable attention and all the men confirmed their story under a lie detector test. Travis Walton wrote a book about the incident The Walton Experience (1978), which the film is based on, and can be seen interviewed in the documentary UFO's Are Real (1979). In recent years, there have been a number of sceptical voices come to the fore, notably in pointing out that Travis Walton initially failed his polygraph test.
It would be easy to dismiss Fire in the Sky as merely another based-in–'fact' film about UFO abductions – a la The UFO Incident (1975), Communion (1989) et al. As such, Fire in the Sky offers no new evidence or theories as to what the abductions are about and is probably not going to convince anyone who does not already believe. However, there is no denying that it is a well made film.
An uneventful opening and even a routine initial encounter with the UFO soon develops into a persuasively written portrait of smalltown suspicion and rumour-monging and a group of men who decide to tell the truth no matter what the personal cost to themselves. In these sections, the film features a number of strong performances, particularly from Robert Patrick. Several pounds heavier and almost totally unrecognisable from his previous role as the emotionless machine in Terminator 2: Judgment Day (1991), Patrick gives an altogether different performance as a troubled ordinary man who tries to do good.
Fire in the Sky's most striking scenes are when it finally takes us inside the UFO and grants a picture of the incomprehensibility and terror of the experience from the abductee's point-of-view – with D.B. Sweeney waking inside an organic cocoon and tearing free to find himself floating in zero g; the discovery of a series of spacesuits with the insect-like eyes (an intriguing explanation of the varying types of creatures seen); dwarfish, wrinkled creatures holding him down on an operating table where, in a series of truly wild images, a plastic cocoon-like sheet is spread across him with slits cut for his mouth and one eye, a gleaming steel plug inserted down his throat, a clamp jammed into his eye to hold it open and liquid squirted into it, and a steel gizmo full of drills and claws descends. It is a terrifyingly conveyed sequence.
Scriptwriter Tracy Tormé has a clear fascination with UFO abduction stories – he also wrote the tv mini-series Intruders (1992), which was along similar lines to Fire in the Sky, and had personally optioned Travis Walton's book and struggled for a number of years to mount the film. Until the arrival of The X Files (1993-2002, 2016-8) later the same year, Tracy Tormé was the only filmmaker out there consistently attempting a rational explanation that took the side of the abductees.
Tormé's approach is interesting to contrast to the only other person up to then in science-fiction cinema to repeatedly take up the theme of UFO phenomena, namely Steven Spielberg with the likes of Close Encounters of the Third Kind (1977) and E.T. – The Extra-Terrestrial (1982), plus Batteries Not Included (1987) and the tv mini-series Taken (2002), which he executive produced. Where Spielberg sees UFOs as phenomena of child-like awe, as an almost religious sublime that comes to touch the lives of his mundane but child-like innocent characters, Tracy Tormé sees UFO phenomena as vast, inexplicable and terrifying. Rather than being touched by the sublime, Tormé's characters seem more like rape victims whose lives have been wrecked to the point they cannot communicate the horrors they have experienced.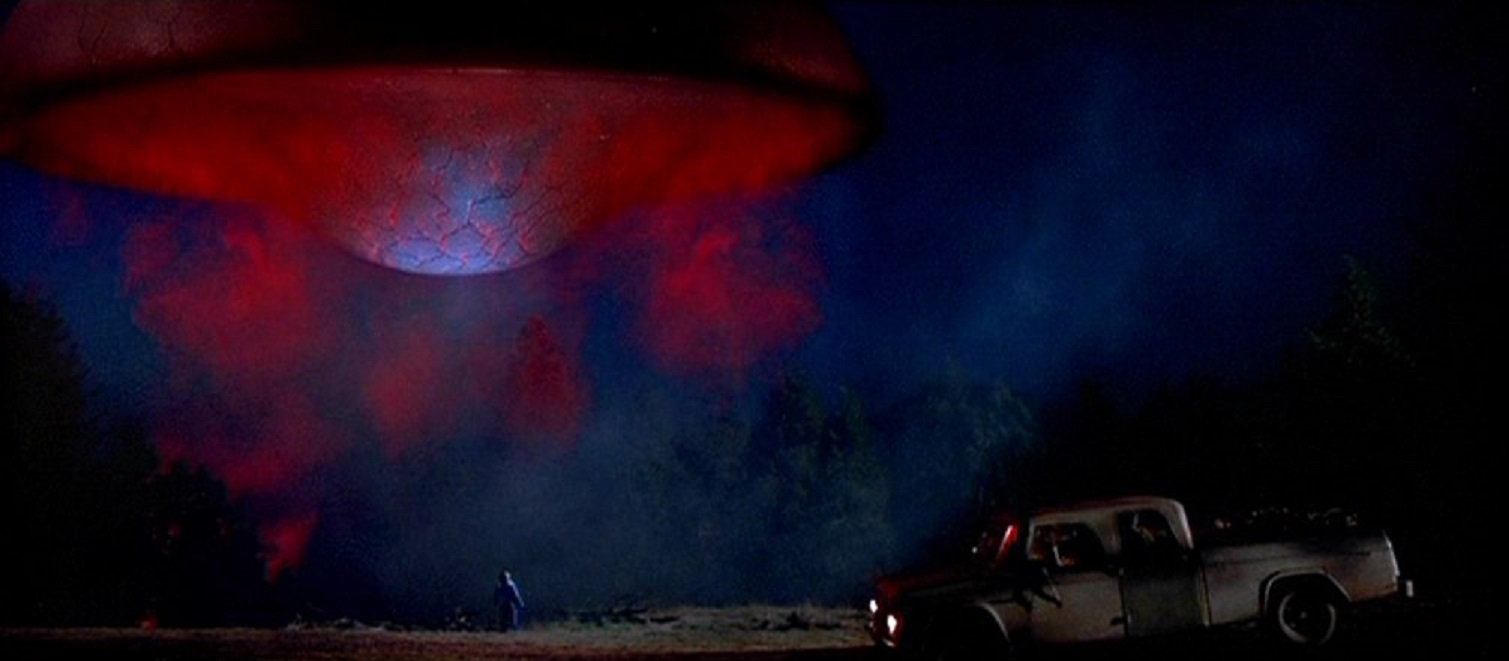 Scriptwriter Tracy Tormé is a genre regular. He began writing episodes and graduated to script editor in the first two seasons of Star Trek: The Next Generation (1987-94), wrote the modestly effective occult film Spellbinder (1988) and went onto write/produce the alien abduction tv mini-series Intruders (1992), create the alternate world hopping tv series Sliders (1995-2000) and the sf series Odyssey 5 (2002-4). Tormé also acts as executive producer on the tv series Carnivale (2003-5) and the film I Am Legend (2007), which he had originally developed the script for.
Director Robert Lieberman has since mostly worked in television where he has directed genre mini-series such as the futuristic cyber-thriller Net Force (1999), the fantasy series Earthsea (2004), the alien invasion mini-series Final Days of Planet Earth (2006) and the disaster mini-series Eve of Destruction (2013), as well as the horror film The Tortured (2010).
---
Trailer here
---