---
Crew
Director – Barry Sonnenfeld, Screenplay – Ed Solomon, Based on the Comic Book Created by Lowell Cunningham, Producers – Laurie McDonald & Walter F. Parkes, Photography – Don Peterman, Music – Danny Elfman, Visual Effects Supervisor – Eric Brevig, Visual Effects – Industrial Light and Magic, Additional Visual Effects – Autumn Light Entertainment, VCE (Supervisor – Peter Kuran), Special Effects Supervisor – Kyle Ross Collinsworth, Alien Makeup Effects – Rick Baker, Makeup Effects – David Le Roy Anderson, Production Design – Bo Welch. Production Company – Amblin Entertainment/Columbia.
Cast
Will Smith (J/James Edwards III), Tommy Lee Jones (K), Linda Fiorentino (Dr Laurel Weaver), Rip Torn (Z), Vincent D'Onofrio (Edgar), Tony Shalhoub (Jack Jeebs)
---
Plot
While pursuing a suspect, NYPD detective James Edwards III is puzzled when the suspect displays two sets of eyes and a peculiar raygun. Afterwards, he is asked by the mysterious K to make an identification. K is impressed and asks Edwards to report to the organisation he works for. There Edwards is recruited into the Men in Black, an ultra-secret organisation that patrols alien immigrants on Earth and prevents ordinary citizens from ever finding out by using a memory neuralyzer to blank witness's memories of anything they see. Accepting the job, Edwards's identity is erased, he to now be known only as J, and he is given a standard issue black suit and a pair of sunglasses that protect him from the neuralyzer. However, as J starts learning about the job, he and K find themselves facing a threat to the Earth.
---
When a film ends up getting promoted as the next biggest thing since …, one's critical hackles start to rise. Men in Black was the big blockbuster of 1997, second only to Titanic (1997) at the box-office, largely due to an insistent mass-marketing campaign. The good news is that Men in Black is a better a film than the mass-marketing might suggest. It has a snappy script and a funky, laidback sense of humour. Indeed, if Men in Black had been made only a few years earlier, one suspects that it might have been a cult success – another The Adventures of Buckaroo Banzai: Across the Eighth Dimension (1984) or a Repo Man (1984) – rather than a mainstream mass-market hit. On the other hand, it is still a far cry from what the hype builds it up into.
Men in Black was adapted from the comic book created by Lowell Cunningham and published by Malibu Graphics, which ran for only six issues between 1990-1. The film differs incidentally from the comic but both tap into the same sense of humour and generate from the amusing idea – the tabloid myth that something happened at Roswell in the 1940s and that the US government is covering up the truth about it.
These ideas have so infiltrated their way into popular culture that Men in Black can take acceptance of it for granted – all the humour in Men in Black generates from playing the existence of such a conspiracy as a joke. Although, this must surely be the first time that the people covering up the conspiracy are the heroes – contrast this to tv's The X Files (1993-2002, 2016-8), which was at its peak of popularity at the time Men in Black came out, where the coverup is considered the greatest betrayal in human history.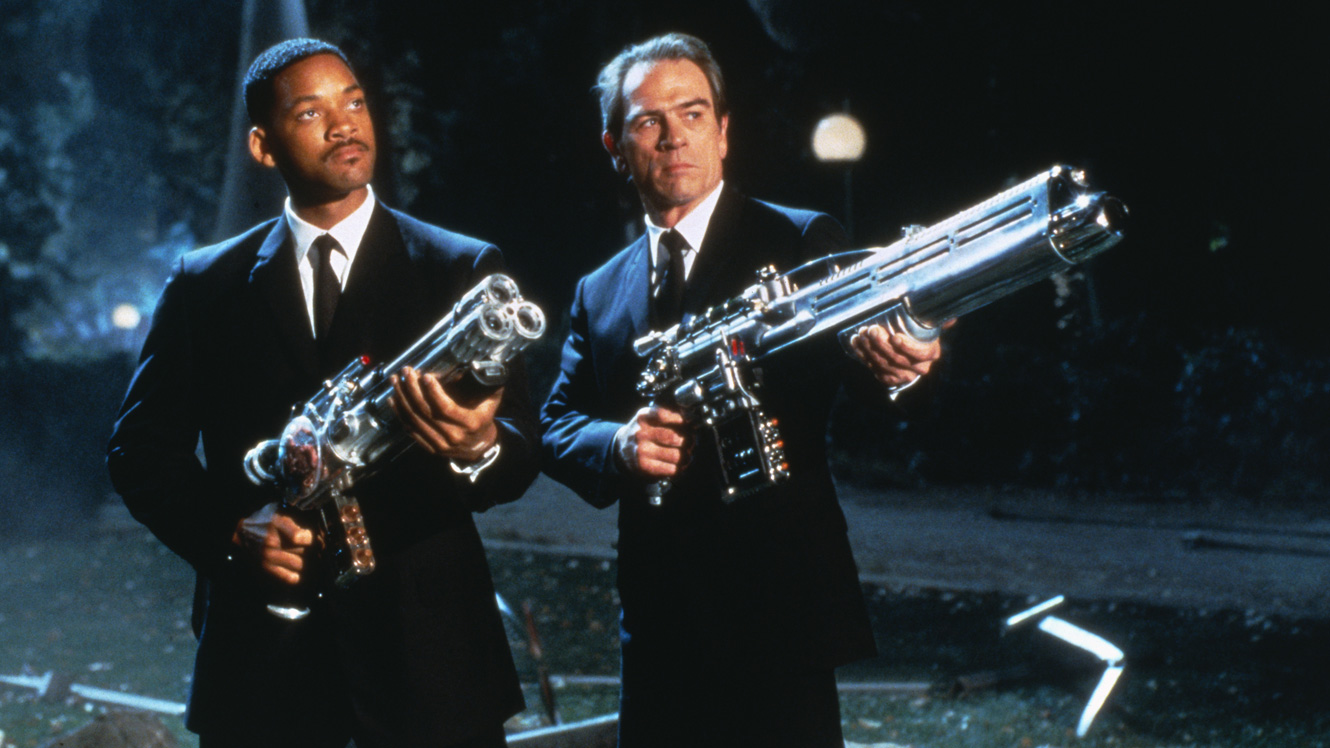 Belying its mass-market formula, Men in Black has a reasonable script (from Ed Solomon, one of the writers of the Bill and Ted films). There is considerable amusement to some of its ideas – that most aliens choose to infiltrate their way into Manhattan (the implication being that this is the most natural place for an alien to go unnoticed) or with the heroes scouring the tabloids for tips, seeing them as the most undiluted reporters of the truth.
Where Men in Black tends to fall down is in the hands of director Barry Sonnenfeld, the former cinematographer who became a director with The Addams Family (1991). Sonnenfeld aims for a deadpan approach but lacks the laconic touch that the material requires and his approach too often falls flat. There are too many scenes – the energy ball crashing around Men in Black headquarters, Will Smith having to deliver a tentacled alien baby while Tommy Lee Jones conducts a deadpan conversation in the foreground, or the air car racing through a tunnel at high speed – that degenerate into noisy slapstick while everybody around keeps deliberately po-faces. Sonnenfeld seems to assume that these scenes should be funny simply because they are played in a loud and silly way while one or more persons pretends to not notice anything peculiar. This loudness of tone would reach a point of disastrous excess in Sonnenfeld's next film, the universally detested Wild Wild West (1999).
Certainly, Will Smith plays naturalistically, bringing the effortlessly engaging screen presence he has. Where the humour tends to work is in the interplay between he and Tommy Lee Jones. Although here, Tommy Lee Jones, an otherwise accomplished performer, is a little too flat at the deadpan thing. The effects are of variable quality. There are some neat creature effects, including an adorable sequence with a face opening to reveal the tiny alien inside. On the other hand, the CGI monster at the climax looks just like that. As a climax, it is also surprisingly low key for a major blockbuster.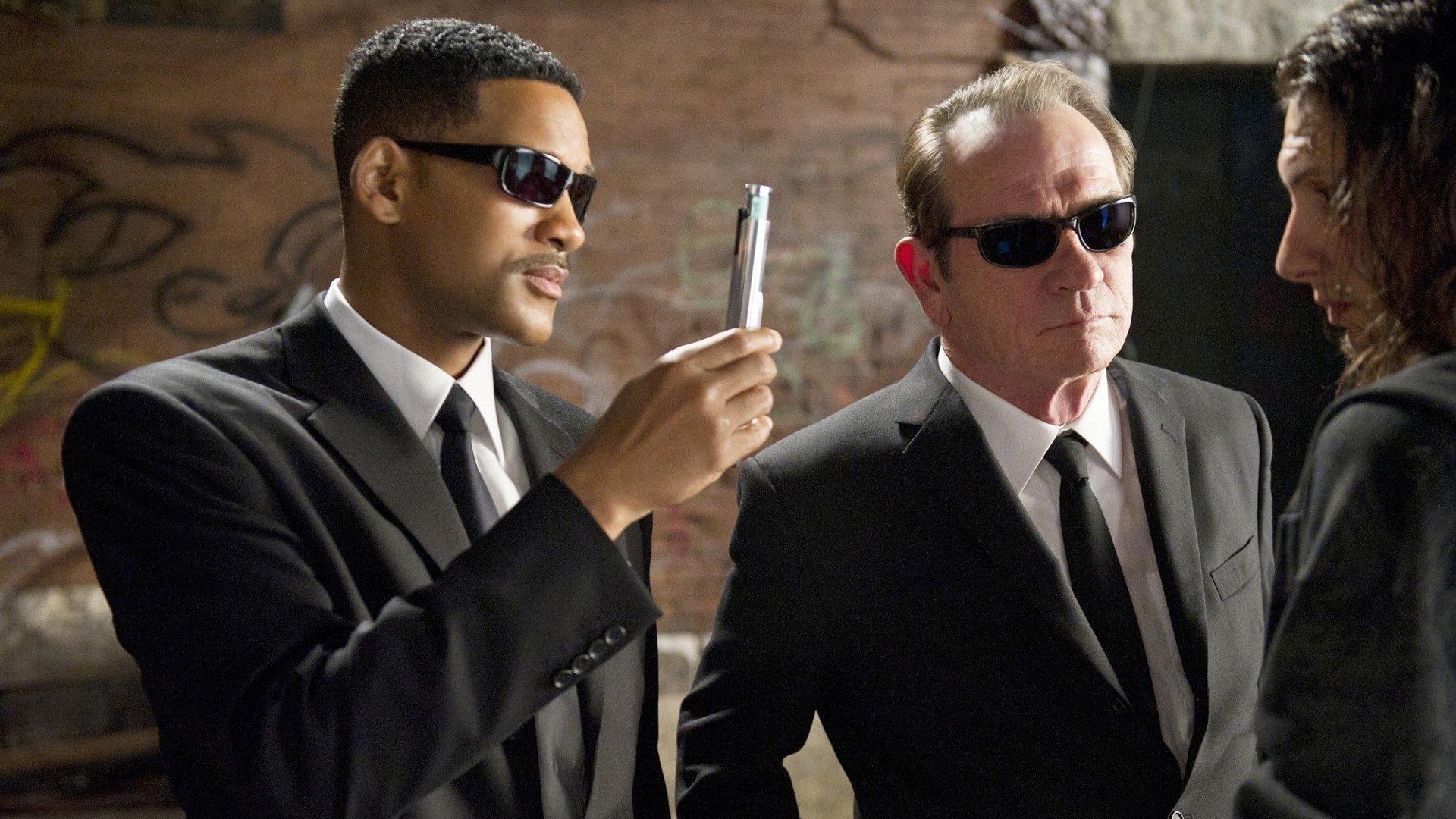 Most of the parties involvd reunited for two sequels, the extremely disappointing Men in Black II (2002), which only amplified all the bad points about this, and the slightly better Men in Black 3 (2012), whileMen in Black: International (2019) was a continuation with a new cast. The film was subsequently spun out as an animated tv series Men in Black (1997-2000). Be Kind Rewind (2008) offers up an amusing amateur remake of Men in Black.
Barry Sonnenfeld's other genre films as director include:- The Addams Family (1991), Addams Family Values (1993), Wild Wild West (1999), the nuclear weapon comedy Big Trouble (2002) and Nine Lives (2016) with Kevin Spacey resurrected in the body of a cat. Sonnenfeld also produced the witty spoof James Bond tv series Secret Agent Man (2000), the live-action superhero spoof The Tick (2001-2), the tv series Pushing Daisies (2007-9) about a man with resurrection powers, the Lemony Snicket tv series A Series of Unfortunate Events (2017-9), the revival of The Tick (2017-9) and Schmigadoon! (2021- ) about a magic town that operates like a musical, and on cinema screens the Gothic children's film Lemony Snicket's A Series of Unfortunate Events (2004), the Disney animation spoof Enchanted (2007) and its sequel Disenchanted (2022) and Space Chimps (2008).
Screenwriter Ed Solomon has also written Bill and Ted's Excellent Adventure (1989), Bill and Ted's Bogus Journey (1991), Mom and Dad Save the World (1992), Super Mario Bros. (1993), Charlie's Angels (2000), What Planet Are You From? (2000), Imagine That (2009), Now You See Me (2013) and Bill & Ted Face the Music (2020).
(Nominee for Best Adapted Screenplay at this site's Best of 1997 Awards).
---
---