---
Crew
Director – Gareth Carrivick, Screenplay – Jamie Mathieson, Producers – Neil Peplow & Justin Anderson Smith, Photography – John Pardue, Music – James L. Venable, Visual Effects – Shadow Industries, Visual Effects Supervisor – Luke Wilmot, Special Effects Supervisor – Bob Hollow, Makeup Design – Pamela Haddock, Prosthetics Designer – Laurence Simmons, Production Design – Kave Quinn. Production Company – BBC Films/HBO Films/Doglamp Productions.
Cast
Chris O'Dowd (Ray), Dean Lennox Kelly (Pete), Marc Wootton (Toby), Anna Faris (Cassie), Meredith MacNeill (Millie)
---
Plot
Three friends – science-fiction fan Ray; Toby, a fellow fan and writer who is constantly coming up with impractical ideas; and the sceptical realist-minded Pete – go to the pub for drinks. Ray returns to the table claiming to have met the gorgeous Cassie who told him that she was a time-traveller from the future come back to meet him before he becomes famous. The others laugh at this but when Pete goes to the bathroom, he comes out to find a pub of dead bodies – although everything is normal when he goes back in and exits again. As Pete tries to show the others what happened, they emerge from the bathroom first to see themselves half-an-hour earlier and then into a devastated future. Others trips through the bathroom spin them into a conundrum of different time periods where they are revered as having created the future because of one of Toby's ideas and are equally hunted by people who seek to eliminate them.
---
Frequently Asked Questions About Time Travel was a low-budget British science-fiction film. The film only did minor business and premiered directly on cable in the US. The director and the trio of guys, although none of them have high profiles, mostly come from backgrounds in British television. The surprise name present is that of American actress Anna Faris, best known for Scary Movie (2000) and sequels, who it is unexpected to see turn up in a low-budget film like this and moreover one that is pitched very much to British sensibilities.
The late 1990s onwards brought about a spate of films made by science-fiction fans about fandom and being fans – see the likes of Trekkies (1997), Free Enterprise (1998), GalaxyQuest (1999), Proxima (2007), Fanboys (2008), Comic-Con Episode IV: A Fan's Hope (2011), Paul (2011) and Rise of the Fellowship (2013). Frequently Asked Questions About Time Travel is another film that falls squarely into this genre of fan films and charts the lives of frustrated nerds (or to use the British term 'anoraks') as they grumble about their mundane lives, dead-end jobs, lack of girls and so on.
The film is filled with a good many in-jokes pitched to fans – from Doctor Who (1963-89, 2005– ) naturally; to when the three go to the movies and the films screening are A Boy's Life, the original name for E.T.- The Extra-Terrestrial (1982) and Watch the Skies, a once touted title for Close Encounters of the Third Kind (1977); are asked what they want in life and the answer is "more Firefly (2002-3) or Serenity (2005)"; makes jokes about the cupboard they hide in opening out into a snow landscape a la The Chronicles of Narnia; while the climax is set up for an opportunity for Chris O'Dowd to slip in Sigourney Weaver's famous "Get away from him you bitch" line from Aliens (1986).
There is a running debate about killing off artists after they have made their greatest works where George Lucas comes up as a candidate and they decide he should have been killed after Return of the Jedi (1983) before Marc Wootton interjects that maybe it would be better if it were after The Empire Strikes Back (1980).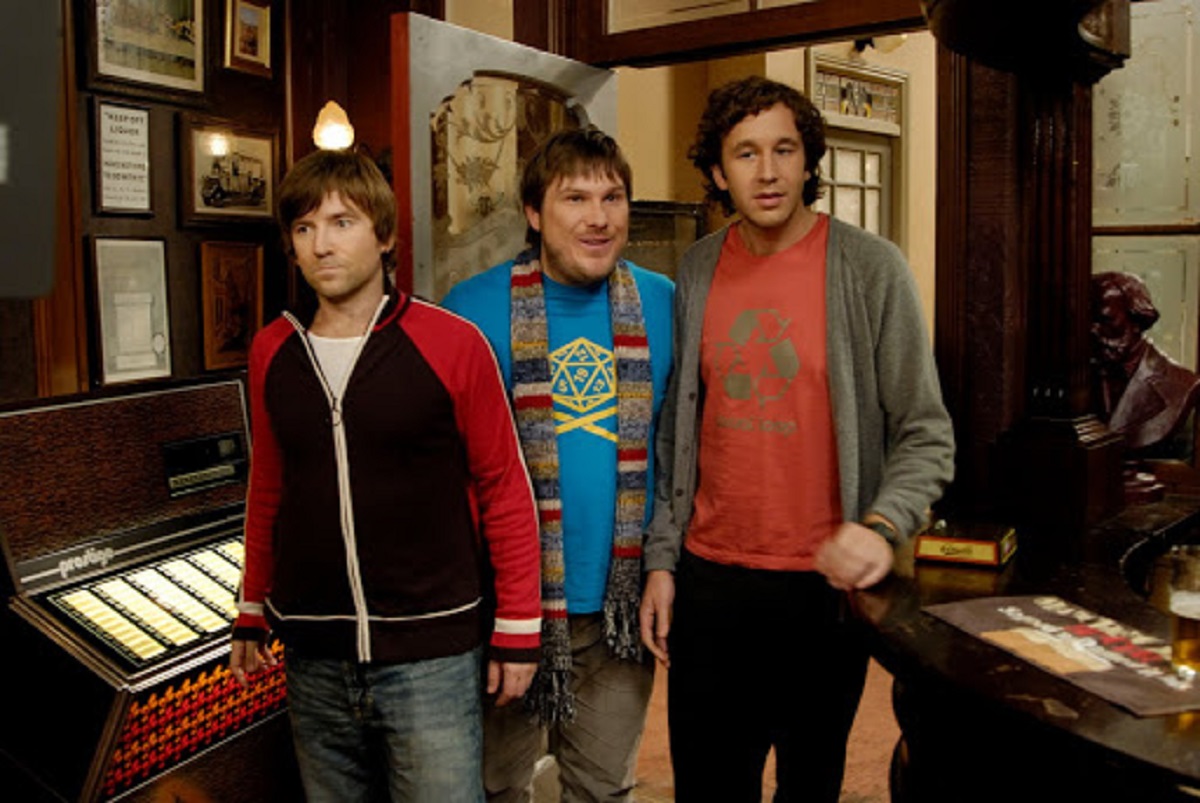 There is an undeniable sense of nerd wish fulfilment fantasy to the film – of a hot girl come back from the future to recognise the qualities of brilliance in hero Chris O'Dowd that nobody else sees and the theme, clearly borrowed from Bill and Ted's Excellent Adventure (1989), where the nerd heroes are responsible for changing the future and become worshipped as remarkable figures.
Frequently Asked Questions About Time Travel could be a conceptual collision between something like Proxima, wherein a science-fiction fan is thrown into a real science-fiction scenario, and Timecrimes (2007), the clever Spanish film that continually wrapped itself around the same incidents as a time traveller had to keep going back to hide in the margins of the same scenario and repair problems to the timeline. There is a cleverness to what the film does here – like the jolt that comes as we follow Dean Lennox Kelly as he does his comic dance through the men's room and then exits to find the bar he just came from filled with dead bodies. There is a modest ingenuity to the film's windings in around itself – not to mention that it economically contains almost the entire story in the same single pub location. The results are unpretentiously enjoyable.
Frequently Asked Questions About Time Travel was the one and only film directed by Gareth Carrivick who had worked on various British comedy tv series throughout the 1990s and 2000s. Carrivick died of leukemia shortly after the film was released and this was his last work.
---
---