(Uchu Kara no Messeji)
---
Japan. 1978.
Crew
Director – Kinji Fukasaku, Screenplay – Hiroo Matsuda, Story – Kinji Fukasaku, Shotaro Ishinomori & Masahiro Noda, Producers – Tan Takaiwa, Banjiro Uemura & Yoshinori Watanabe, Photography – Toro Nakajima, Music – Shunsuke Kikuchi & Ken-Ichiro Morioka, Special Effects – Noda, Shotaru Ishinori, Minoru Nakano, Noboru Takanashi & Nobuo Yajima. Production Company – Toei.
Cast
Vic Morrow (General Garuda), Mikio Narita (Rocksaia XII), Philip Casnoff (Aaron), Peggy Lee Brennan (Meia), Etsuko Shihomi (Esmeralida), Hiroyuki Sanada (Shiro), Tetsuro Tamba (Noguchi), Makoto Sato (Urocco), Sonny Chiba (Prince Han), Eisei Amamoto (Rocksaia's Mother), Isamu Shimizu (Beba 2), Harumi Sone (Lazare)
---
Plot
The planet Jilucia has been nearly decimated by the forces of the Gavanas under the evil ruler Rocksaia XII. In desperation, the Jilucian leader sends out eight mystical Liabe nuts, which travel through space to find people to defend Jilucia. Those chosen include three young hotshot flyers, an aging general who resigned when the military tried to stop him launching his dead robot in a service rocket, and Rocksaia's brother. However, their activities draw Rocksaia's attention to Earth where he issues orders for humanity to surrender or else he will destroy the planet.
---
Message from Space was a Japanese attempt to jump on the science-fiction bandwagon begun with Star Wars (1977). As such, Message from Space is an engagingly lively effort that counts as one of the better among the usually juvenile Star Wars clones. The plot is a rehash of Akira Kurosawa's The Seven Samurai (1954) – poor, beleaguered peasants recruit a ragtag team of fighters to take on the evil warlord. (The same plot was also transferred into a space opera setting in Roger Corman's Battle Beyond the Stars (1980) around the same time). The characterisations are as per Star Wars – evil dark lord, wise old retired general, young hotshot fighter pilots, princess, cute robot. As is often the case with Japanese space opera, these characters are written to a silly, juvenile level – slapstick sidekicks, comic-book dialogue.
What makes Message from Space is the amazingly colourful vigour with which it is conducted. The film at times seems to have been designed with the intent of drenching the screen in colour – the Gavanas baddies, for example, have been outfitted with samurai armour and red capes with their faces in white greasepaint. Not to mention the sheer poetry of some moments – like the young leads floating in space trying to catch spacegoing glowworms or the somewhat incongruous nevertheless beautiful image of a spaceship designed as an old-fashioned sailing ship setting sail through space.
The special effects are excellent, with the shootouts and explosions and Gerry Anderson-like ships that fold up and fly apart being conducted with enormous energy and enthusiasm. When you compare these to the average Japanese monster movie – of which director Kinji Fukasaku had previously directed The Green Slime (1968) – the film represents a quantum leap forward in Japanese effects technology.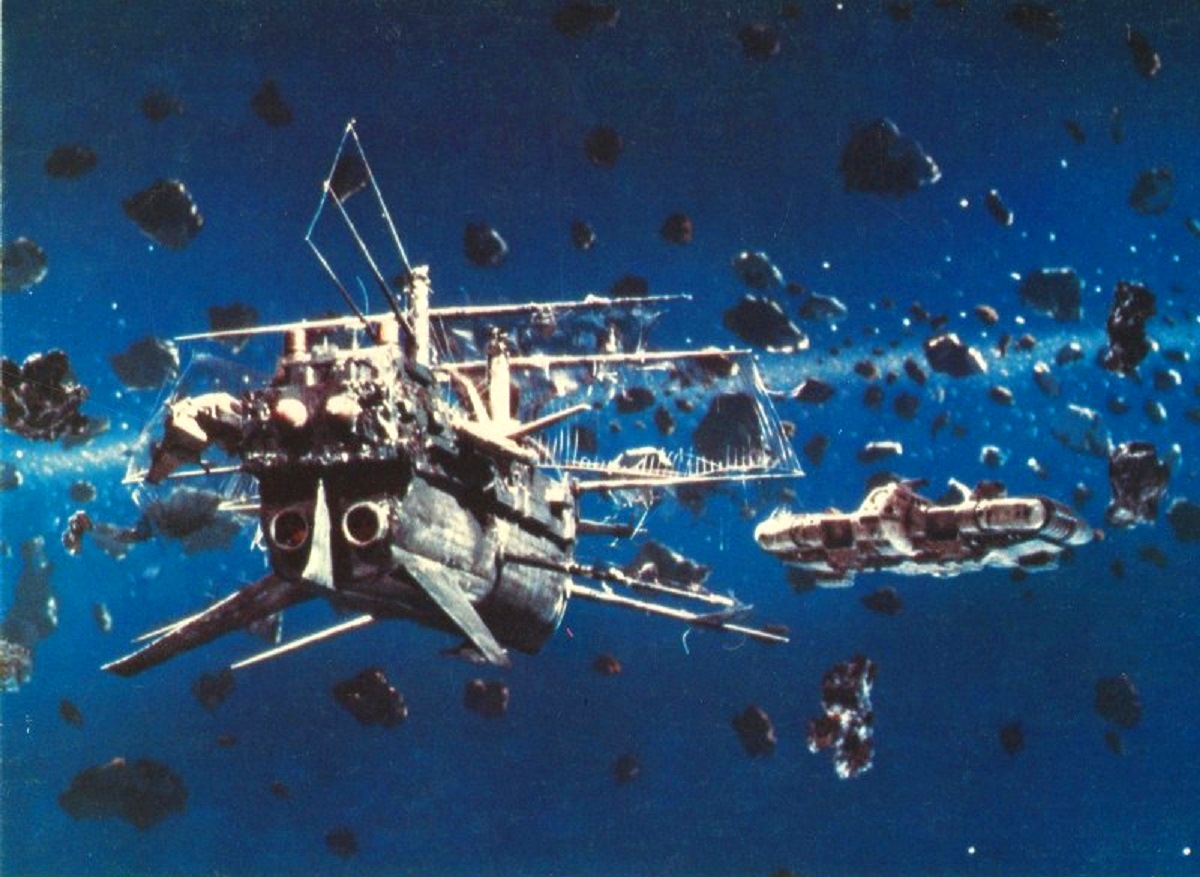 The more you think about it, if somehow Roger Corman and the Japanese had gotten together and combined the colour and enthusiasm of Message from Space with the stronger plot and actors of Battle Beyond the Stars, we might have had between them a standout space opera version of The Seven Samurai. As it is, Message from Space is unabashed sheer good fun.
Director Kinji Fukasaku was a prolific director of Japanese B-budget films. He has made a great many Yakuza films and several other ventures into genre material, including The Green Slime (1968) about an alien nasty aboard a space station, the end of the world film Virus (1980), the samurai/horror film Samurai Reincarnation (1981), the martial arts fantasy Legend of the Eight Samurai (1983), the kaidan eiga Crest of Betrayal (1994), and the ultra-violent Battle Royale (2000) and its sequel Battle Royale II: Requiem (2003).
---
Trailer here
Full film available online here:-
---