aka Heavy Metal: F.A.K.K.2
---
Crew
Directors – Michael Coldewey & Michel Lemire, Screenplay – Robert Payne Cabeen, Based on the Graphic Novel The Melting Pot by Simon Bisley, Kevin Eastman & Eric Talbot, Producers – Michel Lemire & Jacques Pettigrew, Photography – Bruno Philip, Music – Frederic Talgorn, Music Supervisor – Bruce Berman, Art Direction – Gerard Frischeteau & Michel Guerin. Production Company – Cine-Groupe/Helkon Media/Das Werk.
Voices
Julie Strain Eastman (Julie/F.A.K.K.), Michael Ironside (Tyler), Pier Kohl (German St Germain), Brady Moffatt (Lambert), Billy Idol (Odin), Rick Jones (Zeek), Sonja Ball (Kerrie)
---
Plot
The space miner Tyler discovers a green crystal amidst some space debris. The crystal is a key that has been left behind by the all-powerful Arrakatians and can bestow immortality. It turns Tyler into a ruthless tyrant and he marshals an army and slaughters the people of the planet Eden. The only survivor of the massacre is Julie who swears to kill him. However, as she hunts Tyler down, she finds that he has distilled the blood of her people into a serum that bestows temporary invulnerability to all damage upon himself. He must be stopped before he can return to the planet Ouroboros and unlock the gateway left by the Arrakatians that will allow him to become permanently immortal.
---
When Heavy Metal (1981) came out, it became a cult film and a midnight favourite. It offered animation that was pitched to adults rather than kids; it contained a high content of sex and violence; and came filled with spacey, trippy visuals – even if in the end it was piecemeal and ultimately too adolescent to be a particularly great film. Over the ensuing nineteen years, the possibility of a sequel has been discussed numerous times both in live-action and animation, and finally emerged here.
Unfortunately, the result is a disappointment. The problem is that in the nineteen years in between films, the real world has overtaken everything that made Heavy Metal unique. The advent of CGI animation in even routine animated releases and tv has rapidly outstripped Heavy Metal's trippy visuals, while the cult of anime regularly delves into sex and violence with a perversity and ferocity that makes Heavy Metal look tame.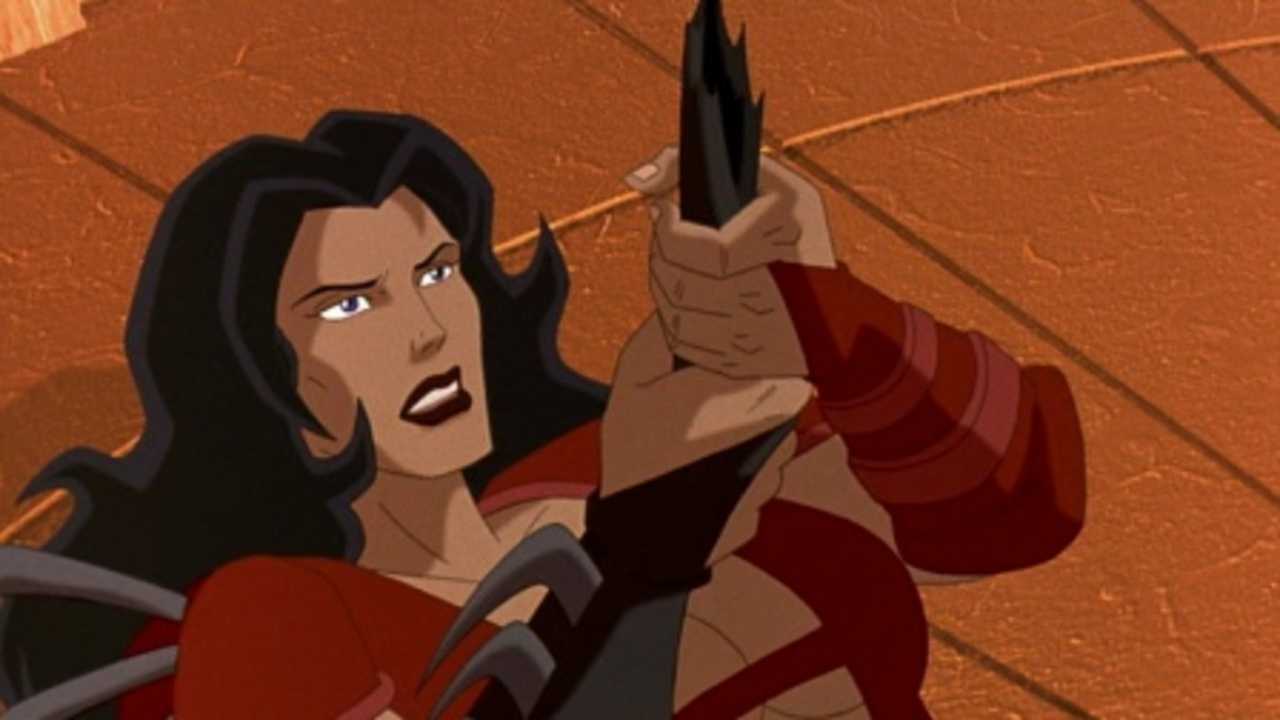 Heavy Metal 2000 is disappointingly routine in every regard. As opposed to the original, it tells only one story instead of seven (adapted from a graphic novel co-written by Teenage Mutant Ninja Turtles creator Kevin Eastman who at the time was married to model/actress Julie Strain who voices the lead role) – indeed, it has many similarities to the Tarrna segment in the original film. It is a routine space opera. The plot only trades in cliches – the ultra-tough kickass heroine seeking revenge for the murder of her people; the villain who cannot be killed; an ancient artifact of great power on an alien planet.
It comes with all the usual 'adult' preoccupations of Heavy Metal magazine – gratuitous shower scenes, ultra-violence with heads being splattered in slow-motion and the like, even scenes with lizards fucking. The film's one inventive touch in this regard is the character of a sex robot that mouths over-the-top mimicry of sexual excitement. There are some good action scenes – the barroom shootout, the destruction of the heroine's home planet – but nothing that is remarkable.
---
Trailer here
Full film available online here:-
---