---
Crew
Director – Ralph Thomas, Screenplay – Liz Charles-Williams & David Osborn, Producer – Betty E. Box, Photography – Ernest Steward, Music – Charles Blackwell, Special Effects – Kit West, Art Direction – Edward Marshall. Production Company – Ashdown Film Productions.
Cast
Richard Johnson (Hugh Drummond), James Villiers (Carl Peterson), Ronnie Stevens (Peregrine Carruthers), Daliah Lavi (Helga), Beba Loncar (Pandora), Robert Morley (Miss Mary), Sydne Rome (Flicky), Vanessa Howard (Robot No. 7), Florence Desmond (Lady Manderley), Adrienne Posta (Drummond's Daily), Maurice Denham (Mr Mortimer), Virginia North (Robot No 9)
---
Plot
The playboy adventurer Hugh Drummond is called in to investigate a series of deaths of scientists and engineers associated with the development of Britain's revolutionary supersonic airliner, the S.S.T.1. As Drummond investigates, he comes up against his old nemesis Carl Peterson who is seeking to sabotage the S.S.T.1. In order to do so, Peterson uses an army of women who have had robotic brains implanted making them subject to his will.
---
Bulldog Drummond was a popular fictional hero. Created by Herman Cyril McNeile, who served as an officer in World War I, and published under the penname Sapper. Drummond first appeared in the eponymous novel Bulldog Drummond (1920). McNeile wrote nine other Bulldog Drummond books before his death in 1937. Subsequently, McNeile's friend Gerald Fairlie continued the series for a further seven books. In the books, Drummond was a wealthy gentleman and War veteran who is bored of civilian life and advertises looking for adventure, which propels him into a series of mysteries, usually up against the villainous Carl Peterson.
Bulldog Drummond has been adapted as a radio series, stage plays and a comic-book. There have been a number of films beginning with the now lost silent British-made Bulldog Drummond (1922) starring Carlyle Blackwell. The most popular of these were a series of nine US-made films produced by Paramount in the 1930s and 40s starring John Howard beginning with Bulldog Drummond Comes Back (1937), some of which include SF elements such as death rays and synthetic diamonds. Some Girls Do was the second of two Bulldog Drummond films, beginning with Deadlier Than the Male (1967), that were made in the 1960s starring Richard Johnson as Drummond.
The James Bond films were one of the biggest box-office sensations of the 1960s and there was a mad rush of filmmakers to copy the spy fad with the likes of the Harry Palmer films with Michael Caine beginning with The Ipcress File (1965), the Matt Helm films with Dean Martin beginning with The Silencers (1966), James Coburn in Our Man Flint (1965) and sequel, along with a host of others that are largely forgotten today. The best of these actually came from television with series such as The Avengers (1962-9) and The Man from U.N.C.L.E. (1964-8). Most of these efforts got very silly and psychedelic – when Austin Powers came along three decades later, all it really needed to do was play things as a knowing parody. (For a more detailed overview of the genre see Spy Films).
In Richard Johnson's incarnation, Bulldog Drummond has been changed over what he used to be. In the original stories, Drummond was a resolute man of action drawn in black-and-whites – in the same vein as other British heroes of fiction like Biggles, Simon Templar, Dan Dare and Jeff Hawke, who all come four-square, solid and uncomplicatedly heroic. By contrast, Richard Johnson's Drummond is very much an incarnation of the James Bond era with an emphasis on the gentleman – indeed, Johnson plays the part with more of a snobbery and private school accent than Sean Connery ever did Bond. There is also much innuendo as he falls into the arms of the various women; by contrast on the printed page, Drummond married at the end of the first book and stayed that way.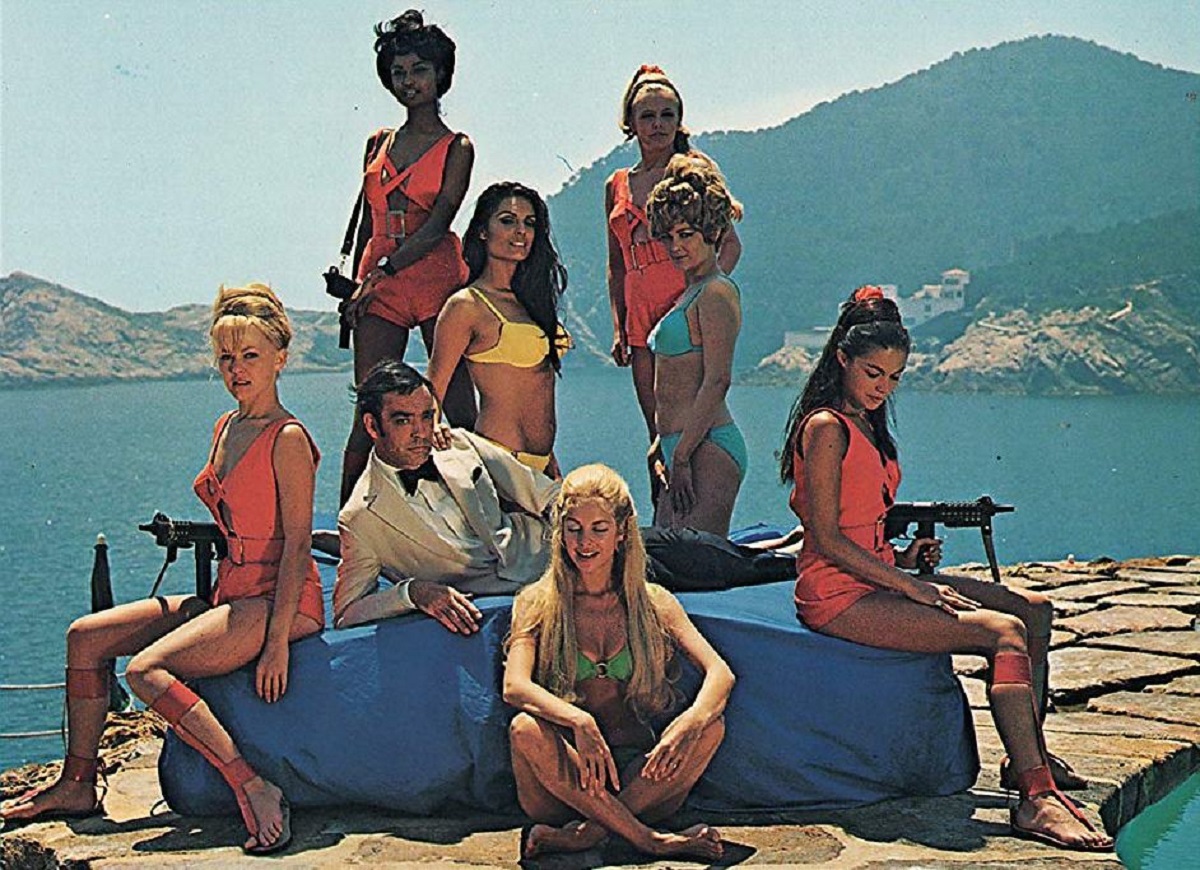 Some Girls Do is average as the assorted James Bond copy goes – nothing standout, nothing particularly bad. It restrains the camp and tongue-in-cheek elements far better than other efforts like the excruciating Matt Helm films do. There are a couple of action sequences involving Richard Johnson being menaced while in a hang glider and a speedboat chase but these are fairly lacklustre.
There is also the fembot theme that was popular in a number of films of the era – as in Dr Goldfoot and the Bikini Machine (1965) or the woman takeover plots we had in In Like Flint (1967), The Million Eyes of Sumuru (1967) and Zeta One (1969) – before being parodied by Austin Powers. However, the film seems confused as to whether the woman are androids or are human bodies that have been given a 'robot brain'.
Among the cast, Richard Johnson is passable if a little too smooth. James Villiers makes quite a reasonable villain. Robert Morley is cast as a chef with the clear impression meant to imply that he is gay. Ronnie Stevens plays the embassy attache as one-note bumbling slapstick – one kept being reminded of Rowan Atkinson in Never Say Never Again (1983). There is quite a line-up of woman, although the one surprise is seeing as uncredited Joanna Lumley as one of the fembots during the opening scenes.
Ralph Thomas was a British director who was active between the 1940s and 70s, mostly known for the series of comedies starring Dirk Bogarde that began with Doctor in the House (1961). In genre material, Thomas also made the mermaid comedy Mad About Men (1954), the sex comedy Percy (1971) with Hywel Bennett receiving the world's first penis transplant and its sequel Percy's Progress (1974) where Percy becomes the last fertile man in the world, and the John Wyndham adapted alternate history film Quest for Love (1971).
---
---