---
USA. 1965.
Crew
Director – Norman Taurog, Screenplay – Robert Kaufman & Elwood Ullman, Story – James Hartford [James H. Nicholson], Producers – Samuel Z. Arkoff & James H. Nicholson, Photography – Sam Leavitt, Music – Les Baxter, Music Supervisor – Al Simms, Special Effects – Roger George, Art Direction – Daniel Haller. Production Company – American International Pictures.
Cast
Vincent Price (Dr Goldfoot), Frankie Avalon (Craig Gamble), Dwayne Hickman (Todd Armstrong), Susan Hart (Diane/No 11), Jack Mullaney (Igor), Fred Clark (Uncle Donald Penny)
---
Plot
In San Francisco, the mad genius Dr Goldfoot has created an army of female robots, which he is sending to seduce the world's wealthiest men into marrying and then signing their money over to them. Due to the bumbling of Goldfoot's assistant, one of these robots accidentally goes home with Craig Gamble, who is Agent 00½ with the Security Intelligence Command. When Craig's uncle, the section head, treats his story of female robots as crazy, Craig teams up with Todd Armstrong, one of Goldfoot's intended targets, to stop the nefarious plan.
---
Dr Goldfoot and the Bikini Machine is a totally gonzo film. It has been slung together in large part as a spoof on the James Bond films – Vincent Price's mad scientist is named Goldfoot and wears gold slippers in clear parody of the title character in the Bond film Goldfinger (1964). (It was one of a number of almost entirely terrible Bond spoofs made around the time).
Dr Goldfoot was made by American International Pictures, or AIP, and seems fairly much construed as a send-up of everything they were making at the time too – Vincent Price is spoofing his roles in the Edgar Allan Poe films made at AIP by Roger Corman – there is a parody of the pendulum sequence in Pit and the Pendulum (1961) and the various portraits of Goldfoot's ancestors are of Price as Roderick Usher from The House of Usher (1960) and Verden Fell from The Tomb of Ligeia (1964). The film also features Frankie Avalon from various AIP Beach Party films, while Annette Funicello, his frequent co-star in these films, makes a cameo imprisoned in stocks in Goldfoot's lair.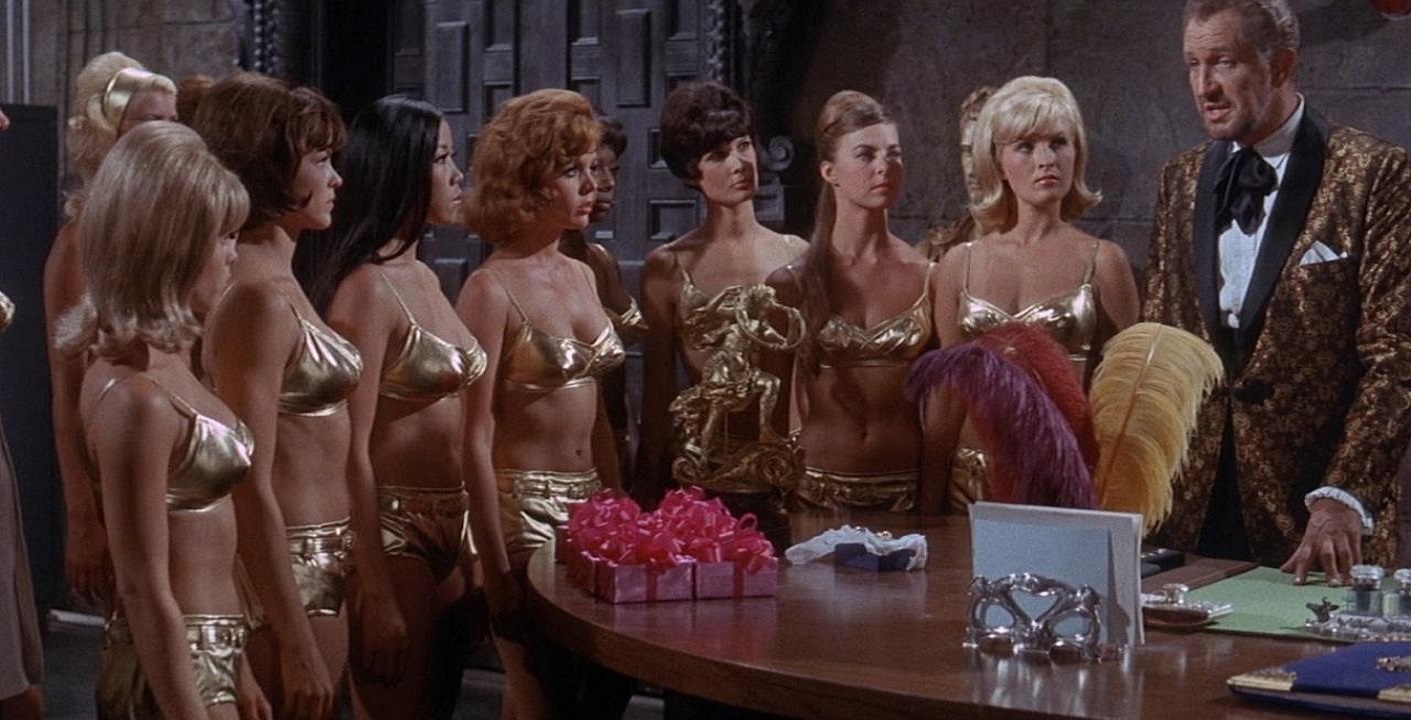 Unfortunately, Dr Goldfoot and the Bikini Machine is fairly lame. It is directed with a slapstick tone – cars crashing in the streets, someone getting pinned in a fold-up bed, Fred Clark tripping over and banging his head in his too-small office. There are lame puns – "I'm flat," a girl with an amply proportioned chest says (referring to her car tire), "Not from where I'm looking," replies Frankie Avalon. Followed by "I've got a jack in the back," "Three's a crowd." Not to mention numerous puns derived from Frankie Avalon announcing that he is "a SIC man." The film climaxes in a very silly chase sequence through the streets of San Francisco in cars, motorcycles, cable cars, hearses and sports cars. Dr Goldfoot and the Bikini Machine feels like a film that should have been a lot funnier but only emerges as rather leaden.
The sequel was the Italian-made Dr Goldfoot and the Girl Bombs (1966) where the basics were co-opted as a vehicle for the popular Italian comics Franco and Cicchio. The one idea that this film is famous for is introducing the villain with the army of desirable but deadly female robots, something that was copied in other films and then roundly spoofed in Austin Powers, International Man of Mystery (1997).
Director Norman Taurog made a good many musicals and comedies going way back to the silent era, as well as several Elvis Presley films. His one other genre films were the comedies Visit to a Small Planet (1960) with Jerry Lewis as an alien visitor and Sergeant Deadhead (1965) with Frankie Avalon as an astronut. He won Oscars as Best Director for Skippy (1931) and Boys Town (1938).
---
---