---
Crew
Director/Screenplay – Trey Edward Shults, Producers – David Kaplan & Andrea Roa, Photography – Drew Daniels, Music – Brian McOmber, Visual Effects – Bridget Fullan & Phosphene (Supervisor – John Bair), Special Effects Supervisor – Brian Schuley, Makeup Effects – Jessie Eden, Production Design – Karen Murphy. Production Company – Animal Kingdom.
Cast
Joel Edgerton (Paul), Christopher Abbott (Will), Kelvin Harrison Jr. (Travis), Carmen Ejogo (Sarah), Riley Keough (Kim), Griffin Robert Faulkner (Andrew)
---
Plot
Paul, his wife Sarah and their teenage son Travis shelter in their home in the woods from the plague that ravages the world outside. They keep the house boarded up and cautiously venture out in gasmasks. A man Will breaks into the house but Paul takes him prisoner. After ascertaining that Will is uninfected and was only looking for supplies in what he thought was an abandoned house, Paul makes the decision to trust him. He brings Will's wife Kim and their young son Andrew back and decides to combine their mutual supplies. However, the ever-present threat of the infection outside causes tensions within the house.
---
It Comes At Night was the second feature film for Trey Edward Shults, a former intern to Terrence Malick who had previously made the non-genre drama Krisha (2015). It Comes At Night gained some festival play and was promptly snapped up for a full theatrical release where it earned a modest $13 million, higher than was expected, and attracted good reviews.
The expectation you have going in is that It Comes At Night is a horror film. The poster and the trailer definitely say horror film. The very title It Comes At Night leads to the expectation that it features a monster as has been the case with most other films similarly named 'It-' – It Came from Outer Space (1953), It Came from Beneath the Sea (1955), It Conquered the World (1956), It's Alive (1974), It (1990), It Follows (2014), It Stains the Sand Red (2016) and It (2017).
This leads to a confusion when watching – people were puzzled because it seemed to be a horror film without a monster or clearcut menace, the most notable being The Guardian article How Post-Horror Movies Are Taking Over Cinema. The puzzle is that there is no identifiable 'it' unless you want to refer to the plague in the abstract. You also have no clue what it is that comes at night, unless you want to refer to this being the time when the residents confront the two intruders in the house.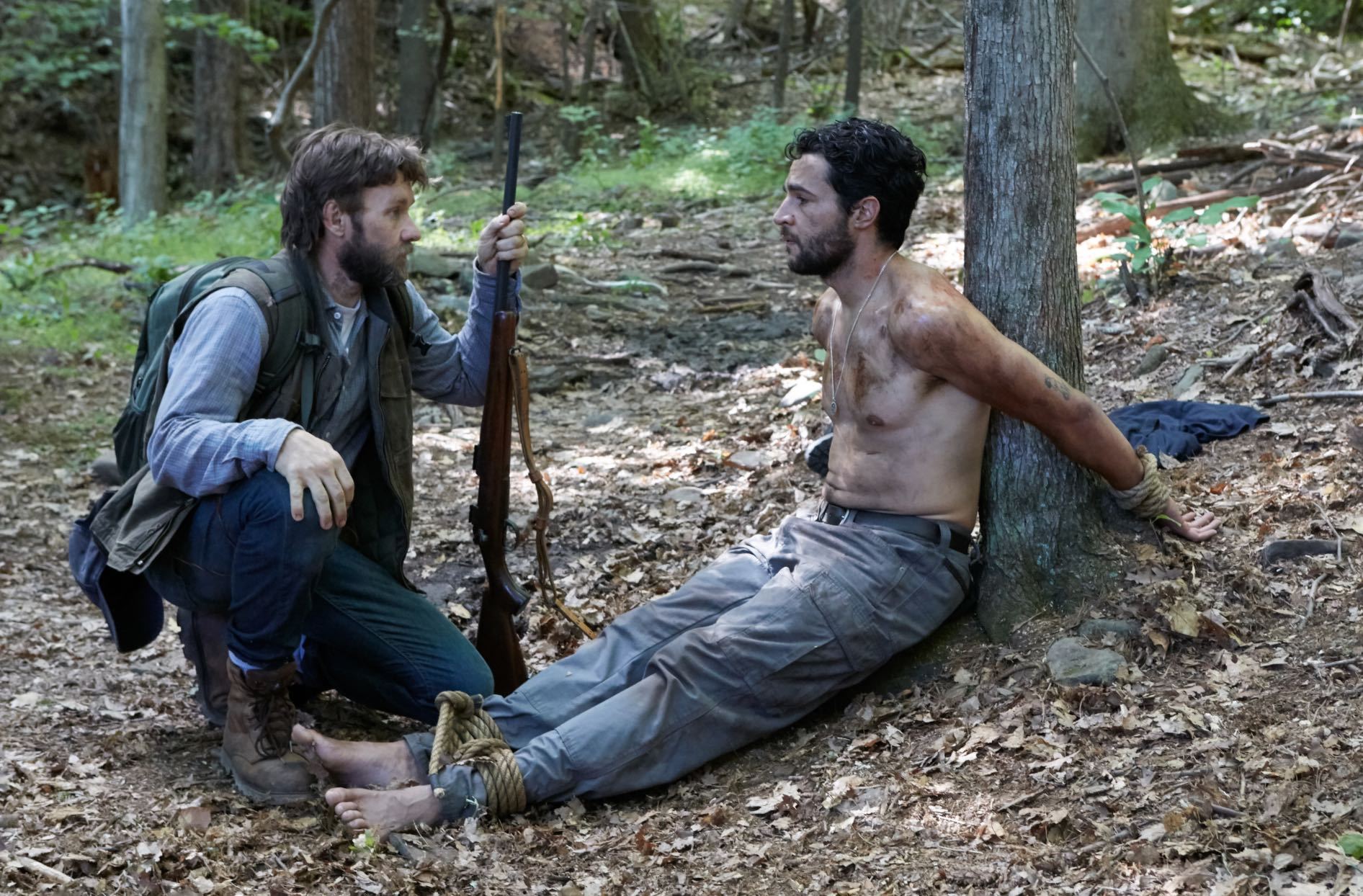 The thing that becomes blindingly obvious as you watch It Comes At Night is that people are confused about its being sold as a horror film without a monster or menace because it isn't a horror film. What it is is a film about plague outbreak. In particular, it falls into a spate of science-fiction films that we have had in recent years with the likes of The Divide (2011), Hidden (2015) and 10 Cloverfield Lane (2016) that take place in a fallout shelter or other works such as Here Alone (2016) and The Survivalist (2015), which likewise take place with a handful of people in a confined area and where the nature of the menace that has caused society to collapse is kept deliberately vague. In these regards, It Comes At Night is a typical fallout shelter drama taking place in the aftermath of a plague outbreak. It is nothing more complicated than that. If reviewers were more aware of the genre around them, they would lack such confusions.
It Comes At Night is not a film that is as emotionally raw as The Divide, not as stripped to the basics as The Survivalist, which are the best of the abovementioned dramas. The characters are well drawn and everyone gives reasonable and convincing performances. Trey Edwards Shults' direction is low key and never arrives at any particular big fireworks for most of the film. The best sections are during the latter third of the show where the film develops reasonable tension in the standoff between the two families over potential infection.
---
---