---
Crew
Director – Guy Ritchie, Screenplay – Ivan Atkinson, Marn Davies & Guy Ritchie, Producers – Ivan Atkinson, Bill Block & Guy Ritchie, Photography – Alan Stewart, Music – Chris Benstead, Visual Effects – Dazzle Pictures (Supervisor – Marek Zalenka), Fingertrix (Supervisor – Luka Leskovsek), Magiclab (Supervisor – Michael Krecek), PFX (Supervisor – Michael Zeman), RUR (Supervisor – Mirek Suchomel) & Terminal FX (Supervisor –Sergey Stoliarov), Special Effects Supervisor – Paul Dimmer, Production Design – Martyn John. Production Company – Toff Guy Productions.
Cast
Jason Statham (Orson Fortune), Aubrey Plaza (Sarah Fidel), Cary Elwes (Nathan Jasmine), Hugh Grant (Greg Simmonds), Josh Hartnett (Danny Francesco), Bugzy Malone (JJ Davies), Eddie Marsan (Knighton), Peter Ferdinando (Mike Hook), Max Beesley (Ben Harris), Lourdes Faberes (Emilia), Tom Rosenthal (Trent), Oliver Maltman (Arnold)
---
Plot
Nathan Jasmine is brought in by the British government who ask his help retrieving The Handle, an A.I. that is capable of breaking any computer system in the world. Nathan recruits the maverick Orson Fortune, who reluctantly takes the assignment and assembles a team of experts. The trail takes them from Madrid to Cannes to Turkey. To infiltrate the auction of The Handle being held by reclusive billionaire arms dealer Greg Simmonds, they enlist movie star Danny Francesco, a favourite of Simmonds, and use him as cover to break into Simmonds' charity gala to intercept the auction. At the same time, they learn that they are in competition with a rival team headed by Fortune's old foe Mike Hook.
---
British director Guy Ritchie is best known for his men's men films that come with both feet and bared knuckles planted in East End London gangster culture. Ritchie first appeared with Lock, Stock and Two Smoking Barrels (1998) and explored the same world in Snatch. (2000), Revolver (2005) and RocknRolla (2008). The 2000s and 2010s saw Ritchie trying to expand beyond that but more often than not falling flat on his face. There was the disastrous bomb of the romance Swept Away (2002) starring then wife Madonna; Sherlock Holmes (2009) and sequel Sherlock Holmes: A Game of Shadows (2011), which turned the famous detective into another of Ritchie's roughneck pugilists; The Man from U.N.C.L.E. (2015) that conflated the smart and stylish 1960s tv series into a parody of itself; his bloated and overblown take on the Arthurian legends with King Arthur: Legend of the Sword (2017); and the live-action remake of Disney's Aladdin (2019) about which not many people had good things to say. The 2020s have seen Ritchie returning to what he does best and making more tough guy action/crime films with the likes of The Gentlemen (2019), Wrath of Man (2021) and Operation Fortune.
With Operation Fortune: Ruse de Guerre, Guy Ritchie has set out to make a Spy Film in the vein of the James Bond films, although the central caper nature of the plot tilts more towards the Mission: Impossible films. In fact, this goes back more towards what the Mission: Impossible tv series was – an ensemble caper – as opposed to the star vehicles the films became for Tom Cruise. Indeed, the more apt comparison might be less the Mission: Impossible films than the ensemble nature of The Fast and the Furious series. The main difference is that this comes in a far more light-hearted vein and is frequently not taking itself too seriously.
Guy Ritchie is on tight form. The action moves with a slick and exciting cool – this is a film that is a marvel of the editing department. The dialogue is all retorts and insults that come as snappy one-liners. It is driven by a Techno-Thriller plot involving an A.I. that can hack through any computer system – a plot device not dissimilar to Sneakers (1992), while the same sort of McGuffin device also featured in the recent not dissimilar spy ensemble caper The 355 (2022) – although, for all that, we never get to see the Handle in action.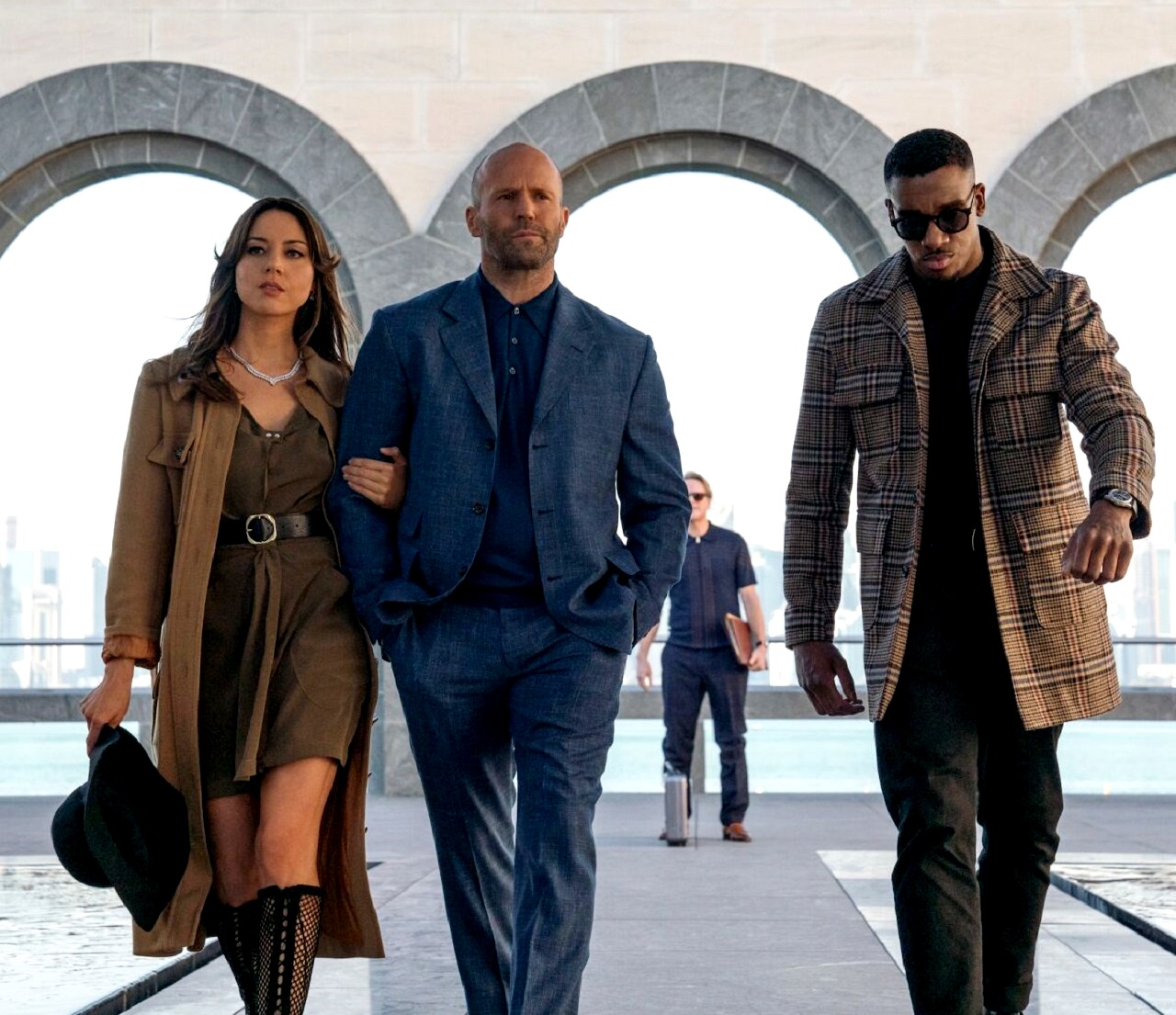 Ever since Guy Ritchie gave him his first breaks in Lock, Stock and Two Smoking Barrels and Snatch., Jason Statham has perfected a certain type of tough guy role. As always, he comes with shaven head, two day stubble and tightly ripped physique. When he moves into action, he does so with the slick lethality of something between a Terminator and a Hong Kong martial arts stuntman on fast forward. It is the role he has essentially played it in every single film. Beyond him, the film benefits enormously from a great casting ensemble. Aubrey Plaza emerges into an increasing star name with everything she does and is quite radiant here.
However, the show is fairly much stolen by Hugh Grant. Hugh is never better than when he is playing a bad boy and here he gives it his all with a wicked gleam and a broad East End accent that you suspect he has copied direct from Ray Winstone. Hugh is playing a James Bond-type Super-Villain role but his comic accent and gauche manner are exactly the opposite of anything you expect such a character to be. There is an absolutely hilarious scene towards the end where he goes into the base of the villains and demands his payment. This has an equally hilarious coda that plays out alongside the end credits.
The subtitle 'Ruse de Guerre' incidentally is a French phrase that translates as 'cunning of war' and is used in English to refer to warfare strategies dependent on trickery such as false flag or decoy operations.
---
Trailer here
---