---
UK/USA. 2002.
Crew
Director – Lee Tamahori, Screenplay – Neal Purvis & Robert Wade, Producers – Barbara Broccoli & Michael G. Wilson, Photography – David Tattersall, Music – David Arnold, Visual Effects Supervisor – Mara Bryan, Model Effects Supervisor – John Richardson, Special Effects Supervisor – Chris Corbould, Production Design – Peter Lamont. Production Company – Albert R. Broccoli's Eon Productions.
Cast
Pierce Brosnan (James Bond), Halle Berry (Jinx), Toby Stephens (Gustav Graves), Rosamund Pike (Miranda Frost), Rick Yune (Zao), Judi Dench (M), John Cleese (R), Will Yun Lee (Colonel Tan-Sun Moon), Kenneth Tsang (General Moon), Michael Madsen (Falco), Emilio Echevarria (Raoul), Madonna (Verity), Samantha Bond (Miss Moneypenny)
---
Plot
James Bond goes undercover into North Korea to infiltrate an arms purchase deal by Colonel Tan-Sun Moon but is exposed. He is captured where he is imprisoned and tortured. He is eventually released 14 months later due to political expediency. However, M refuses to place Bond back on duty and so Bond goes AWOL, determined to expose the traitor who betrayed him. He follows the trail of the North Korean assassin Zao to a clinic in Cuba that allows people to assume new genetic identities. There Bond finds a link to billionaire diamond merchant Gustav Graves. Bond travels to Graves's ice dome in Iceland as Graves unveils The Icarus Project, an orbiting solar laser. There Bond discovers that Graves is a North Korean agent who is planning to use the laser to raze the Demilitarized Zone between the two Koreas.
---
Die Another Day was the twentieth James Bond film, the fourth and last of the Pierce Brosnan entries. It also came out in the year of the fortieth anniversary of the James Bond film series. The Pierce Brosnan James Bond films – GoldenEye (1995), Tomorrow Never Dies (1997) and the excellent The World is Not Enough (1999) – were revisionist Bond films. They smartly recast the James Bond film for a post-Cold War world; they brought Bond sharply up to date in a post-feminist world, notably in recasting M as a woman engaged in a battle of the sexes with Bond; while the character of Brosnan's James Bond became much more ruthless and cold-blooded than ever before.
Die Another Day is also a mixed film. It fails to engage in the self-analysis and questioning of the character of James Bond that the other Pierce Brosnan films did. Actually, it feels more like a Timothy Dalton era James Bond film – a point when the series was trying to cut back the cartoonish absurdity of the Roger Moore era and aim for an extravagant realism – perhaps a Dalton Bond film that has been made with a not-very-deep patina of Pierce Brosnan-era polish.
Where the other Pierce Brosnan films deconstructed James Bond, Die Another Day is merely content to nostalgically look back at and reference the past. We have a visit to the old gadgets room where we see mothballed devices such as the jet backpack from Thunderball (1965), the briefcase and the shoe with a dagger from From Russia with Love (1963) and the crocodile submarine from Octopussy (1983). There is an appearance of the book A Field Guide to Birds of the West Indies (1936) whose author, James Bond, Ian Fleming borrowed the name of the character from. Halle Berry's appearance out of the ocean in a bikini of course quotes Ursula Andress's famous poster shot entrance in Dr No (1962) and there is a hi-tech revamping of the laser deathtrap sequence from Goldfinger (1964). Even the plot involving a diamond smuggling operation and an orbital laser weapon is strikingly reminiscent of the plot for the film version of Diamonds Are Forever (1971), while the villain who is surgically altered and becomes a successful British industrialist has been taken from the original character of Hugo Drax in Ian Fleming's Moonraker (1955) novel.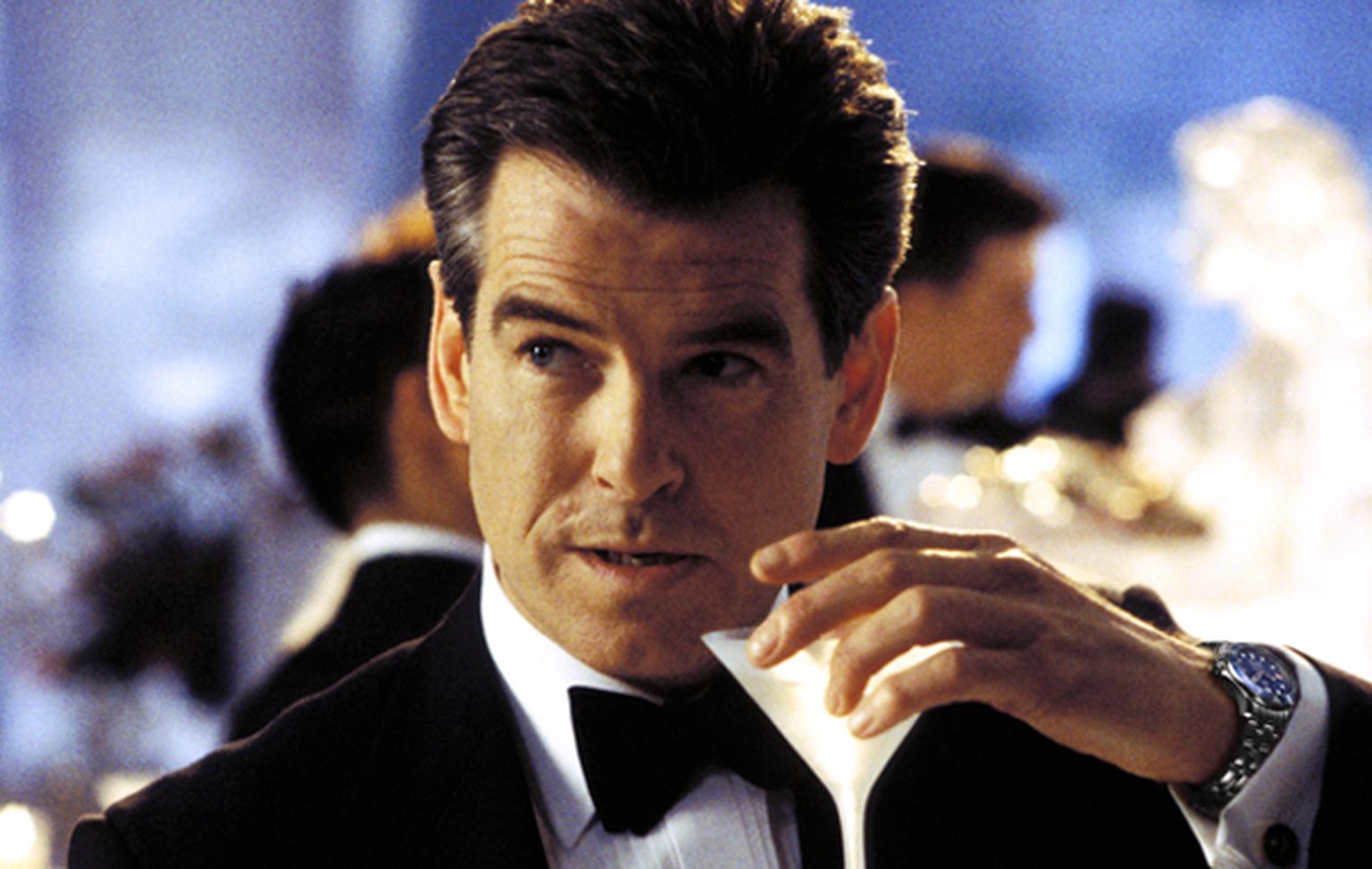 At the outset, Die Another Day at least seems to be a much more plot and character-driven James Bond film than usual. The Bond AWOL plot worked well in License to Kill (1989) and does again here, although after a strong beginning, the rest of the film lapses to formula. The credits sequence is inventively set in and around images of Bond being tortured, while the usual silhouetted dancing girls are dazzlingly set to the film's dual imagery of ice and fire. Alas, the credits sequence is severely hampered by Madonna's techno theme song, which is unqualifiedly the worst ever title song in the history of the James Bond series.
The film also has a much higher content of outrightly science-fictional gadgetry than the series has had in some years with an invisible Aston Martin, exo-skeletal suits, solar lasers, Virtual Reality training simulations (which leads to a very silly climactic sequence where Miss Moneypenny, who is otherwise completely unused throughout, gets to finally make out with Bond) and the nonsensical notion of gene replacement therapies as a handy means of gaining a new identity.
Die Another Day works with intermittent success as a James Bond film. One problem is that the film never seems to know what to do with Halle Berry. She has a stunning entrance – redoing the Ursula Andress bikini shot from Dr No – and an even better exit from the scene – avoiding gun-toting heavies by stripping to a bikini and diving off a cliff. The pre-release publicity made a big thing about how she had been created as a female equivalent of Bond who could get in there and kick ass with the same sort of ruthlessness he did. However, bar one or two impressive action scenes in the sanitarium in Cuba and particularly the climactic swordfight, she seems underused in this department.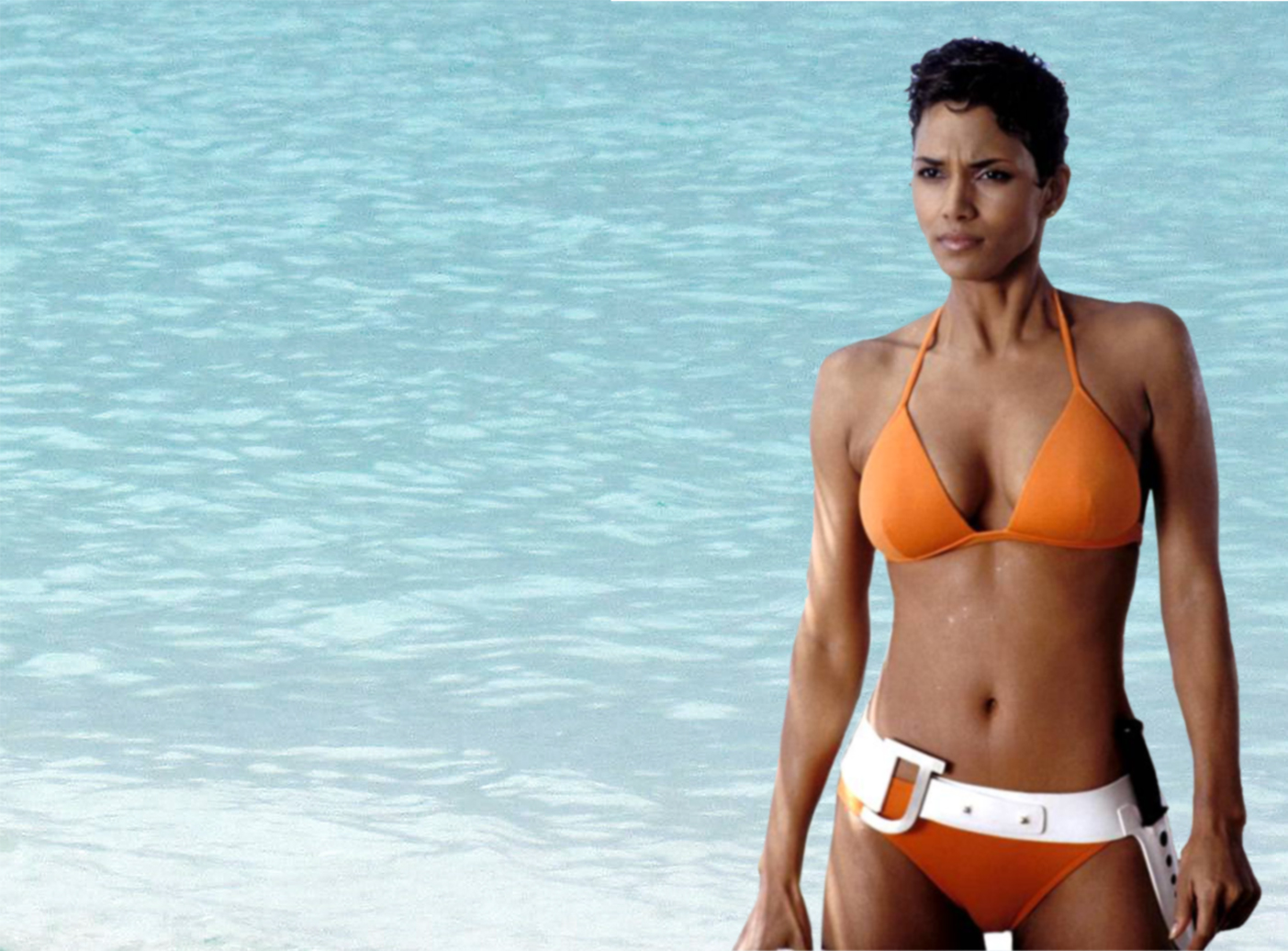 The film also seems uncertain whether she should be a traditional Bond heroine who is only there to be rescued and then fall into bed with Bond, or one who should be kicking ass alongside. Part of the problem could be Halle Berry herself who, aside from her Academy Award win for Monster's Ball (2001), I am not entirely convinced is a standout actress. Her toughness here seems to alternate with a flippant happy-go-lucky persona – it gives the impression that Berry lacked a clear idea of the character she was trying to create. Any presence she has consists more of her ability to look good in a bikini or skintight leather than it does any animal growl she radiates. Certainly as a character who is designed to act as a female equivalent of Bond, it would be hard to ever imagine her having the presence to carry her own series of films (an idea that was briefly tossed around after Die Another Day came out), let along one that is still going strong forty years later.
On the other hand, the exquisitely glacial Rosamund Pike has the screen presence that Halle Berry fails to bring to the film. When Pike (making her big screen debut) emerges with sword towards the end of the film, the effect is breathtaking. One wishes it were her that had been at the centre of the film more than Halle Berry. Toby Stephens, a mainstay of British period dramas who one last saw on screen as an anguished milquetoast photographer in the fascinating Photographing Fairies (1997) and then went onto to play real-life spy Kim Philby in the superb British mini-series Cambridge Spies (2003), is certainly an unusual choice for supervillain. It is a role that one can almost imagine had been written for Hugh Grant and Toby Stephens does rather well in the part.
One thing that the modern Pierce Brosnan James Bond films have done is sought diverse directors for each entry, rather than kept them in-house and made by the same director as was the case with every entry up until the casting of Brosnan. For Die Another Day, they recruit New Zealander Lee Tamahori. Lee Tamahori, formerly a commercials director, first caught attention with the searing Once Were Warriors (1994), a grimly realistic portrait of life among the disenfranchised, poor urban Maori. The international festival success of Once Were Warriors gained Lee Tamahori access to a series of Hollywood films of variable quality, beginning with the unliked film noir Mulholland Falls (1996), which vanished with barely a ripple; then the acclaimed wilderness survival drama The Edge (1997), before the successful but utterly banal thriller Along Came a Spider (2001). Despite the great promise as a major action director that he showed here, Lee Tamahori has proven himself no judge of decent projects, subsequently going on to make the laughable xXx: State of the Union/xXx: The Next Level (2005) and then the Philip K. Dick adaptation Next (2007), before bouncing back to acclaim again with the Saddam Hussein film The Devil's Double (2011).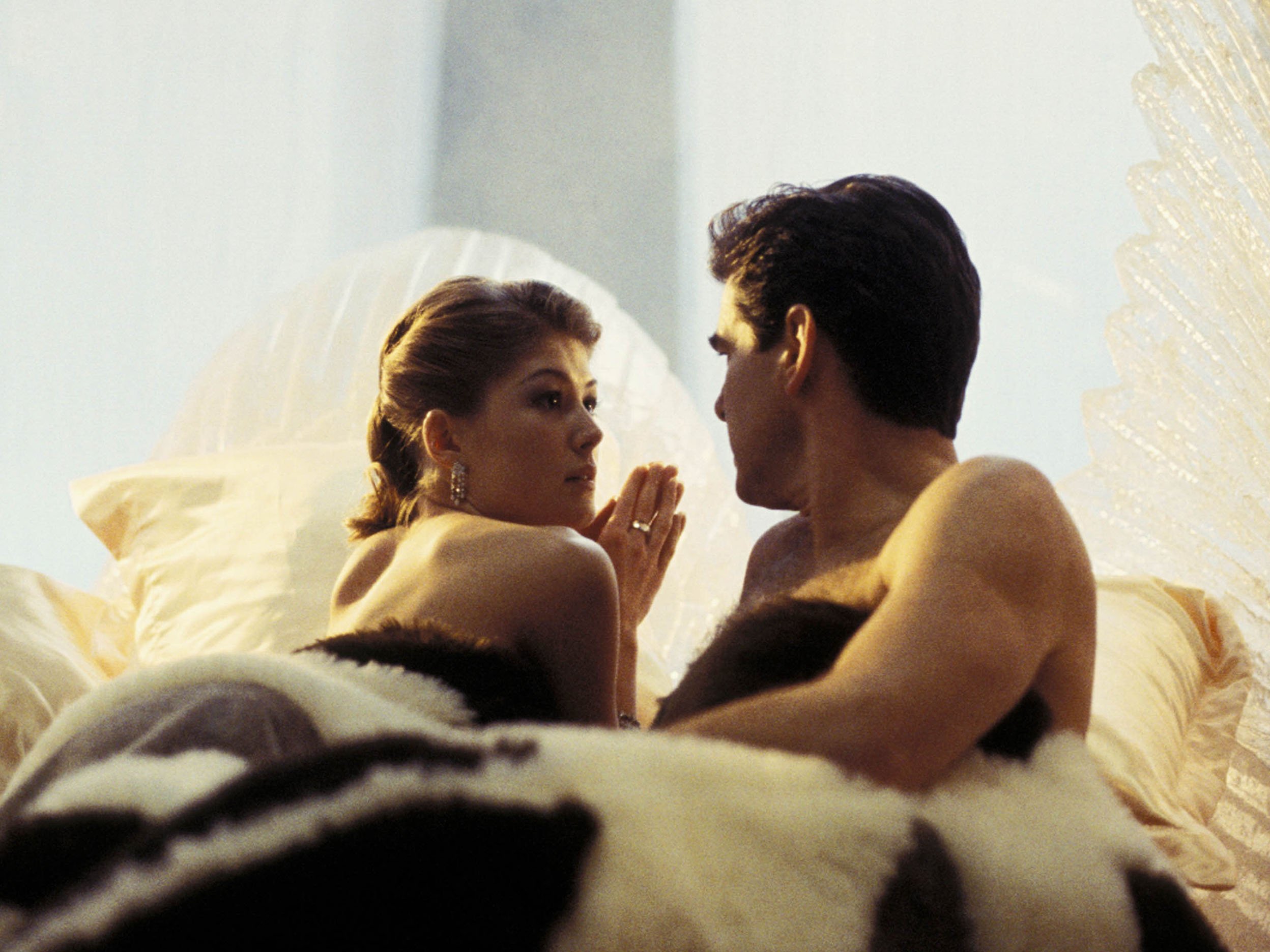 The one thing that Lee Tamahori certainly brings to the film is a spectacular action flourish. The Pierce Brosnan films have all oddly been lacking in standout action sequences but Tamahori makes Die Another Day the most spectacular of the entire Pierce Brosnan era with scenes that include:- a ferocious swordfight between Brosnan and Toby Stephens; a dazzling sequence where Bond is pursued across the ice in a rocket sled by a line of laser fire that then starts sawing through the cliff as he hangs over the edge; and an incredible climax with the various parties fighting in a bomber that is rapidly disintegrating around them and with Pierce Brosnan and Halle Berry bailing out amid a rain of burning debris in a falling helicopter that refuses to start.
Some of the action sequences fail to quite work – the car chase around the interior of the ice palace seems too cramped; the fight in front of the laser seems just a flashing animated lights; and there is a very silly sequence with Bond makeshift surfing on a tidal wave that fails through some really unconvincing visual effects (and moreover brings back cringe-inducing memories of the pre-credits sequence in A View to a Kill (1985), which had Bond surfing to the Beach Boys).
The other James Bond films are:– Dr No (1962), From Russia with Love (non-genre, 1963), Goldfinger (1964), Thunderball (1965), You Only Live Twice (1967), On Her Majesty's Secret Service (1969), Diamonds Are Forever (1971), Live and Let Die (1973), The Man with the Golden Gun (1974), The Spy Who Loved Me (1977), Moonraker (1979), For Your Eyes Only (non-genre, 1981), Octopussy (1983), A View to a Kill (1985), The Living Daylights (non-genre, 1987), License to Kill (non-genre, 1989), GoldenEye (1995), Tomorrow Never Dies (1997), The World is Not Enough (1999), Casino Royale (non-genre, 2006), Quantum of Solace (non-genre, 2008), Skyfall (non-genre, 2012), Spectre (2015) and No Time to Die (2021). Casino Royale (1967) and Never Say Never Again (1983) are non-series Bond films. Everything or Nothing (2012) is a documentary about the Bond series.
(Nominee for Best Supporting Actress (Rosamund Pike) at this site's Best of 2002 Awards. No. 9 on the SF, Horror & Fantasy Box-Office Top 10 of 2002 list).
---
Trailer here
---