---
Crew
Directors/Screenplay – Chris Caldwell & Zeek Earl, Producers – Dan Balgoyen, Garrick Dion, Scott Glassgold, Matthias Mellinghaus, Andrew Miano & Chris Weitz, Photography – Zeek Earl, Music – Daniel L.K. Caldwell, Visual Effects Supervisor – Ian Hubert, Special Effects Supervisor – Peter 'Drago' Tiemann, Makeup Effects – Shawn Shelton, Prosthetics and Creature Effects – Bandersnatch Studios, Production Design – Matt Acosta. Production Company – Depth of Field/The Realm/Ground Control/Singulardtv/Creative Wealth Media.
Cast
Sophie Thatcher (Cee), Pedro Pascal (Ezra), Jay Duplass (Damon), Andre Royo (Oruf), Sheila Vand (Inuman)
---
Plot
Damon and his teenage daughter Cee have taken an assignment to go prospecting on a green moon. They are in search of Orlac, rare gems that grow inside pods in the ground, although these have to be harvested with exacting care unless they release chemicals that destroy the gem. While they are in the forest, Cee returns to see her father being held at gunpoint by two other prospectors demanding his harvest. Damon instead persuades the two men to accompany him on his intended mission – to join a group of mercenaries who need someone to harvest a massive crop of Orlac – with the intention of they taking the crop for themselves. Cee follows and shoots the men, although this goes wrong and one of the men and her father are killed. She returns to the ship but this is invaded by the surviving man Ezra whom she shoots in the shoulder. She persuades him to a tentative truce – of going to and obtaining the yield so they can get off the moon together.
---
At first glance, Prospect did nothing for me. It seemed like nothing more than a modern version of Precious Find (1996), a cheap B-budget film that essentially tried to relocate a classic gold prospecting film like The Treasure of Sierra Madre (1948) on an asteroid. The surprise about Prospect is that it is actually a fairly good science-fiction film.
Prospect is a feature-length directorial debut for Chris Caldwell and Zeek Earl who both come Seattle. The two had made the genesis of the film as an earlier 14-minute short film Prospect (2014). They then received funding to expand it to feature length, including the support of Chris Weitz, the director of The Golden Compass (2007) and New Moon (2009), who has come on board as a producer.
Prospect makes interesting contrast to the rush of space films that have come out in recent years – Gravity (2013), The Martian (2015) et al. Where most of the films that followed those successes are obsessed with the science and showing shining white ships and spacesuits in action, Prospect is gungy and low-tech. The spaceship is all panels falling apart, grimy surfaces and operating instructions written on paper in binder folders rather than computer monitors. The spacesuits are awkward and bulky, like the wearers are going into action wearing cricketing pads. This even extends to the gun battles that are not the action packed sequences of most modern action movies but take place with single-shot compressed air harpoons that look too clumsy to fire.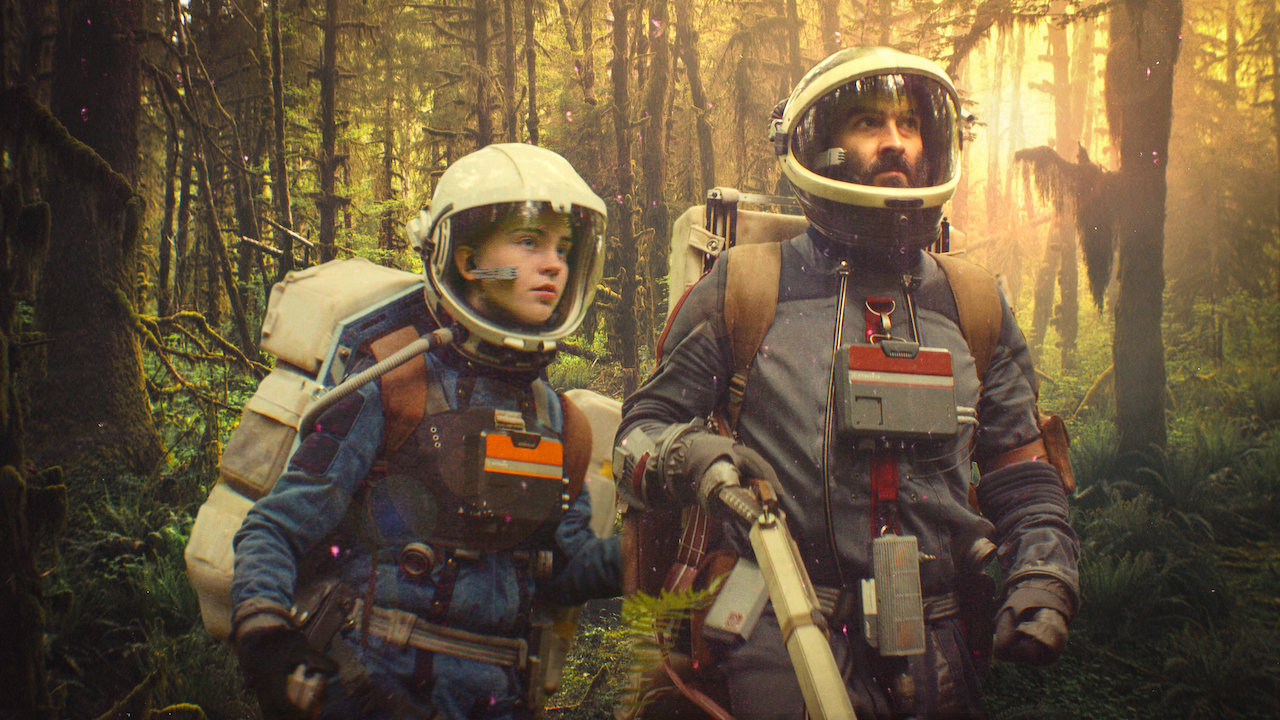 Especially good is the way that Caldwell and Earl suggest an alien environment while using simple and plainly terrestrial locations. The green moon is no more than a forest in the Seattle area with pollen constantly blowing in the foreground and some slightly off-colour tinting of the frame. And while the science and astrophysics might be slightly dubious, they do a fine job in suggesting an alien world in a very low-tech manner.
In between that, Prospect emerges as a surprisingly good story. It does draw on the cliches of the gold prospector genre and could easily be transplanted to Earth without too many major changes – but all the effectiveness comes in the character interplay. Of characters that are killed off part way through with some jolting effect to the slow change of distrust to trust between Sophie Thatcher and Pedro Pascal during their journey. It makes for a strong and well told story.
---
---