---
Crew
Director – Piers Haggard, Screenplay – Rudy Dochtermann & Jim Moloney, Based on Characters Created by Sax Rohmer, Producers – Zev Braun & Leland Nolan, Photography – Jean Tournier, Music – Marc Wilkinson, Special Effects – Richard Parker, Electronic Effects – Serge Ponvianne, Makeup – Tom Smith, Production Design – Alex Trauner. Production Company – Playboy Productions/Orion.
Cast
Peter Sellers (Fu Manchu/Sir Dennis Nayland Smith), Helen Mirren (Constable Alice Rage), David Tomlinson (Sir Roger Avery), Sid Caesar (Joe Capone), John Sharp (Sir Nules Trudd), Simon Williams (Robert Townsend), Steve Franken (Peter Williams)
---
Plot
On his 168th birthday, Fu Manchu is about to take another dose of the Elixir Vitae to prolong his longevity when he spills it. In order to make another dose, he must obtain a large supply of diamonds. He decides that in order to do this he must appropriate the British Crown Jewels. He launches an elaborate scheme to kidnap the king and queen in order to obtain the Jewels. Scotland Yard respond by trying to bring Sir Dennis Nayland Smith out of retirement. However, Sir Dennis has never been the same after being tortured by the Chinese and has formed an unnartural emotional attachment to his lawnmower.
---
The Fiendish Plot of Dr Fu Manchu was the last film Peter Sellers ever made before he died in 1980. Most prefer to forget it and regard Being There (1979), Sellers penultimate film, as the one on which to let last memories linger. The Fiendish Plot of Dr Fu Manchu is not a terribly great film; on the other hand, it is not entirely the turkey that Peter Sellers fans make it out to be either. It is undeniably a case of it being a silly film that is made watchable by the presence of Sellers. (For all that people decry The Fiendish Plot of Dr Fu Manchu as a misuse of Peter Sellers' talents, it is worth noting that Sellers fired director Piers Haggard part way through filming and took over shooting himself).
Here Peter Sellers indulges his penchant for multiple characters by playing both Fu Manchu and Sir Dennis. His Sir Dennis is an amusing send-up of Peter Cushing, while his Fu Manchu is an absolute delight, played as a wily Old Boy's send-up of all the previous Fu Manchu's. Fiendish Plot is a hard to dislike film – from the opening moment where a cliche Gothic organ solo turns into a rendition of Happy Birthday to the wonderful little seduction that goes on between Sellers's Fu Manchu and Helen Mirren's policewoman. She is the one other bright spot of the film, able to slip between an amusing parody of royalty and a West End accent at a moment's notice. There are places where the film is undeniably silly – the end with Peter Sellers doing a bizarre Oriental Elvis impersonation, singing a number called Rock Me Fu should have gone onto the cutting room floor – but the film has its moments.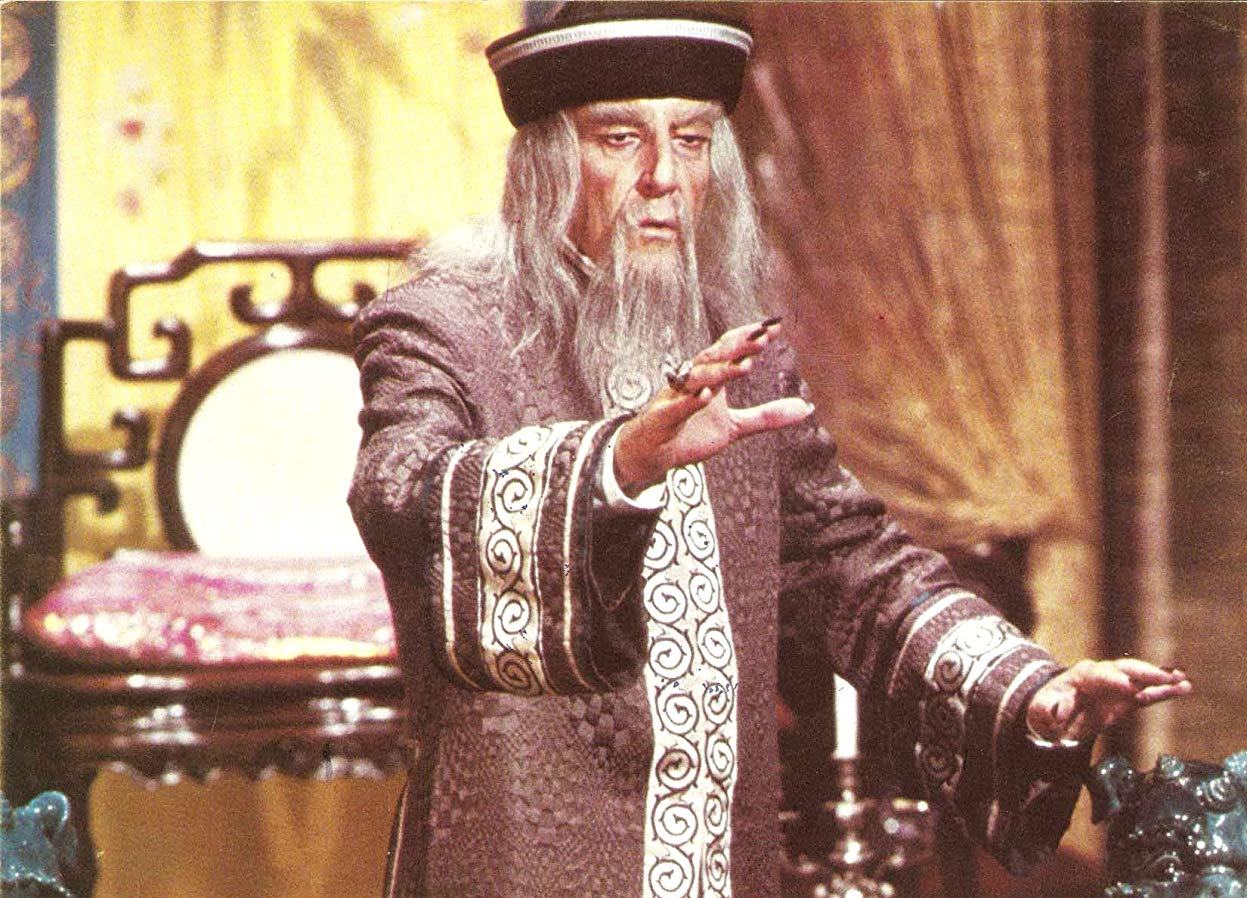 The other Fu Manchu films include:– a series of 23 short silent British films made between 1923 and 1924 starring H. Agar Lyons as Fu Manchu, all of which appear to be lost today; three early sound films from Paramount, The Mysterious Dr. Fu Manchu (1929), The Return of Dr Fu Manchu (1930) and Daughter of the Dragon (1931), starring Warner Oland who later gained fame as Charlie Chan; the excellent The Mask of Fu Manchu (1932) with Boris Karloff; a fifteen chapter serial The Drums of Fu Manchu (1940) from Republic starring Henry Brandon; the tv series The Adventures of Fu Manchu (1956), which only lasted for eleven episodes, starring Glen Gordon; and the film series starring Christopher Lee produced by Harry Alan Towers, which consisted of The Face of Fu Manchu (1965), The Brides of Fu Manchu (1966), The Vengeance of Fu Manchu (1967), The Blood of Fu Manchu/Kiss and Kill (1968) and The Castle of Fu Manchu (1969).
Director Piers Haggard is the grandson of adventure writer H. Rider Haggard, the author of the adventure novels King Solomon's Mines (1885) and She (1887). Piers Haggard has made a handful of other genre works including the occult film Blood on Satan's Claw (1971), the tv mini-series of Dennis Potter's Pennies from Heaven (1978), Quatermass/The Quatermass Conclusion (1979), Venom (1982) and the afterlife film The Breakthrough/The Lifeforce Experiment (1994).
---
---