---
Crew
Director – Peter Segal, Screenplay – Barry W. Blaustein, David Sheffield, Chris Weitz & Paul Weitz, Story – Barry W. Blaustein, David Sheffield & Steve Oedekerk, Producer – Brian Grazer, Photography – Dean Semler, Music – David Newman, Music Supervisors – Gary Jones & Happy Walters, Visual Effects Supervisor – Jon Farhat, Visual Effects – C.O.R.E. Digital Pictures, Double Negative (Supervisor – Julian Mann), Additional Visual Effects – Illusion Arts (Supervisors – Syd Dutton & Bill Taylor), Pacific Title (Supervisor – Mark Freund), Pixel Magic & Visionart, Special Effects Supervisor – Dan Sudick, Makeup Effects – Rick Baker, Animatronics – Amalgamated Dynamics (Supervisors – Alec Gillis & Tom Woodruff Jr), Baby Buddy – Mobility Inc, Production Design – William A. Elliott. Production Company – Universal/Imagine Entertainment.
Cast
Eddie Murphy (Professor Sherman Klump/Buddy Love/Grandma Klump/Mama Klump/Cletus Klump/Ernie Klump), Janet Jackson (Professor Denise Gains), Larry Miller (Dean Richmond), John Ales (Jason), Melinda McGraw (Liane Gilford), Gabriel Williams (Isaac)
---
Plot
Sherman Klump and his co-worker Professor Denise Gains are close to perfecting a rejuvenation formula. However, the Buddy Love personality keeps emerging in Sherman at the most inopportune moments. After Denise admits that she likes Sherman and he proposes to her, Sherman decides he must rid himself of Buddy so that he can be perfect for her. Sherman extracts all the Buddy genes from himself. However, a dog spills the extracted genes and these combine with one of the dog's hairs to bring Buddy to life unknown to Sherman. When Sherman and Denise are offered $150 million by a pharmaceuticals company for their rejuvenation formula, Buddy promises the same company the formula for less and then sets out to steal it from Sherman. Meanwhile, Sherman's father, who has been experiencing impotency ever since he was laid off, has found the formula to be a solution to his erectile disfunction problems. Sherman also finds that one of the side effects of having extracted Buddy is that he is becoming increasingly more stupid by the moment.
---
The Eddie Murphy The Nutty Professor (1996) – which was a remake of the Jerry Lewis The Nutty Professor (1963) – was the biggest hit that Murphy had had in several years. The Nutty Professor also contained the talented Murphy's finest performance(s) and helped revitalise his somewhat flagging career.
In The Nutty Professor, Eddie Murphy played seven roles and the film's tour-de-force, both in terms of acting and special effects, was him playing six parts all at once in a single scene. The sequel makes the canny choice of making the film about Sherman's family, as witness the subtitle The Klumps, and brings the characters of his family, which were essentially only supporting characters in the first film, to the fore. They are now major characters and have their own stories.
It works well. Eddie Murphy is positively sidesplitting as Grandma Klump – the film at one point having Murphy as Grandma trying to seduce himself also playing Buddy. As before and even more so here, the film is a mastery of makeup effects and opticals, not just in allowing Eddie Murphy to play multiple parts but to essentially play all the major characters in the film and substantially interact with the other personalities. It works to a remarkable extent, the measure of which must be that we are taken up by the comedy rather than by wowing at the effects work that allows such to take place.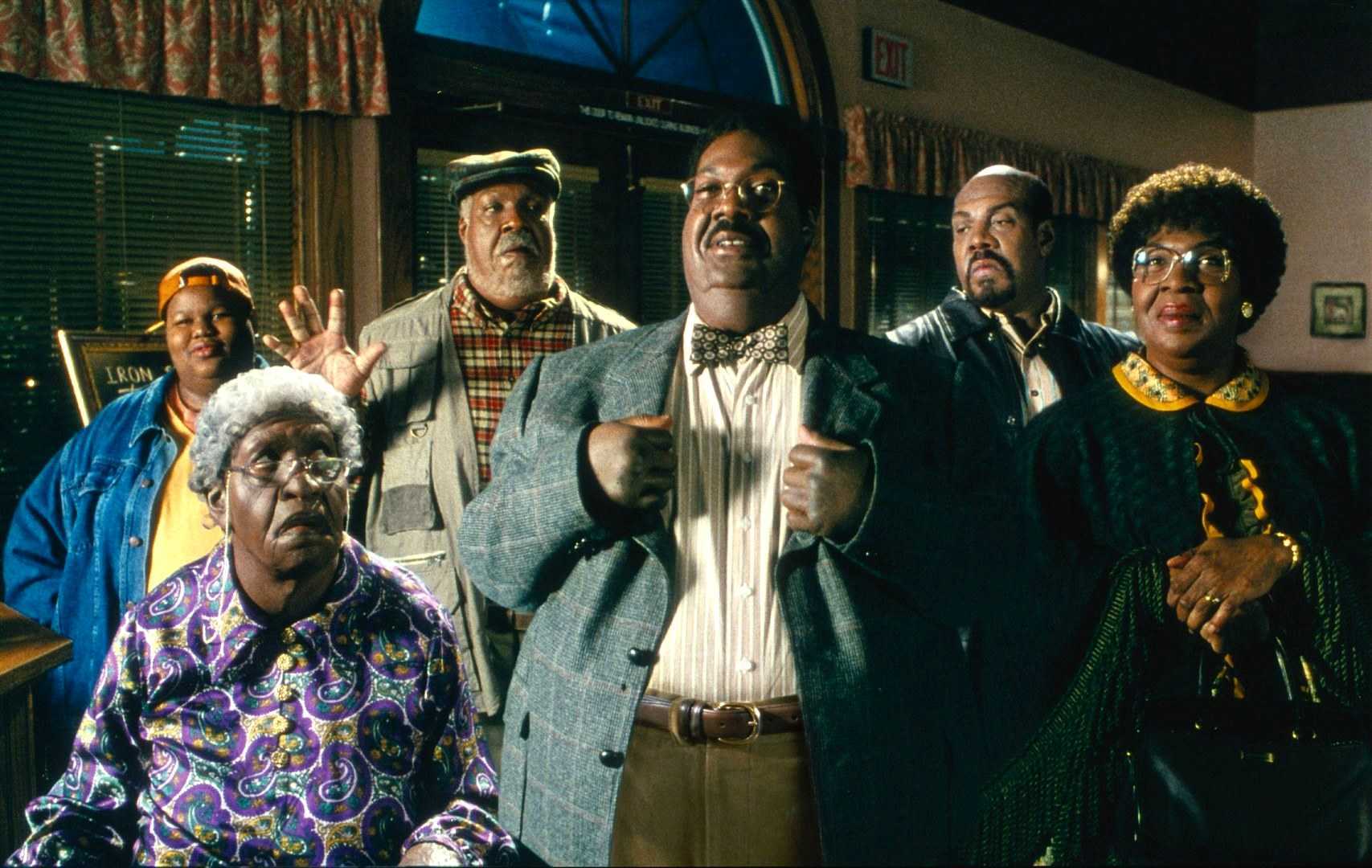 The first film's succinctness lay in telling a variation on the Jekyll/Hyde story, in the comic playing of two diametrically opposed Eddie Murphy's off against one another. The Nutty Professor II: The Klumps lacks that same focus and the plot is all over the place as a result. At one point, it is a story about a rejuvenation formula with Sherman's father, and then it is a story about Sherman and Buddy being genetically separated, then a variation on Charly (1968) about a genius reverting to idiocy. One suspects that it is the result of too many script cooks in the kitchen. In no longer focusing on the two characters and the situations deriving from them, the humour lacks a target.
The film also ends up descending to some of the most amazingly vulgar humour ever seen in a PG-rated film, the clear influence of the American Pie (1999) duo of brothers Paul and Chris Weitz on the script. There are numerous fart jokes (even a fart joke parody of Star Wars (1977) – "Son, remember the force within"). There is one sequence that astounds in its crassness where Sherman inadvertently produces a giant hamster that promptly repels a security guard by shitting giant turds and then proceeds to anally rape the character of the slimy dean played by Larry Miller. It is a mind-boggling sequence to find in a film opens to general audiences.
The Nutty Professor II: The Klumps is inevitably a lesser sequel. The places where it does work are all the places that the original did – whenever Eddie Murphy gets a chance to play multiple roles. And that thankfully is almost the entirety of the film.
Director Peter Segal specialises in mainstream comedy, having also made the likes of Anger Management (2003), 50 First Dates (2004), The Longest Yard (2005), Get Smart (2008), Grudge Match (2013) and My Spy (2020). The script is also one of the early works from brothers Paul and Chris Weitz, better known as the duo behind American Pie (1999) and Chris the solo director of The Golden Compass (2007) and New Moon (2009).
(Winner for Best Actor (Eddie Murphy) and Best Makeup Effects at this site's Best of 2000 Awards. No. 9 on the SF, Horror & Fantasy Box-Office Top 10 of 2000 list).
---
---