---
Crew
Director/Screenplay/Producer – Larry Cohen, Photography – Daniel Pearl, Music – Gary William Friedman, Makeup – Steve Neill, Art Direction – Robert Burns. Production Company – Larco.
Cast
Adam Arkin (Tony Walker), Ed McMahon (Colonel William Walker), Roz Kelly (Jane Flynn), Bill Kirchenbauer (Jack Flynn), Joanne Nail (Ricky), Alan Arkin (Dr Jacob Brand), Elizabeth Hartman (Miss Montgomery)
---
Plot
In 1958, Tony Walker, a star football player at Full Moon High, accompanies his CIA agent father on a mission to Romania. There he is bitten by a werewolf. Soon after, he transforms into one himself. After wandering the world for twenty years, he eventually returns home unaged posing as his own son to confront people from his past.
---
In the late 1970s/early 80s, Larry Cohen became a cult director with Blaxploitation films like Black Caesar (1973) and Hell Up in Harlem (1973) and, in particular, a string of inventive low-budget genre works such as It's Alive (1974), God Told Me To/Demon (1976) and Q: The Winged Serpent (1982). (See below for Larry Cohen's other films).
Larry Cohen has always worked down the low-budget end of the market and here makes a no-budget werewolf comedy. Full Moon High has clearly been mounted in an attempt to catch the tail end of the mini-trend of werewolf movies that came out around 1980-1 with films like The Howling (1981), An American Werewolf in London (1981) and Wolfen (1981). Cohen claims the documentary In Search of Darkness: A Journey Into Iconic '80s Horror (2019) that he had wanted to do a comedy version of I Was a Teenage Werewolf (1957) but was legally threatened by American International Pictures.
Cohen admits with open amusement that his film is not in the budgetary league of these others. The special effects are bad in a comically obvious way – a hand comes down and squashes the lead model of a plane as it crosses a map of Europe; and during the transformation sequence, the camera lens is 'accidentally shot, which proves the opportunity for an off-screen voice to describe what great effects the audience are missing.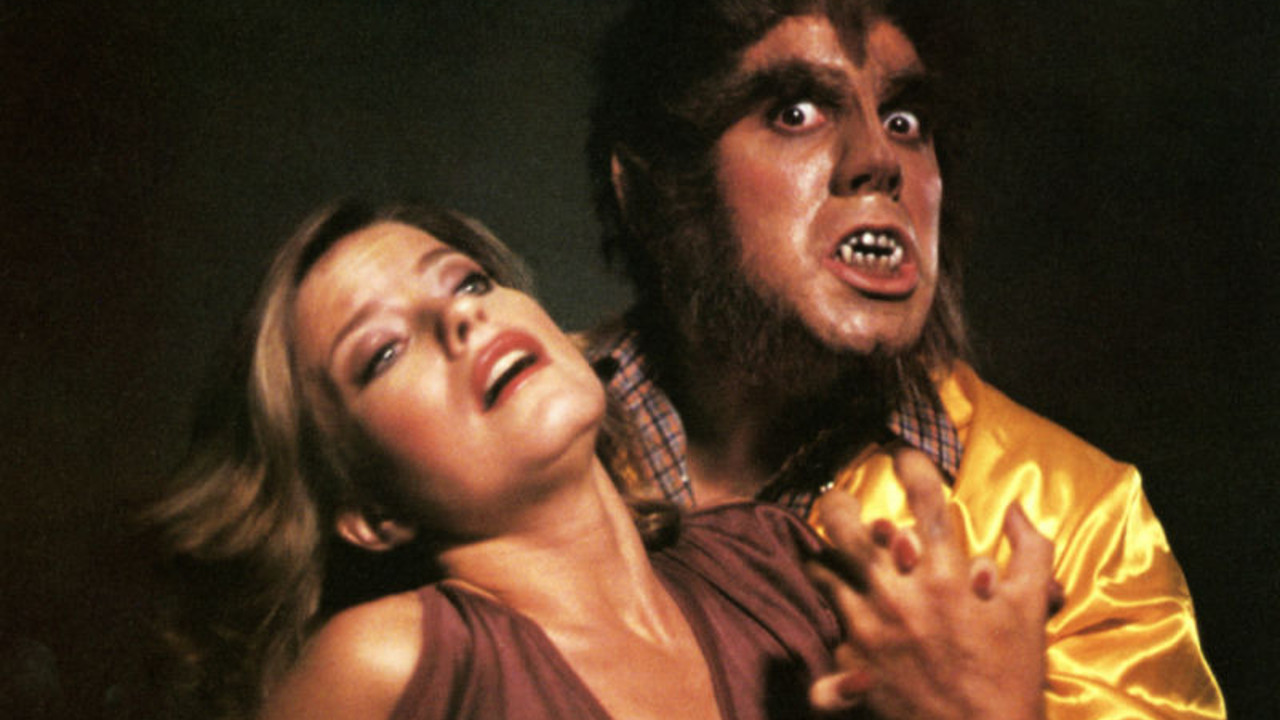 Larry Cohen writes with a disarming sense of humour, inserting bad puns into the dialogue – "I don't believe in vampires, werewolves and virgins – I've never seen any of those things." "You're a real fox," comments a woman. "Close but not quite," replies Adam Arkin. The more the film goes on, the more it becomes apparent no ceiling has been placed on how silly Larry Cohen is prepared to be. Sometimes it is deliriously so – Adam Arkin's problems dealing with fleas and silver restaurant cutlery or the end where the silver bullets fail to kill him because more are needed in these days of inflation. Alan Arkin (Adam's father) delivers an amusing performance as a psychologist who practices a form of insult therapy.
Unfortunately, Larry Cohen is too free ranging in his slapstick and the film suffers from lack of discipline in knowing when to stop. Some scenes like Ed McMahon's funeral where the assembled soldiers cannot restrain their desire to conduct a gun salute or where Alan Arkin's transformation is echoed by an entire dance floor are extremely silly.
Larry Cohen's other genre films are:– the killer mutant baby film It's Alive (1974), the bizarre alien messiah film God Told Me To/Demon (1976), It Lives Again/It's Alive (1978), the monster movie Q – The Winged Serpent (1982), the sentient fast food takeover film The Stuff (1985), It's Alive III: Island of the Alive (1987), A Return to Salem's Lot (1987), the witch comedy Wicked Stepmother (1989) and the mad scientist film The Ambulance (1990). Larry Cohen's other genre scripts include all of the episodes of the alien invasion tv series The Invaders (1967-8), the psycho-thriller Daddy's Gone A-Hunting (1969) and the psycho artist film Scream, Baby, Scream (1970). These days Cohen has gone into seeming retirement as a director – which is a great loss to the world of genre cinema at the very least – and his only work consists of screenplays. These include the deformed psycho cop film Maniac Cop (1988) and its sequels Maniac Cop II (1990) and Maniac Cop 3: Badge of Silence (1992), various Ed McBain's 87th Precinct tv movies, the original story for Abel Ferrara's remake of Body Snatchers (1993), the stalker film The Ex (1996), Uncle Sam (1997) about a patriotically minded undead Gulf War veteran, the hilarious psycho sperm donor film Misbegotten (1997), and occasional A-budget cinematic releases like Guilty as Sin (1993), Phone Booth (2002), Cellular (2004), Captivity (2007), the remake of It's Alive (2008) and Messages Deleted (2010). King Cohen (2017) is a documentary about Cohen and his films.
---
---