---
Crew
Director – Malcolm D. Lee, Screenplay – Michael McCullers & John Ridley, Story/Based on the Internet Series by John Ridley, Producers – Brian Grazer, Michael Jenkinson & Damon Lee, Photography – Tom Priestley Jr, Music – Stanley Clarke, Music Supervisor – Bonnie Greenberg, Visual Effects – Command Post Toybox (Supervisor – Raymond Gieringer) & Illusion Arts (Supervisors – Syd Dutton & Bill Taylor), Special Effects Supervisor – Kaz Kobielski, Makeup Effects – Paul Jones, Production Design – William A. Elliott. Production Company – Imagine Entertainment.
Cast
Eddie Griffin (Undercover Brother), Aunjanue Ellis (Sistah Girl), Denise Richards (White She Devil), Chris Kattan (Mr Feather), Neil Patrick Harris (Lance), David Chappelle (Conspiracy Brother), Gary Anthony Williams (Smart Brother), Chi McBride (The Chief), Billy Dee Williams (General Warren Boutwell)
---
Plot
The B.R.O.T.H.E.R.H.O.O.D., a secret agency that has been set up to protect the African-American nation, is concerned about the efforts of The Man to weaken Black culture. After The Man's agents take over the mind of General Boutwell, the Black man tipped to announce his candidacy for The Presidency and make him set up a fried chicken chain instead, The Chief recruits the ultra-cool Undercover Brother to infiltrate The Man's organisation. Undercover Brother retrieves vital information but The Man's chief operative Mr Feather retaliates by unleashing White She Devil, a white girl who beguiles Undercover Brother, causing him to mellow him out and start eating white food, enjoying white music and pronouncing his vowels properly.
---
Undercover Brother is a film that has clearly taken its cue from Austin Powers, International Man of Mystery (1997) and sequels and sets out to do for the Blaxploitation film what Austin Powers did for the James Bond films. (The influence is unmistakable to the point that the film has even employed Michael McCullers who wrote both the Austin Powers sequels). The Blaxploitation genre, a series of films featuring hip Black heroes, emerged in the early 1970s following the success of in particular Shaft (1971) and carried on through numerous imitators like the Superfly and Cleopatra Jones films as well as such genre permutations as Blacula (1972).
In the late 1990s/early 2000s, we seemed to be on the verge of a Blaxploitation revival – Quentin Tarantino keeps referencing the genre in Pulp Fiction (1994) and Jackie Brown (1997); we saw a remake of Shaft (2000) and conscious homages such as Original Gangstas (1996) and Bones (2001), while earlier the same year as this the Austin Powers series beat Undercover Brother to the punch in spoofing the Blaxploitation genre with Austin Powers in Goldmember (2002). In the Blaxploitation parody stakes, there was also the subsequent Black Dynamite (2009).
Undercover Brother does a funny spoof of the cool, the clothes, the music and even the credits sequences of the Blaxploitation film, although ultimately it derives most of its humour from racial caricatures. This is where one gets into somewhat contentious territory. Being white and, moreover, a non-American, I am probably the wrong ethnic group to be reviewing Undercover Brother. It is a film that is hard to write about without allowing American race issues to come into it one way or another. (It is after all directed by Malcolm D. Lee, who is the cousin of Spike Lee, the African-American director who has managed to corner the market on acerbic commentary on American race relations). But that is the way Undercover Brother seems to want to have it.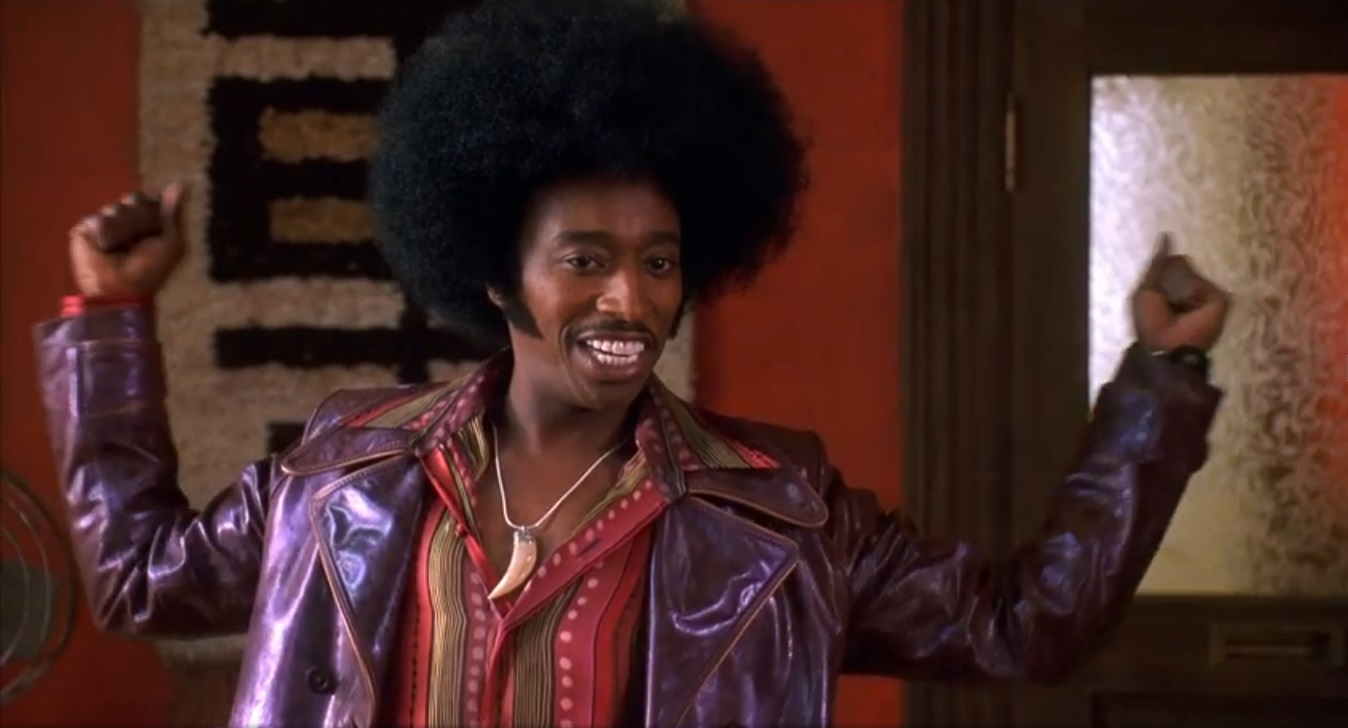 Black Humour is a genre all of its own that seems to have emerged in the last few years, cultivated by places like the BET channel in the US. It has seen a huge number of stars rise from its ranks, including the likes of Chris Rock, Chris Tucker, Martin Lawrence, Cedric the Entertainer, D.L. Hugely, Tyler Perry and others. The type of humour pushed by these comedians is certainly a source of controversy, even among African-American people. Many like the appeal of finding an ethnic identity and the ability to laugh at themselves it holds, other African-Americans though don't like the racial caricatures it plays into.
Undercover Brother tends to play very much into the caricatures pushed by these stand-up acts – that Black men are well-hung, extremely horny and compulsively unfaithful, that they are perpetually in trouble with the law, that they love dope, junk food and lose all sense at the notion of being able to sleep with a White girl. Whether it is playing into racial caricature or laughing at one's own sense of identity is a vexatious question. I don't know – it is not a culture I am part of and it is not my place to offer an opinion.
That said, the film is more than happy to turn around and voice an opinion about me – in caricaturing white people as wuss's who have no balls, no natural cool, of artistic tastes that are limited to Friends (1994-2004) and Celine Dion, and even of white people's food being bland (there is a lot of mileage made out of gags about mayonnaise on food). I cannot say that I felt particularly offended by any of this.
On the other hand, you tend to think if the races were reversed in the film and it were an all-White organisation attempting to defend itself from cultural pollution by African-Americans and featured a White hero who is seduced by a Black woman and starts listening to rap, gets gold fillings in his teeth, starts gang bangin' in the hood and has to be forcibly made to return to his own culture, there would surely be a considerable uproar from the African-American community.
All of that said, Undercover Brother is at its funniest during the scenes in the middle when Eddie Griffin is transformed into a liberal White person after being seduced by Denise Richards. The gets some amusing mileage out of seeing him dressed in checkered pants, listening to white funk, blunting his expletives and losing his Ebonics. While the film throws out a few clunkers and at other times overemphasises a joke, it does achieve an amiably geniality all round. The film even throws some blunt jibes in the direction of Colin Powell's signing up with the Bush presidency with Billy Dee Williams playing a caricature clearly modelled on Powell, although the film fails to push the satire home as though it were ever-so-afraid of earning the ire of its target (or even The Republicans).
Certainly, one thing is clear about the film – while Richard Roundtree has a cool that derived from a natural macho virility in the Shaft films, here Eddie Griffin has the afro, the platform heels and the clothes, but only looks a skanky geek, even when trying to parody it.
Malcolm D. Lee went onto make a handful of other comedy film, including Soul Men (2008), The Best Man Holiday (2013), Barbershop: The Next Cut (2016) and Girls Trip (2017). He subsequently returned to genre material as director of Scary MoVie (2013) and Space Jam: A New Legacy (2021).
---
---