---
Crew
Director/Screenplay/Creature Effects Designer – Steven Kostanski, Producers – Stuart F. Andrews, Shannon Hanmer & Steven Kostanski, Photography – Andrew Appelle, Music – Blitz//Berlin, Visual Effects Supervisors – Jordan Flanagan & Tristan Zerafa, Special Effects Supervisor – Mike Hamilton, Creature Effects – Masters FX, Production Design – Alexandra Pozdeeva. Production Company – Crazy Ball Inc..
Cast
Nita-Josee Hanna (Mimi Hallenbeck), Owen Myre (Luke Hallenbeck), Matthew Ninaber (P.G.), Steven Vlahos (Voice of P.G.). Adam Brooks (Greg Hallenbeck), Alexis Hancey (Susan Hallenbeck), Kristen MacCulloch (Pandora), Roxine Plummer (Human Pandora), Scout Flint (Alisdair), Robert Horner (Vince/Zombie Cop)
---
Plot
Brother and sister Luke and Mimi Hallenbeck are digging in the yard when they uncover something buried there. Mimi takes a glowing object they find. Overnight a creature emerges from the hole. Luke and Mimi come across it the next day while playing in a nearby abandoned factory. It introduces itself as the Archduke of Nightmares, an intergalactic tyrant and dark lord that has killed billions, before it was captured by The Templars and banished to Earth. Mimi discovers that the crystal gives her control over the creature, which they nickname Psycho Goreman or P.G. for short. Mimi uses P.G. as a plaything, it turning Luke's friend Alisdair into a blob and a cop into a zombie on her orders. Meanwhile, The Templars have been alerted as to P.G.'s awakening and have despatched one of their number to Earth to eliminate the threat.
---
Steven Kostanski is a makeup effects artist and has worked on Canadian-shot films such as Resident Evil: Retribution (2012), Silent Hill: Revelation (2012), Pacific Rim (2013) and Crimson Peak (2015), among others. Kostanski made his directorial debuts along with five other directors as part of the Astron-6 collective with the Troma film Father's Day (2011). (Adam Brooks, one of Kostanski's Astron-6 co-directors on Father's Day, appears as the children's father here). Kostanski then solo directed Manborg (2011), a low-budget gem that homaged the 1980s science-fiction film. He followed this with the W is for Wish segment of ABCs of Death 2 (2014), the H.P. Lovecraft homage The Void (2016), Leprechaun Returns (2018), a continuation of the popular 1990s series and The Veggie Masher episode of V/H/S/94 (2021).
All of Steven Kostanski's films feel like lost artefacts from the 1980s VHS era, They are like the best nostalgic homage to cheesy, shot-on-video SF films and their effects ever made. In this regard, P.G. Psycho Goreman feels like an 80s kids film. You could easily point to something like E.T. – The Extra-Terrestrial (1982) and The Goonies (1985), although more apt comparisons might be to something like The Gate (1987) and in particular The Monster Squad (1987) where a group of kids befriend/fight various Famous Monsters.
P.G. Psycho Goreman comes with the irresistibly appealing idea of having kids befriend an evil dark lord – think something like Darth Vader or Sauron even Thanos –being ordered about by a young girl and made to play ball, engage in dress-up and walk about town, not to mention reduce the friend who doesn't want to play to a blob for the duration of the show.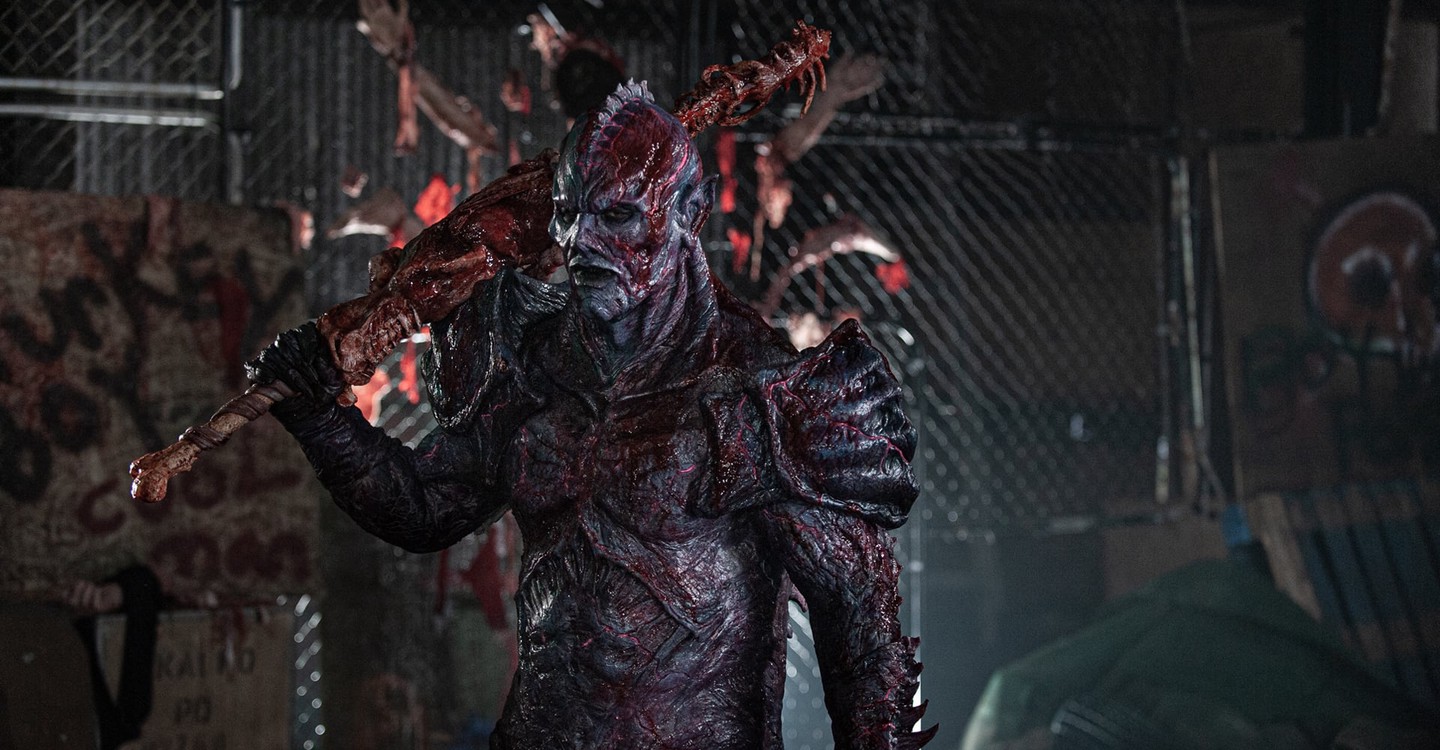 Steven Kostanski gets a great deal of mileage out of the concept. There is a lot of fun to the various scenes of the kids at play with P.G., like where P.G. launches into usual villain spiel threatening to rain down death and destruction, devour the souls of his enemies and so on before being cut off in mid-dialogue by the disinterested kids. In this regard, twelve year-old Nita-Josee Hanna gives a spirited performance that owns all of the scenes she appears in, almost entirely overshadowing Owen Myre as her brother.
Steven Kostanski's tone is sometimes uneven. I kept asking myself for what audience he was making the film. On one level, the film could easily be sold as a kid's comedy to the same audience as The Monster Squad, albeit a children's film that seems to have been made for adults. The comedy sits alongside scenes of quite dark humour – the zombified cop begging them to end his life and trying to shoot himself – and great gouts of blood as various people and creatures are killed. The middle of the film sidetracks off to engage in marital stress between mother and father Adam Brooks and Alexis Hancey where Kostanski seems to want to make some kind of point about defending Brooks' father from his accusations of laziness, which add an odd shape to the film.
The one area the film excels is the area of Steven Kostanski's expertise – the creature effects. Particularly imaginative is the alien council that sit about debating the situation where each alien comes with different unique design. They then decide to dispatch the Pandora warrior woman to Earth – a character all in white like a Valkyrie with a set of metal wings where her eyes should be. There is also a scene where P.G. encounters some of his former lieutenants – more uniquely designed creatures – and ends in a battle with them, culminating on the highly entertaining scene where P.G. does the last surviving combatant the honour of eating them.
---