---
Crew
Directors – Kyle Balda & Pierre Coffin, Co-Director – Eric Guillon, Screenplay – Ken Daurio & Cinco Paul, Producers – Chris Meledandri & Janet Healy, Music – Heitor Pereira, Songs and Themes – Pharrell Williams, CGI Supervisors – Frank Baradat & Bruno Chauffard, Animation Directors – Bruno Dequier & Julien Soret. Production Company – Illumination Entertainment.
Voices
Steve Carell (Gru/Dru), Kristen Wiig (Lucy Wilde), Trey Parker (Balthazar Bratt), Miranda Cosgrove (Margo), Dana Gaier (Edith), Nev Scharrel (Agnes), Pierre Coffin (Minions), Steve Coogan (Fritz/Silas Ramsbottom), Julie Andrews (Gru's Mom), Jenny Slate (Valerie Da Vinci), Andy Nyman (Clive the Robot), Adrian Ciscato (Niko)
---
Plot
Balthazar Bratt is the former star of 1980s tv show in which he played a villain. However, Balthazar has never gotten over the show's cancellation and has now become a villain for real. Gru fails in his attempts to apprehend Balthazar as he steals the world's largest diamond The Dupont Diamond. For his failure, Gru is fired by the Anti-Villain League's new director Valerie Da Vinci. Lucy quits in solidarity. With no job, Gru is uncertain about what to do. The Minions all quit in disgust when they realise that this does not mean Gru is going to return to villainy. Gru is then informed that he had a twin brother Dru he did not know about. He, Lucy and the girls travel to the country of Freedonia where Dru runs a successful operation raising pigs. Dru then reveals to Gru that he has inherited their father's super-villain lair and gadgets and is hankering to follow the family tradition and become a super-villain too. Gru sees this as the opportunity to launch a caper to steal the diamond back from Balthazar but does not tell Dru that he is only planning to do so to get his job back. However, the caper is sabotaged by Dru's inept bumblings. Meanwhile, Balthazar is planning his revenge by unleashing a giant robot to stomp Hollywood.
---
Despicable Me (2010) was an unexpectedly delightful ingenue hit for Illumination Entertainment. Illumination have since sought to become a major player in the mainstream animation stakes. Immediately after Despicable Me though, they stumbled with weak follow-ups like the part live-action Hop (2011) and the Dr Seuss adaptation The Lorax (2012). For a time, it seemed they were shaping up to be one-hit wonders as they milked Despicable Me for everything they could with Despicable Me 2 (2013) and giving the Minions their own film with Minions (2015), followed by Minions: The Rise of Gru (2022). (You could hardly blame them as the Minions ended up catching on as a pop culture phenomenon in a big way). However, Illumination soon rebounded with the substantially better likes of The Secret Life of Pets (2016) and Sing (2016), the latter being referenced in a cute in-joke here that has the homeless Minions stray into an audition session, as well as The Super Mario Bros. Movie (2023).
Despicable Me 3 slots into the basic formula that has taken over every animated franchise this side of the 2000s. The problem with most modern animated films – the Ice Age series being the worst offenders – is that the original was intended as a self-contained story. In order to create sequels, the studio is forced to spin the slim basics out. Most of these sequels do so in simple and repetitive ways – introducing love interests and then having the couple married and spawning children in the next chapter, or else discovering lost family members (as here). That or some other banal plotting twist that is usually more familiar to soap operas.
The other is to upset the status quo in some way and throw the characters into a different environment – the characters in the Ice Age series are constantly having to relocate from their valley paradise. Despicable Me 3 borrows the same plot twist that seems to be used in every one of the Tom Cruise Mission: Impossible films in having Gru fired from the agency and forced to go out on his own.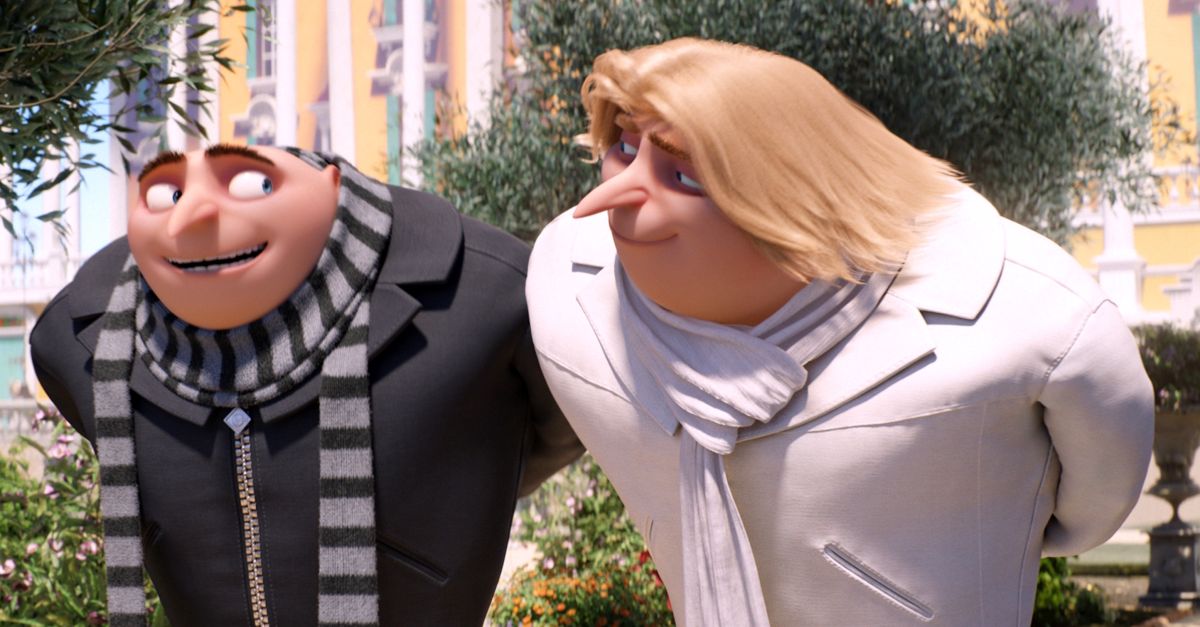 I enjoyed Despicable Me 3 better than Despicable Me 2. For much of the running time though, the film seems a series of story strands all competing for attention – the introduction of Dru and brother issues; Lucy's uncertainties about trying to play mother (it says something sad about the reinforcement of cliche sex roles when Lucy is introduced as an independently minded love interest in the first film and by the next film is relegated to anguishing over being an adoptive mother); Agnes searching for a unicorn and mistakenly adopting a one-horned goat; the introduction of Balthazar; Margo accidentally participating in a Freedonian ceremony that has her engaged to another boy; the Minions deciding to go out on their own after Gru's refuses to return to villainy.
The film introduces an amusing new villain – a kid who played a villain in a cancelled 1980s tv series and has never gotten over it and so had turned to real villainy. The role is voiced by no less than Trey Parker, the key creative force behind South Park (1997– ). Whenever Balthazar is around, the film overspills with references to 80s pop culture – Rubik's Cubes, Walkmans, leg warmers, mullets and a killer soundtrack of 80s pop tunes.
The film returns to something of the first film during some of the extended slapstick sequences – those with Gru and an inept Dru scaling the side of Baltharzar's hideout to conduct a break-in, or the various scenes with the Minions confined to prison and taking over the joint and then making an escape on a makeshift balloon. These and an entertaining large-scaled climax where Balthazar tries to stomp Hollywood in a giant robot certainly make for a more vigorous sequel than Despicable Me 2 did.
---
---