---
Crew
Directors – Don Hall & Chris Williams, Screenplay – Robert L. Baird, Daniel Gerson & Jordan Roberts, Story – Don Hall & Jordan Roberts, Based on the Comic-book by Duncan Rouleau & Steven T. Seagle, Producer – Roy Conli, Music – Henry Jackman, Visual Effects Supervisor – Kyle Odermatt, Production Design – Paul A. Felix. Production Company – Disney.
Voices
Ryan Potter (Hiro Hamada), Scott Adsit (Baymax), T.J. Miller (Fred), Jamie Chung (Gogo Tomago), Damon Wayans Jr. (Wasabi), Genesis Rodriguez (Honey Lemon), James Cromwell (Professor Robert Callaghan), Alan Tudyk (Alistair Krei), Maya Rudolph (Aunt Cass), Daniel Henney (Tadashi Hamada), David Shaughnessy (Heathcliff), Charles Adler (Yokai)
---
Plot
In San Fransokyo, fourteen-year-old Hiro Hamada is getting in trouble with the law after entering into illegal Bot Fights with robots of his own design. After his older brother Tadashi pulls him out of a police bust over one such fight, Tadashi takes Hiro to see the laboratory where he works under the brilliant Professor Robert Callaghan. There he introduces Hiro to Baymax, an inflatable robot he has designed for medical diagnosis. Hiro becomes excited after being introduced to the other scientists in Callaghan's nerd school and immediately wants to join. To do so, he has to impress at the science fair. There Hiro wows everybody with the mini-bots he has invented – tiny bolt-sized robots that can come together and form into any shape under the direction of a helmet he wears. He is immediately granted the scholarship, only to see the laboratory go up in fire with Callaghan inside. Tadashi runs inside to save Callaghan but both are killed when the building collapses. Hiro slumps into a depression until he is drawn out of it by the accidental activation of Baymax. Hiro's curiosity is piqued by the discovery of one of the mini-bots and the realisation that it is trying to rejoin the rest of the swarm. He and Baymax follow the mini-bot to a warehouse where they discover a figure in a kabuki mask is building a massive army of mini-bots. As the masked villain marshals the mini-bots against the city, Hiro decides he has to upgrade Baymax into a fighting machine and create devices that will allow he and the four co-workers from the laboratory to act as superheroes.
---
Disney animation seems to go in cycles of boom and bust. The golden age that brought Snow White and the Seven Dwarfs (1937), Fantasia (1940), Pinocchio (1940) and Bambi (1942) gave way to the lean Wartime years filled with creatively lesser portmanteau films. The studio recovered with post-War classics like Alice in Wonderland (1951), Peter Pan (1953), Lady and the Tramp (1955), Sleeping Beauty (1959) and One Hundred and One Dalmatians (1961) but went into a two decade decline after Walt Disney's death in 1966 where output trickled to one animated film every 3-4 years. The 1990s brought a massive renaissance with works like The Little Mermaid (1989), Beauty and the Beast (1991), Aladdin (1992), The Lion King (1994) and Tarzan (1999) but only a few years later these had given way to a string of creative misfires and oddities such as The Emperor's New Groove (2000), Treasure Planet (2002), Brother Bear (2003), Home on the Range (2004) and Chicken Little (2005).
The slump of the 2000s seemed to get a shot in the arm with the appointment of Pixar CEO John Lasseter as chief creative officer in 2007. The animated films produced since the arrival of Lasseter (up until his departure in 2018) have considerably improved. Not too surprisingly, the best of these – works like Bolt (2008), Wreck-It Ralph (2012), Zootopia (2016) – have been ones that play to Pixar's strengths – endearing characters, sly and warm humour and a nerdish cleverness of concept, while one feels that more traditional Disney fairytale fare such as Tangled (2010) and the overrated Frozen (2013) has not been suited to this smarter take – the exception might be The Princess and the Frog (2009).
Big Hero 6 comes from Don Hall, previously the co-director of Winnie the Pooh (2011) and subsequently of Raya and the Last Dragon (2021) and Strange World (2022), and Chris Williams, previously the co-director of Bolt. Both had also worked as writers on various Disney animated films over the last decade. Big Hero 6 began after Disney's purchase of Marvel Entertainment in 2009. Don Hall was looking through a catalogue of Marvel properties and came across Big Hero 6, a Marvel title that was originally launched in 1998. This concerns the ongoing adventures of a team of Japanese superheroes led by thirteen-year-old boy genius Hiro Takachiho.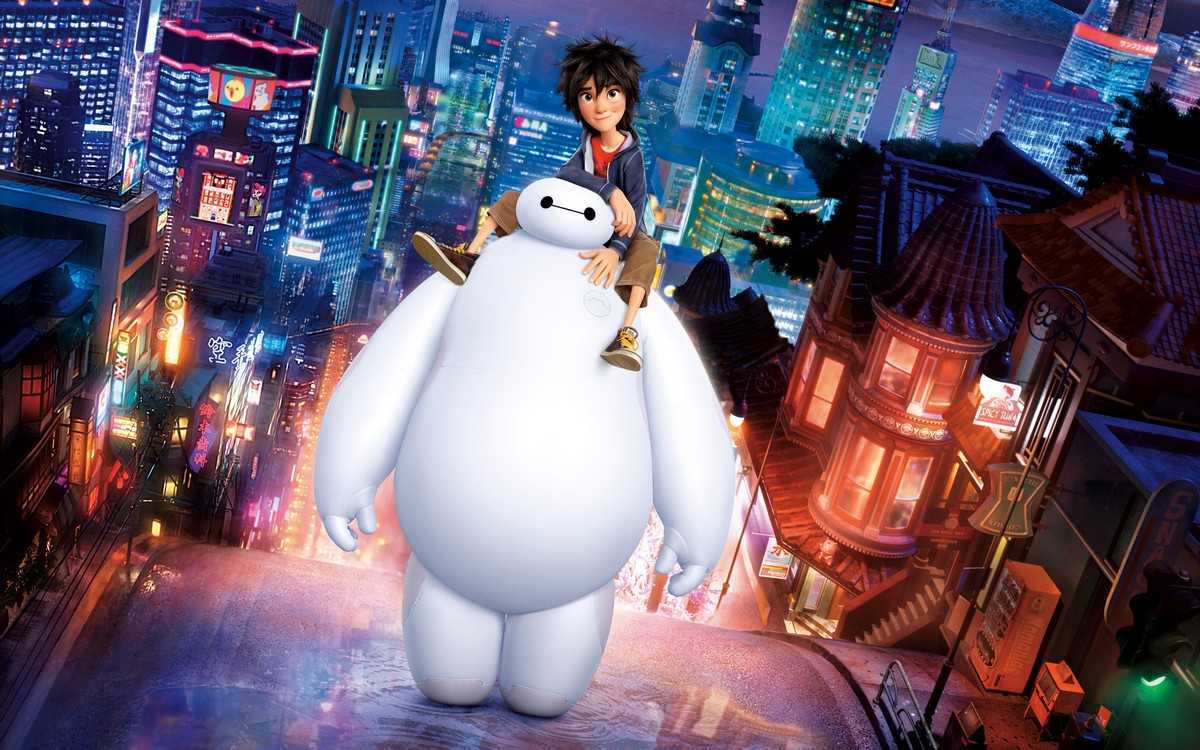 Hall and Williams were given the freedom to develop the property as they saw fit, leaving a substantial number of differences between the comic-book and the film. Two of the principal characters in the line-up, Silver Samurai and Sunfire (and his sister Sunpyre), have been dropped because according to comic-book continuity they went onto join the X-Men (the copyright on X-Men characters was held by 20th Century Fox at this point). The comic-book is more of a standard superhero team, whereas fully half of the film is a boy and his robot story. There is no backstory about the death of his brother in the comic-book; Hiro is simply a child genius who is recruited into the organisation Big Hero 6, while he doesn't even become its leader until sometime later in the storyline. In the comic-book, it is Hiro who builds Baymax as part of a school science project rather than his brother.
Moreover, the other members of the team are not lab assistants who become empowered with gadgets that Hiro provides them but are full-fledged superheroes with their own powers and origin stories before Hiro comes along – Fred is capable of actually transforming into a kaiju monster, for instance. This is also one film among the massively popular Marvel renaissance that is not designed with the intention of fitting into the Marvel Cinematic Universe in terms of continuity (although we do get a post-credits sequence where we meet Fred's father who is an animated likeness of Stan Lee).
What we end up with on screen is a whole other invented first half that has nothing to do with the comic-book concerning Hiro losing his brother then discovering and befriending the inflatable medical robot that his brother built. In the comic-book, Baymax resembles a giant green-skinned demon figure (although is capable of transforming into a regular human), while the film has completely redesigned it to resemble something like the Stay Puft Man out of Ghostbusters (1984).
The scenes between the grieving Hiro and the politely helpful Baymax who accidentally co-opts Hiro into an investigation are among the best in the film. The patiently gentle creature is an original creation and there is an enormous degree of wit that comes with his calmly reassuring diagnoses. Moreover, the filmmakers have spent a good deal of effort making sure their robotics are correct and credible, as witness the long list of robotics companies thanked on the end credits. There is no fake sentimentalism as Baymax suddenly discovers how to be human, for instance, which you usually get in android and artificial intellgence.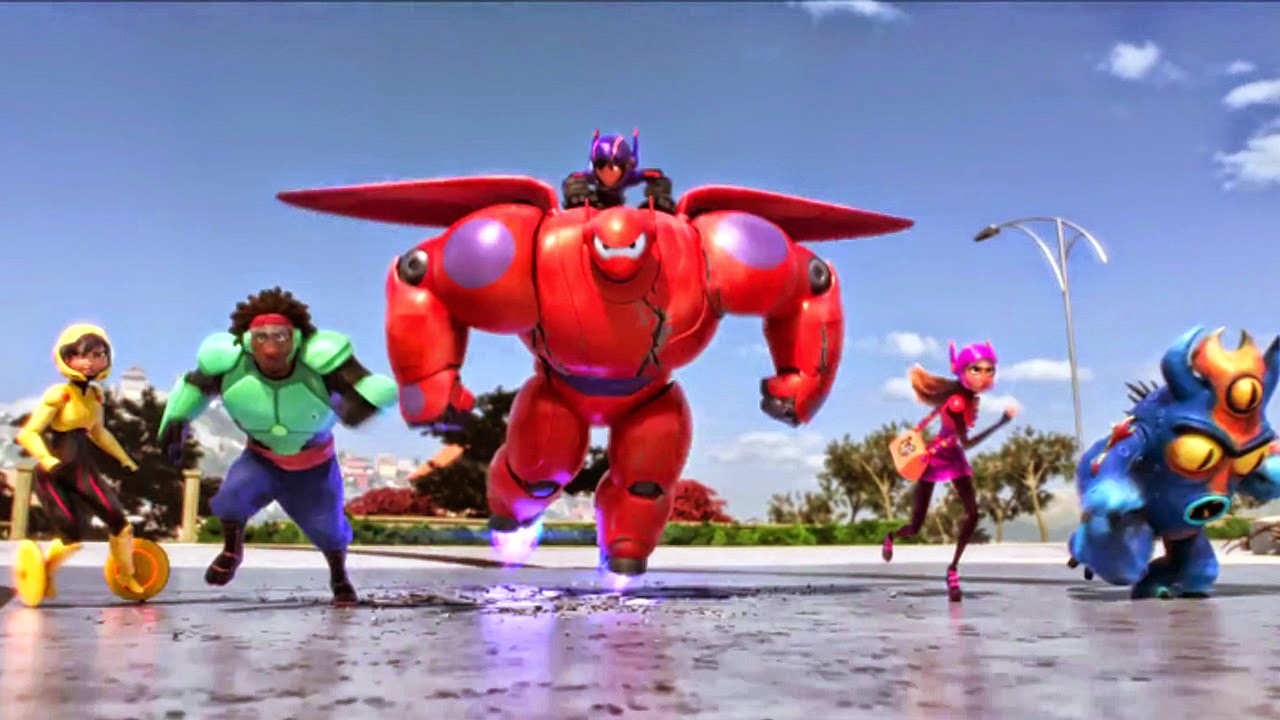 These sections make Big Hero 6 seem a highly promising film, even if they bear next to nothing to do with the comic-book. On the other hand, the latter half of the film travels in more traditional areas and becomes something quite different to the first half. Here everything falls into standard superhero movie patterns. It's fun, the action has an exhilaration and the film strikes all the right triumphal bits. On the other hand, there is nothing that is too different from any of the other half-dozen superhero films that have been released this year and too much of it slips into a sameness.
The other complaint you would make is the film's 'whitewashing' of the comic-book. Whitewashing was a term coined to describe the Hollywood process of taking ethnic characters and recasting them with Caucasian faces. (This is not a new process and has been going on for decades before this, as witness almost any Sinbad film or Biblical spectacular). The comic-book is set in Japan and features Japanese characters. The film has sort of attempted to keep this while rewriting it for American audiences. Thus the location is now set in some kind of bizarre alternate reality called San Fransokyo, which is exactly what it sounds – a San Francisco that appears to have been invaded by Japan (no explanation is offered for why this has happened, making it seem even more bizarre).
The hero and his brother have Japanese names but in the way they are drawn and behave they are otherwise standard American kids. Even stranger is when it comes to the other members of the team who also retain very Japanese-sounding nicknames like Wasabi, Honey Lemon and Gogo Tomago, yet are drawn and voiced as Americanised characters. This is particularly notable when it comes to Wasabi, who in the original comic-book was a sword-wielding sushi chef, who is now rewritten as an African-American character who uses precision lasers.
Don Hall and Chris Williams later went on to co-direct Disney's Moana (2016).
---
---