---
Crew
Director/Screenplay – Ian Truitner, Producers – Matthew S. Gore & Hayley Helmreich, Photography – Jasmin Kuhn, Music – Roman Kovalik, Visual Effects Supervisor – Matthew Gore, Makeup Effects – David Charles, Production Design – Chuck Parker. Production Company – Thousa Mile Media.
Cast
Sunny Mabrey (Iris Duncan), Mykel Shannon Jenkins (Dr Orson), Weetus Cren (Travis O'Neill), T. J. Hoban (Chris Zimmer), Christian Pitre (Emma Anderson), Lance Broadway (Commander Reginald Linden), Ursula Mills (Lulu), Michael Nouri (Nordham)
---
Plot
In the year 2038, genetic engineering has allowed the creation of GC people, a species that is physically superior to regular humans and with controlled emotions. Over a decade later, a crew of GCs is sent to Saturn's moon Titan aboard the ship Teleios to investigate what happened to the Atromitos expedition that was sent to mine a mineral that can help save Earth's polluted atmosphere. The Teleois docks with the Atromitos and they board to discover the ship empty except for a single survivor Travis O'Neill. However, O'Neill proves to be traumatised and will not speak except in quotes from classic books. Because she has a psychology degree, Iris Duncan is sent to question O'Neill as they try to understand what happened to the rest of the crew.
---
Teleios is a film from Ian Truitner who has worked in various capacities in the film industry. He had previously directed The Interview (1999), which remains little seen, and the horror film Cutting Room (2006).
I have a liking for space expedition films. The good old standby of the space mission in search of something gone wrong has served everything from Alien (1979) and Aliens (1986) to Lifeforce (1985) and Event Horizon (1997), among a great many others. It is something that gives Teleios initial promise and Ian Truitner does a passable job setting up the arrival, the mystery of the empty ship and the survivor who will not speak in anything except excerpts quoted from classic literary works.
It also becomes apparent that Teleios is made with an economy budget. Truitner has a couple of names on board – Sunny Mabrey, best remembered as the alien in Species III (2004), and a minor appearance on a tv monitor from Michael Nouri. The budget doesn't quite stretch far enough – the visual effects are okay but kept to a minimum. This is most noticeable in the sets, which seem to be reusing the same cramped lengths of corridor.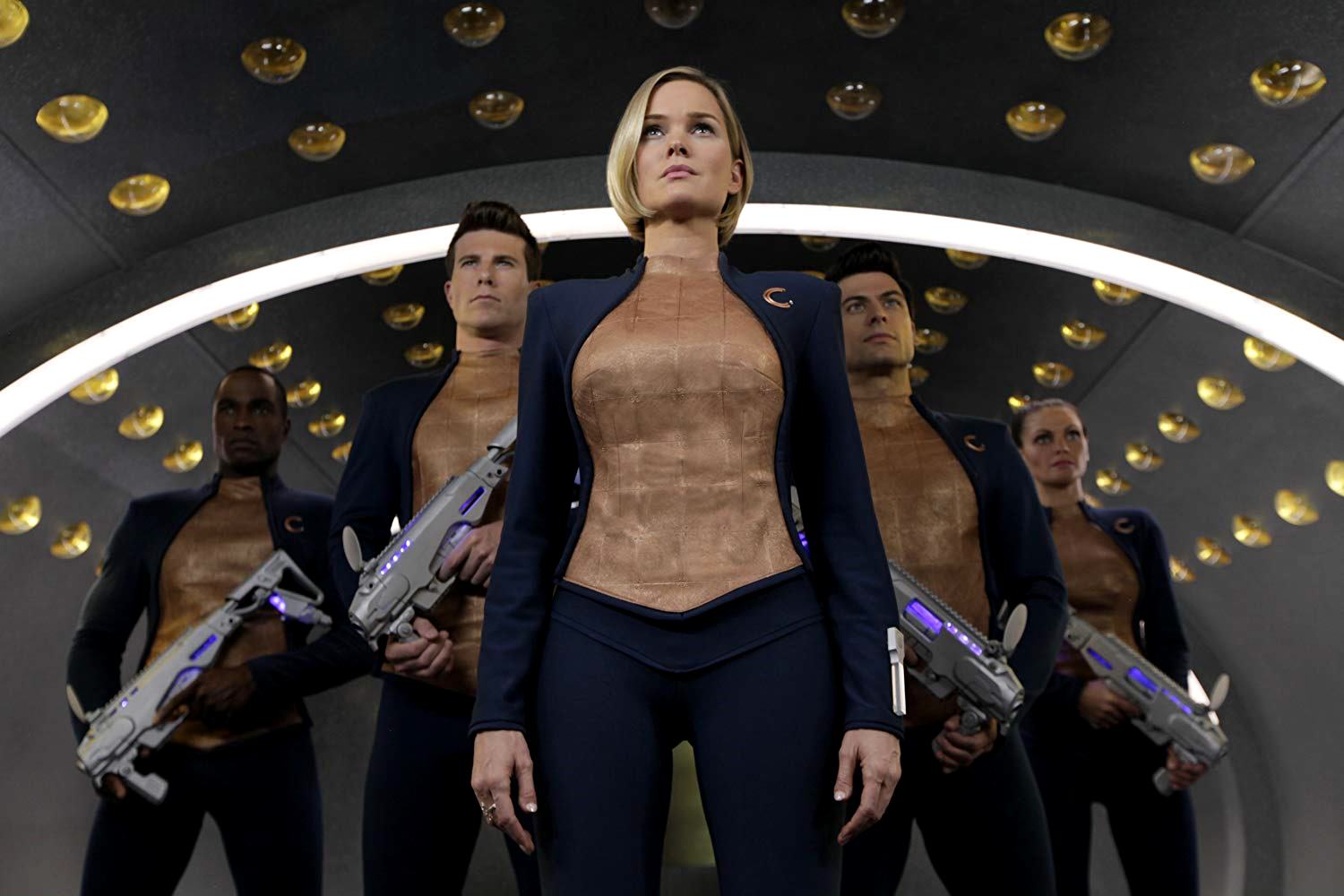 There are also the costumes where uniforms have been created for the crew. You commend the effort but the unfortunate choice has been made to make the chest and stomach area of these in pale orange-brown colour, the upshot of which is that it looks as though all of the cast are going around wearing flesh shirts. Also the uniforms are not terribly well fitting and come with obvious wrinkles in the fabric.
The plot eventually slips over into a variant on the mass insanity aboard a spaceship plot we have had in films like Alien Cargo (1999), Pandorum (2009), Earthrise (2014) and Infini (2015). This does have the added twist of it being about a crew of people who have been genetically engineered to be perfect and with reduced emotions and how the effect of the mineral is causing them to lose control, which pushes the film over into something of the territory of The Crazies (1973). Alas, I don't think Teleios does a particularly interesting job of depicting the GCs or the way they are affected. The end revelation involves a killer android but this is not a treatment of the subject that does much to stand out as any different from standard.
---
---