---
Crew
Director/Screenplay – Seth Larney, Producers – Kate Croser, Lisa Shaunessy & Jason Taylor, Photography – Earle Dresner, Music – Kristen Axelholm & Kenneth Lampl, Visual Effects – Cumulus VFX (Supervisor – William Gammon) & Subject 14, Production Design – Jacinta Leong. Production Company – Arcadia Productions.
Cast
Kodi Smit-McPhee (Ethan Whyte), Ryan Kwanten (Jude Mathers), Aaron Glenane (Richard Whyte), Deborah Mailman (Regina Jackson), Sana'a Shaik (Xanthe Whyte), Finn Little (Young Ethan Whyte), Leeanna Walsman (Selena Whyte)
---
Plot
In the year 2067, the Earth is badly polluted and oxygen levels are running out. Ethan Whyte is a worker on the engineering project designed to regenerate the oxygen, while also trying to support an ill wife Xanthe. He is unexpectedly recruited by city controllers and shown Chronicle, an experimental device that was built by his late father that opens a portal through time. The project has now received a message sent from the year 2474 telling them to send Ethan through the Chronicle. It is hoped that he will be able return with the method used in the future to replenish the oxygen. Ethan agrees to go through even though there is no guaranteed method to bring him back. There he discovers the Chronicle site abandoned, surrounded by an overgrown jungle and is shocked to find another version of himself that appears to have been murdered.
---
2067 was the second directorial film for Seth Larney who had previously worked in visual effects and directed the superhero film Tombiuro (2017). It was an Australian production, produced as part of the fund for the Adelaide Film Festival and premiering at the festival.
2067 had received a reasonable write-up on one site I visited so I was willing to take a look at it. The time travel premise is always a good one. The future scenario of a world where oxygen is running out did sound interesting. Although I did have some problem with the concept the film raises of synthetic oxygen – oxygen is an atom, not a molecule and thus is the smallest possible component out of which matter can be composed. Being an atom, it is not able to be synthesized unless we are talking using some means of altering other atoms, which would take a massive amount of energy.
The main problem is that 2067 sets up an interesting scenario. It gets Kodi Smit-McPhee into the future and gives him a mystery to solve after finding a corpse of himself with a bullet in the head leading to a series of explanations that tie back to his childhood. All of that said, Seth Larney does nothing interesting with the premise. There have been a number of films that have done dazzling things with the conceptual contortions of the time paradox in the last few years with the likes of Timecrimes (2007), Black Hollow Cage (2017), In the Shadow of the Moon (2019) and two standout entries from Australia with The Infinite Man (2014) and Predestination (2014).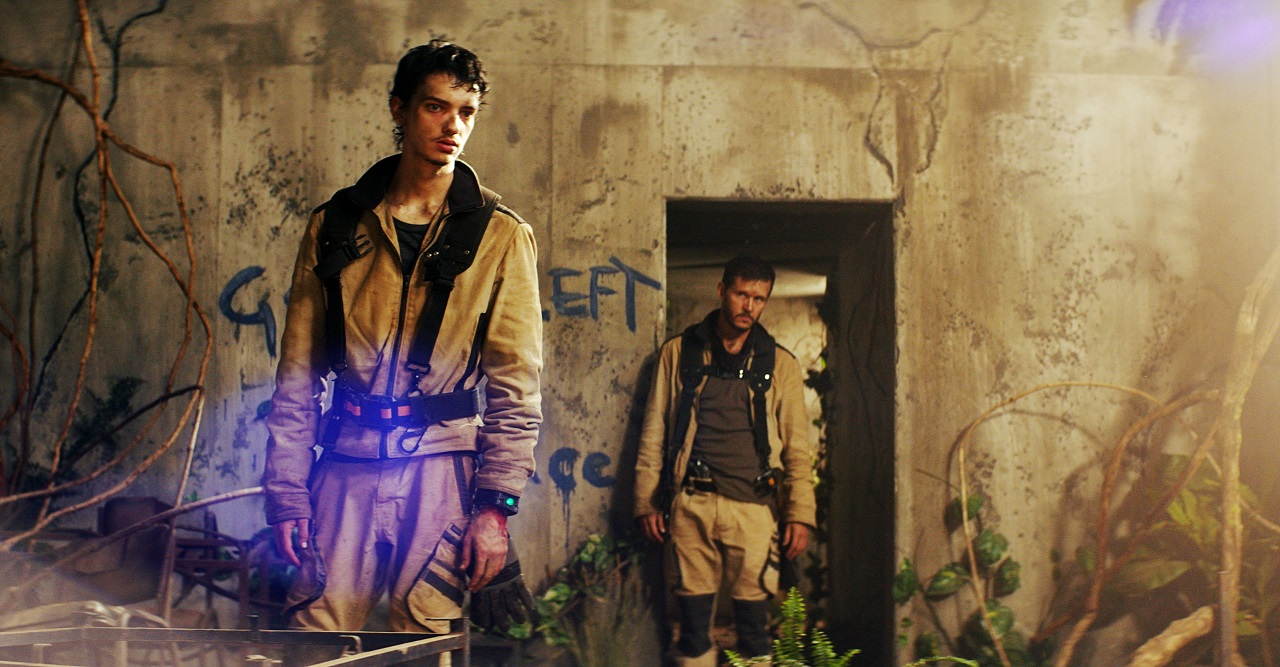 However, all that Seth Larney does is have Kodi Smit-McPhee pottering around the abandoned ruins of the Chronicle site and not a huge amount happening. It's a disappointing failure to use the time travel premise in any interesting way. The only real twists are about the background of the Chronicle program when you feel that the film should far more inventively have allowed the time travel premise to provide the twists.
The film stars Kodi Smit-McPhee who made a moderate name as a child actor a few years ago in films like The Road (2009), Let Me In (2010), Young Ones (2014) and X-Men: Apocalypse (2016), among others. Smit-McPhee is now aged 24 and at his full height of 6'1". Unfortunately for the film this end up with a lead actor who seems like an unnaturally tall, thin beanpole figure. Not to mention that Smit-McPhee plays the part with a cliche paedophile mustache that creates a lead character who looks weird and alienating. On the other hand, you suspect if Ryan Kwanten, the former star of tv's True Blood (2008-14), who does a perfectly acceptable job of playing an average everyman, had swapped roles with Smit-McPhee and taken the lead rather than playing the best friend that things would have worked much better.
---