---
Crew
Director – S.S. Wilson, Screenplay – Scott Buck, Story – Brent Maddock, Nancy Roberts & S.S. Wilson, Producer – Nancy Roberts, Photography – Virgil L. Harper, Music – Jay Ferguson, Digital Visual Effects – Himani Productions, Inc. (Supervisor – Kevin Kutchaver), Miniature Visual Effects – 4Ward Productions (Supervisor – Robert Skotak), Physical Effects – FX Concepts (Supervisor – Lou Carlucci), Makeup Effects/Animatronics – KNB EFX Group, Inc. (Supervisors – Howard Berger, Robert Kurtzman & Greg Nicotero), Production Design – Simon Dobbin. Production Company – Stampede Entertainment.
Cast
Michael Gross (Hiram Gummer), Brent Roam (Juan Pedilla), Billy Drago (Black Hand Kelly), Sara Botsford (Christine Lord), Sam Ly (Fu Yien Chang), August Schellenberg (Tecopa), Ming Lo (Pyong Lien Chang), Lydia Look (Lu Wan Chang)
---
Plot
The tiny town of Rejection, Nevada, 1889. The miners working the Last Dollar silver mine suddenly begin to be attacked by burrowing creatures. The mine's owner Hiram Gummer arrives to find why everybody is refusing to work in the mine, only to find that people are fleeing town en masse. Gummer is born from a wealthy family and has no experience out in the West. He determines to get the men working again but he and the handful of remaining townspeople find themselves up against a horde of vicious creatures that burrow through the ground and are drawn to attack anything that makes noise.
---
This was the third of the sequels spun off from Tremors (1990). Tremors was a highly enjoyable monster movie that came with tongue planted in cheek. Though liked by almost all, it was not a runaway box-office hit. What surprises is that it managed to produce three sequels, Tremors II: Aftershocks (1996), Tremors 3: Back to Perfection (2001) and Tremors 4: The Beginning here, which was a prequel, as well as a tv series Tremors (2003) that lasted for thirteen episodes. Aside from actor Michael Gross, the constant in all of these versions was Brent Maddock and S.S. Wilson, the screenwriters of the original, who took over directing duties between them on all three film sequels, Wilson with Tremors II, Maddock on Tremors 3 and Wilson returning to take over this. A decade later, there were three further sequels with Tremors 5: Bloodlines (2015), Tremors: A Cold Day in Hell (2018) and Tremors: Shrieker Island (2020) without Maddock or Wilson but still featuring Michael Gross.
The surprise also about the Tremors sequels is that they manage to milk so much out of the limited premise of people running around a tiny town fighting off creatures that burrow through the ground. Moreover, Maddock and Wilson managed to turn out films that remained consistently lively and amusing and did more than just repeat the same basics with minimal variation (as say the Friday the 13th series does). The strain is starting to show a little with Tremors 4: The Legend Begins – it is likeable but many of the film's moves are starting to seem predictable. Nevertheless, it tosses up an amiable range of characters and eventually the scenes with the ensemble taking on the Graboids and battling against them using 19th Century technology settle in with some amusement.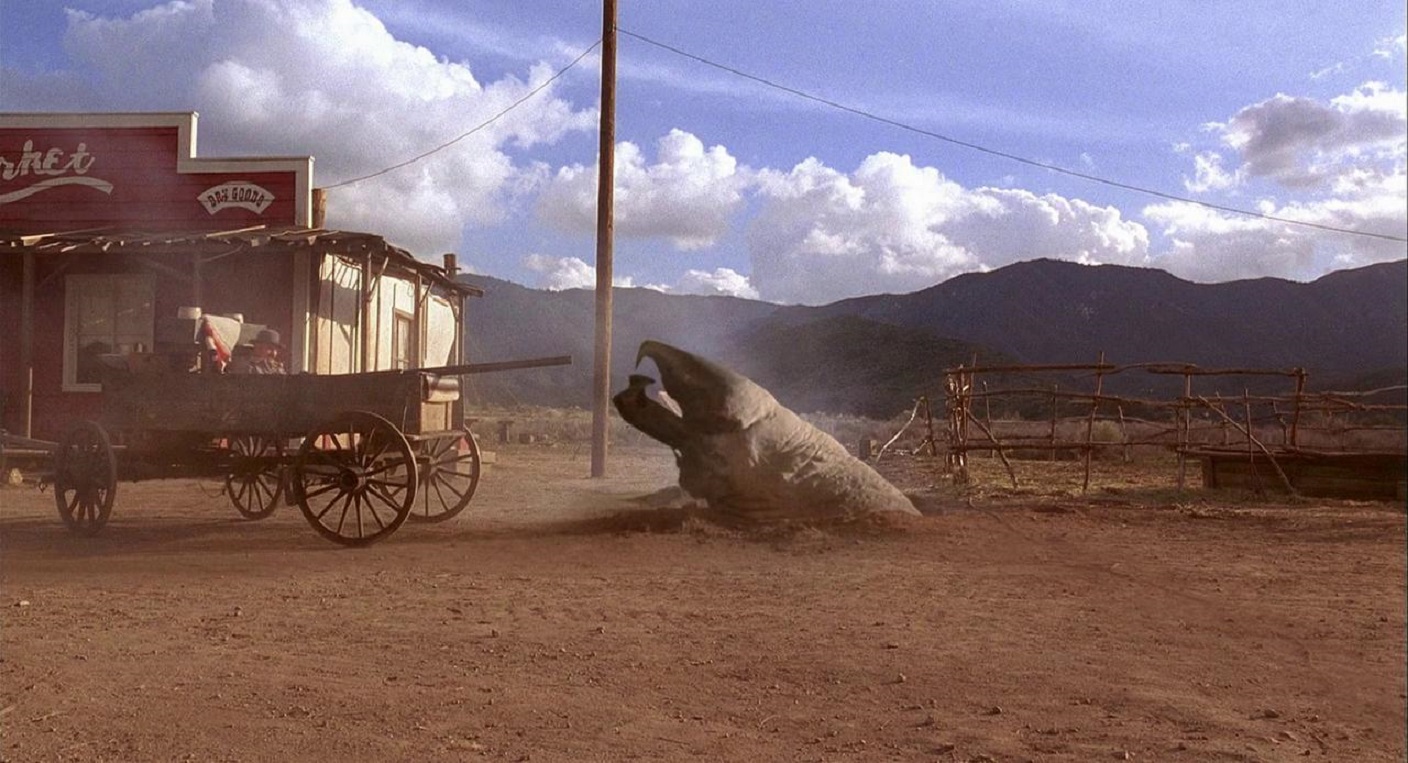 The other constant in all of the versions of Tremors has been Michael Gross whose initial character was as militant gun nut who was played for comic relief. Throughout the sequels, the character gradually shifted to be regarded as the hero of the show. Here Gross a great deal of fun playing Burt's ancestor, a character that is deliberately written as the exact opposite – an ineffectual man who has been born into privileged society and comes to the West without even having mounted a horse before and clearly out of his element trying to deal with the situation. There is some amusement to seeing him totally clueless when it comes to handling a gun and having to be instructed in how to do so, before the inevitable climax where he returns bearing a heavy arsenal and the fadeout where he is relishing the idea of using them with the implication that he is starting off the family tradition.
The newcomer to the show is Billy Drago, an actor who has made a career out of playing intense and weird. Drago seems perfectly suited to the role of the gunslinger here and is at least far less over-the-top and wired than he usually comes across.
S.S. Wilson and Brent Maddock have also written the cute robot film Short Circuit (1986), the cute UFO film Batteries Not Included (1987), the Bill Cosby vehicle Ghost Dad (1990), the afterlife fantasy Heart and Souls (1993) and the remake of Wild Wild West (1999).
---
---