USA. 2016.
Crew
Director – Nick Simon, Screenplay – Neil Elman & Ashley O'Neil, Producers – Anthony Fankhauser & Lisa Hansen, Photography – Kevin Duggin, Music – Zoo Creatives, Visual Effects/Animation – Dreamdust VFX, Ice Animations FZ LLC (Supervisor – Syed Ali Akber Rizvi) & Lawson Digital Arts (Supervisor – Joseph J. Lawson), Special Effects Supervisor – Jerry L. Buxbaum, Production Design – Yana Veselova. Production Company – CineTel Films.
Cast
Steve Guttenberg (Colton West), Michael Winslow (Marty), Michele Weaver (Raya), Jimmy Bellinger (Kyle), Lauren York (Daniella), R.J. Walker (TJ), Erron Jay (Brick), Martin Kove (Colonel Nathan R. Jester), Eric Etebari (Alligator Dundee), Marion Ramsey (Teddy), Raymond Forchion (Hal), June Carryl (Elizabeth), John Sussman (Joshie), Danny Woodburn (Arni), Noah Hunt (Wyatt West)
---
Plot
Colton West is on a movie set in L.A. when news hits of another eruption of lavalantulas in Fort Lauderdale. Colton's stepdaughter Raya is caught in the midst of this. Colton, accompanied by Marty, immediately abandons the film, steals a helicopter and sets off to save her and tackle the new lavalantula menace.
---
Mike Mendez's Lavalantula (2015) was a Syfy Channel creature feature, made with an enjoyable tongue-in-cheek sense of humour. 2 Lava 2 Lantula is a sequel. Steve Guttenberg, Michael Winslow and Marion Ramsey make return appearances, as well as Noah Hunt as Guttenberg's son in a single Facetime video call, although Nia Peeples as Guttenberg's wife has chosen not to return. The first film's director Mike Mendez has been replaced by Nick Simon.
The Lavalantula series very much wants audiences to regard it in the same vein as Sharknado (2013) and sequels – indeed, the two series even crossed over with Sharknado series star Ian Ziering appearing in the first film and Steve Guttenberg repeating the favour by cameoing in Sharknado: The 4th Awakens (2016). Lavalantula emerged with enjoyable results but 2 Lava 2 Lantula feels like a copy of Sharknado that has been made on a cut-price budget and with much shittier effects. The first film felt like it was made by people who cared about the genre but by the time of the sequel this has been replaced by people who are just generating filler product. The effects radiate cheapness – particularly during the opening attack on the Fort Lauderdale beach where Michele Weaver is with her friends. These do improve in later scenes but as to why the film put the worst effects first is a mystery.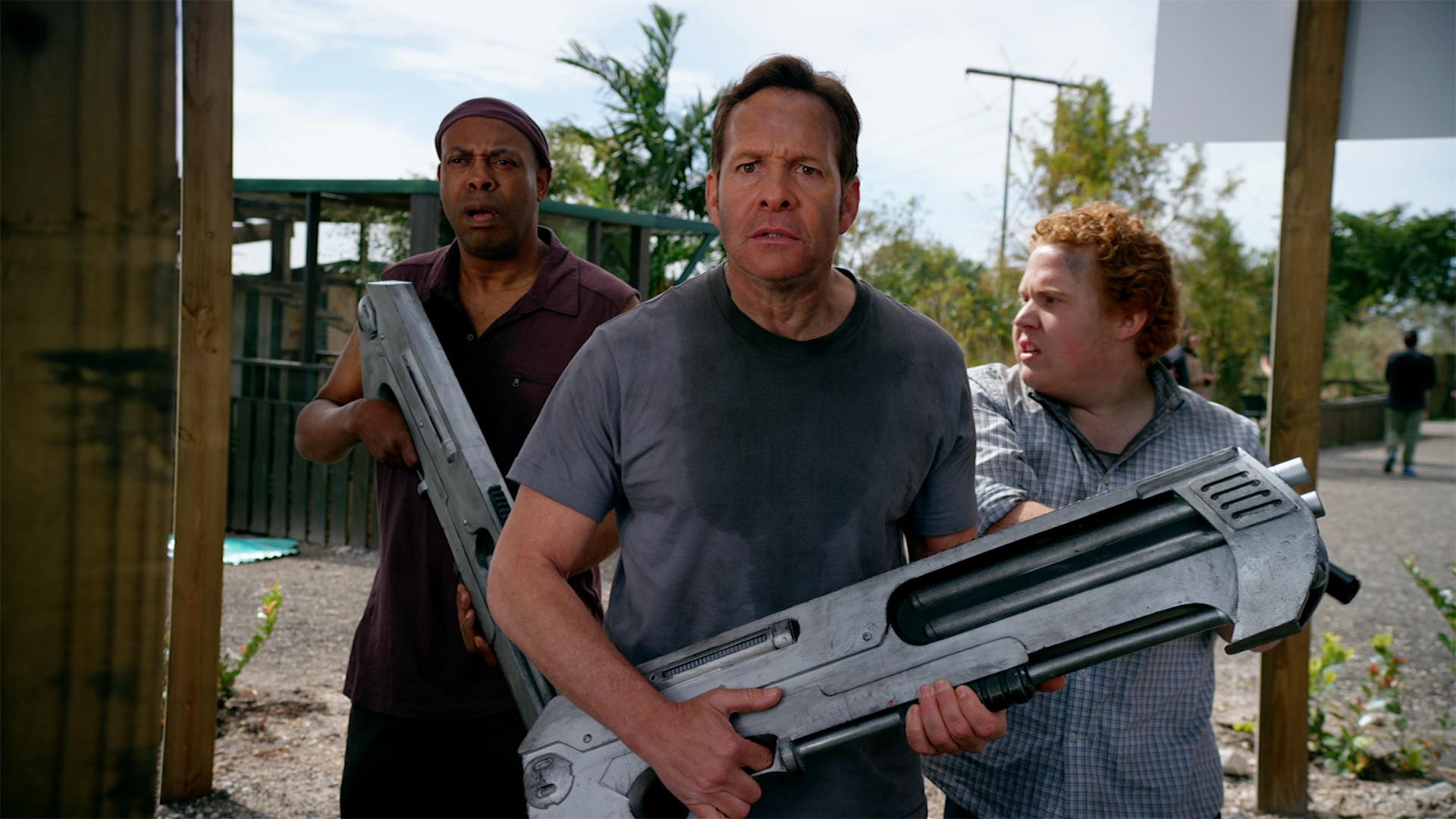 Steve Guttenberg gamely soldiers through the shoddiness and for some reason plays all of his lines with a fake deep voice as though he were trying to parody an action hero – and ends up failing badly. The most excruciating scenes are those where Guttenberg and other cast members are allowed to improvise – the Alligator Dundee scenes or the ones where Guttenberg coins the phrase 'Gargantulantula' and keeps saying it over and over.
2 Lava 2 Lantula goes overboard on movie parodies. Throughout we get jokes about Scarface (1983), someone drops the "Zed is dead" line from Pulp Fiction (1994), Eric Etabari has been introduced as a character named Alligator Dundee, there's reference to a Kyle Reese from The Terminator franchise, Jimmy Bellinger's father is a pilot named Hal so that Guttenberg can get to drop the line "Open the bay doors, Hal" line from 2001: A Space Odyssey (1968), while the climactic image has Steve Guttenberg riding the bomb payload down out of the plane like Slim Pickens in Dr Strangelove or, How I Learned to Stop Worrying and Love the Bomb (1964). We even get cameos from Tahnee Welch and Tyrone Power Jr from Guttenberg's hit Cocoon (1985) with jokes about finding aliens off the coast of Florida.
Nick Simon also directed the horror comedy Removal (2010), the psycho film The Girl in the Photographs (2015), Truth or Dare (2017) and Karma (2018), as well as wrote the scripts for Cold Comes the Night (2013) and The Pyramid (2014).
---
---