---
Crew
Director – S.S. Wilson, Screenplay – Brent Maddock & S.S. Wilson, Producers – Christopher de Faria & Nancy Roberts, Photography – Virgil Harper, Music – Jay Ferguson, CGI Effects – Tippett Studio (Supervisor – Phil Tippett), Special Effects Design – Peter Chesney, Mattes – Rocco Gioffre, Model Supervisor – Joshua Shannon Culp, Creature Effects – Alec Gillis & Tom Woodruff Jr, Production Design – Ivo Cristante. Production Company – MCA Home Entertainment/Stampede Entertainment.
Cast
Fred Ward (Earl Bassett), Christopher Gartin (Grady Hoover), Michael Gross (Burt Gummer), Helen Shaver (Dr Kate White), Marcelo Tubert (Senor Ortega)
---
Plot
Earl Bassett's various commercial ventures into selling Graboid merchandising and ostrich farming have not gone well. He declines an offer from the Mexican government who want him to come and hunt Graboids that are endangering their oilfields. Taxi driver Grady Hoover, who regards Earl as a personal hero, persuades Earl to accept the job by reminding him of the $50,000 bounty for each Graboid killed. Earl agrees to go, taking Grady on as assistant. Joined by Burt Gummer, they successfully hunt Graboids using radio-controlled toys packed with dynamite. However, they then discover that the Graboids are breeding – and moreover, that the baby Graboids are ambulatory, much more versatile and that they are attracted to infra-red heat rather than vibration.
---
Tremors (1990) was one of the most enjoyable monster movies of the 1990s. It essentially recreated the 1950s monster movie with a warmly inviting sense of humour, while not forgetting to keep the suspense enjoyably taut. It was a modest, if not entirely a runaway success.
Brent Maddock and S.S. Wilson, the writing team behind Tremors, who also penned films like Short Circuit (1986), Batteries Not Included (1987), Ghost Dad (1990) and Heart and Souls (1993), took over the writing and directing chores for Tremors II: Aftershocks between them. Indeed, with Aftershocks, Maddock and Wilson turned Tremors into a lucrative franchise, generating considerably more from the idea than one would have thought the original film might have lent itself to. This has so far included two further video-released sequels – Tremors 3: Back to Perfection (2001) and Tremors 4: The Legend Begins (2004), a prequel set in the 19th Century, as well as a tv series Tremors (2003) that lasted for only thirteen episodes. A decade later, the series was revived for three further sequels with Tremors 5: Bloodlines (2015), Tremors: A Cold Day in Hell (2018) and Tremors: Shrieker Island (2020) without Maddock or Wilson. Actor Michael Gross is the one other common feature to all of the Tremors incarnations.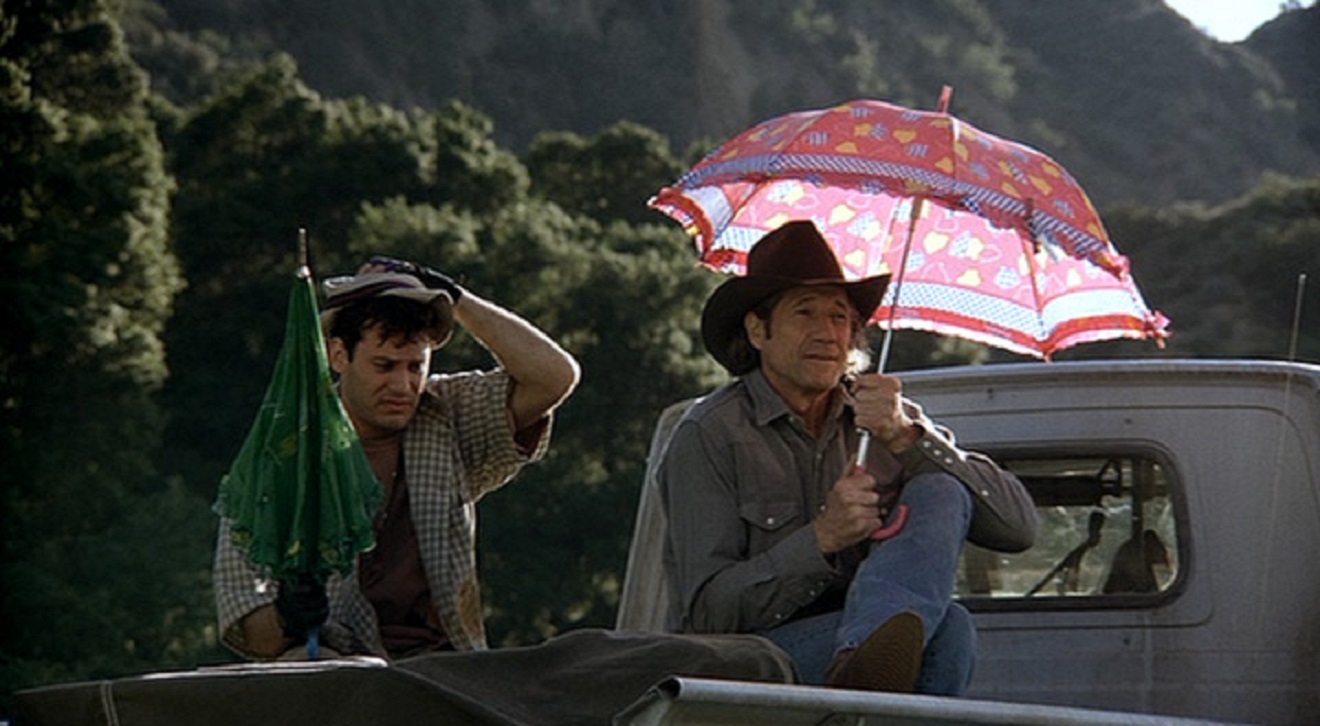 Tremors II: Aftershocks is a sequel that proves the rarity of a work that is sufficiently original and inventive to not only stand on its own but hold its ground favourably against the piece that inspired it. Making his debut as director, S.S. Wilson gets the laconic sense of humour down perfect. The scenes in the first third of the film with Fred Ward and Christopher Gartin hunting the Graboids come perfectly tongue-in-cheek – Ward getting out his absurdly striped umbrella and waiting nonchalantly until pieces of exploded Graboid start raining down; "Is that a coyote? Man, he better keep quiet," followed by a startled cut-off yelp, "Yep"; their radio being devoured by a Graboid and a little while later a puzzled "I know that tune."
While the sequel places much more emphasis on humour, S.S. Wilson doesn't forget to turn up the suspense. The journey across open ground to Pedro's truck and the initial appearance of the baby Graboids come with commendable tension. The extended climax that takes up the latter third of the film has a marvellously sustained balance of both humour and suspense – a sequence that is also notable for having its monsters and heroes both being about even when it comes to having clues as how to deal with one another.
---
---