---
Crew
Director – Roland Emmerich, Screenplay – Oliver Eberle & Dean Heyde, Story – Olivier Eberle, Roland Emmerich, Dean Heyde & E.J. Mitchell, Producers – Roland Emmerich & Dean Heyde, Photography – Karl Walter Undenlaub, Music – Joel Goldsmith, Visual Effects Supervisor/Effects Animation – Volker Engel, Models – Centropolis Film Production & Panasensor Filmeffect und Filmproduktion GMBH, Computer Animation – Hartmut Keller, Klaus Knoesel & Holger Neuhauser, Production Design – Oliver Scholl. Production Company – Centropolis Filmproduction.
Cast
Michael Paré (Felix Stone), Dean Devlin (Tyler), Leon Rippy (Sergeant Sykes), Brian Thompson (Jake O'Neal), Malcolm McDowell (Major Lee), Stephen Geoffreys (Cookie Schultz), Lisa Eichhorn (Terry Morgan), Roscoe Lee Browne (Chairman), Jochen Nickel (Scooter Bailey), Mechimed Yilmaz (Marc Farlow)
---
Plot
It is the year 2038. The Galactic Mining Corporation assigns Internal Affairs agent Felix Stone to find who is stealing the shuttles from its mining operation on Moon 44. Stone goes undercover as an inmate in the moon's prison. There the prisoners are used as pilots to fly helicopters through the moon's network of canyons while guided by hotshot teenage navigators. Stone gradually uncovers a scheme by the moon's commander to steal the shuttles and destroy the base.
---
Moon 44 was the film that gained director Roland Emmerich his big break in the West. Up to that point, Emmerich had made various films in his native West Germany, including The Noah's Ark Principle (1984), Making Contact/Joey (1986) and Ghost Chase (1988). Moon 44 did well in video release, was even cinematically released in places and gained Emmerich enough attention to net him the job as director of the big-budget US action vehicle Universal Soldier (1992).
From there Emmerich springboarded on to become one of the most prominent science-fiction directors of the 1990s and 00s with the likes of Stargate (1994), Independance Day (1996), Godzilla (1998), The Day After Tomorrow (2004), 10,000 BC (2008), 2012 (2009), Independence Day: Resurgence (2016) and Moonfall (2022).
Moon 44 is also notable for featuring the first screen pairing between Roland Emmerich and Dean Devlin who became screenwriter and co-producer on most of Emmerich's subsequent films of the 1990s, although here Devlin is working for Emmerich as an actor rather than a screenwriter (he plays the part of Michael Paré's navigator).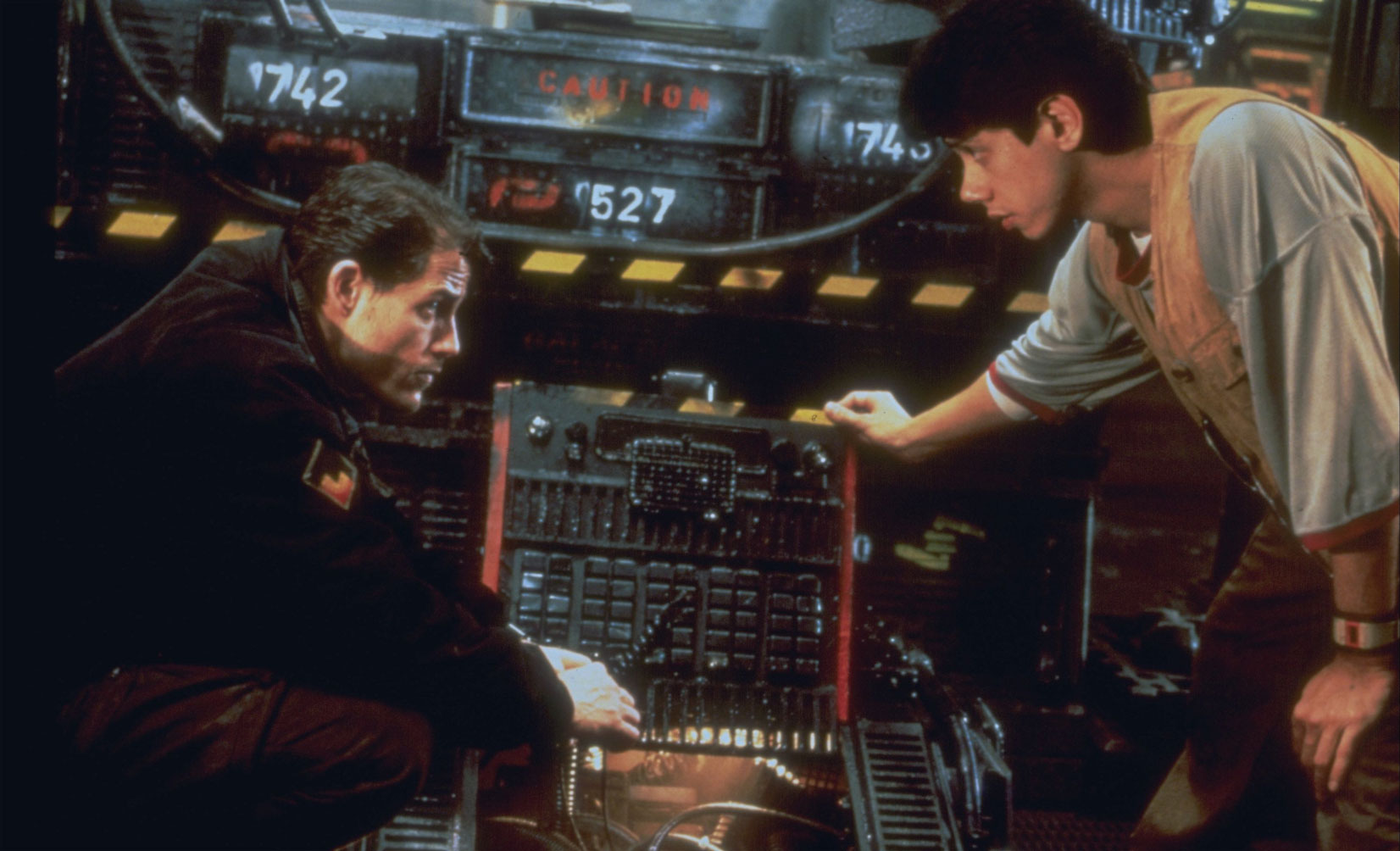 Moon 44 is a competent enough action vehicle. Although, as always, Roland Emmerich is more interested in on-screen kinesis than any credible scenario. He almost overdoses on the dark, gritty Cyberpunk look – the film is all whirling backlit fans, belching steam, dripping darkly lit corridors, chiaroscuro lighting textures and craft whirring through polluted skies filled with lit-up skyscrapers – something that has become so familiar through numerous low-budget Cyberpunk films that it drowns in cliche. At the very least though, Emmerich succeeds in giving the film an expensive look on a modest budget.
However, the rationale behind the film is vacuous. A number of reviewers at the time derided Moon 44 for its central concept that involves helicopters flying on a moon. In Moon 44's defence, it is never stated that the moon involved is an airless void – there is nothing in astrophysics that precludes a moon from having an atmosphere. There are, however, far worse plausibility holes in the script than that. The business about stealing shuttles seems dreadfully contrived – if the company has such a problem, why not just stop sending shuttles? Moreover, if it only takes one shuttle to lift all the personnel off the Moon, one wonders why so many of them are needed.
The business about the helicopter pilots needing navigators is also contrived – Emmerich never figures out how the system seems to operate with the navigators at times seeming to be flying the copters by remote control rather than the pilots, leaving one wondering what the pilots are there for. Although when it comes to incredulities the biggest unlikelihood that one is asked to swallow is surely that dull, monosyllabic Michael Paré would rather be pursuing a career as a university academic than an action hero.
---
---