---
Crew
Director – John Hyams, Screenplay – Joe Greenhalgh, John Hyams & Doug Magnuson, Story – Moshe Diamant & John Hyams, Producers – Craig Baumgarten & Moshe Diamant, Photography – Yaron Levy, Music – Will Hendricks, Michael Krassner & Robin Vining, Production Design – Nate Jones. Production Company – Signature Entertainment/BMP.
Cast
Scott Adkins (John), Jean-Claude Van Damme (Luc Devereaux), Dolph Lundgren (Andrew Scott), Andrei 'The Pit Bull' Arlovski (Magnus), Mariah Bonner (Sarah), Russ Blackwell (Agent Gorman), Audrey P. Scott (Emma), David Jensen (Dr Su), Don Rhodes (Ron Castellano), Michelle Jones (Kathryn), James DuMont (Dr Timothy Brady), Sigal Diamant (Claudia)
---
Plot
John is woken in the night and enters the kitchen to find masked intruders there. One pulls off his mask to reveal that he is Luc Devereaux before shooting John's wife and daughter. John awakes in hospital several months later after suffering from head trauma. Released, his memory a blank, he tries to piece his life back together. The trail takes John through a disturbing series of connections where he discovers that he was previously involved in illegal activities including murder. At the same time, both Luc Devereaux and Andrew Scott are appearing to the Universal Soldiers and deprogramming them. One of these soldiers is now sent on John's trail to eliminate him.
---
Day of Reckoning is by my reckoning the sixth film spun off from Universal Soldier (1992), Roland Emmerich's first American film, which starred Jean-Claude Van Damme and Dolph Lundgren as two soldiers that had been resurrected from the dead as superhuman fighting machines. Subsequently, Van Damme returned for the dreadful Universal Soldier: The Return (1999). In between these, there were two cheaply made Canadian films Universal Solider II: Brothers in Arms (1998) and Universal Soldier III: Unfinished Business (1998) starring Matt Battaglia. A decade after the franchise appeared to have died down, Van Damme and Dolph Lundgren, whose careers were both flagging, were reunited under director John Hyams for Universal Soldier: Regeneration (2009), easily the best in the franchise up until that point. Van Damme, Lundgren and John Hyams then return here for Universal Soldier: Day of Reckoning.
Day of Reckoning gets one's attention from its opening scene where family man Scott Adkins is woken in the middle of the night by his daughter complaining of monsters. The camera takes his point-of-view as he searches the house and then enters the kitchen to abruptly find a party of men there all dressed in black like ninjas. He is beaten and then in the first jolt the lead attacker whips off his hood to reveal the face of Jean-Claude Van Damme. In an even more disturbing jolt, Adkins is then forced to watch as both his wife and daughter are shot in front of him on Van Damme's orders. It is an opening that abruptly turns everything we expect of a Universal Soldier film on its head and sets the tone for the fascinating film that is to follow.
What we have now feels less like the usual limited themes of the series being warmed over (as was the case with the previous sequels) but a Universal Soldier film having been reworked by Philip K. Dick – the author of the books that became Blade Runner (1982), Total Recall (1990), A Scanner Darkly (2006) and numerous others, who was known for his reality and identity bending plots. Day of Reckoning treats the established characters in radical ways – most of Jean-Claude Van Damme's appearances, for instance, have him as some kind of hallucinatory messianic figure who appears to other Universal Soldiers after their conditioning has been broken (it is never made entirely clear what is going on here).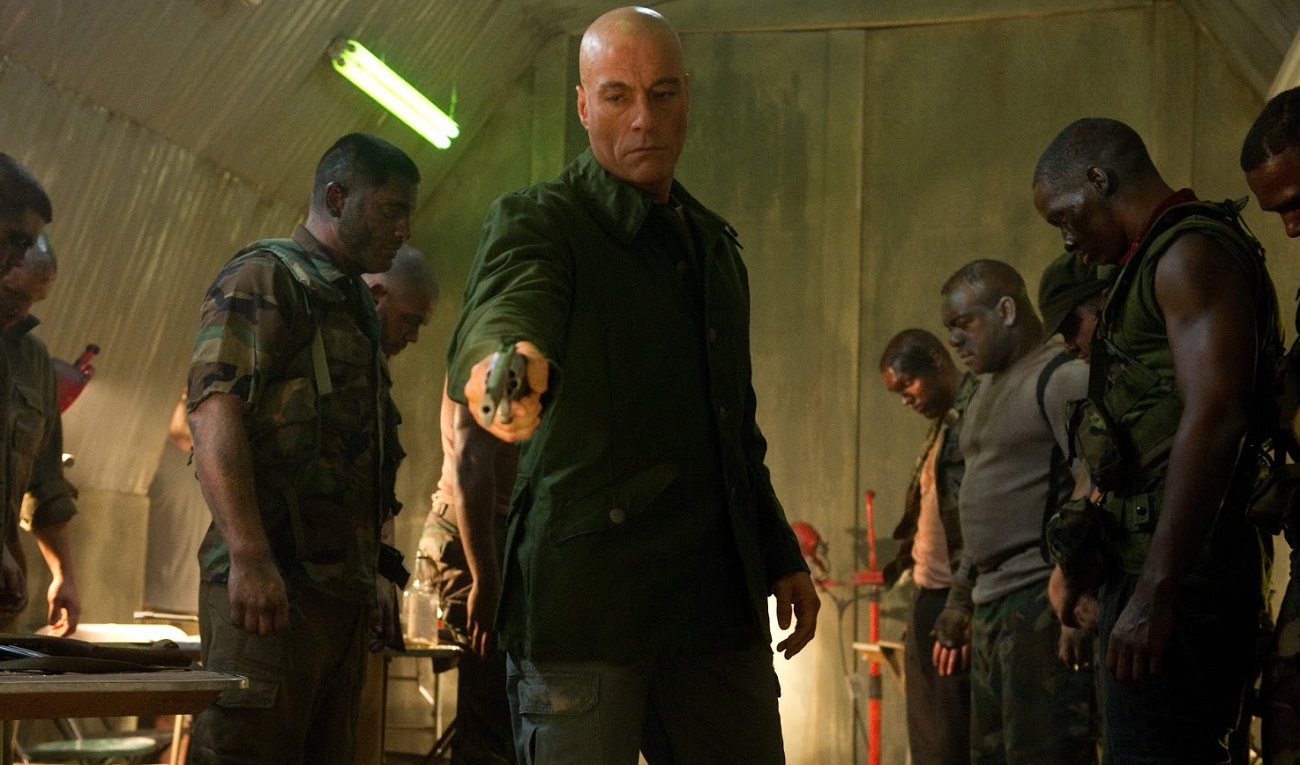 It gradually becomes apparent that we have less a copy of Universal Soldier than some type of variant on Total Recall – perhaps even more so one of the low-budget copies of the original Total Recall like Timebomb (1991) or Suspect Device (1995) concerning men who wake up to find their identities are false and they had previous lives as programmed assassins. The bewildering range of plot devices that Day of Reckoning introduces – amnesia and identity puzzles as Scott Adkins finds people who knew him and then video evidence of himself killing people, his encountering a double of himself halfway through the film, Jean-Claude Van Damme leading a cult, or wild revelations such as [PLOT SPOILERS] that Adkins is only a clone who has been reactivated for three weeks and that his memories of his family being slaughtered are false implants to motivate him – are completely off the map as a Universal Soldier film and thus make for compulsive viewing. The film also reaches a particularly disquieting ending where Adkins kills Russ Blackwell's FBI agent insisting that his implanted memories are true ones and then opens the van to launch a duplicate of the agent.
John Hyams, the son of Peter Hyams, the director with a long history in genre material such as Capricorn One (1978), Outland (1981), 2010 (1984), Van Damme's Timecop (1994) and End of Days (1999) among others, quickly demonstrates he is an impressive action director. He warms us up with an apartment-destroying fight between Scott Adkins and an axe-wielding Andrei 'The Pit Bull' Arlovski. Some way in, Hyams directs a real kickass scene with Scott Adkins and Andrei Arlovski in a furious car chase with either trying to run one another off the street, which segues into a brutally intensive hand-to-hand fight that demolishes an entire sports good store.
It is however the extended climactic scenes with Scott Adkins moving through the bunker, eliminating dozens of soldiers singlehandedly before taking on Dolph Lundgren and then Jean-Claude Van Damme in hand-to-hand combat that show John Hyams as one of the most promising action directors of the 2000s. I am most fascinated to see what John Hyams does next as he has an intensity to his work that is akin to the thrill one felt discovering John Woo for the first time back in the early 1990s. (Sadly, by the 2020s, this is a promise that remains unfulfilled).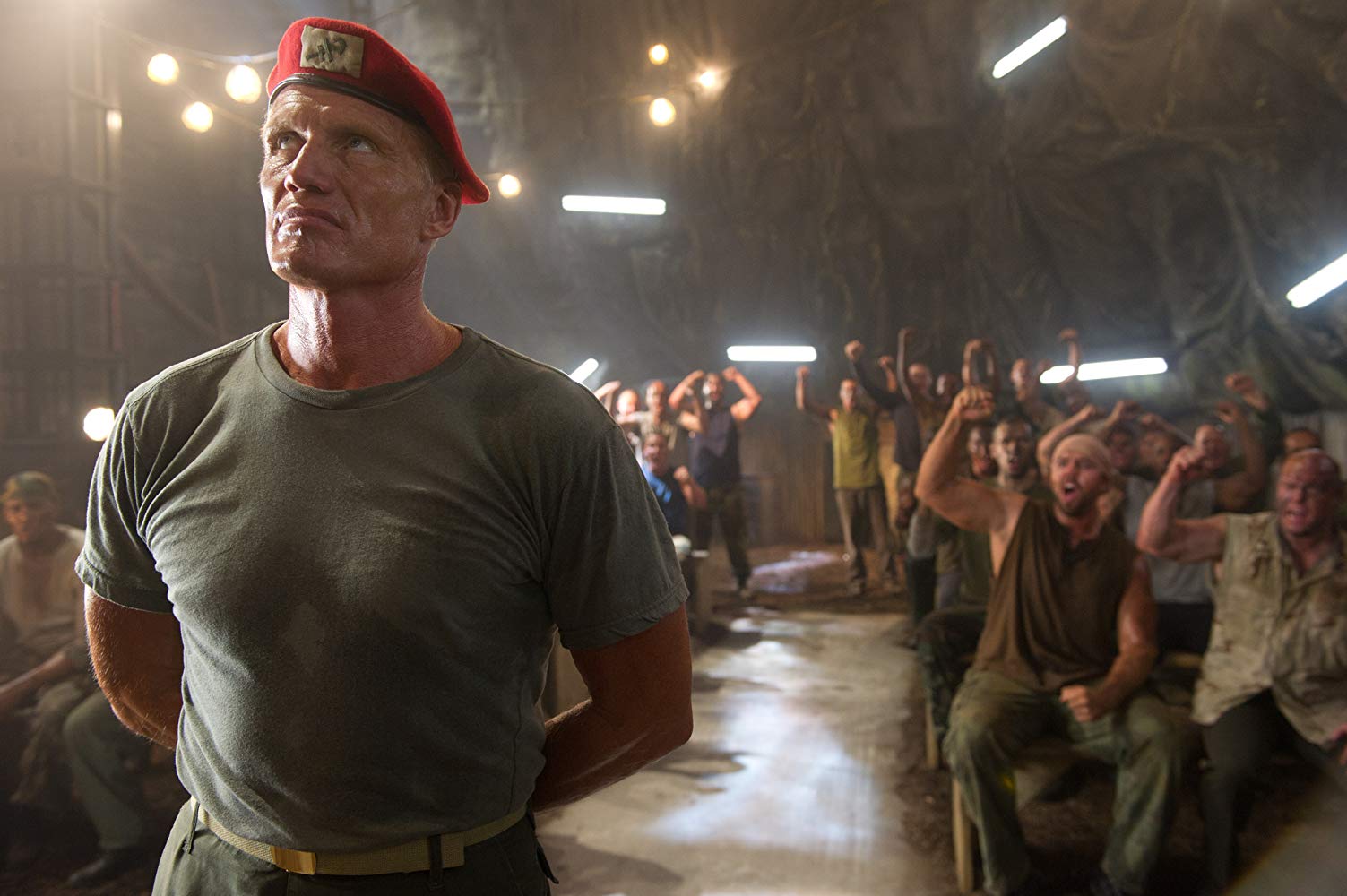 The one thing that Day of Reckoning does demonstrate is that both Jean-Claude Van Damme and Dolph Lundgren have gotten old. Both are still up for it, Lungdren in particular kicking ass in his fight scenes and both having separate extended battles against Scott Adkins at the climax – even if John Hyams seem to want to play all of Van Damme's climactic scenes as though channelling the climax of Apocalypse Now (1979). There is also the sense that this is intended as their swan song to the series as both are killed off here (apparently). Neither Van Damme and Lundgren have any scenes together where you get the impression that either could no longer be bothered with the series or else that the parts were written around some mutual antipathy (or perhaps that the producers could not afford to bring them in for the full film).
The most impressive addition to the series is the casting of the new lead Scott Adkins, previously a stuntman and actor in various action roles including The Bourne Ultimatum (2007) and The Expandables 2 (2012) and parts on British tv series like Eastenders (1985– ) and Holby City (1999– ). Adkins looks less like a testostoronally pumped action star than a handsome leading guy and family man he is introduced as being. Although as soon as he is required to strip his shirt off and get his hands dirty (which it is some way into the film, before he does), Adkins shows that he is more than capable of holding his own and subsequent to this built a modest career in action roles.
Elsewhere, John Hyams has directed the action film Dragon Eyes (2012), the sports gambling film All Square (2018), the survival thriller Alone (2020) and the Covid home invasion film Sick (2022), plus created/produced and directed episodes of the zombie tv series Black Summer (2019- ).
---
---