---
Crew
Director/Screenplay – Desmond Nakano, Producer – Lawrence Bender, Photography – Willy Kurant, Music – Howard Shore, Music Supervisors – Pilar McCurry & Happy Walters, Special Effects – John E. Gray & Dale Newkirk, Production Design – Naomi Shohan. Production Company – Chromatic Pictures/UGC/A Band Apart.
Cast
John Travolta (Louis Pinnock), Harry Belafonte (Thaddeus Thomas), Kelly Lynch (Martha Pinnock), Margaret Avery (Megan Thomas), Tom Bower (Stanley), Andrew Lawrence (Donny Pinnock)
---
Plot
In an alternate world where Blacks are a racial majority and Whites an impoverished minority, White bakery worker Louis Pinnock is asked to deliver a parcel to his boss Thaddeus Thomas's house. There he inadvertently sees Thomas's wife undressing. A casual word from Thomas to Louis's supervisor has Louis fired. Unemployed, he and his family are evicted from their house. Believing Thomas to be the source of his problems, Louis takes him hostage at gunpoint, determined to obtain redress.
---
Ventures into the realm of alternate history are rare within cinema and tv see the likes of It Happened Here (1965), Quest for Love (1971), Fatherland (1994), C.S.A.: The Confederate States of America (2004), Sliders (tv series, 1995-2000), The Man in the High Castle (tv series, 2015-9), SS-GB (2017), For All Mankind (tv series, 2019- ), Yesterday (2019), The Plot Against America (2020) and Noughts + Crosses (tv series, 2020- ). Of the few ventures even rarer are those that do not just use the theme to conduct evil variations on familiar characters or else use the hackneyed Nazi Rule variation. Amidst this, White Man's Burden is welcome for its alternate take on American race relations. Although, in that it offers no historical explanation for its race reversal, it is not a genuine alternate history as such and belongs more in the realm of fantastic allegory.
Nevertheless, White Man's Burden offers a potent exploration of its theme. The film's intent is to highlight contemporary race issues by reversing their social positions. Here director/screenwriter Desmond Nakano (who is himself Japanese-American) creates some undeniably effective images. There is a fine montage sequence at the beginning with John Travolta driving through the rich upper-class Black neighbourhood seeing Blacks cleaning expensive sports cars, walking dalmatians and then by pointed contrast returning to his own poor White neighbourhood with rampant street crime, Black officers routinely hassling Whites on the street and then sitting down to watch tv in his own home, which is dominated by tv gameshows with all-Black participants and Black takes on Charlie's Angels (1977-81).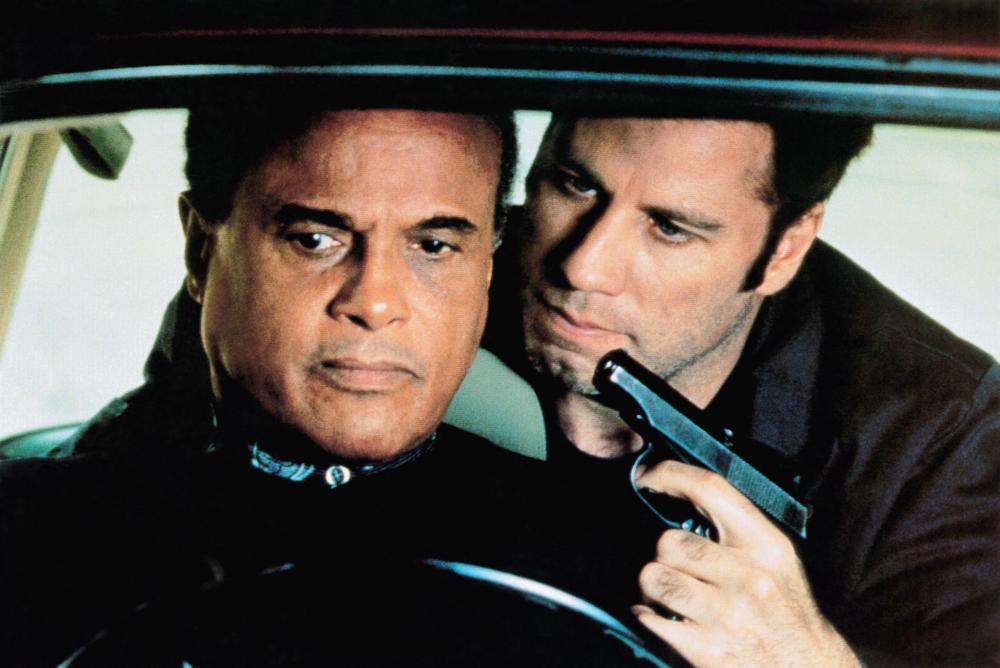 Once the main story sets in, there are a number of strong contrasts in the scenes between John Travolta and Harry Belafonte – particularly good is a scene with Travolta giving his son the money to buy a doll for his birthday and his agony at his son's wanting to buy the Black superhero doll rather than the White one and his grudging lowering of his dignity in order to take the money Belafonte offers to pay for it.
Perhaps the film is a little black-and-white in its contrasts – it, for instance, seems to ignore in the real world here that there are equal opportunities programmes, that there are a number of wealthy Black people (names like Ophrah Winfrey, Michael Jackson and Bill Cosby, not to mention a number of rappers, are some of the highest paid entertainers in the business) and also a considerable number of poor White people. We see no such corresponding blurring of the dividing lines in the film. Also, John Travolta's attempt to create some sort of working class Black accent for himself goes a little astray. Nevertheless, the film's contrasts are strongly made.
White Man's Burden is presented by Quentin Tarantino's A Band Apart production company, although Tarantino, with a lack of ego remarkable in Hollywood, deigns to take any Executive Producer credit.
---
---