aka Terminal Justice
---
USA/Germany. 1995.
Crew
Director – Rick King, Screenplay – Frederick Bailey & Wynne McLaughlin, Producer – David Lancaster, Photography – Chris Holmes Jr, Music – Michael Hoenig, Special Effects Supervisor – Laird McMurray, Production Design – Tim Bider. Production Company – Spectacor Films/Promark Entertainment Group/Videal GmBh/Action Pix Productions
Cast
Lorenzo Lamas (Sergeant Bobby Chase), Kari Salin [Wuhrer] (Pamela Travis), Tod Thawley (Hiroshi Takamura), Chris Sarandon (Reggie Matthews), Peter Coyote (Deacon Vivyan), Barry Flatman (Lieutenant Phillips), Lori Heath (Alice), Barry Yourgrau (Brady), Colin Green (Efram), Lynne Cormack (Captain Polansky)
---
Plot
The year 2008. Police sergeant Bobby Chase's partner is killed while they are pursuing a suspect during an unauthorised surveillance on Reggie Matthews, the CEO of a corporation that produces ultra-violent Virtual Reality games. In disgrace, Chase is partnered up with Hiroshi Takamura from the Cybertech division who plugs into a hi-tech system that monitors action through Chase's lens implants. Chase becomes involved with Pamela Travis, a virtual sex star that he and his late partner were moonlighting as bodyguards for. Hiroshi has Chase investigate the mysterious case of two separate murders in which both the dead girls are identical. The trail leads Chase back to Reggie who is masterminding a blackmarket cloning operation. However, Chase's persistent attention provokes Reggie to attempt to kill him, abduct Pamela and force Chase to a showdown inside a deadly Virtual Reality game.
---
Cyberpunk is a genre that has met with relatively little success on film. There have been odd efforts like tv's Max Headroom (1985, 1987-8), Wild Palms (1993) and Almost Human (2013-4) and films like Johnny Mnemonic (1995), Strange Days (1995) and New Rose Hotel (1998). Usually it is only a backdrop that has been co-opted for various killer cyborg action scenarios. In the downmarket arena of the direct-to-video action film there have been some odd successes though – the likes of Nemesis (1993), Cyborg2: Glass Shadow (1993) and Cyborg3 (1994).
A Lorenzo Lamas film with a title like Cybertech P.D., alternately known by the even more cliched action movie title of Terminal Justice, does not exactly give much inspiration up front – it seems to promise to be nothing more than a tedious futuristic copy of RoboCop (1987). The surprise is that Cybertech P.D. actually goes from zero expectation to being a quite decent Cyberpunk film.
The script manages a more than competent airing of the Cyberpunk milieu – commuter beltways, houses with AI personalities that give reports and temperature readings when the owner comes in, the hero's infrared adaptable lenses that get taken over and used as live-feed monitors by the geek tech support, virtual crime scene simulations, the Neal Stephenson-esque image of a former container facility turned into a hotel.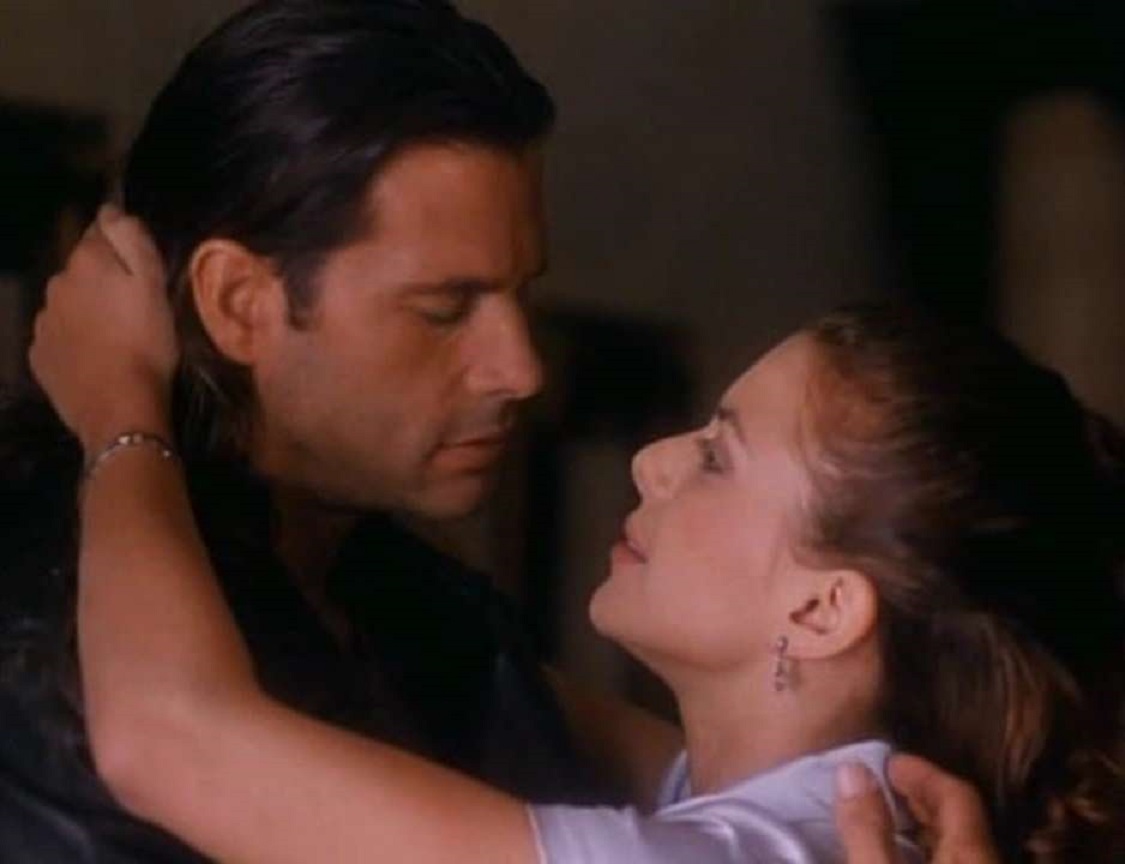 There is a captivating story, which builds an intriguing thriller plot up out of the initial oddity of two identical murdered girls and then segues into the trail of a missing cloning specialist. The themes of cloning, Virtual Reality, virtual sex and the Cyberpunk future are wielded with a confident assurance. The Virtual Reality scenes even obey the rules of VR illusion that many of these films flagrantly abuse. There are all sorts of amusing side touches – especially the scenes where Lorenzo Lamas recruits geek technician Tod Thawley into meeting a hooker and sends him into the fray only to realise he hasn't had any actual sexual experience outside of VR. The ending makes a particularly sardonic twist on the legal definition of a clone.
On the minus side, Rick King is not much an action director – although there is one good scene where Lorenzo Lamas and Kari Wuhrer are attacked in a restaurant by a lethally-armed remote-controlled model helicopter. The upside is that this is a film that has a script good enough to carry it and does not need action scenes. If nothing else, Cybertech P.D. deserves some attention as a Lorenzo Lamas action film that can also manage wind in a discussion on the works of Claude Monet.
---
---