---
Crew
Director – Chris Carter, Screenplay/Producers – Chris Carter & Frank Spotnitz, Photography – Bill Roe, Music – Mark Snow, Visual Effects – Entity FX & Entity FX North (Supervisor – Mat Beck), Special Effects Supervisor – Dave Gauthier, Makeup Effects – William Terezakis, Production Design – Mark Freeborn. Production Company – Ten Thirteen Productions/Dune Entertainment LLC.
Cast
David Duchovny (Fox Mulder), Gillian Anderson (Dana Scully), Billy Connolly (Father Joseph Crissman), Amanda Peet (Agent Dakota Whitney), Alvin 'Xzibit' Joiner (Agent Mosley Drummer), Callum Keith Rennie (Janke Dacyshyn), Mitch Pileggi (Walter Skinner), Adam Godfrey (Father Ybarra), Nicki Aycox (Sheryl Cunningham), Marco Niccoli (Christian Fearon), Alex Diakun (Gaunt Man), Carrie Ruscheinsky (Margaret Fearon), Spencer Maybee (Blair Fearon), Xanthe Radley (Agent Monica Bannan)
---
Plot
Dana Scully has left the FBI and is working as a doctor at the Our Lady of Sorrows hospital where she is fighting for the life of young Christian Fearon who has been diagnosed with an incurable disease. She is approached by the FBI who want her to contact Fox Mulder. Though considered a wanted fugitive, Mulder is offered a pardon if he will come back to consult on a case. An FBI agent has been abducted in West Virginia and a Father Joseph Crissman has come forward, claiming to have visions that have led to the finding of a severed arm in the midst of a field of ice, which has the missing woman's DNA on it. The problem is knowing whether to trust the visions as Crissman is a convicted paedophile. In taking the case, Mulder and Scully renew their relationship. Further victims are abducted. Mulder is willing to believe Father Joe's visions and follows a trail that leads to an illegal organ transplant operation.
---
The X Files (1993-2002) was one of the great cult tv shows of the 1990s. Indeed, TV Guide voted it the No 2 cult tv series of all time – with Star Trek (1966-9) inhabiting the No 1 spot naturally. The show, which was initially not expected to be a hit by 20th Century Fox, garnered a huge fanbase in a very short period of time. It was one of the first tv series to substantially gain its fandom via the internet, where for a time star Gillian Anderson became one of the most searched images of women online.
During its heyday, The X Files ventured into fairly much every field of the paranormal and fringe science imaginable and the episodes were clever and sharply written. Less successful was the series back mythology, which concerned an extraordinarily complex conspiracy involving different factions of aliens, alien-human breeding experiments, covert factions of the government and a web of secrets involving Mulder's family and past. Unfortunately, as The X Files went on, the back mythology became so tied in knots in the series' constant need to keep providing surprises that it became apparent that the show was a shaky house of cards that had been built with little forward planning, unlike a show such as Babylon 5 (1993-8), which come with a pre-planned schema.
The X Files is generally regarded as having jumped the shark from about the sixth season onwards (if not earlier), concurrent with David Duchovny's demands that the production base be moved from Vancouver back to California on the grounds that he did not like being separated from his wife. The series was certainly past its peak years by the time of the final two seasons where David Duchovny bowed out, having become bored with the show, and Gillian Anderson's Scully became the believer in 'extreme possibilities' and was paired with two new agents played by Robert Patrick and Annabeth Gish. Neither of these new characters caught on in a big way. By this point, the back mythology was becoming so improbably contrived that most fans lost interest, while the original standalone stories offered clear evidence that the show was running out of original ideas. It was not long after that the series was cancelled.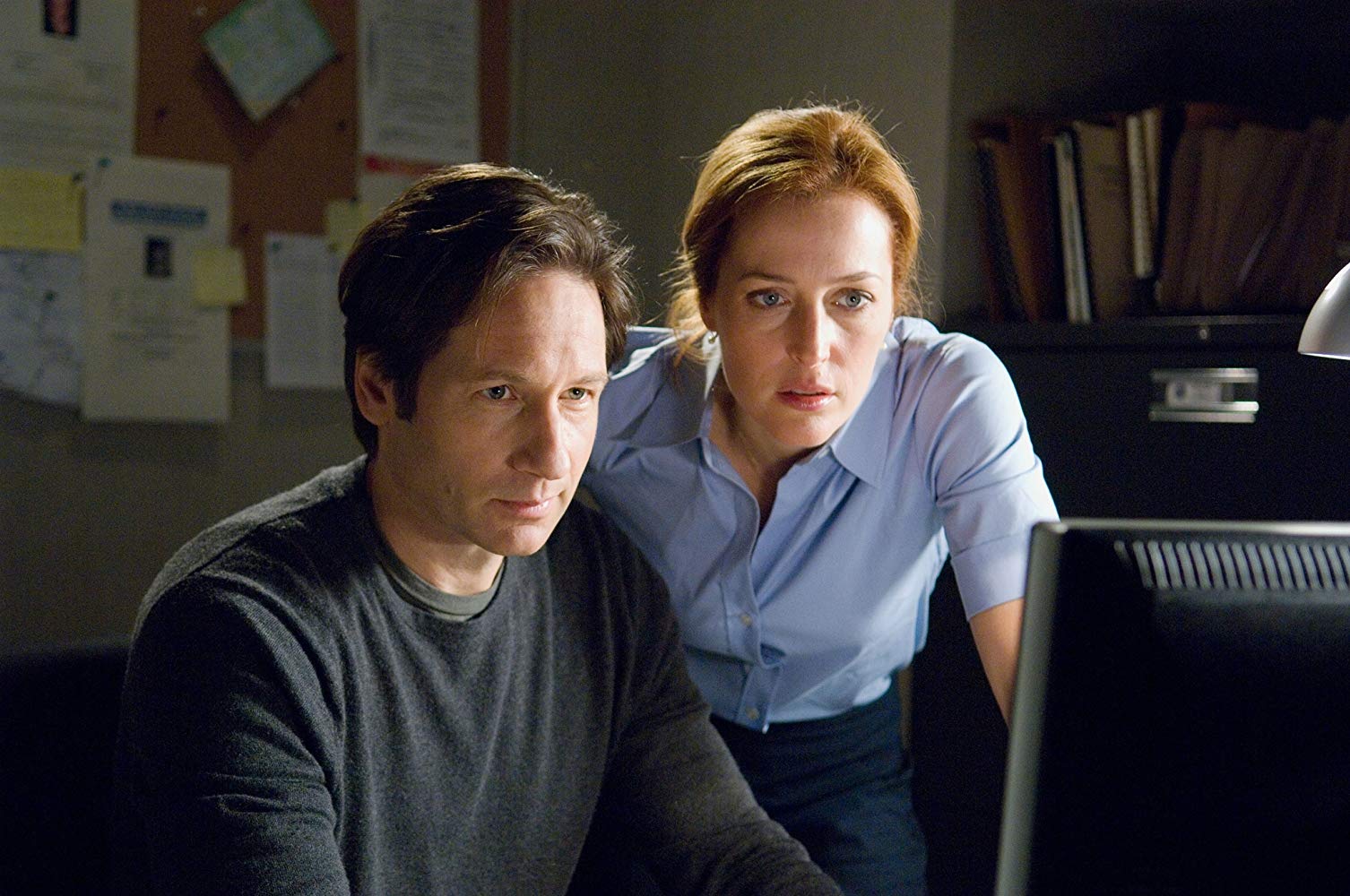 A feature film spinoff The X Files (1998) had been produced between the fifth and sixth seasons, although that was generally regarded as unsatisfying by the series' fans, caught with the unenviable task of trying to condense the plot of the first three seasons into a single film so that newcomers could understand what was going on, while at the same time continuing to spin the ongoing mythology out so that fans could enjoy it.
Despite the film's mixed reception, there had been strong rumours during the decade between the release of The X Files and I Want to Believe of a second X Files film. Reportedly, creator/producer Chris Carter had wanted to end the tv series much earlier and continue The X Files a series of feature films, as Paramount had done with Star Trek: The Next Generation (1987-94). After long anticipation, The X Files: I Want to Believe finally emerges. And the results are … well, on about the same level of disappointments that fans of the original Star Wars trilogy felt when they sat down to watch Star Wars Episode I: The Phantom Menace (1999), if not worse.
You keep wondering what has happened to The X Files and all involved. The careers of most of the people from the show have been spotty at best in the years between. Gillian Anderson has had minor roles in films like Tristram Shandy: A Cock and Bull Story (2005), The Last King of Scotland (2006), How to Lose Friends and Alienate People (2008) and most successfully period dramas like The House of Mirth (2000) and tv's Bleak House (2005), but no major starring roles up until the excellent British crime drama The Fall (2013-6) and Hannibal (2013-5). David Duchovny appeared in films like Evolution (2001), Full Frontal (2002), Trust the Man (2005) and Things We Lost in the Fire (2007) and even directed a film with The House of D (2004), but his once acclaimed superstardom seemed on the wane, at least until he returned to tv screens in the hilarious Californication (2007-14).
The saddest among the group was Chris Carter whose attempts to create other tv series have all failed badly – the virtual reality series Harsh Realm (1999-2000) only lasted nine episodes, while the X Files spinoff The Lone Gunmen (2001) lasted for thirteen episodes – and Carter has been silent since 2001 with the exception of directing/writing another science-fiction pilot The After (2014) that failed to go to series. The most successful of Carter's other series was Millennium (1996-9), which started out as a serial killer profiler series but turned to all manner of loopy and occasionally intriguing millenarist mysticism but lost its audience in the process, before being cancelled at the end of its third season. So you can understand the eagerness of all parties to come back to a franchise that has a guaranteed audience.
Whatever it was that fired The X Files up seems to have well and truly been lost by the time of the singularly dour The X Files: I Want to Believe. Carter has abandoned the UFO conspiracy mythology stories to create a standalone story, although the film does continue on from the series mythology in terms of following up the cliffhanger the last series left on and exploring more of the Mulder-Scully relationship. Still there are a good many unresolved plotlines – like what happened to Scully's son William? What happened to Doggett and Reyes? Or in terms of wondering what one missed in regard to the development of their relationship when David Duchovny and Gillian Anderson wake up in bed together in one scene here.
It may well be that all the good ideas were used up during the series' eight seasons but the original standalone story that Chris Carter comes up with here ranks as surely one of the series weakest. Way down below some of the series turkeys like Teso Dos Bichos with its killer cats, or conceptually muddled efforts like Red Museum, 3 and Fearful Symmetry with its teleporting elephants – even of Space (where an astronaut was possessed by the face of Mars), which is universally recognised as the worst X Files episode ever.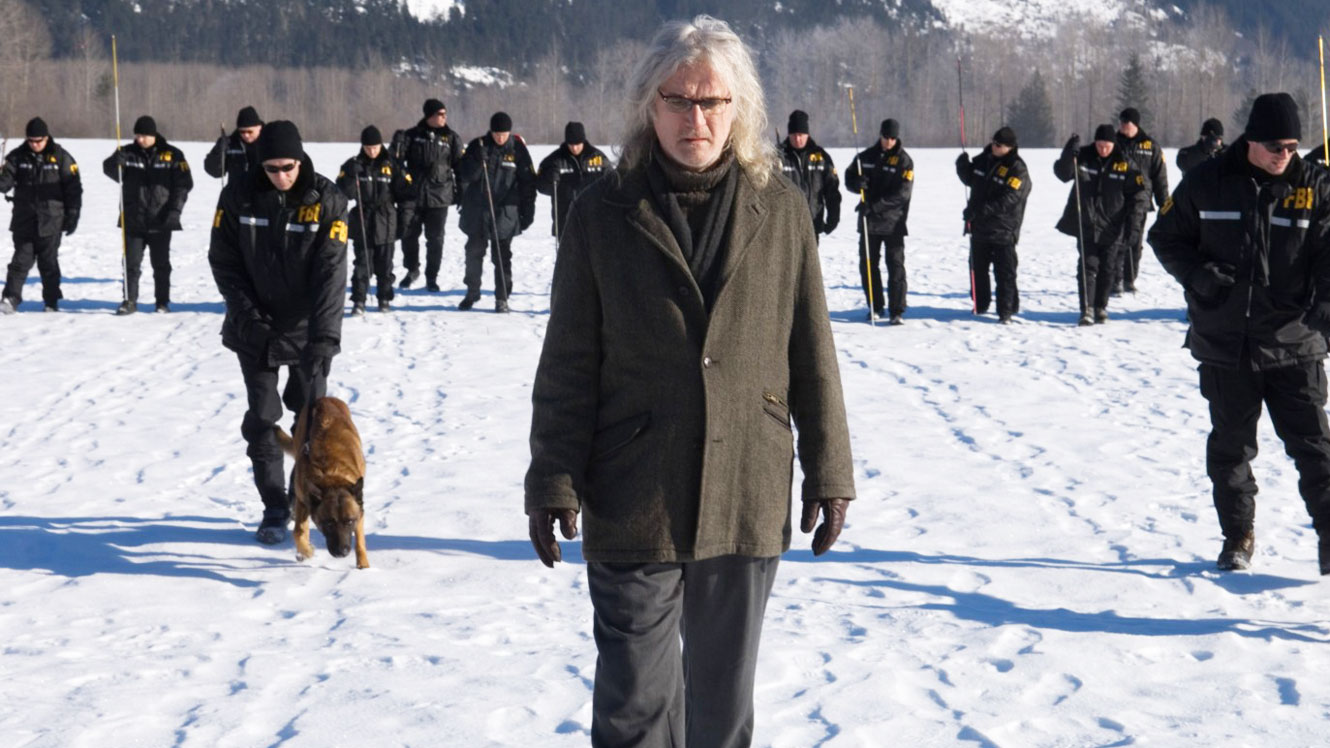 Indeed, I Want to Believe does not seem to even have enough story to sustain a single film. We start out with Billy Connolly's psychic priest and the issue of whether to trust him because of his past convictions as a paedophile. (If nothing else, you have to commend Chris Carter for jumping aboard a controversial topical issue). However, the clairvoyant theme is the stuff of tv movies and seems incredibly flimsy to spin a feature film out around. Moreover, the story never does anything with the idea (especially when you consider it against The X Files treatment of psychics before with Clyde Bruckman's Final Repose (1995), which was one of the series' very best episodes, and the very similar Beyond the Sea (1993) containing Brad Dourif's best performance ever as a Death Row inmate who may or may not have psychic abilities).
The film is singularly lacking in any of the twists, perpetually paranoid mood or wild ideas that the series was so good at creating. You get the impression that Chris Carter was far more interested in exploring either the relationship aspects of the story or delving into the muddled issues of Scully's faith that are briefly raised. Towards the end, more it appears to generate some suspense in a singularly unsuspenseful and action-free film than anything else, the film throws in some goings on in regard to an organ transplant scheme and right at the end some shock suggestions of head transplants. However, the film needed far more in the way of these shocks to work and certainly far earlier in the game. As it is, Chris Carter's direction is singularly dreary, failing to invest anything interesting in the film at all. You wonder what it was about such a script that brought David Duchovny, Gillian Anderson and everybody out of the woodwork again and how someone who created a show that had some of the greatest moments of 1990s genre television could screw it up so badly.
Peculiarly, Chris Carter gives the impression of wanting to make a film about faith and how Scully comes to believe in the potentially miraculous. Although the 'proof' that Scully supposedly gets – Billy Connolly's priest saying "don't give up" is so ambiguous and flimsy that you cannot help but think that a Scully circa 1993-8 would have logically torn such to shreds in her sleep. It also seems improbable that Scully could have witnessed so many incredible sights throughout the course of the series and still remain sceptical, yet that this tiny phrase is enough to make her believe all of a sudden. (Chris Carter seems to have also forgotten that when David Duchovny was written out of the series, Scully became the believer in extreme possibilities rather than the cool rationalist). Indeed, one of the most incredulous things about the series was its balance between Scully's rationalism and Mulder's willingness to accept extreme possibilities, yet her still remaining sceptical at the beginning of the following week despite seeing incredible evidence of such things. It also would have been nice even if occasionally the series had had an episode where what is taken to be something paranormal by Mulder was revealed in the light of reason to be something purely mundane.
The X Files underwent a six-episode revival in 2016, followed by a full series in 2018 that lasted for ten episodes, although this appears to have been canceled following Gillian Anderson's subsequent bowing out of further involvement.
---
---