---
Crew
Director – Mark Romanek, Screenplay – Alex Garland, Based on the Novel by Kazuo Ishiguro, Producers – Andrew MacDonald & Allon Reich, Photography – Adam Kimmel, Music – Rachel Portman, Visual Effects – Baseblack (Supervisor – Matthew Twyford), Special Effects Supervisor – Sam Conway, Production Design – Mark Digby. Production Company – DNA Films/Fox Searchlight/Film4/Dune Entertainment.
Cast
Carey Mulligan (Kathy H), Andrew Garfield (Tommy D), Keira Knightley (Ruth), Isobel Meikle-Small (Young Kathy), Charlie Rowe (Young Tommy), Ella Purnell (Young Ruth), Sally Hawkins (Miss Lucy), Charlotte Rampling (Miss Emily), Nathalie Richard (Madame Marie-Claude), Domhnall Gleeson (Rodney), Andrea Riseborough (Chrissie)
---
Plot
In 1978, Kathy H, Tommy B and Ruth grow up together at Halisham House and become good friends. There they are sheltered from the outside world and receive lessons about everyday social situations. Once of the teachers Miss Lucy then informs them that they will never grow up – they are clone children who have been grown to be harvested for organs, a process that has allowed the rest of the population to enjoy lifespans beyond the age of 100 – however, she is removed from the school shortly after. Kathy is attracted to Tommy but instead Tommy enters into a relationship with Ruth. In 1985, the group are moved to The Cottages, a farm environment that allows them to react with the outside world for the first time. Tommy and Ruth start to explore their relationship. Kathy applies to be a Carer whose job it is to act as support for the others as they undergo their successive operations and eventually Complete. In 1994, Kathy encounters Ruth in a hospital following Ruth's second organ removal operation and they make a journey to meet up with Tommy again. Ruth is nearing Completion and tells them that there exists a means to defer their Completion if they can prove to the authorities that they are truly in love. After Ruth Completes and dies, Kathy and Tommy start to explore a relationship together and go on a quest to see if they can defer their Completion.
---
Novelist Kazuo Ishiguro is considered by The Times one of the 50 greatest British writers since 1945. Though Japanese born, Ishiguro has grown up in England since he was five years old and considers himself an English writer more than someone who draws on the perspective of Japanese culture. Ishiguro has been nominated four times for the prestigious Booker Prize for literature, including for Never Let Me Go (2005), winning with The Remains of the Day (1989), as well as obtaining the Whitbread Prize for An Artist of the Floating World (1982). Ishiguro's work has been in the media before with the award-winning adaptation of The Remains of the Day (1993) by Merchant-Ivory, while he has also written the original screenplays for Guy Maddin's The Saddest Music in the World (2003) and Merchant-Ivory's The White Countess (2005).
This film adaptation of Never Let Me Go falls into one of those science-fiction-films-that-people-don't-consider-science-fiction-films categories. The film is made by Mark Romanek who is primarily known as a music video director but has stepped up to direct two other feature films with the very strange Static (1986), which should be a cult film, and the Robin Williams study in disturbed obsession One Hour Photo (2002), while he also produced the SF tv series Tales from the Loop (2020- ).
The script is from Alex Garland. Garland started out as a novelist with the popular The Beach (1996), which was badly adapted into a film by Danny Boyle with The Beach (2000) from a script by Garland. Despite the mangled results, Garland and Danny Boyle worked together for his next two films 28 Days Later (2002) and Sunshine (2007). It is with these that Alex Garland demonstrated a clear preference for science-fiction – he has also written the scripts for the comic-book adaptation Dredd (2012), as well as the long-announced remake of Logan's Run (1976) and Peter Jackson produced film based on the Halo videogame. Garland made his directorial debut with the excellent artificial intelligence film Ex Machina (2015), which was followed by Annihilation (2018), the extraordinary tv mini-series Devs (2020) and the folk horror/gender politics film Men (2022).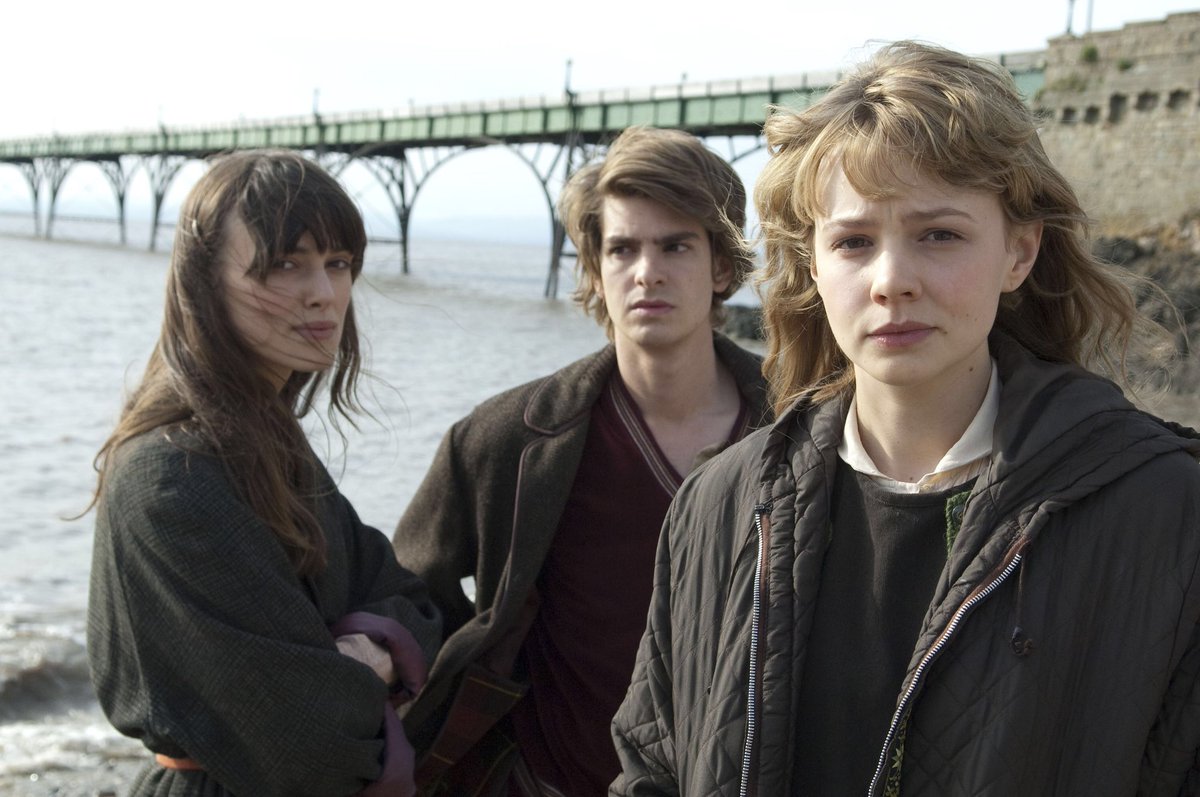 From the point that it opens, Never Let Me Go strikes in with something unusual that leaves you constantly trying to piece together what world it takes place in. The opening title card talks about a medical breakthrough in 1952 that by 1967 has allowed people lifespans beyond the age of 100. You read it and then sit wondering if you misread the figure of 100 years. As the rest of the film sets in, first with the setting of 1978 and then other dates in the past, you are puzzled because it seems such a familiar world to us, yet the initial mention of 100 year old lifespans sits as incongruous.
Everything about the scenario becomes a casual tease, one that is designed to absorb us in a familiar world to anyone who has watched any number of British dramas and yet offset us with strange things – the children at the boarding school talking about being afraid of what will happen if they go beyond the walls of the grounds, undergoing lessons in learning day-to-day things such as how to order cups of tea in a cafe, or where they have to regularly click tags on an electronic scanner. The only conclusion that you eventually come to it is that what is taking place does so in some implied alternate world setting, even though the film never comes out and explains anything about the historical scenario behind this.
We then come to the classroom scene where Sally Hawkins' delivers a beautifully written speech about how the children will never grow up and tells them of their purpose in life as organ donors. It is then we suddenly realise that what we are in the midst of is a scenario identical to The Island (2005) and before that the B-movie Parts: The Clonus Horror (1979). All three films, The Island, The Clonus Horror and Never Let Me Go depict a community hermetically sealed off from the rest of the world where those present are clones (although the film here is a little vague about where exactly the children come from with several oblique references to their originals implying that they are clones, while also saying how they are taken from society's rejects suggesting that they are perhaps orphans or fostered) who have been raised solely to be used as organ donors.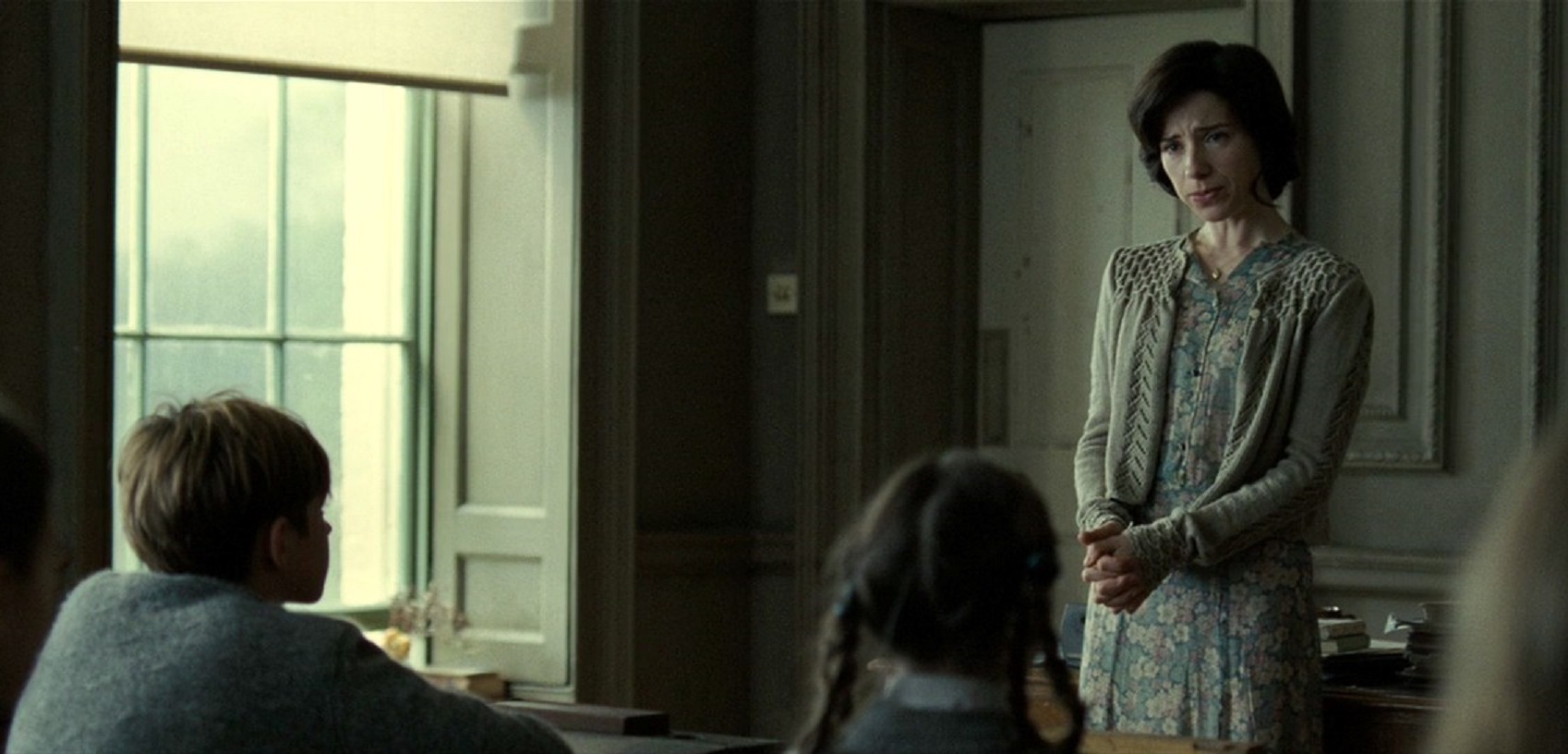 That said, Never Let Me Go could not be at more of a 180 degree remove from The Island. Where Michael Bay mounted The Island as a bludgeoning, heavy-handed action film, Never Let Me Go is more like a pastoral British childhood drama where its effect lies in the tender emotion engendered rather than loud action moves. Where The Island blew the main surprise of the scenario in the advertising campaign before one had even sit down to watch the film, the story here is constructed as a cleverly unveiling series of constant surprises about the true nature of the world that the characters live in. It would be difficult to find two films on near-identical subjects that are further apart in terms of their approaches. Moreover, while both The Island and The Clonus Horror react to the scenario with horror, Never Let Me Go is far more morally ambiguous – mostly the characters seem accepting of their fate, while Carey Mulligan's heroine even takes a role as a carer, helping facilitate the passage of the other donors towards their deaths.
I was surprised and amazed by Never Let Me Go in numerous ways. Normally, a 'literary' writer dabbling in science-fiction imparts the genre with something overly meaningful or is about authors approaching the genre with condescension and thinking they can uplift it yet they showing they are not always as versed with genre conventions as those who have been writing genre material all their lives. A perfect example you could point to here is the film adaptation of Doris Lessing's Memoirs of a Survivor (1981). However, Never Let Me Go works as extremely good science-fiction. Both Mark Romanek and Alex Garland deliver some of their best work. Garland in the way he allows the film to work as a beautifully subtle series of constantly unfolding revelations about the characters' world and the grimness of their fated role in it, before reaching a tragically saddening ending.
The film is even more impressive in terms of what Mark Romanek does. He captures a quintessentially British world and pastoral landscape. The film could easily be a nostalgic look back at a rural/boarding school childhood – you could compare it to British dramas like To Serve Them All My Days (1980-1), A Month in the Country (1987), even an episode of tv's Emmerdale Farm (1972– ).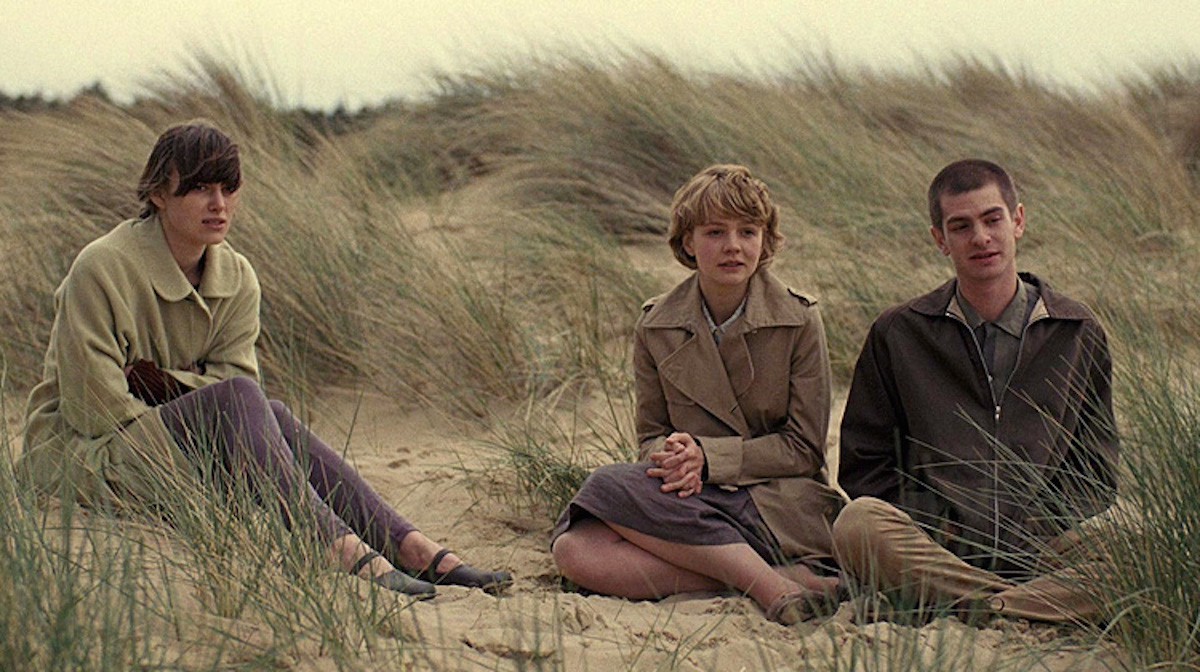 The great surprise about reading up afterwards is to realise that Romanek is an American (moreover, one where the bulk of his directorial output has been in shooting music videos) – it is of considerable wonder that a drama with such an instinctive feel for the colour and behaviour of a British world would come from someone outside of that background. The mood and world he carries us into is seamless. The film is all the more effective for absorbing us in such bucolic quietude and using this to deceptively house a disturbing dystopian scenario.
The minor complaint is that for all that Never Let Me Go wishes to invest us in the lives of the characters and their romance, Andrew Garfield (just before breakthrough success in The Social Network (2010) and being cast as Spider-Man) never comes across as anything more than awkward and gawky as the male lead. That said, Carey Mulligan impresses with a mixture of almost prototypical peaches-and-cream shyness and soft intelligence. Her work here certainly pegs her as someone worth watching out for in future.
(Winner in this site's Top 10 Films of 2010 list. Winner for Best Adapted Screenplay, Nominee for Best Director (Mark Romanek), Best Actress (Carey Mulligan) and Best Cinematography at this site's Best of 2010 Awards).
---
---