USA. 1986.
Crew
Director – Danny Bilson, Screenplay – Danny Bilson & Paul De Meo, Producer – Paul De Meo, Photography – Mac Ahlberg, Music – Richard Band, Effects Animation – Tony Alderson, Makeup Effects – Magical Media Industries (Supervisor – John Carl Buechler), Production Design – Phillip Dean Foreman. Production Company – Empire Productions/Altar Productions.
Cast
Tim Thomerson (Sergeant Stone), Biff Manard (Charley Dolan), Art La Fleur (Corporal George 'Mittens' Mittinsky), Timothy Van Patten (Joey Verona), William Paulson (The Alien), Peter Boom (Colonel Manheim)
---
Plot
Three GI's and a war correspondent trapped behind Nazi lines during World War II come upon a crashed spaceship that has been discovered by the German military. They make an escape from the Nazi camp with an alien visitor and run for their lives, followed by Nazi forces.
---
Before going onto mainstream success with the scripts for films like Rocketeer (1991) and creating tv series' such as The Flash (1990-1), Viper (1994-5, 1996-8) and The Sentinel (1996-9), the writing-sometimes directing team of Danny Bilson and Paul De Meo had an enterprising career in B-movies. They wrote several of the more out-and-out enjoyable films made by Charles and Albert Band's Empire Productions in the mid 1980s – Trancers/Futurecop (1985), Eliminators (1986) and Arena (1989) – before debuting as directors, producers and screenwriters with this delightful effort.
Throughout all of Danny Bilson and Paul De Meo's films and tv series runs an enthusiasm for comic-books and science-fiction fandom – the end credits here, for instance, are shown across mockups of pulp sf magazine covers. In Zone Troopers, Bilson and De Meo make a splendid homage to WWII GI combat movies. The dialogue comes with a delightful cod, cornball sincerity.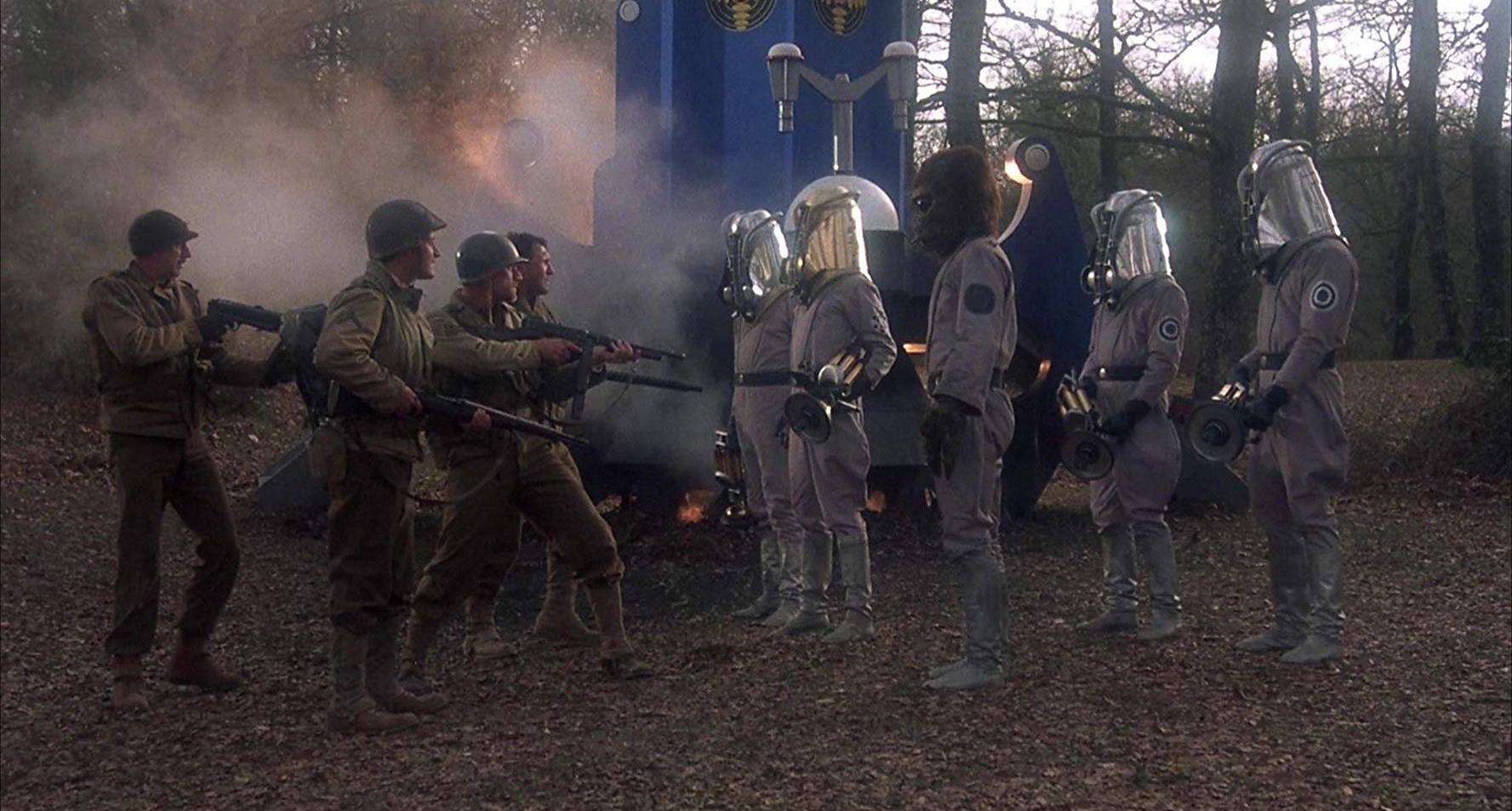 The characters are deliberately cast as four-square stereotypes – the hardbitten, invincible, seemingly divinely protected sergeant, the wet-behind-the-ears enthusiastic kid – that could have stepped right out of the pages of a Sergeant Rock or Commando comic. Although it is all deliberated through a knowing sense of modern irony. In one amusing throwaway gag, Tim Thomerson comes around and swings a punch, hitting an indistinctly-seen Nazi, whereupon Biff Manard is given to wryly note "It's not everyone that gets to deck Adolf Hitler."
Bilson and De Meo make excellent use of Empire's typical low budget. If Zone Troopers did not revel so much in being a B-movie, it could pass for a far better budgeted production. Even John Carl Buechler's usually cheap-looking creature effects seem quite serviceable for once. Bilson and De Meo milk the scenes with the GI's trying to find out what the alien eats (eventually finding it will only eat their cigarettes) or it manifesting their desires with an appealing sense of humour. The end credits charmingly announce: "Buy War Bonds – Available in the Lobby."
---
---