aka Demon; God Told Me To Kill
---
Crew
Director/Screenplay/Producer – Larry Cohen, Photography – Paul Glickman, Music – Frank Cordell, Special Makeup – Steve Neill. Production Company – The Georgia Company.
Cast
Tony Lo Bianco (Lieutenant Peter Nicholas), Deborah Raffin (Casey Forster), Sandy Dennis (Martha Nicholas), Sylvia Sidney (Elizabeth Mullin), Mike Kellin (Deputy Commissioner), Sam Levene (Everett Lukas), Robert Drivas (David Morten), Richard Lynch (Bernard Phillips), Lester Rawlins (Logan), Sammy Williams (Harold Gorman), William Roerick (Richards), George Patterson (Zero), John Heffernan (Bramwell), Jo Flores Chase (Mrs Gorman)
---
Plot
New York City police detective Peter Nicholas is baffled by a series of random killings across the city. After being stopped, the killers always say, "God told me so," although many of them frequently had no religious beliefs beforehand. In trying to discover what caused them to suddenly become killers, Nicholas sets out to trace the whereabouts of Bernard Phillips, the mysterious messiah they follow. As he digs into Phillips' past, Nicholas discovers that Phillips' mother was abducted and impregnated by a UFO and gave birth while remaining a virgin. However, in going to confront Phillips, Nicholas is forced to uncover the truth about his own past.
---
Director, writer and low-budget auteur Larry Cohen is a cult figure. Cohen has made numerous genre films including It's Alive (1974), Q – The Winged Serpent (1982) and The Stuff (1985), as well as the Blaxploitation classics Black Caesar (1973) and Hell Up in Harlem (1973). (See the bottom of the page for a full list of Cohen's genre films). The cultiest film among Larry Cohen's oeuvre is God Told Me To, which up until its dvd release in 2003 was also one of the least circulated. Some call God Told Me To Larry Cohen's best film, although that is a privilege that one feels is reserved for Q – The Winged Serpent.
There is an extraordinary conceptual ambition to God Told Me To, which must have seemed even more way out to audiences seeing the film in the 1970s. Cohen throws in everything from people conducting random shootings under mind control; alien abductions and impregnations; virgin births; an alien messiah with androgynous sex organs; not to mention ties it all to Catholicism. There is an immensely whacked out ending where Tony Lo Bianco comes face-to-face with Richard Lynch's alien messiah and Lynch lifts his shirt to reveal a vagina on his side (a shot that was cut out in some US prints) and offers "I can have your baby." (A recurrent theme of malignant or bizarre pregnancies runs through many of Larry Cohen's films).
On the director's commentary track for the dvd, Larry Cohen says his inspiration for God Told Me To was Superman, which seems odd at first but makes perfect sense the way he explains it. Cohen's take was to ask what if a character with superpowers came to Earth – would not their natural tendency be to interpret their powers in the dominant ideology of the culture and see themselves as a messianic being? (Cohen also notes that the same theme of a man discovering he has superpowers was used in Unbreakable (2000) in almost identical ways). The film naturally taps into the 1970s fad for Ancient Astronauts created by Erich von Daniken and was possibly the first media work to deal with the theme of alien impregnation.
There are some fine pieces of Cohen-esque writing. One of the best scenes is where Robert Drivas explains perfectly calmly how he shot his wife while his daughter locked herself in the bathroom and he persuaded her to come out by telling her that it was all a game and then shot her too – the scene ends with a typically wry Cohen-esque line that compares the shooting with God asking Abraham to sacrifice his son in the Old Testament. God Told Me To also has some beautifully subtle writing – like where Tony Lo Bianco seems to be searching for background details on Bernard and then we realise that he is talking about his own adoption and that Lo Bianco's mother gave birth by alien impregnation.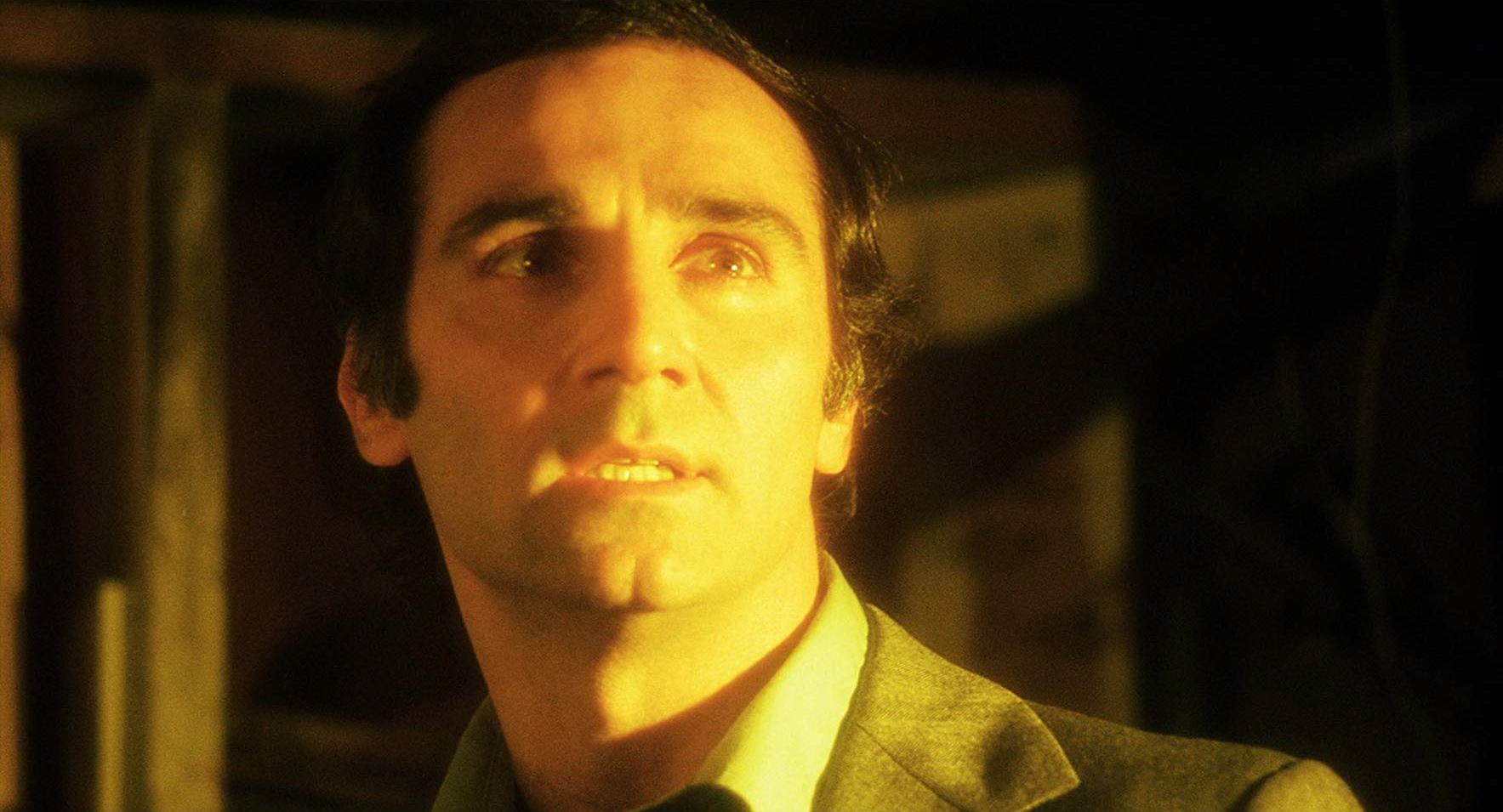 It is not always clear what is happening – I was never certain why, for example, the alien messiah is sending people out to kill – there is analogy made to God sending the Plagues of Egypt to terrify the Egyptians but nothing is made any more clear than that. The concepts present are in the end perhaps more than Larry Cohen can realistically bite off but one can only applaud him for the wildness of the ideas he tackles.
In the lead, Tony Lo Bianco, then best known as Raymond Fernandez in The Honeymoon Killers (1970), has a haunted and driven intensity. It is a shame that Lo Bianco has never gone onto anything of significance elsewhere as he clearly had a great deal of potential. (On the commentary track, Larry Cohen tells the amusing story of how his original choice for the role was Robert Forster but he ended up firing him after Forster insisted on chewing gum while shooting).
Larry Cohen made God Told Me To on a miniscule budget. He shot the St Patrick's Day parade scene as a teaser but apparently did so without official permission and had his film crew running along trying to weave actors into the action as it happened live. This was sufficient for him to obtain a meagre $125,000 budget to shoot the rest. God Told Me To only did moderate box-office and was not the acclaimed standout that Cohen's breakout film It's Alive had been.
God Told Me To was also the film debut of comedian Andy Kaufman (who later became a good friend of Cohen). Kaufman has a minor part as the police officer who conducts the shooting in the parade and gets a single line – "god told me to" – as he is shot down. Another interesting random fact is how Cohen shot the brief flashback where the woman is abducted by the UFO in England – where the UFO is clearly a recycled Eagle spaceship model and its interior taken from the tv series Space: 1999 (1975-6) but with a naked woman overlaid over the shot.
The film exists under several different titles. Cohen's original title was God Told Me To and the film has been seen under that name. Cohen had wanted to call it The Alien but this was nixed by distributor New World – unaware that the massively popular Alien (1979) would come out a couple of years later. New World instead came up with the title Demon, intending to sell the film on the back of the recent fad for occult films that came after big 1970s hits like The Exorcist (1973) and The Omen (1976). In dvd release, the cover had been subtly retitled God Told Me To Kill with the word 'kill' emphasised in red.
Larry Cohen's other films are:– the killer mutant baby film It's Alive (1974), It Lives Again/It's Alive (1978), the werewolf comedy Full Moon High (1982), the monster movie Q – The Winged Serpent (1982), the sentient fast food takeover film The Stuff (1985), It's Alive III: Island of the Alive (1987), A Return to Salem's Lot (1987) the witch comedy Wicked Stepmother (1989) and the mad scientist film The Ambulance (1990). Cohen dropped out from directing low-budget genre films from the 1990s onwards. Cohen's other genre scripts include the psycho-thriller Daddy's Gone A-Hunting (1969), the psycho artist film Scream, Baby, Scream (1970), the deformed psycho cop film Maniac Cop (1988) and its sequels Maniac Cop II (1990) and Maniac Cop 3: Badge of Silence (1992) (all three of which Cohen also produced), the original story for Abel Ferrara's Body Snatchers (1993) remake, the stalker film The Ex (1996), Uncle Sam (1997) about a patriotically minded undead Gulf War veteran, the hilarious psycho sperm donor film Misbegotten (1997), the big-budget psycho-thriller Phone Booth (2002), the imprisonment thriller Captivity (2007), the remake of It's Alive (2008) and the remake of It's Alive (2008). King Cohen (2017) is a documentary about Cohen and his films.
---
Trailer here
Full film available online here:-
---