---
Crew
Director – Rajkumar Hirani, Screenplay – Rajkumar Hirani & Abhijat Joshi, Producers – Vidhu Vinod Chopra & Rajkumar Hirani, Photography – Murleedharan C.K., Background Score – Atul Raninga & Sanjay Wandrekar, Lyrics – Swanand Kirkire, Visual Effects – Prana Studios (Supervisors – Prakash Dcunha & R.A. Jaykar), Riva and Pixion (Supervisor – Viral Thakkar), Production Design – Snigdha Basu, Sumit Baso & Rajnish Hedao. Production Company – Vinod Chopra Films/Rajkumar Hirani Films.
Cast
Aamir Khan (P.K.), Anushka Sharma (Jagat Janani 'Jaggu' Sahni), Saurabh Shukla (Maharajah Tapasavi), Boman Irani (Cherry Baajwa), Parikshet Sahani (Jaggu's Dad), Sanjay Dutt (Bhairon Singh), Sushant Singh Rajput (Sarfaraz), Manavi Gagroo (Mitu), Ram Sethi (Elderly Man in Belgium), Rajinder Sharma (Thief)
---
Plot
An alien visitor lands in the desert of Rajasthan, nude but for the pendant remote control that can recall his UFO. This is promptly stolen by a thief. Meanwhile, Jaggu Sahni is studying in Bruges when she meets and is taken by Pakistani boy Sarfaraz as they fight over the last ticket to a concert. They realise a love for one another despite the rivalry between their respective countries. When they call Jaggu's father with the news, he is not happy and rushes to ask advice of his guru Maharajah Tapasavi who prophesies that Sarfaraz will betray her. They plan to quickly marry but as Jaggu turns up for the service, a note is delivered from Sarfaraz saying that their union cannot be. Six months later, Jaggu is working as a presenter at a tv station in New Delhi but is frustrated at the banal stories she must do. She becomes fascinated after encountering the alien visitor and his strange ways. Disbelieving at first of his wild story about how he arrived and had difficulty coping with the peculiarities of Earth culture and language in his quest for his remote control, she frees him from jail and grants him a home. P.K., as he is called, reserves his greatest ire for religion after he was told that God would help him find his remote control, only to end up disappointed when God failed to deliver no matter what brand of religion he tried. From Jaggu, he gets the idea of a Wrong Call and starts calling out Tapasavi and other preachers when they falsely claim to be speaking for God. After Jaggu gets P.K. on air, he begins a countrywide crusade against false preachers.
---
PK is one of the most financially successful Bollywood films ever made. It was the fourth film for Rajkumar Hirani who previously made the cult Munna Bhat MBBS (2003) and the very popular 3 Idiots (2009), which featured a similar plot in non-genre terms with two friends searching for a college-mate (also played by Aamir Khan) who inspired them to challenge the status quo and think outside the box.
Many Bollywood films simply steal Hollywood tales and give them the colour and idiosyncrasy of a Bollywood film. In comparison, PK is a more original work. Certainly, the theme of the alien visitor who comes with a unique perspective on the absurdities of Earth culture has similarities to films such as Man Facing Southeast (1986) and its Hollywood remake K-PAX (2001), or The Brother from Another Planet (1984) and Friendship's Death (1987). More than these, the film that PK comes the closest to is Being There (1979), an absurdist fable with Peter Sellers as a blank innocent whose fresh outlook and habit of relating everything to his beloved garden is taken as brilliant metaphors that challenge the political elites. PK has Aamir Khan as an unworldwise alien visitor and substitutes religion for politics but is otherwise the same. Well, actually that is not quite true – Being There went with the political status quo and never tackled its ideologies, whereas PK jumps in the deep end in taking on India's multifarious religions. The only Western film that tackled the subject of religion in such a way has been Oh, God! (1977) and that seemed awfully nice and afraid of offending anybody about it.
It took me some time to get into PK. The opening is taken over by a long preamble where the film diverts off into one of the sappy romances beloved of Bollywood cinema with Anushka Sharma meeting and then engaging in a romance with Sushant Singh Rajput that is mostly conveyed via lots of singing and dancing through the streets of Bruges before this reaches an unhappy end at the altar. This features the usual simplistic emotions that Bollywood deals in, although you cannot help but notice that this is the first example of PK starting to challenge the status quo in having the girl an Indian and the boy Pakistani, digging into the often bitter political/religious rivalry between the two countries.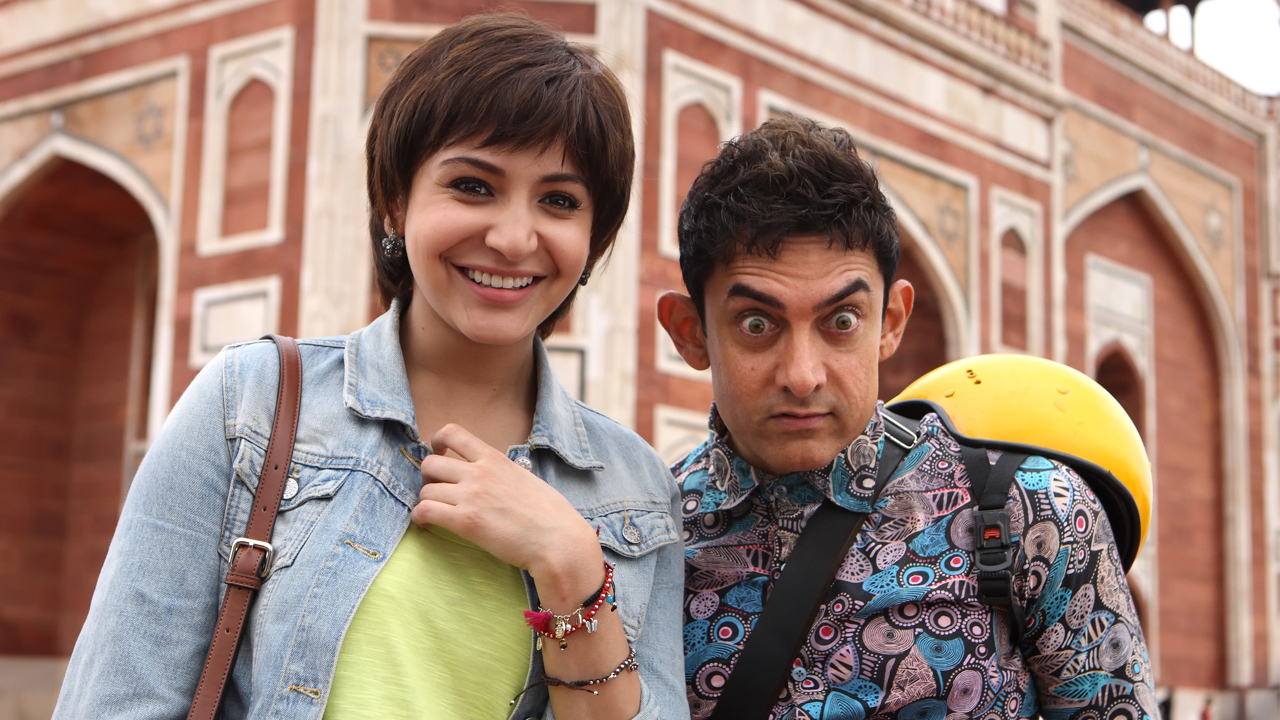 The film starts to find its stride in playing its Outsider comedy with some comically pointed scenes of Aamir Khan trying to make sense out of things like clothing and money. The film however finds its feet when it starts to sink its teeth into religion. There is a highly amusing montage of scenes with Aamir Khan trying to make sense of the various religions – a very funny sequence with him trying to explain to a police officer he wants God arrested for failing to deliver on His promise; or trying to understand which colour of clothing is appropriate to wear to a funeral or a wedding; and a montage of scenes where he tries to do what is appropriate for one religion in another – go into a Christian church and offer food and money to Jesus as he did in the Hindu temple or drink communion wine in a mosque. Aamir Khan cuts a bizarre figure, walking about with eyebrows permanently raised and a wild-eyed stare.
In all the frequent silliness the film indulges in, you have to admit that it has a daring bite when it comes to the issue of tackling religion and gently mocking almost all facets of it. It is probably only a country like India that has six official religions and where the differences often turn to violence that a film like PK could be made – it is hard to imagine it being played out in a country like the US where the only real equivalent would be trying to understand that difference between Baptists, Catholics and maybe Mormons.
The most potently argued scenes are when the film comes to the business of exposing the Wrong Numbers ie. the fakery of those that claim to speak for God. Aamir Khan has some excellent scenes exposing the nonsense of religious 'labels' and clothing and taking on guru Saurabh Shukla. The film often makes its points with a sledgehammer but they are strong and potent ones that few other films – even Western ones – have been ballsy enough to tackle. If nothing else, the montages with Aamir Khan touring the various religions show the full colour and diversity of religious culture and expression in India, which is far more wide-ranging than anything we have in the West.
The latter section does slow down to add a left field love story at the last minute. The film's religious argument about fakery is improbably set up to [PLOT SPOILERS] swing around and bring closure to Anushka Sharma's thwarted romantic liaison at the start (something that we had, nearly two hours later, forgotten about). Nevertheless, the film manoeuvres this around to a scene that leaves few dry eyes in the house, while P.K.'s subsequent departure has a sadness that sits up there alongside the ending of E.T – The Extra-Terrestrial (1982).
(A dedication to my good friend Prodosh Bhattcharya without whom I would have never been pointed in the path of this gem)
---
---