---
Crew
Director/Screenplay – David Trotti, Story – Jeff Lewis, Producers – Jeff Lewis & David Trotti, Photography – Brian Schrage, Music – Tim Jones, Visual Effects Supervisor – Eddie Williams, Visual Effects – Zafer Mustafa. Production Company – Ginger Productions/Spiritus Mundi.
Cast
Amy Holland Pennell (Amy Starke), Connor Trinneer (Sergeant Gordon Starke), Mark Holzun (Luke), Peter Mayer (Father Halloran), Candice Coleman (Aunt Margaret), Matuschka Lindo (Dr Bergman), John Pierson (Father Bowden), Ford Fanter (Young Father Halloran), Hayden Benbenek (Robbie)
---
Plot
In St Louis, Amy Starke is happy to take ownership of the family house, despite warnings from her cousin Gordon not to do so. As she moves into the house, Amy begins to experience supernatural happenings. Digging into into the house's history, she discovers that back in 1947 the attempted exorcism of a boy by the Catholic Church went wrong and that the same evil still waits in the house.
---
Exorcist: House of Evil was a directorial debut for David Trotti who had previously had a career as a first assistant director going back to the 1990s.
Exorcist: House of Evil is made on a low-budget. The disappointment of watching the film is that David Trotti does nothing more than rehash the cliches of the exorcism and to a lesser extent haunted house genres. The film is clearly taking place in impoverished surrounds – as witness the opening exorcism scene that seems to only take place in a regular-sized suburban bedroom, not the master bedroom we had in The Exorcist (1973), and without the use of any special effects.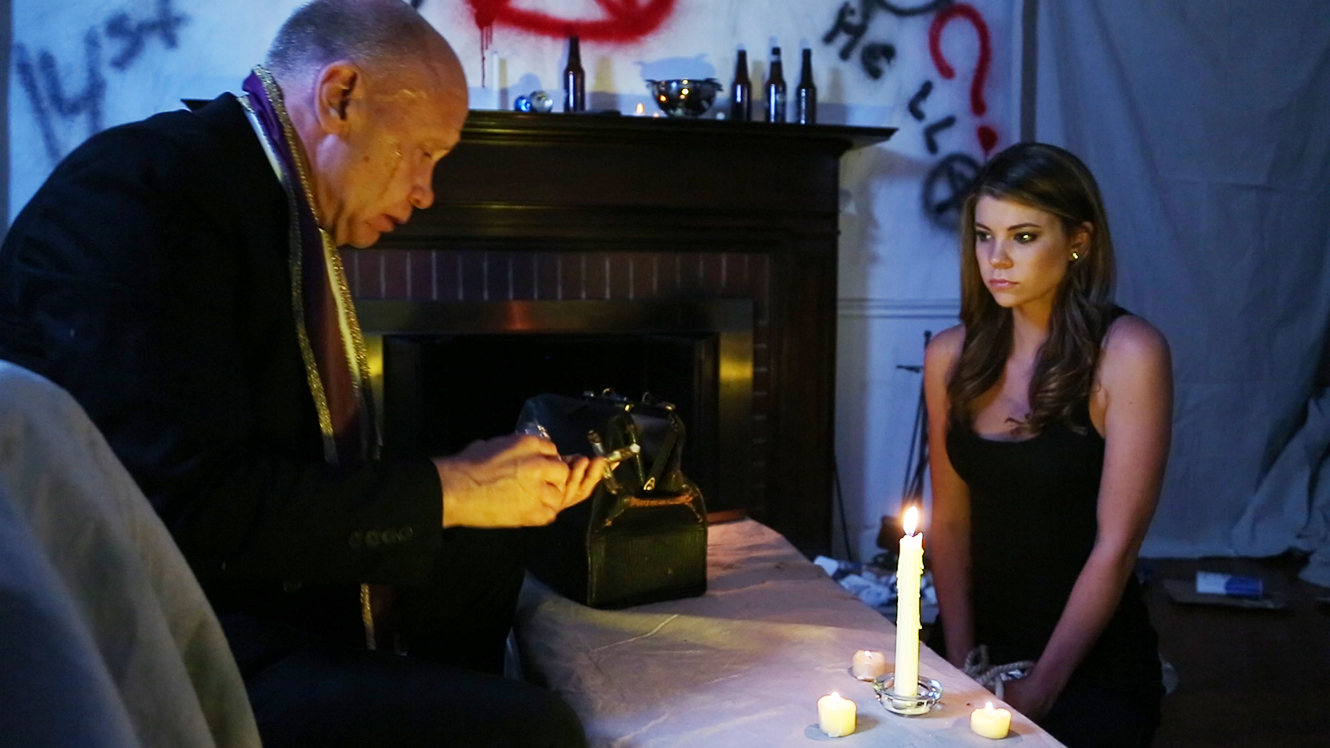 David Trotti does an okay job with his actors who all give reasonably solid and professional performances – the only recognisable face present is Connor Trinneer whose claim to fame was as a regular on Enterprise (2001-5). It is just that the rest of the film feels like Trotti has done no more than copy cliches and tired jumpshocks from every other horror film he has ever watched. What he and about 125 other filmmakers this year do not seem to realise is that the possession and exorcism film has been churning the same cliches and jumpshocks over and over ever since The Exorcist and that by now the genre feels well and truly milked out of anything interesting left to say.
The opening credits maintain the completely false claim that the film was shot in the true-life house where the exorcism took place that inspired William Peter Blatty to create The Exorcist. This is quite simply false advertising. For one, considerable doubt has been placed on the veracity of whether there even ever was an original exorcism. Even then, the reputed exorcism is supposed to have taken place in Mount Rainier, Maryland rather than St Louis – locations that are in actuality separated by about 800 miles. A filmed version of the alleged true-life exorcism was also recounted in the film Possessed (2000), while William Friedkin visits the actual house in the documentary The Devil and Father Amorth (2017).
---
---