USA. 1945.
Crew
Director – John Brahm, Screenplay – Barré Lyndon, Based on the Novel by Patrick Hamilton, Producer – Robert Bassler, Photography (b&w) – Joseph La Shalle, Music – Bernard Herrmann, Photographic Effects – Fred Sersen, Makeup – Ben Nye, Art Direction – Maurice Ransford & Lyle Wheeler. Production Company – 20th Century Fox.
Cast
Laird Cregar (George Harvey Bone), Linda Darnell (Netta Longdon), Faye Marlowe (Barbara Chapman), George Sanders (Dr Allan Middleton), Alan Napier (Sir Henry Chapman)
---
Plot
London, 1903. Composer George Harvey Bone is subject to periodic blackouts. He thinks he may have killed someone during one of these but is cleared of the crime by the police. He then becomes involved with dancehall singer Netta Longdon. Her manager pushes her to string him along in order to get him to write music for her. When he realises that he has been used, George suffers further blackouts and is driven to grab a silk tie and start strangling people.
---
Director John Brahm had great success with the Jack the Ripper film The Lodger (1944), scripted by British playwright Barré Lyndon. The Lodger had made a star out of 6'3″ Laird Cregar, who had previously been a bit player in various thrillers and Westerns. Hangover Square was then quickly assembled, re-pairing Brahm, Lyndon and Cregar, as well as co-star George Sanders, while in further effort to copy The Lodger, it was also a period psycho-thriller set in London. (Although this is a Hollywood version of London filled with more American accents than English). Unfortunately, Laiard Cregar died of a heart-attack prior to Hangover's release, putting paid to a promising career as a sinister big man that was just starting to blossom.
Hangover Square was made before Psycho (1960), which introduced psychological (Freudian) motivation to the psycho-thriller, and way before The Silence of the Lambs (1991) and its introduction of forensic psychology. In the 1930s and 40s, psychos went mad in grandly melodramatic style without any concern for motivation. The only motivation that Laird Cregar is given here is that whenever he hears a certain high-pitched noise he snaps, whereupon the camera goes into closeup on his sweaty face as he develops an unnerving glare and we then get his points-of-view as his vision goes blurry. It is a terribly melodramatic vision of psychopathology. Certainly, the lighting effects used and especially the opticals are unusually inventive.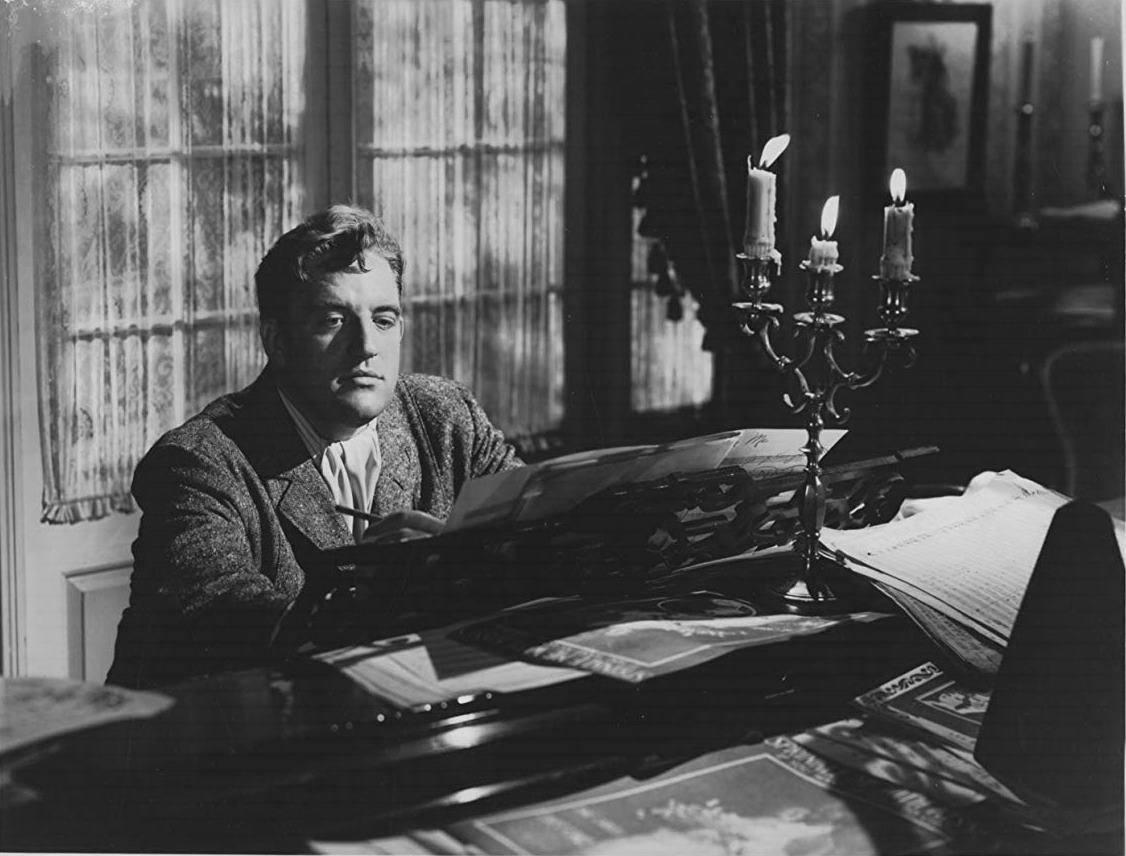 All of this proves rather entertaining. John Brahm winds the suspense up with suitably melodramatic regard – there is a fine scene where Laird Cregar conducts a strangling and then disposes of the body atop a Guy Fawkes bonfire. (Brahm even copied the same scene in The Mad Magician). The film goes out on the image of Laird Cregar playing the piano as the house burns down around him, which is rather touching in the film's melodramatic way. The symphony when unveiled proves to be suitably tortured and anguished and is rather good. Although the piece that Cregar composes for Linda Darnell these days has the no doubt unintended title of 'Gay Love'.
Director John Brahm would go on to make one other mad killer film, the thoroughly mediocre The Mad Magician (1954), as well as contributed a number of classic episodes to the original The Twilight Zone (1959-63) and was one of the uncredited directors on the lost world film Siren of Atlantis (1948), while Barré Lyndon went onto the scripts for a number of religious spectacles and George Pal productions such as The War of the Worlds (1953) and Conquest of Space (1955).
---
Trailer here
---