---
Crew
Director – Jörg Buttgereit, Screenplay – Jörg Buttgereit & Franz Rodenkirchen, Producer/Photography – Manfred O. Jelinski, Music – Gundula Schmitz & Max Müller, Special Effects/Creature Design – Romahn Effect Berlin (Supervisor – Michael Romahn). Production Company – Jelinski & Buttgereit.
Cast
Florian Koerner von Gustorf (Lothar Schramm), Monika M (Marianne), Mischa Brendel & Carolina Harnisch (The Believers)
---
Plot
Lothar Schramm lies dying in his apartment. Schramm is a serial killer known as The Lipstick Killer. Most recently, he invited in two Christian believers who came knocking door to door and then killed them. Schramm led an isolated existence. His only friend was his neighbour, the prostitute Marianne. Even then, he would have sex with an inflatable rubber doll while listening to her with clients through the wall. Recently, after getting drunk together, Schramm drugged Marianne's cognac and then undressed and photographed her.
---
German director Jörg Buttgereit has become a cult figure for his uncompromising films. Buttgereit created an outrage with his necrophilia film NEKRomantik (1987) and its sequel NEKRomantik 2 (1991), which featured no holds barred scenes of people having sex with corpses. Buttgereit has since made a number of other films, including Der Todesking (The Death King) (1990), an anthology of short pieces about death and suicide; Captain Berlin vs Hitler (2009); and the Final Girl episode of the horror anthology German Angst (2015), as well as Monsterland (2009), a documentary about genre cinema.
Jörg Buttgereit's films are about as off the beaten commercial track and uncompromising as it is possible to get. As might be expected of a Buttgereit film, Schramm not so much pushes the envelope as tears right through and keeps going out the other side of the mailbox. The NEKRomantik films were some of the most extreme works ever committed to celluloid – Schramm inevitably falls in their shadow, although is no less uncompromising and intent on outraging in its own way.
Here Buttgereit has determined to place us inside the mind of a serial killer. While we have had numerous works featuring serial killers as villains, even protagonists, there have been none that have attempted to chart the disturbed headspace and even the pathetic banality of their lives as Buttgereit does here.
The film starts to enter into full-on disturbed territory when Florian Koerner von Gustorf invites two Christian door-to-door missionaries into his apartment and then abruptly slaughters them. In the next few scenes, he is overhearing the noise through the wall as Monika M is with one of her clients and deals with his own sexual frustration (inadequacy?) by having sex with an inflatable doll (or at least the torso of one – it has no head or limbs). This is such a kitchen sink serial killer film that Buttgereit then shows us Florian hosing the ejaculate out from the doll's nether regions after completing the act.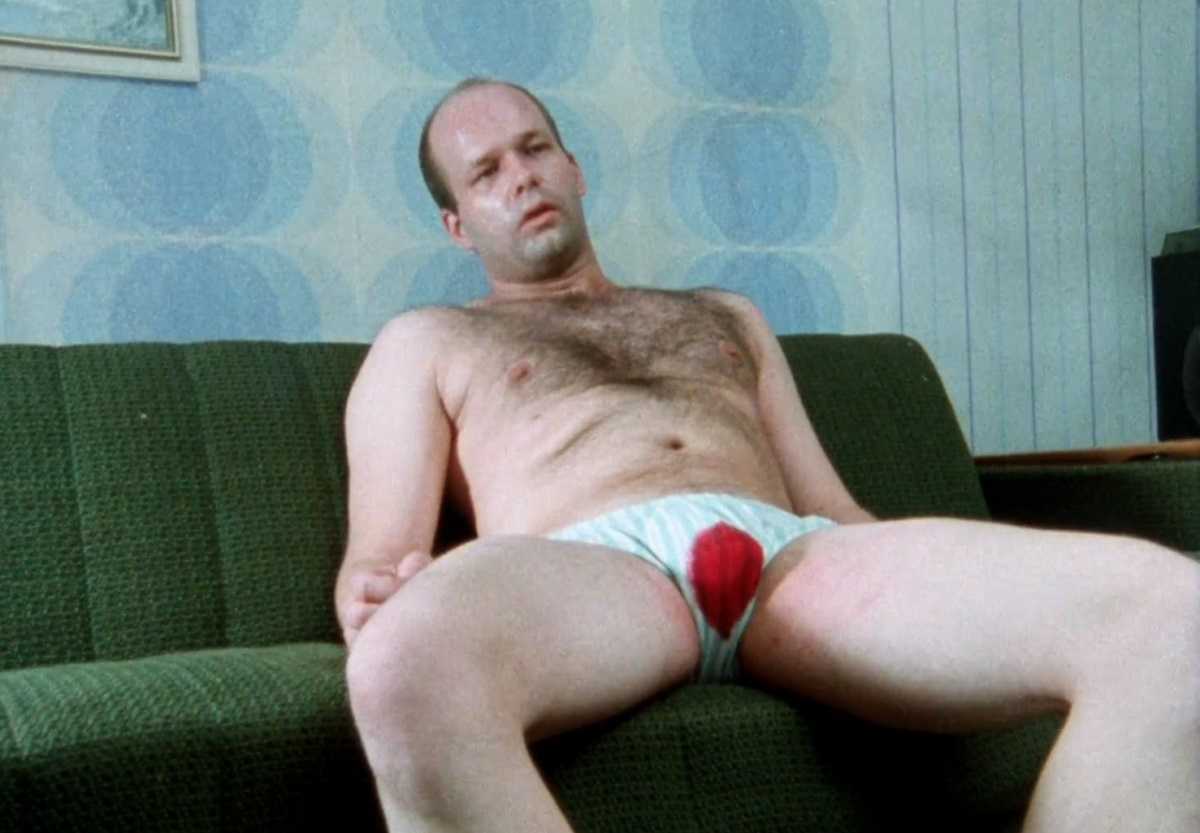 The most disturbed scenes are those with Florian seen hammering a nail into his own dick in what looks like an unfaked closeup (I might be wrong, it is hard to tell). The concluding scenes feature Florian drugging the glass of cognac he gives to Monika M and then undressing her and taking photographs after she passes out (although surprisingly only stripping her down to her underwear, which seems slightly tame given how far Buttgereit is willing to push the rest of the film).
The film is shot in 16mm and mostly takes place in Florian Koerner von Gustorf's apartment following his daily life. If nothing else, it shows that when the film doesn't have the full-on shock effect of NEKRomantik to carry it, that Jörg Buttgereit, is a plain and unexceptional director. The film is framed by a unique wraparound where Florian Koerner von Gustorf lies dying in his apartment. The plot, such as the film has, consists of waiting to find out how he died – although the eventual revelation is a mundane anticlimax. There is peripheral business concerning Florian acting as chaperone and taking Monika M to her rendezvous with a group of rich clients, which doesn't add much, except perhaps to lead to a downbeat ending that seems to say that "well, at least he was protecting her and in his absence …"
Buttgereit does throw in one oddly out of place scene where Florian and Monika M are walking home and pass a man sitting on the street. Here the camera suddenly becomes handheld as we watch the man abruptly shoot himself. Who he is, why he does so, we are given no idea. The scene feels out of place in its randomness, not to mention is amateurishly photographed with hands even intruding across the camera lens. We also get some surreal fantasies involving a vagina dentata where Florian imagines one with teeth and a 'beard' snapping at him in bed or out of drawers but the stop-motion animated effects in these scenes are amateurish.
---
---