aka Pigs; The 13th Pig
---
Crew
Director/Producer – Marc Lawrence, Screenplay – F.A. Foss, Photography – Glenn R. Roland, Jr., Music – Charles Bernstein. Production Company – Ursus Productions, Inc..
Cast
Toni Lawrence (Lynn Webster), Marc Lawrence (Zambrini), Jesse Vint (Sheriff Dan Cole), Paul Hickey (Ben Sharp), Katherine Ross (Miss Macy), Iris Korn (Annette), Jim Antonio (Jess Winter), Erik Holland (Hoagy)
---
Plot
Lynn Webster arrives in a sleepy nowhere valley. She is given a job as a waitress and a room to stay at the diner run by the gruff Zambini, a former circus performer. Ben Sharp, one of the customers at the diner, warns Lynn that other waitresses that come through have disappeared – it is rumoured were fed to the pigs that Zambini keeps out back. Two old neighbouring ladies keep insisting to Sheriff Dan Cole that Zambini is turning people into pigs. Ben asks Lynn out but she runs away when he tries to make out with her. Later she invites him to her room and seduces him only to cut him up with a razor. Afterwards, Zambini comes and helps her, taking the body to feed to the pigs. As the sheriff looks into Ben's disappearance, Jess Winter arrives searching for Lynn, announcing that she is an escapee from a mental hospital.
---
Marc Lawrence (1910-2005) was best known as an actor. Lawrence had an interesting career between the 1930s and the 2000s. He had known mob associations and testified before HUAC where he was forced to divulge the names of actors that were Communists and was afterwards blacklisted. Daddy's Deadly Darling/Pigs was the second and last directorial outing from Lawrence who had previously co-directed the thriller Nightmare in the Sun (1965).
The film circulates under a variety of different titles – most commonly Daddy's Deadly Darling and Pigs where it seems to have been retitled to take advantage of the Animals Amok fad following 70s hits like Willard (1971) and Frogs (1972), even though the pigs only feature peripherally. The Blu-Ray I watched was called Pigs but is listed on the credits under its original title The 13th Pig. The film is also known under a host of alternate titles, including being renamed The Strange Exorcism of Lynn Hart and Lynn Hart, The Strange Love Exorcist in an effort to sell it as a copy of The Exorcist (1973).
Within minutes, Daddy's Deadly Darling/Pigs head into a demented headspace. There's seemingly innocent Toni Lawrence arriving (the opening scenes where she changes from a nurse's uniform and discards it in the brush suggests she has secrets) and taking up a job at a diner run a creepy old circus former performer Zambini (Marc Lawrence). It is not long before she is being warned about how other waitresses have disappeared and may have been fed to Zambini's pigs. There are the two old dears (Katherine Ross and Iris Korn) on the neighbouring property who call the sheriff over thinking they have seen Zambini turning people into pigs. That and assorted scenes where Toni Lawrence looks in the mirror as creepy children's songs play on the soundtrack or she has hallucinations of Marc Lawrence wearing carnival masks.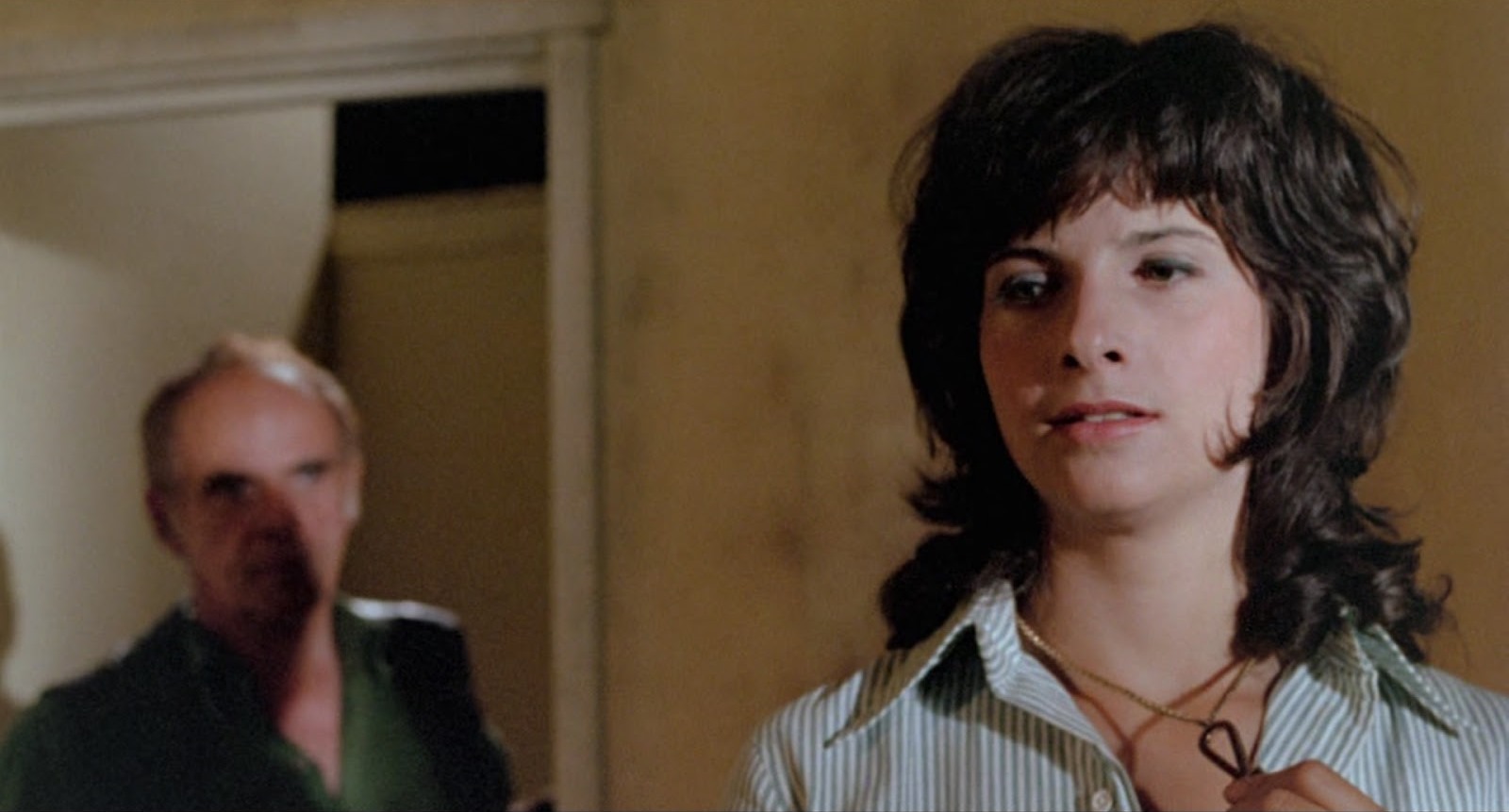 Daddy's Deadly Darling/Pigs falls into the 1970s psycho film. This included efforts such as The Fiend (1971), I Dismember Mama (1972), The Last House on the Left (1972), The Mad Bomber (1972), Wicked, Wicked (1973), The Love Butcher (1975), The Killer Inside Me (1976) and The Driller Killer (1979), among others. Unlike their 1960s counterparts, which were influenced by Psycho (1960) and adhered to thriller structure, 1970s exploitation films threw themselves into disturbed psychology with abandon, depicting the disturbed mental state of killers and taking the opportunity of relaxed censorship standards to go for broke in terms of sex and violence.
The film gets entertainingly twisted when Toni Lawrence invites Paul Hickey back to her room and entices him into her bed before stabbing him, followed by scenes of Marc Lawrence feeding the body to the pigs. Accompanied by quick cuts and handheld camera (which was unusual for the period), this sits well inside a disturbed mental space. For a time thereafter the film sidetracks off into more regular plotting stuff with the sheriff investigating Paul Hickey's disappearance and as the man from the mental hospital (Jim Antonio) turns up in search of Toni Lawrence. Things get suitably demented again in time for the climax.
Marc Lawrence casts his own daughter Toni. (Toni only ever went on to a handful of other acting roles again and is mostly known as one of Billy Bob Thornton's wives). She's not bad in the role, although you cannot help but think that her casting adds a whole level of indecency – one where the father has cast his own daughter in a sexualised light, while showing her as a survivor of rape by her own father.
---
---