---
Crew
Director – R.D. Braunstein, Screenplay – Daniel Gilboy, Producers – Lisa Hansen & Paul Hertzberg, Photography – Richard Vialet, Music – Edwin Wendler, Visual Effects – Adam Lima, Makeup Effects – Autonomous FX, Inc. (Supervisor – Jason Collins), Production Design – Gladys Rodriguez. Production Company – CineTel Films/Anchor Bay Films/Meir Zarchi.
Cast
Sarah Butler (Angela/Jennifer Hills), Jennifer Landon (Marla Finch), Doug McKeon (Oscar Kosco), Gabriel Hogan (Detective McDylan), Harley Jane Kozak (Therapist), Michelle Hurd (Detective Boyle), Russell Pitts (Matthew), Karen Strassman (Lynne), Christopher Hoffman (Ron Merrick), Walter Perez (Chief), Megan Raich (Cassie), Andrew Dits (Nicholas Woods), Adam Dunnells (Cole Watson)
---
Plot
Jennifer Hills is living under the assumed name Angela but is still haunted by her brutal rape. She is attending therapy and a rape survivor's group but is tense and fearful of all men. In the group, she befriends the tough Marla Finch who persuades Jennifer to join her and take action to threaten the stepfather who is molesting one of the girls in the group. Angela is then shocked when Marla is reported murdered by her ex-boyfriend. When the police fail to build enough of a case to convict the boyfriend and he is released, Angela decides to take the law into her own hands and kill him and then other molesters.
---
Day of the Woman (1978), more commonly known under the re-release title I Spit on Your Grave, is one of the most savage films to emerge from 1970s genre cinema. The first film half of the film depicts the extended rape of heroine Camille Keaton in raw and shocking detail, while the second half follows her as she takes a nasty revenge against the perpetrators.
As part of the spate of horror remakes of the 2000s/10s, this was duly remade as I Spit on Your Grave (2010) with Sarah Butler in the role. While not as full-on as its predecessor, it has a considerable brutality of its own. This led to a sequel from the same director with I Spit on Your Grave 2 (2013) where Jemma Dalender underwent a similar brutalising. This is another sequel to the remake where Sarah Butler returns and plays the same character a few years on from the 2010 film (although this does not bear any connection to the second film and comes from a different director). Subsequently, Meir Zarchi and Camille Keaton returned with a sequel to the original with I Spit on Your Grave: Deja Vu (2019), which is unrelated to any of these other films.
The I Spit on Your Grave films are difficult to know how to approach critically. Normally, you would applaud a film for how well it tells its story or when it comes to a horror film usually how well it manages to make you jump out of your seat. The I Spit on Your Grave films have been intended to brutalise an audience with the sustained degradation of their protagonists. The reaction that they almost always produce is a moral one. Somehow sitting and applauding them for how effectively they shock us or merely commenting on their production values seems an inadequate response.
The thing that makes it difficult is that the films sit so close to a line that becomes exploitation. I happily commend the first film for its rawness and the remake and its sequel have both had some effect. However by the time of Vengeance is Mine, which is the second sequel to a remake, you cannot help but wonder if there might be something just a teensy little bit exploitative about making more films about rape because the first two made money.
On the other side of the coin, you do feel that they are films that do come with some effect and could not be said to be designed to titillate. You could search far to find some other film that depicts the brutality and violation of rape with the rawness that these films do. And yet the very fact that every single one of them has been made by a man rather than a woman does make the intent seem a little dubious.
All of that dissipates by the time of I Spit on Your Grave III: Vengeance is Mine. It dispenses with the long and unpleasantly protracted scenes of the heroine being raped. In fact, it doesn't even gets Sarah Butler undressed beyond her underwear anywhere throughout. What we have feels now less like a rape and revenge film, as all the previous I Spit on Your Grave films were, than we do a vigilante film not unakin to Death Wish (1974) and, in particular, one of its sequels where the hero(ine) takes up arms and enacts ruthless justice against those who got away with it.
I kind of liked the idea that Vengeance is Mine logically follows on from I Spit on Your Grave 2010 and develops the central character to now have Sarah Butler as a brittle rape survivor, attending therapy and survivors groups, while treating every man who approaches her with hostility. The incorporation of survivor's groups, PTSD and issues like workplace harassment at least feels like we have a film that is sensitive to these issues.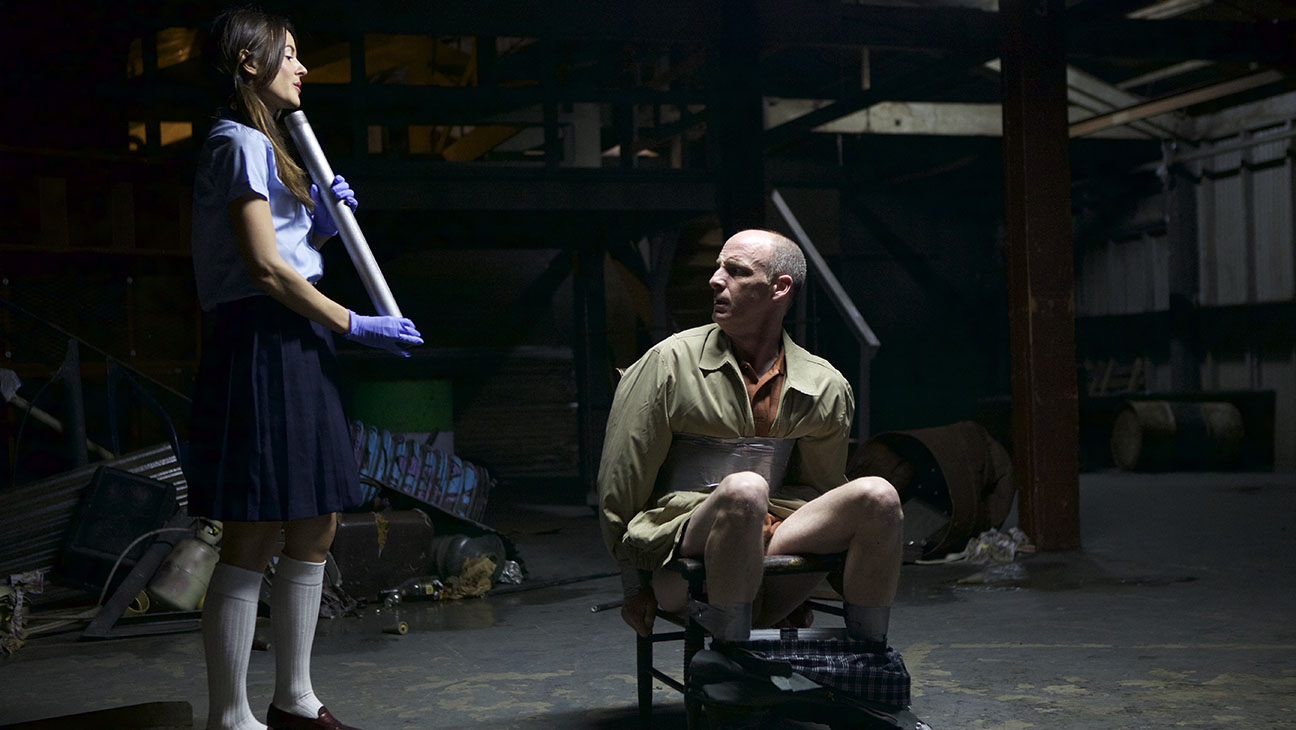 On the other hand, R.D. Braunstein's constant insertion of ultra-violent fantasies of Sarah Butler killing everybody who annoys her is crude and unsophisticated. It is also evidence of the fact that we have a tamed I Spit on Your Grave – with no long, protracted torture and abuse of the heroine this time, the film is largely actionless until its last third and so feels the need to have to keep spiking interest by adding these scenes. It need not be said that if the other I Spit on Your Grave films sit on a questionable line about being exploitation, this is something that almost certainly steps over it (even if Vengeance is Mine is ironically by far the tamer film). There are a couple of nasty revenge scenes with Sarah Butler hammering a pipe up the ass of Christopher Hoffman and another where she bites a guy's dick off but this is still the weaker film.
The one joy of the early sections of the film ends up being Jennifer Landon who gives a loud, brassy performance in which she lets all stops out and goes for broke with immensely entertaining results. In fact, she ends up entirely eclipsing the far more subdued Sarah Butler (who improbably, after having become a tough vigilante in the first film, here has to nervously be coaxed back in to engaging in considerably milder acts). Landon is a Mercutio character, so gregarious that she has to be killed off, whereafter Vengeance is Mine travels in familiar vigilante film directions.
Interestingly, by the end, with Sarah Butler killing her therapist and a bunch of others nearby, we can see that the film has crossed over into the territory of Abel Ferrara's Ms. 45/Angel of Vengeance (1980), which was construed as a criticism of the red-blooded vigilantism of the original I Spit on Your Grave, showing the abused woman as so unbalanced she killed everyone irrespective of whether they were guilty or not.
This was the third film from R.D. Braunstein who had previously directed the cheap disaster movie 100° Below 0 (2013).
---
---