---
Crew
Director – Steven R. Monroe, Screenplay – Neil Elman & Thomas Fenton, Producers – Lisa Hansen & Paul Hertzberg, Photography – Damian Bromley, Music – Corey Allen Jackson, Visual Effects – Cinemotion (Bulgaria), Special Effects Supervisor – Ivo Jivkov, Makeup Effects Created by Jason Collins, Makeup Effects – Autonomous F/X, Inc. (Supervisor – Elvis Jones), Production Design – Severina Stoyanova. Production Company – CineTel Films.
Cast
Jemma Dallender (Katie Carter), Yavor Baharoff (Georgy), Joe Absolom (Ivan), Aleksandar Aleksiev (Nicolay), Mary Stockley (Ana Patov), Valentine Pelka (Father Dimov), Georgi Zlatarev (Detective Kiril), Peter Silverleaf (Valko), Michael Dixon (Jayson)
---
Plot
Katie Carter is working as a waitress in New York City and struggling to make it as a model. Told that the portfolio shots she has are not good enough but finding the cost of a professional too much, she calls a number she finds that is offering free shots. She goes to the studio run by three East European men, Ivan, Georgy and Nicolay, but walks out when they want her to take her clothes off. Georgy later comes to her with the photos and is apologetic. She then wakes in the middle of the night to find him inside her apartment. He ties her up and then rapes her, as well as killing her landlord when he comes to the door. Georgy calls in the other two men and they decide the best option is to drug Katie. She comes around chained up in a cellar where the three men beat, humiliate and rape her. She makes an escape – only to discover that she has been transported to Bulgaria. Recaptured, she is buried in a box but this collapses through the cellar floor and she is able to get free and flees into the sewers. Eking out a precarious existence there, she plots a horrible revenge against her captors.
---
Day of the Woman (1978), more commonly known by its retitling I Spit on Your Grave, is one of the most notorious films of the 1970s Backwoods Brutality cycle. It was listed as a Video Nasty and banned in several countries. Its protracted depiction of the rape of heroine Camille Keaton is about as raw and shocking as the filmmaking of the era gets and no work has come anywhere near replicating it since.
During the 2000s/10s, as part of the spate of remakes where just about every film from the 1970s/80s has been revived and remade in some way, Day of the Woman/I Spit on Your Grave was remade as I Spit on Your Grave (2010) by Steven R. Monroe, a regular director of formula horror/monster films for the Syfy Channel, and featuring Sarah Butler in the central role. Different to the original in a number of ways, Monroe avoided dwelling on the rape scenes to the extreme that the original did and built out an undeniably brutal and effective woman's revenge story. Here Steven R. Monroe has made a sequel.
These rape-revenge films leave you with a certain queasy uncomfortableness in watching them. Are you watching exploitation or can it be considered legitimate horror to watch a woman being degraded and abused? If Steven R. Monroe soft pedals the rape scenes in the first film, is he being tasteful and non-exploitative or else watering down and avoiding dealing with the reality to exploitatively focus on the revenge scenes (both of which he has been accused of)? If you are watching horror for the catharsis of seeing a film that goes into dark and disturbing places then is watching a woman being raped and degraded pornography or a legitimate portrayal of the grimness of such acts – certainly, these I Spit on Your Grave films achieve a rawness in ways that the treatment of rape in mainstream films like The Accused (1988) do not.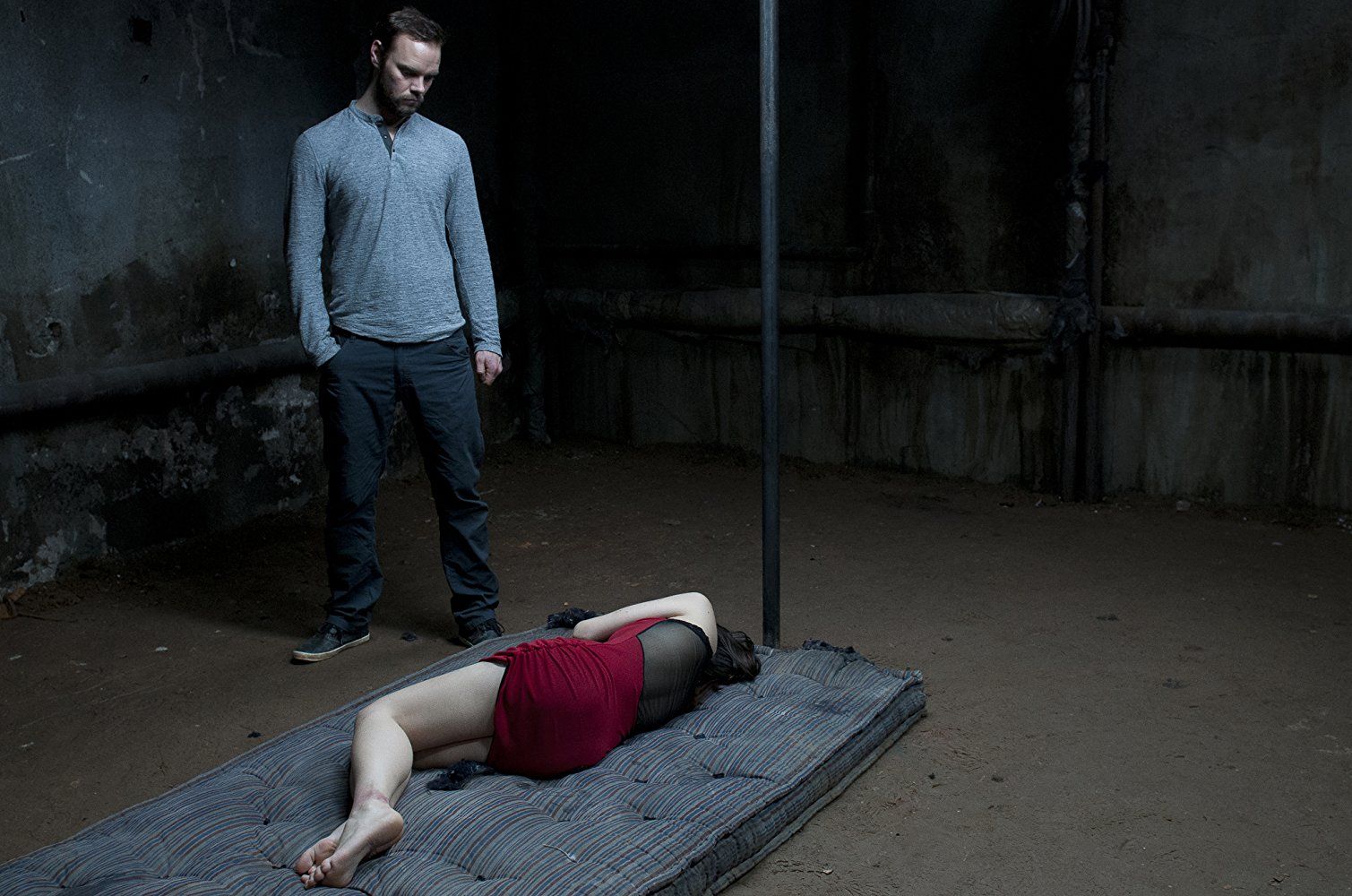 In their defence, the I Spit on Your Grave films don't appear to be designed to titillate and it is hard to imagine anybody but the sickest of puppies getting turned on by them. I am not sure I have the answers. Finishing watching the I Spit on Your Grave films leaves you wanting to conduct the moral equivalent of taking a shower. Certainly, if the films tread an ambiguous line between exploitation and legitimate horror, then this is surely stretched to breaking point by the idea of conducting a sequel to a remake of I Spit on Your Grave.
All of one's moral misgivings about what they are watching are even further confused by the fact that I Spit on Your Grave 2 is an undeniably well-made film. Damnit it all, it if were badly made, it would be so much easier to dismiss and condemn it. It took me some time to get into it. At the outset, I found it hard to buy Jemma Dallendar's motivations about going to an obscure backroom studio for some free modelling shots and then getting all surprised and outraged at being asked to take her top off (such a firm dividing line between unclothed and clothed modelling doesn't exist in the profession where models will regularly pose unclothed without it having to be considered a porn shoot). Nevertheless, when it comes to the scene where Yavor Baharoff breaks into Jemma Dallendar's apartment and forcibly has his way with her while the stabbed body of her landlord (Michael Dixon) lies dying on the ground beside her, the sequel hits in with an undeniable impact.
Thereafter, Monroe takes us through Jemma Dallendar's progressive brutalisation – being chained up in a cellar where buckets of water are thrown over her, where she is stripped naked, urinated on, stun gunned and even forced to fellate the stun gun after it is placed in her mouth, and punched and beaten until her face is bloody and unrecognisable. In the first film, Steven R. Monroe soft-pedalled and played down the rape scenes but here gives us something that is far more shocking and brutal in effect.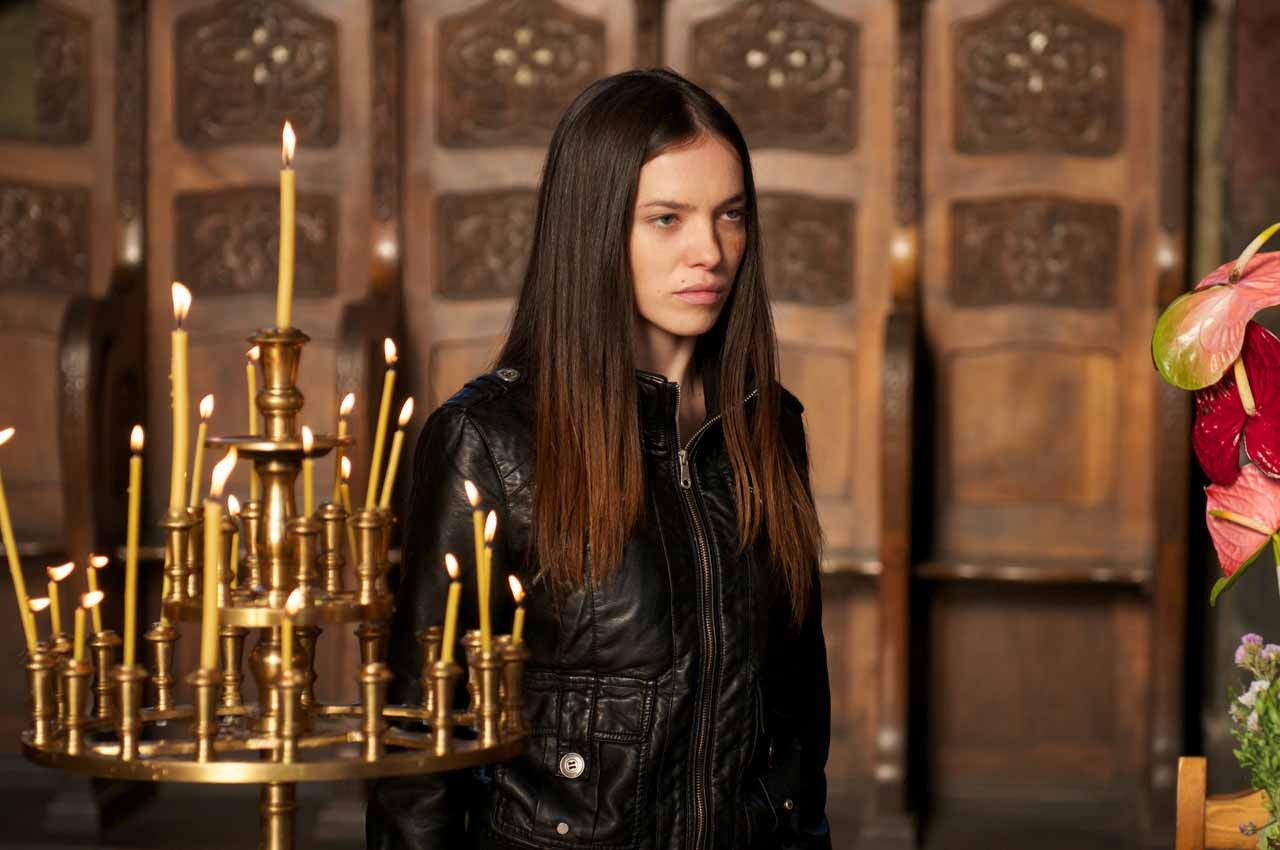 Unlike the first film, which placed most of its focus on Sarah Butler as a shadowy figure hiding in the woods and taking grimly sadistic revenge on her abusers, Monroe reverses that here and places most of the focus on Jemma Dallendar's degradation. The scenes of her taking revenge afterwards show her as less a shadowy hunter than someone frightened and shell-shocked trying to eke out an existence in the sewers of Sofia.
I Spit on Your Grave 2 should be considered more of an alternate reworking than an actual sequel – it shares no characters or continuity with the first film, for instance. The screenplay offers some interesting twists on the familiar. One of these is that while the other two films concerned a heroine who leaves the city for the country and is brutalised by the locals, the film here keeps the locations entirely urban. What it does do is replace the countryside with is a trip to Bulgaria (where the filmmakers have gone and shot on location, employing a number of local actors in the supporting cast). This of course puts I Spit on Your Grave 2 in the same territory as Hostel (2005), which played on very similar ideas of Eastern Europe as a wild frontier where civilised decency has collapsed and the locals treated Westerners with predatory cruelty.
This was followed by a further sequel I Spit on Your Grave III: Vengeance is Mine (2015). Meir Zarchi and Camille Keaton then returned with a sequel to the original with I Spit on Your Grave: Deja Vu (2019).
Steven R. Monroe's other genre films are:- The Contract (2002), House of 9 (2005), It Waits (2005), Left in Darkness (2006), Sasquatch Mountain (2006), Dual (2008), Ogre (2008), Storm Cell (2008), Ice Twisters (2009), Wyvern (2009), Mongolian Death Worm (2010), Jabberwock (2011), MoniKa (2012), End of the World (2013), Grave Halloween (2013), The Exorcism of Molly Hartley (2015), Teardrop (2022) and Unborn (2022).
---
---