---
Crew
Director/Screenplay – Leigh Whannell, Producers – Jason Blum, Oren Peli & James Wan, Photography – Brian Pearson, Music – Joseph Bishara, Visual Effects – Legion Studio (Supervisor – James David Hattin) Special Effects Supervisor – John Hartigan, Makeup Effects – Fractured FX, Production Design – Jennifer Spence. Production Company – Blumhouse Productions/Oren Peli.
Cast
Lin Shaye (Elise Rainier), Stefanie Scott (Quinn Brenner), Dermot Mulroney (Sean Brenner), Angus Sampson (Tucker), Leigh Whannell (Specs), Tate Berney (Alex Brenner), Michael Reid McKay (The Man Who Can't Breathe), Hayley Kiyoko (Maggie), Jeris Poindexter (Harry), Ashton Moio (Hector), Steve Coulter (Carl), Adrian Sparks (Jack Rainier)
---
Plot
Some years before the Lambert Haunting, teenager Quinn Brenner seeks out Elise Rainier and asks for a reading to contact her late mother. Elise has retired from the business but relents to open contact for Quinn. However, she stops when she encounters malicious forces. Back at home, Quinn finds herself haunted by a ghostly presence. She is then caught in a car crash and rushed to hospital. On the operating table, her spirit departs from her body but then returns. Confined to a wheelchair in her apartment with both her legs broken, Quinn finds herself harassed by an increasingly malevolent spirit.
---
Director James Wan and his co-writer Leigh Whannell created a sensation with Saw (2004), which spawned a massive franchise. It immediately made Wan into a director to watch. Among one of the other projects that Wan and Whannell made together was the substantial hit of the ghost story Insidious (2010). This became one of the flagships of Jason Blum's rising Blumhouse Productions company. Wan, Whannell, Blum and most of the cast returned for the successful sequel Insidious Chapter 2 (2013).
Insidious Chapter 3 is a third entry, although is a prequel that takes place before the events of the other two films. This time the directorial reigns are taken up by Leigh Whannell. Outside of the Saw and Insidious films, Whannell also wrote Dead Silence (2007) for James Wan, as well as Cooties (2014) and The Mule (2014) for others, and has made a number of acting appearances in various films. (Whannell also plays the bespectacled one of the ghostbuster duo throughout all of the Insidious films and repeats his performance here).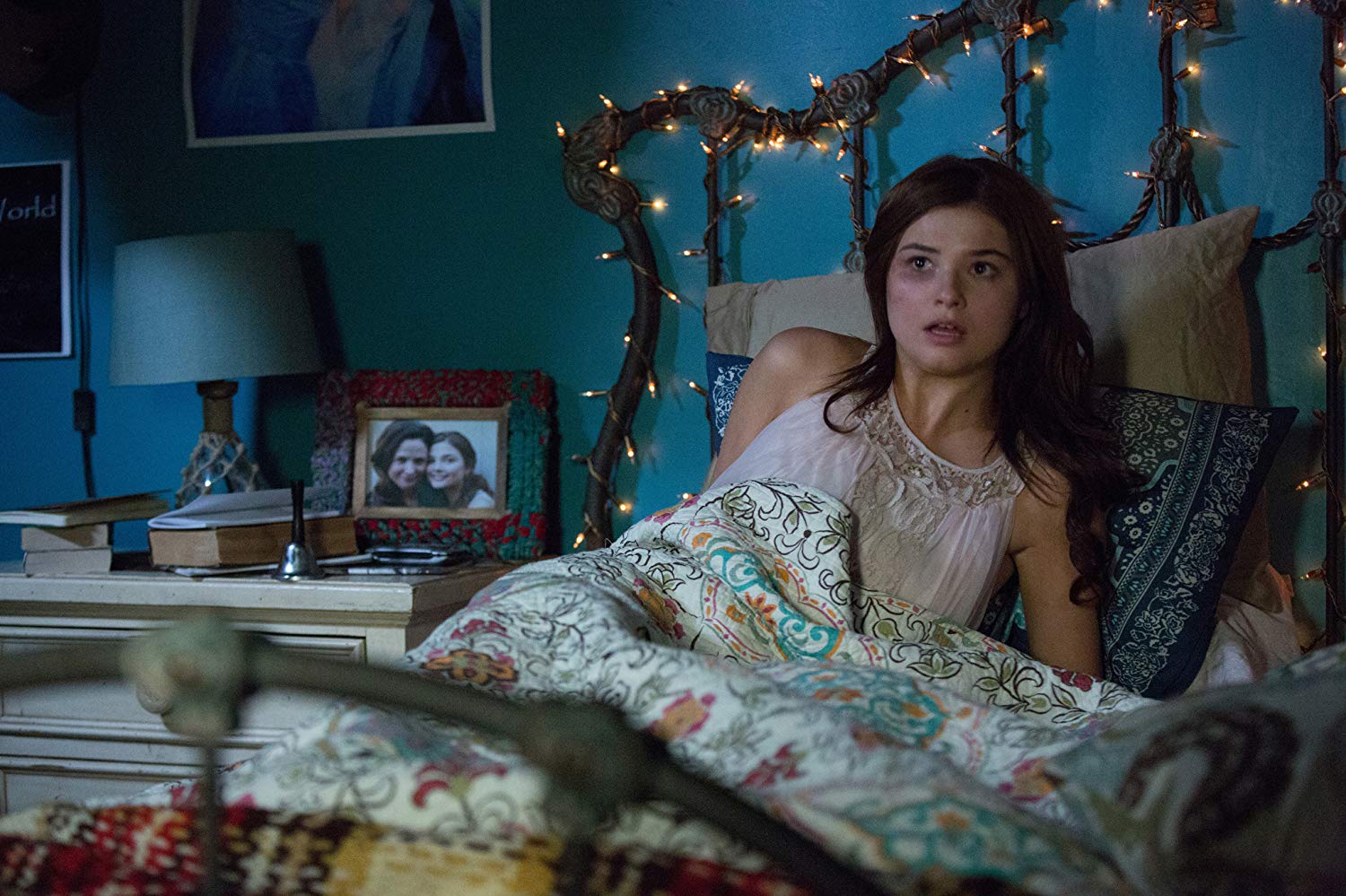 The principal character this time around is Lin Shaye's medium (who was killed at the end of the first film). Shaye certainly inhabits the centre of the show with effortless ease. The other returnees are Whannell and Angus Sampson as the ghostbusters and we see them teaming up with Lin Shaye at the end. Beyond that, you ask, what is the purpose of Insidious Chapter 3 as a prequel? What were the burning unexplained issues from the first film that they felt they had to answer? Sadly, the answer seems to be, is not much.
Instead all that we get is just more of the same with minor differences. The haunting of the Lambert family is replaced by the far less interesting haunting of teenager Stefanie Scott (who bears an uncanny resemblance to and could be the younger sister of Amber Tamblyn). The first half is just a ghost story with standard bumps and jumps – a more stripped down version of the first half of Insidious – while the second goes into the Insidious series' more familiar territory of seances, journeys into the astral plane, confrontation with the demonic forces there and possession of the innocents who return. Much of this feels like it is being repeated because that's what you to expect of an Insidious film.
James Wan is absent from the director's chair – although remains present as a producer and can be spotted in a minor cameo as the director at Stefanie Scott's audition – and Leigh Whannell bravely tries to step in to fill his shoes. Wan creates such masterful and intense suspense and eerie jumps in all of his genre material that it may well be a doomed effort to try and follow in his footsteps. You do have to commend Whannell in that he gets close enough to the same territory some of the time.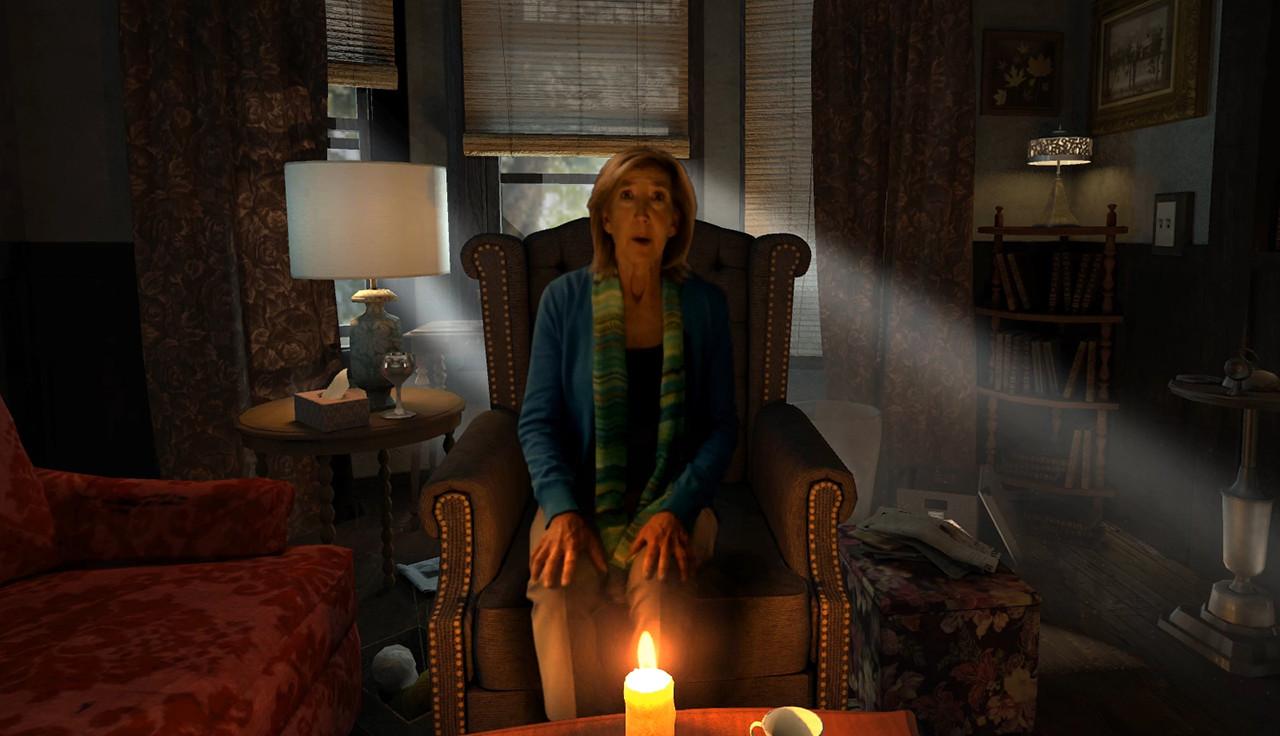 There are a number of scenes where Whannell conjures a sense of dread and has an audience in breath-held suspense – where we become aware there is a shadowy presence behind Stefanie Scott's wheelchair that then impels her into an empty room where she is attacked by a figure with stumps for limbs; another where it enters her room, throws her from the bed and then closes the curtains, door and switches off every light source. He does get the audience jumping. Yet for all that, Insidious Chapter 3 lacks James Wan and, though Whannell maintains a directorially capable show, it remains a weaker shadow of what has gone before.
Insidious Chapter 3 received a strong thumbs down from the critics who saw it at the preview and in other reviews. I don't think it is all bad – if you want to call it a bad film, I invite anybody who does so to watch some more of the low-budget efforts in the same vein that this site gets sent on a regular basis. It is not up there with James Wan's work but has a good deal more in the way of style than most other ghost stories that make their way out onto dvd/cable release. It certainly sits above the nearest point of comparison – namely, what the Saw sequels degenerated into after James Wan left Saw, a work of masterful twists and turns and gruelling suspense that rapidly became only about serving up scenes of extreme gore and sadism.
Leigh Whannell next went on to direct the A.I. film Upgrade (2018) and The Invisible Man (2020).
This was followed by a further sequel Insidious: The Last Key (2018).
---
---