aka 976 Evil II: The Astral Factor; 976-Evil: The Return
---
Crew
Director – Jim Wynorski, Screenplay – Eric Anjou, Story – Rick Glassman, Producer – Paul Hertzberg, Photography – Zoran Hochstatter, Music – Chuck Cirino, Visual Effects – Apollo Effects Ltd. (Supervisor – Steven D. Benson), Makeup Effects Supervisor – Scott Coulter, Production Design – Gary Randall. Production Company – CineTel Films.
Cast
Debbie James (Robin Jamison), Rene Assa (Steven Grubeck), Patrick O'Bryan (Spike Johnson), Rod McCary (Dr Jamison), Phil McKeon (Deputy Jody Taylor), Buck Flower (Leonard Turrell), Leslie Ryan (Paula), Paul Coufos (Sheriff Stone), Monique Gabrielle (Susan Lawlor), Karen Mayo-Chandler (Laurie Glazer), Brigitte Nielsen (Agnes), Ace Mask (Lemisch)
---
Plot
In the town of Slate River, California, school principal Steven Grubeck is arrested for a series of killings. As he is taken away, he touches the hand of Robin Jamison who worked as his assistant. Robin then meets Spike Johnson in a diner. Spike becomes concerned after finding she has the card for the demonic telephone line. Grubeck uses the telephone line to manifest powers of astral projection. While still in his jail cell, he sends his astral self out to kills the witness and prosecuting lawyer and then target Robin.
---
976-Evil (1988) was a directorial debut for Robert Englund then riding at the height of Freddy Krueger mania. The film ended up being critically trashed by the genre press. Nevertheless, CineTel Films saw fit to make this sequel. The directorial reins are passed over to genre hack Jim Wynorski (see below for Jim Wynorski's other films).
The only continuing character from the original is Patrick O'Bryan who played Stephen Geoffreys' cousin in the first film. The sequel is no longer even the same film as the original. The first film concerned a demonic phone line that possessed people after they asked for wishes. The demonic phone line does appear here but the film mostly concerns an evil school principal who has gained powers of astral projection and uses these to kill people.
There are assorted novelty deaths. Perhaps the most novel of these is where Debbie James and friend Leslie Ryan are channel-flipping between watching It's a Wonderful Life (1946) and Night of the Living Dead (1968) on tv (both films where copyright had lapsed into the public domain) and Leslie is sucked into the midst of It's a Wonderful Life as it is overrun by zombies.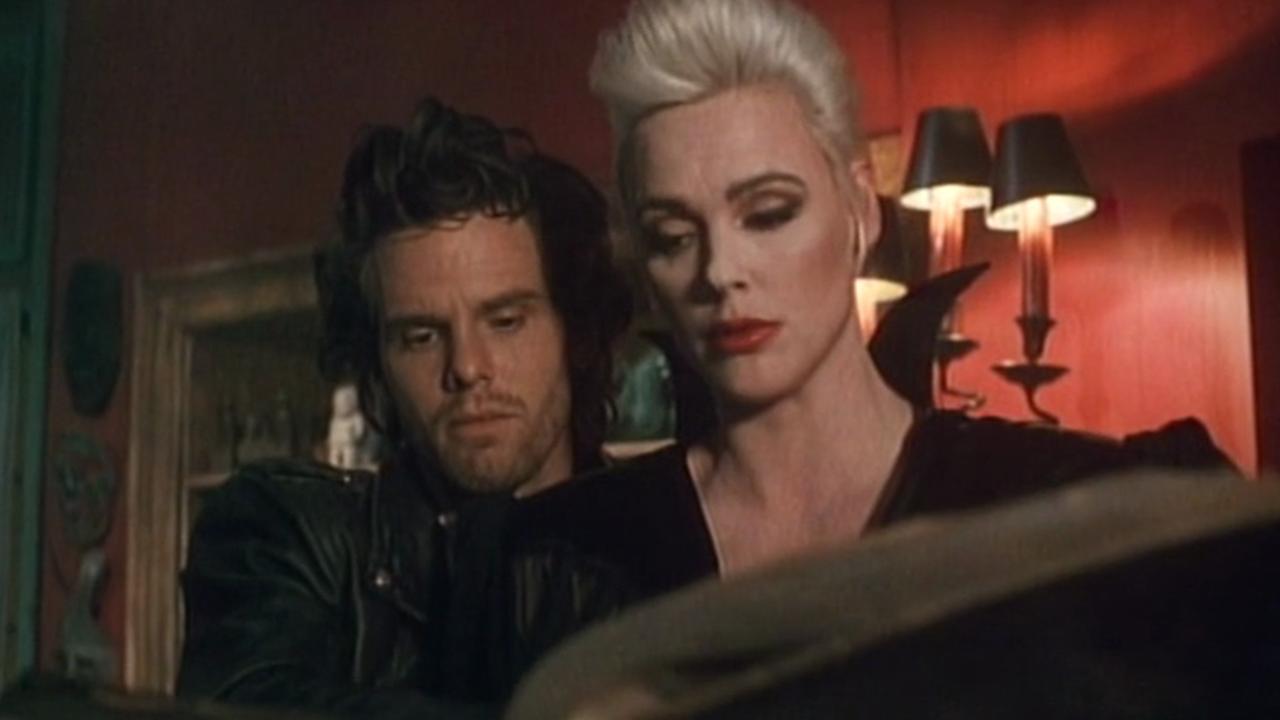 The great failing of most of Jim Wynorski's films is that he does not take the material seriously. Certainly he does so here more than usual but not enough. Perhaps one of the most ridiculous scenes is where a house comes to life and attacks Patrick O'Bryan with jets of flame from the oven, the kitchen tap hosing him, slabs of frozen food from the fridge firing themselves and a machine-fun mounted on the wall levitating and firing itself at him.
In almost all of his films, Jim Wynorski films has a preoccupation with women with large hooters but there is a surprising lack of them here. Karen Mayo-Chandler has a nude shower scene before being killed at the start and that is it. Wynorski regular, former Penthouse Pet Monique Gabrielle turns up for a clothed scene as a lawyer who gets killed in her car. The big name the film features is Brigitte Nielsen in a brief scene as an occult bookstore owner – she apparently appeared in the film after a losing a bet with Wynorski over a pool game.
Jim Wynorski's other genre films are:- The Lost Empire (1983), Chopping Mall (1986), Deathstalker II (1987), Not Of This Earth (1988), The Return of Swamp Thing (1989), Transylvania Twist (1989), The Haunting of Morella (1990), Sorority House Massacre II (1990), Sorority House Massacre 3/Hard to Die/Tower of Terror (1990), Scream Queen Hot Tub Party (1991), Munchie (1992), Ghoulies IV (1993), Dinosaur Island (1994), Munchie Strikes Back (1994), Sorceress (1995), The Wasp Woman (1995), Vampirella (1996), The Pandora Project (1998), Storm Trooper (1998), The Bare Wench Project (1999), Desert Thunder (1999), Bare Wench Project 2: Scared Topless (2000), Crash Point Zero/Extreme Limits (2000), Raptor (2001), Thy Neighbor's Wife/Poison (2001), The Bare Wench Project 3: Nymphs of Mystery Mountain (2002), Gale Force (2002), Project Viper (2002), Bare Wench Project Uncensored (2003), Cheerleader Massacre (2003), More Mercy (2003), The Curse of the Komodo (2004), Gargoyle (2004), The Thing Below (2004), Alabama Jones and the Busty Crusade (2005), Bare Wench: The Final Chapter (2005), Komodo vs Cobra (2005), Sub Zero (2005), The Witches of Breastwick (2005), The Witches of Breastwick 2 (2005), A.I. Assault/Shockwave (2006), Cry of the Winged Serpent (2006), Bone Eater (2007), The Breastford Wives (2007), House on Hooter Hill (2007), Cleavegefield (2009), Fire From Below (2009), Vampire in Vegas (2009), Monster Cruise (2010), Dinocroc vs Supergator (2010), The Hills Have Thighs (2010), Camel Spiders (2011), Gila (2012), Piranhaconda (2012), Hypnotika (2013), Scared Topless (2013), Sexually Bugged (2014), Shark Babes (2014), Water Wars (2014), Scared Topless (2015), A Doggone Christmas (2016), Sharkansas Women's Prison Massacre (2016), Cobragator (2018), Attack of the 50 Foot CamGirl (2022), Bigfoot or Bust (2022), Giantess Battle Attack (2022) and Murderbot (2023).
---
Trailer here
---