aka Asylum Blackout
France/Belgium. 2011.
Crew
Director – Alexandre Courtes, Screenplay – S. Craig Zahler, Additional Material – Jerome Fansten, Producers – Wassim Beji, Yannick Bollore & Emilie Chatel, Photography – Laurent Tangy, Music – Christophe Chassol, Visual Effects – Digital Graphics s.a. (Supervisor – Marc Ume), Makeup Effects – Denis Gastou & Jean-Christophe Spadaccini, Production Design – Paul Rouschop. Production Company – Groupe 6/WY Productions/Artemis Productions/SND/Direct Cinema/Canal+/Cine+/Direct 8
Cast
Rupert Evans (George Marshall), Kenny Doughty (Max), Joseph Kennedy (Ricky), Dave Legeno (JB), Richard Brake (Harry Green), Marcus Garvey (William), Anna Skellern (Lynn), Darren Kent (Pete), Claude Stark (Tim), Chuck Hargrove (Oswald), Booker T. Franklin (Wendell), Nina Newman (Jennifer), Bruce Geduldig (Robert)
---
Plot
Washington State, 1989. George Marshall works as a cook at the Sans Asylum for the criminally insane. He and his three co-workers are also in a band but some of the others are flagging in their enthusiasm. One evening, they are serving dinner to the inmates when a storm causes a power cut, followed by a lightning bolt knocking out the backup generator. With the entire facility without power, the security head JB asks George and the other cooks' help in getting the inmates back to their cells, even though they have no experience with security. However, the situation rapidly spirals out of control. With nothing to hold them back, the patients break free and run amok through the hospital, killing and torturing the guards and staff. George and his friends are forced into a brutal survival game as they try to get to a phone to call for help.
---
The Incident, retitled as Asylum Blackout in the US, was the directorial debut of French director Alexandre Courtes. Courtes started out designing album covers for bands such as Air and Daft Punk – he has the distinction of creating the distinctive helmets that Daft Punk wear. From there, Courtes moved on to directing music videos for bands such as Alice in Chains, Franz Ferdinand, Kylie Minogue, The White Stripes and gained some attention and won awards for his work with U2 during the 2000s. Courtes directs from a script by S. Craig Zahler who subsequently went on to direct/write the strong and effective likes of Bone Tomahawk (2015) and Brawl in Cell Block 99 (2017).
We have had patients break out of the asylum films before – The Incident/Asylum Breakout could be a less comedic version of Alone in the Dark (1982) – and a host of ones where the patients take over the asylum and impersonate the doctors – a bunch of adaptations of Edgar Allan Poe's The System of Dr Tarr and Professor Fether (1845). The Incident/Asylum Breakout is more of a prison riot film than an asylum film and deals with the harsh brutality of a group of criminally insane being accidentally released and going amok.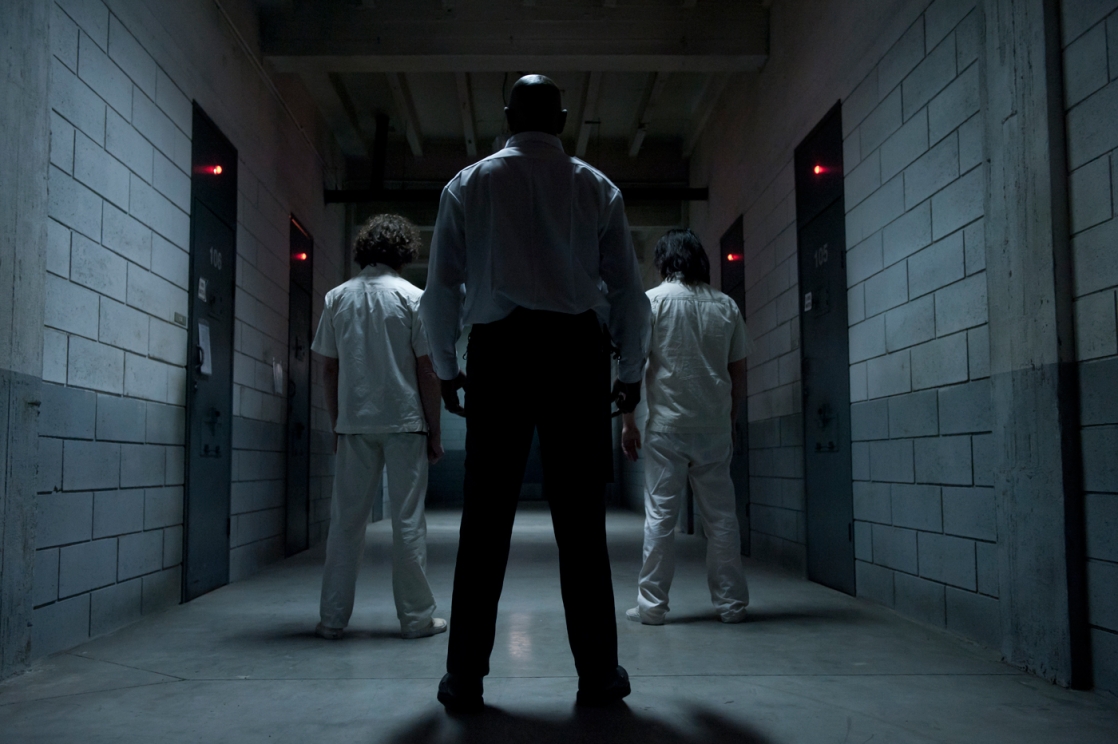 Courtes paces much emphasis on harsh realism. That and the 1989 setting suggests that the film is telling a true story – although you suspect that this is more because they needed to set everything in the pre-cellular era as this is a film where the entire situation would have been solved in about two minutes flat had any of the staff had access to a cellphone. Rupert Evans is the only recognisable name present but with a grunge look that casts him as something quite different to any of the pretty face roles we have seen him in before.
Alexandre Courtes succeeds in winding up the tension and terror within a very short space of time as soon as the lights go off. The sheer brutality of the film is one that few horror films in their constant theatrics and cliches rarely manage to achieve. Some of the scenes as the film escalates are incredibly raw – the sheer nastiness of the scene where the inmates throw Kenny Doughty on a kitchen stove burner and incinerate him while still alive. There are not many films that give you this kind of tension and emotional workout by the end.
---
---